Last updated: 01/09/18
Distinguished Graduate Awards
Tailgate Season Wrap-up
Ralph Buck Retirement
21 st Company News From Rupe
Bob Caldwell Honored by the Touchdown Club
Ralph Buck and Lynn Callaway Marriage
N3N Yellow Peril
Tribute to Ben Montoya
USNA Columbarium
Naval Academy Building Named In Honor of Former Superintendent
Dedication for Ed Browne
Bruce McCandless at theUNSA Museum
75 Years of Shipmate
USNA Sick Call
Obituary Guidance (Click on this link)
D.C. Area Class Lunches
Veteran's Aid Program Frank Gamboa
Check Your Military Retiree Account Statement

Class of 1958 Distinguished Graduate Awards
From Frank Gamboa:
The Great USNA Class of 1958 is one of the few classes that have five USNA Distinguished Graduate Award (DGA) recipients. Most have four. None has six. Our DGA recipients are as follows; they validate our class motto. I had the honor and privilege of drafting each of their respective nominations.
ADM Chuck Larson, USN 2006
RADM Ben Montoya, CEC, USN 2008
LTGEN Terry Cooper, USMC 2011
CAPTAIN Bruce McCandless II, USN 2012
SENATOR John S. McCain III, 2018
The '58 Board of Trustees also nominated Otto Helweg, Ph,D. First USNA graduate awarded the Hoover Medal, considered the engineering equivalent to Nobel Prize. President Jimmy Carter was second.
Otto died of a heart attack in October 2008 in Denver, Colorado while campaigning as a surrogate for John McCain. He was also in the midst of collaborating with the USNA Academic Dean on creating an Arabic Studies program at the academy. Otto was an expert in the Middle East and was fluent in Arabic and Farsi languages. As a midshipman, he was a member of the varsity football and lacrosse teams and the Brigade Heavyweight Boxing Champion as a Segundo. I am confident he would have been selected for a DGA.

USNAAA Santa Barbara Chapter Army-Navy Game, 22nd Floor Tower Club, Oxnard (1/9/18)
| | | |
| --- | --- | --- |
| | | |
| Fran and Vern Hanna | Gary Minar Bev & Nils Rueckert | Thomas Fire smoke viewed from 22nd floor of Tower Club |
From Gary Minar
We celebrated the 2017 Army Navy Game at the Tower Club, atop the tallest building in Oxnard, CA, near the Navy CB Center, Pt Hueneme . Because of the huge brush fire (Thomas Fire), which had started just a few days before the Game, most of the attendees were focused on mandatory evacuations, utility outages and traffic control around the area. The fire as of New Year's Day is nearly contained, being driven into the back country and hopefully not threatening any more homes.
Hanna, Minar and Rueckerts were the 58 attendees. The view in the picture above gives an indication of the fire's size. At that time, the fire had been partially contained after ravaging Ventura, and driven behind Ojai, but was headed north towards Carpenteria and Santa Barbara, where much of the damage occurred later. These pictures show that we 58ers have not aged, but just increased in our experience levels.
B E A T A R M Y
Tailgate Season Wrap-up From CAPT Audrey Callahan USMC '08 (12/3/17)
This was the year of the '58/'08transition for the tailgate logistics. For many years, Rupe and Joan MacLean have been in charge of organizing the tailgate area set-up before each home game and then the breakdown and cleaning up of the area after the games. They have had a lot of help from various classmates and wives. Also help was provided by our partners, Denise and Chris Swensen, in coordination with CDR Jack Eggleston, who lined up groups of JNROTC Cadets from Annapolis High School to assist. We all owe Rupe, Joan and all who participated many kudos for doing this job for the Class, especially, Bob and Becky Caldwell, Tom and Kay Powell, and Janet Bouvier.
Now, '08 will be in charge of the tailgate. CAPT Audrey Callanan, USMC '08, assisted by her husband, Capt. Gabe Sganga, USMC, has taken on the job of the '58/'08 tailgate and has done a fabulous job this year. Audrey organized a large '08 group to help with the tailgate and instituted having a catered BBQ for two of the home games this year. The BBQ's were well received by all and will probably continue next year. Audrey published an email wrap-up to her Class, which is worthwhile repeating here to demonstrate the spirit and enthusiasm Audrey and the Class of '08 have shown this year. Follow the link to read her wrap-up message:
'08 Tailgate Wrap-up
\

Gary Minar - News From the West Coast (7/31/17)
We had our annual picnic at the lovely Manning Park in Montecito yesterday, 7-22-2017. We even had a set of signal flags to decorate the area. Of course all of us still remember how to read those flags in the event we are called on to serve. The weather was nice and air clear after the big fire nearby that burned about 19,000 acres of the steep hills above the Santa Barbara area west of town center. The picnic was catered by a nice small caterer who has done that same thing for several years and it was very tasty. Our group was down in size, maybe since so much social activity now is down by 'social media'.
The 58 picture has L-R, Gary Minar, Beverly Rueckert and Nils Rueckert.
The 59 picture has Jim Osborn, Bill Kelly and Nancy Kelly. They stood in front of our highly envied flag because I don't think 59 has that sort of thing.

Ralph Buck Retiring For The Last Time (5/1/17)
Update 2 July 2107
I retired from MAXIMUS Federal on 1 May 2017, sold my house in Springfield, VA on 26 May 2017, and closed on a new house in Foley on 23 June 2017. 58 IS GREAT!!

Lynn's car was almost reported stolen when the car transport driver disappeared off the grid for a week. Car finally delivered with no damage.

Lynn and I are still trying to have our household goods delivered from temp. storage. I would NOT recommend Public Moving & Storage to anyone.

Ralph
58 IS GREAT!!
New address: 644 Abita LN, Foley, AL 36535-2472 (8 miles from the Gulf of Mexico)
Telephone: 571-432-6154

51/17
On 1 May Ralph Buck will leave full-time employment for the last time. Lynn and I have sold our home in Springfield, VA and plan to relocate to Foley, AL in June 2017.
Aside from the intellectual challenge of contract work for the Defense Health Agency, Office of
the CIO, as a project manager, I will mostly miss the fellowship of my Class of '58 classmates and wives.
During special events of the DC area Chapter, and Tailgates in Annapolis, we truly felt the truth
of that ancient dictum:
But still when two or three shall meet,
And old tales be retold,
From low to highest in the Fleet,
We'll pledge the Blue and Gold.
As soon as we have a permanent address in Foley, I will communicate same. Meanwhile, our Springfield land line is good until 22 May, and this email address will work. I am also on Facebook for those brave enough. Several members of the Great Class of 2008 are also on there.
It has been one hell of a "deployment," and we look forward to some well-deserved "shore duty."
All y'all come see us, you hear?
Ralph & Lynn

21st Company News From Rupe
Hello 21st Company,
Sadly, Nature continues to work its toll upon us octogenarians and another of our company mates has taken a hit. This time it is one of our heroes, Dick Beam. As he stated in a recent email,
" I had been proudly a regular apheresis donor starting at age 57 back in 1991. I had been recognized by the ARC as the first person who had ever had epilepsy to donate via the apheresis process. Back in Sept of last year I made my 451st blood donation The first 295 with the ARC and the last 156 withe the Indiana Blood Center. One is always asked when donating "are you feeling well today?" I am leading up to my current cancer treatments. Back about April or May of last year I responded "I feel great but I have been getting extremely weak lately." So they printed off a history of the white blood cells and other info and all data looked good. But, I think possibly my esophagus cancer started about that time. During the year 2016 I donated triple units on four occasions and double units on five occasions for a total of 22 Units of platelets. Saving Lives meant everything to me and it was one way I could pay back to our great nation all the education they provided to me.
About Oct or Nov of Last year I was struggling to get food down. Then seven or eight weeks ago I finally knew why I had the struggle. A Pet Scan showed I had Stage 3 Cancer of the esophagus. At the cancer center at Lutheran Hospital here in Fort Wayne one of the doctors had worked at Mayo Clinic for five years He sent a copy of the results of the Pet Scan with what he thought my treatment should be and they concurred with his plan of 6 chemo plus 25 radiation treatments running concurrently. I completed those plus one cancer related surgery during that six week period eight days ago. Then last Friday evening Evie had to drive me out to their ER . I was highly dehydrated and my white count and others had dropped dangerously low. I just got home this day about midafternoon. They did get my counts back up at either normal or about normal. Definitely my white blood cells are back up to normal."
Although he may not have the time to respond to everyone, Dick certainly would love to hear from classmates either by phone or email, dickeviebeam@msn.com or 219-456-5471. Please do keep him in your thoughts and prayers.
I also talked with Jack Cresko and Marty Donahoe. Jack says that he is doing okay, just not feeling well, but would love to hear from the guys, puffcresko@comcast.net or 941-764-8265 (Puff was their four-legged family member who is no longer with them). Marty says that he enjoyed a great winter of skiing, but is experiencing difficulty in using his computer and would like to hear from guys by phone, 775-831-2730.
George McNulty has a new email, McNultyandCompany@gmail.com.
Spring is here, the flowers are blooming, the trees are leafing out, now would be a good time to resolve to stay better in touch with each other,
All the best and '58 is Great,
Rupe

Alex Oldham (Grandson of Ned Oldham) (3/29/17)
From Gordo
Dear Classmates. I received the following from Harry Hurst our ace football reporter/analyst:
A Chip off the old Block! Midshipman Alex Oldham, Class of 2017, and grandson of our late, beloved Captain of our USNA '58 Cotton Bowl Championship Team. has been recognized by his USNA Sprint Football teammates as the "Hardest working player on the team" and selected to be the Defensive Captain of the 2017 Sprint Team Defense. Way to go Alex!

Bob Caldwell Honored by the Touchdown Club (2/23/17)
The Touchdown Club of Annapolis is about history, tradition and nostalgia. It is also about camaraderie and community.
All those characteristics were on display during Thursday (2/16/17) night's 63rd annual Touchdown Club football awards banquet, which drew another sellout crowd to the DoubleTree Hotel.
It started with the pre-dinner presentation to Commander Bob Caldwell, who has been with the Touchdown Club from the outset. Caldwell was part of the 1954 Navy football team that inspired formation of the organization.
Navy, led by head coach Eddie Erdelatz, finished that season with an 8-2 record after beating Mississippi in the 1955 Sugar Bowl. It was the first postseason victory in program history and prompted a group of Annapolis civic and business leaders to organize a banquet to honor what had become known as "The Team Named Desire."
"My long dedication to the Touchdown Club began my plebe year when I attended the inaugural banquet at St. Mary's High," said Caldwell, who would later return to the Naval Academy as Deputy Director of Athletics.
Caldwell received the Jim and Rae Ann Morgan Award as a distinguished member of the Touchdown Club of Annapolis. That special award, given to those who have shown longtime dedication and unwavering support of the organization, has previously recognized past presidents and devoted members such as Jack Cloud, Frank Brady and Joe Gross.
"I am so proud to have been associated with the Touchdown Club, which has richly supported our youth, high school and collegiate football and lacrosse teams," Caldwell said. "This club has also represented the spirit of teamwork, selflessness and respect."
Caldwell went on to mention numerous other past presidents of the Touchdown Club for whom he had great admiration, including his former football coach at Navy — H. Richard Duden.

Class of '08 Honors Rupe while Passing the Guidon From '58 to '08
Presented by Audrey Callahan '08
A passing the guidon tonight at the 58/08 First Tuesday dinner at Galway Bay (albeit in the wrong direction!) If you've been to the tailgates, you'll recognize Rupe. He's the godfather of the 58 tailgate and has been a tremendous supporter of the 58/08 link in the chain program. GySgt Abbott the Brigade Drill Master found some old "retired" guidons in the armory including one from 21st company, Rupe's company. I presented it to him evening as a token of our gratitude for all he has done for us.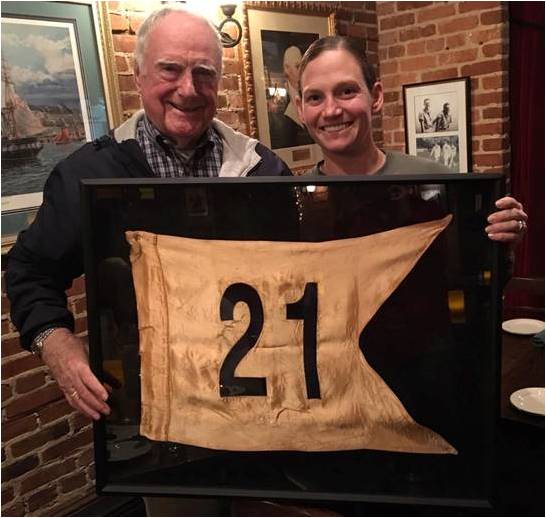 Rupe's Remarks After the Occasion:
Poj- Although I have explained many times to '08 that there is a long line of people here and I am just the last one standing, Audre who is a Marine EE instructor at Navy and my successor as '58/'08 tailgate coordinator, went ahead and did this anyway. Marines are Marines, God bless them. This took place last night at Galway Bay in Annapolis where '58 and '08 hold their monthly dinner on the first Tuesday of every month. Needless to say, I was surprised and very humbled.
Paul- See what you started when, at the Great pumpkin dinner after the final season game, you came up with that impromptu presentation of a tent mooring pin to Audrey and '08 as a symbolic transfer of the tailgate from '58 to '08.
Gene- As our last 21st Co. Commander, I thought that this might interest you—we may have even marched under this very guidon.
Audrey and I were sitting across from each other when at the close of dinner last night she asked me to stand then made her presentation to me of this beautiful and very well mounted award, which explains why we are placed in the wrong direction. Laura, another '08er, took the photo. Audrey then posted it on their class web site and sent a copy to Joan's Facebook. Since I do not do Facebook, Joan asked our daughter to email it to me. Now, you know the whole story.
Note Audrey's Info:
Audrey Callanan
Capt USMC
Senior Instructor
Electrical and Computer Engineering Department
Jewish Midshipman Club Officer Rep
Women's Hockey Officer Rep
United States Naval Academy

Ralph Buck and Lynn Callaway Marriage (9/9/16)
Ralph Buck and Lynn Callaway tied the knot on August 13 in Black Mountain, NC., attended by Ralph's former Rector and wife, and 12 other close friends and family members.
Lynn's father, from Foley, Alabama walked the bride down the improvised aisle at the Red Rocker Inn, also site of the reception dinner. The wedding weekend was punctuated by the annual Sourwood Festival, featuring scores of vendors: food, arts, and crafts.


N3N "Yellow Peril" (floatplane) (submitted by Ralph Buck) 9/12/16
Called "Yellow Peril" because of its color scheme and principal use by inexperienced flight students, the Naval Aircraft Factory's N3N primary trainer was extremely rugged and easy to maintain. The N3N operated in both wheeled and float configurations, introducing hundreds of students to Naval Aviation, even after World War II.
In 1934 the Naval Aircraft Factory set to work designing its own primary trainer and the project was given top priority. The result was a unique design featuring an all-metal construction using surplus aluminum from the ZN airship project. The prototype also featured a single integral top wing, a fuel tank forward of the front cockpit, and removable panels that allowed the entire port side of the aircraft to be opened for maintenance.
By 1935 the prototype had made its maiden flight, marking the commencement of a long career for the aircraft known officially as the N3N. All who flew the aircraft knew it as the "Yellow Peril," a nickname prompted by its paint scheme and the fact that it was flown predominantly by inexperienced student pilots. In reality, the N3N was reliable and embodied the "ruggedness" that had been demanded of it, both characteristics that earned the respect of the thousands of Naval Aviators who received their first taste of flying in the N3N. Where it became "perilous" was in taxiing. Poor visibility from the cockpit combined with inadequate brakes and an ineffective rudder led to more than a few "ground loops."
Acquired in much smaller numbers than the N2S, the N3Ns saw service with the Navy as a primary trainer from the late thirties to the mid-forties as both wheeled and floatplanes. Float configured N3Ns were later used for midshipmen indoctrination flights at the U.S. Naval Academy until their retirement in 1961, the last biplane ever used in military service. Like their counterpart, the Stearman N2S, some N3Ns remain in the air today as crop dusters or private recreational aircraft.
Accepted by the Navy in September 1941, the Museum's floatplane version of the N3N-3 Yellow Peril (Bureau Number 3046) flew throughout World War II. It continued in operation at Naval Air Station (NAS) Pensacola and training Naval Academy midshipman at Annapolis during 1947-1948. It was acquired by the Museum in 1978.


Tribute To Ben Montoya From Nils Rueckert (12/30/15)
At nearby Port Hueneme, CA stands the relatively new multi-million dollar Seabee Museum, which has a permanent exhibit in the entrance lobby honoring the life and career of Ben Montoya, 5th Co. With the news of his passing, I took on the personal commitment of presenting a wreath on behalf of the class. Ben had been the chairman of the board of the CEC/Seabee Historical Foundation and was the principal fundraiser, raising some $15 million dollars to build the museum, opened in 2010.
Assisting with the placement of the wreath was Captain Bob Quinn, '56, on the left, a trustee on the foundation board, who was responsible for oversight of the design and construction of the museum.
Thank you,
Nils Rueckert, '58, 6th Co.
Go to Pictures of the Wreath and the Museum

Naval Academy Building Named in Honor of former Superintendent
At a ceremony later this summer, the Naval Academy will rename the Administration Building "Larson Hall" in honor of Adm. Charles R. Larson, Naval Academy Class of 1958, who passed away 26 July. The building was built in 1907, renovated in 2014, and serves as the headquarters of the Naval Academy superintendent and immediate staff.

Dedication for Ed Browne (5th Co) - Camp Pendleton holds rededication ceremony for its Child Development Center
From Nils Rueckert
Ed was killed in action in Vietnam in 1967. His widow Ellie passed away just last year. They left two children, Betsy and Ted, who were very, very young when Ed died.
In 1962-64 Ed, Bob Topping, Jeff Dennis ('57) and I were all students at the P.G. School in Monterey and came to share a house in Carmel. We all married and moved on but kept in touch through the years, except for Ellie, who withdrew from contact after Ed's passing. Bob's widow Lois Topping, who forwarded the attachment to Jeff and me, attended Ellie's internment at Arlington.
From Betsy:
Here is a link to the Camp Pendleton News (online News Paper) with a story of Thursday's (29 January) Re-Dedication ..
http://www.pendleton.marines.mil/PendletonNews/NewsArticleDisplay/tabid/5440/Article/562947/camp-pendleton-holds-rededication-ceremony-for-cdc.aspx

Books By Dave Gibson (1/18/15)
From Dave's Son:
Dave published 2 books: Rungs on Life's Ladder, and Sea Stories and More. Both can be found on Amazon by searching his author name or by searching by book title.
Note: Dave passed away on Dec 25th, 2014. See obituary on LAST CALL

Bruce McCandless Signs Space Shuttle Model at the Naval Academy Museum (12/2/14)

The Naval Academy Museum was honored to welcome astronaut Bruce McCandless, USNA Class of 1958, who in 1984 was the first astronaut to make an untethered space walk. He was accompanied by Rupe MacLean '58, with the class flag that McCandless took aboard the shuttle. Joining them was USNA Museum Curator of Ship Models, Don Preul. Whenever the museum is visited by an astronaut from the Apollo or shuttle programs, the Museum requests they sign their models.
| | |
| --- | --- |
| | |
| Bruce McCandless with Rupe McLean and Don Preul at the USNA Museum | Bruce signing the shuttle model |

San Francisco Area Bay Gatherings (Updated 7/25/14)
'58 musters on the 4th Wednesday quarterly for lunch. We have been known to change the date so call/email to confirm.
Contact:
John Potter (19th) maintains the area roster and sends out the notices.
Phone: 707-745-4914
Email: john.potter@1958.usna.com

75 Years of Shipmate From 1930's to Present Now Available On Line
The Alumni Association recently completed a major project to scan most issues of Shipmate from the 1930's to the present. They are available at the usna.com web site.
Sign in and then search for Shipmate.

SHIPMATE will accept digital photos for publication in class columns. The only requirements are that the electronic file must be sent as either a JPEG or TIFF file, the original photo (if scanned) must be larger than 2.5" wide, and the resolution of the photo must be at least 300 dpi. Hard copy photos are still perfectly acceptable. Digital photos that don't get used for the class column will probably be displayed for all to enjoy on the Class of 1958 web site.
Have you written your classmates lately??? Submit your items as they occur to relieve Bill Schramm of the monthly crunch. Adventures, life events, meetings with classmates, travels, weddings, grandchildren, retirements, Olympic medals, hospitalizations, and all that are grist for the column. Pictures are appreciated, particularly with the class flag in them.
DUE DATE
TBD
The class column length has been cut by SHIPMATE from 4,000 words per column to 2,000 words per column. A photo of three or less persons equals 100 words, said words to be subtracted from the column length. And this after the survey showed the class columns to be the most popular feature! Go figure!
The address for e-mail to Bill Schramm at w_schramm@comcast.net and send the photos to him at 17 Calera Canyon, Salinas, CA 93908., Tel: 831-484-9058.

D.C. Area Class Lunches
The Class Luncheons are held at the Army Navy Country Club on the last Thursday of every month unless otherwise advised. They start at 1130 and arrangements are made for a speaker to present talks on subjects of interest to the Class. Your class caller should contact you about a week before each event to get a head count. If you do not hear from your caller, contact in the following order:
Mike Giglio (GIGLIO3936@aol.com)
George Jenkins: (georgejj@aol.com) or (george.jenkins@1958.usna.com )
If you plan to attend, accurate head counts are important to preclude unnecessary cost. In addition to charging us the full rate for "no-shows", the club also charge us a surcharge for each unannounced attendee. We have no choice but to pass these costs on to the classmates concerned. Please make your reservations as early as possible but no later than the Tuesday before the luncheon. The cost of the luncheon is ususally $30. Honor bar prices will be posted at the event.

Because of our unique shared educational and professional backgrounds, alumni are often the best resource for supporting other alumni in times of crisis. To that end, three USNA grads (Bob Martinazzi-'91, Jay Murphy-'93, and Rob Ballister, '94) have launched USNA SICK CALL (www.usnasickcall.org) in order to foster support for graduates suffering from cancer and other serious diseases. The site can connect ill alumni with other alumni who may have already won their battles with similar illnesses. In order to maximize our exposure to the alumni population at large, we are asking the following:
1. Check out the website for yourself.
2. If you think the effort has value, please forward to your class by whatever means you see fit. We would be happy to supply verbiage if needed, or you may write your own blurb.
There are no dues, donations, or financial obligations of any kind associated with this effort. We are simply looking for maximum exposure in order to help as many alumni as possible. Your assistance is greatly appreciated. Please contact the following email addresses if you have any questions and we would be happy to answer them.
Alumni helping alumni makes us all stronger.
Bob Martinazzi: bob@martinazzi.net
Jay Murphy: jay.murphy07@comcast.net
Rob Ballister: rballister@verizon.net

Virginia Beach Class Luncheons

The Southern Virginia Class of 1958 Luncheons are held at the Cypress Point Golf Club in Virginia Beach


on the first Thursday of each month. They begin at 11:30. Lunch orders are placed at noon.
We don't have a program, we just swap sea stories and travel logs. Reservations not required.


Out of town visitors welcome." George Chafee (chafeeg@cox.net)

New Law Now Allows Retirees and Vets to Salute Flag
Traditionally, members of the nation's veterans service organizations have rendered the hand-salute during the national anthem and at events involving the national flag only while wearing their organization's official head-gear.
The National Defense Authorization Act of 2008 contained an amendment to allow un-uniformed servicemembers, military retirees, and veterans to render a hand salute during the hoisting, lowering, or passing of the U.S. flag.
A later amendment further authorized hand-salutes during the national anthem by veterans and out-of-uniform military personnel. This was included in the Defense Authorization Act of 2009, which President Bush signed on Oct. 14, 2008.
Here is the actual text from the law:
SEC. 595. MILITARY SALUTE FOR THE FLAG DURING THE NATIONAL ANTHEM
BY MEMBERS OF THE ARMED FORCES NOT IN
UNIFORM AND BY VETERANS.
Section 301(b)(1) of title 36, United States Code, is amended by
striking subparagraphs (A) through (C) and inserting the following new
subparagraphs:
``(A) individuals in uniform should give the
military salute at the first note of the anthem and
maintain that position until the last note;
``(B) members of the Armed Forces and veterans who
are present but not in uniform may render the military
salute in the manner provided for individuals in
uniform; and
``(C) all other persons present should face the flag
and stand at attention with their right hand over the
heart, and men not in uniform, if applicable, should
remove their headdress with their right hand and hold it
at the left shoulder, the hand being over the heart;
Note: Part (C) applies to those not in the military and non-veterans. The phrase "men not in uniform" refers to civil service uniforms like police, fire fighters, and letter carriers - non-veteran civil servants who might normally render a salute while in uniform.


Proton Radiation Treatment for Cancer
From Kent Lawrence (6/9/11)
Hello J.B. –
Thanks for this interesting article. Our general age group is certainly "in the zone" for prostate cancer, so it's important to learn as much as we can about the disease and how to prevent it. And as both a survivor and prostate cancer mentor with the American Cancer Society and Massachusetts General Hospital, I've been fortunate to be able to stay pretty close to the issue.
Back in 2005 I was diagnosed with a very high-risk, aggressive prostate cancer. My Gleason is 9 (5+4 and 4+5, with all cores up to 100% involved with cancer). When we discussed treatments, I asked my team (urologist, radiation oncologist, and medical oncologist) at Mass General about the proton beam option, since MGH/Harvard, like Loma Linda, is one of the few sites in the U.S. offering it. They agreed that proton therapy, with its reduced "collateral damage", was very good for medium and low grade cancers (Gleason 7 and below)where the cancer is well defined and in a "good" position. But it's not necessarily superior to other treatments. And for especially aggressive, poorly defined cancers like mine, a more aggressive combination treatment was warranted. So I had 9 weeks of daily IMRT external radiation and 2 years of Androgen Deprivation Therapy, i.e. so-called hormones. Ever since then my PSA (checked quarterly) has been undetectable, and I'm now 6 years out and in "permanent" remission. Statistically, given the very high-risk nature of my case, I should have had a recurrence/relapse in 1 ½ to 2 years. I'm very fortunate.
I appreciate your enthusiasm for the proton beam option, and why not - - it worked great for you! However, I must take issue with your statement in your e-mail "…if you get Prostate Cancer, Please do not use any procedure other than the Proton Therapy". Instead I'd suggest that anyone getting prostate cancer carefully examine all the options available, and talk them over with your doctors. Find out which therapies are best suited for a cancer of your severity, and go with what offers the best chances of success. It may or may not be proton beam.
Tomorrow I'll be attending the Massachusetts Prostate Cancer Coalition's annual day-long seminar. It's a great place to get caught up with many oncologists and urologists (and we have lots here in Boston) and of course get some of the latest dope on the subject. I'll pass on any updated info.
Thanks again for the article.
Cheers…………………Kent
From John Bradley
This information is important to all who may have prostate, breast, brain, eye cancer, or most solid tumors that have not metastasized. It gives the reason where Proton Radiation is better than any other radiation used to cure these cancers. I had Proton done at Loma Linda University Medical Center in Loma Linda, CA for my prostate cancer back in 2006 and have had no side effects what so ever.

Click here for article on Proton Radiation

Veteran's Aid Program - Aid and Attendance (A&A) Pension
This is a little known/used benefit for vets under the auspices of the veterans' administration. One does not have to be retired from the service to qualify, only to have served on active duty in designated war periods (either stateside or in theater). Other eligibility requirements also apply.
The Aid and Attendance (A&A) Pension provides benefits for veterans and surviving spouses who require the regular attendance of another person to assist in eating, bathing, dressing and undressing or taking care of the needs of nature. It also includes individuals who are blind or a patient in a nursing home because of mental or physical incapacity. Assisted care in an assisting living facility also qualifies.
Some of you may have parents/grandparents/spouses who are currently paying these expenses out-of-pocket and may rate such compensation. More on this program at the following link:
http://www.veteranaid.org/program.php

Check Your Military Retiree Account Statement
Walt Mitchell of 12th Co sent this interesting message.
"Just wanted to let you know that, the same as many of you, I recently received my Military Retiree Account Statement. Please review the back of your statement and verify who you have designated as the beneficiary in case you die. Mine has changed to someone I don't even know (Cathy J. McMillin ,"wife") as getting 100%. Based upon the fact that recently the VA had military retiree personnel information compromised it is interesting that somehow my beneficiaries have changed. If you look at the broader picture of what this means that many veterans probably wouldn't catch this and that as we lose more of our fellow servicemen and women each day this would leave their dependents without the benefit hey deserve. I will be calling DOD first day they are open as well as the DOD IG and local congressman. Please send this out to the retirees you know and alert them to check whether current beneficiary is. Ask them to pass it along."
LtGen Chuck Pitman, former Deputy Commandant for Aviation