Last Updated: 06/23/2017
Last Call
Richard Rogers (20th Co) (6/23/17)
Dear Classmates,
Since many of you have already gotten the word about his death I was holding off until I had more info...obit, funeral info, etc. But since I have not received it I will simply mention that Dick died on 19 June.. Many classmates heard about it because Rush Limbaugh, his son-in-law, mentioned it on his broadcast the next day.
I will send more when I have it.
Gordo
Jay Allen Rower (10th Co) (6/6/17)
US Navy retired Commander Jay Rower, 83, of Spotsylvania County passed away peacefully Tuesday, May 16, 2017 at his home.
He was a pilot in the US Navy and retired as a Commander after 21 years of service.
Jay is survived by his loving wife of 59 years, Peggy; daughters, Karen Stinson, Susan Martin and her husband, David, Kimberly Brandts and her husband, Kirk; son, John Rower and his wife, Chris; four grandchildren; and 12 great-grandchildren.
A memorial gathering will be held from 6:00-8:00 p.m. Tuesday, May 23, 2017 at Found and Sons Funeral Chapel, 10719 Courthouse Road, Fredericksburg. Inurnment will be in Quantico National Cemetery at a later date.
In lieu of flowers, Jay's family requests that expressions of sympathy take the form of donations to the Wounded Warrior Project, P.O. Box 758517, Topeka, Kansas 66675-8517.
Condolences to his family may be shared online at foundandsons.com.
William Woods Cotterman (6th Co) (6/6/17)
William Woods Cotterman, age 81 passed away Thursday, May 25, 2017. William is survived by his wife Kennethe Payne Cotterman; son, John Poe; daughters, Lisa Cotterman (Gerald Green), Kay Cotterman, and Dana CottermWilliam Woods Cottermanan Levy (Benjamin). He was preceded in death by his son, William Robert Cotterman. An appointee to the US Naval Academy, William served in the Naval Reserve. William earned a Bachelor of Science from Georgia Institute of Technology in 1958, Master of Science from Georgia Institute of Technology in 1963, and Doctor of Philosophy from Georgia State University in 1969. William founded the Computer Information Systems Department at Georgia State University and was its first full time Chairman. He also served as Professor and Chair Emeritus of Computer Information Systems at Georgia State University. Bill wrote seven books and a number of articles on information systems-related subjects and one book of historical non-fiction. William worked in many countries in the Middle East and lived in the area for a total of three years. In 1973, he took a leave of absence to work in Kuwait on an input-output analysis of the economy that led eventually to the establishment of Kuwait's national accounts. Subsequent assignments in the Middle East came from USIA, United Nations Development Programme, National Science Foundation, and American University in Beirut Services Corporation, in addition to private companies. President Carter appointed him to a Committee on White House Information Systems to analyze and make recommendations on the use of computers and information technology within the Executive Office of the President. He continued to study Arabic and remained an ardent traveler. Bill was a volunteer with Hospice Atlanta, since 1990. He was a member of the Association Computing Machinery (regional representative 1976-1980), and the Appalachian Trail Club. Bill and Kenneth have been active supporters of the Task Force of the Homeless. Services will be held on Saturday, June 3 at 1:00 pm at Shallowford Presbyterian Church. In lieu of flowers, donations may be made in his honor to Shallowford Presbyterian Church. A.S. Turner & Sons Funeral Home.
Published in The Atlanta Journal-Constitution on June 2, 2017
Byron Schriver, Jr. (24th Co)
Byron Schriver passed away Friday, May 5. His funeral will be at St. James United Methodist Church on Wednesday, May 10.
Byron's online guest book may be signed at www.littlerockfuneralhome.com
Carlos Augusto Hernandez (24th Co)) (4/23/17/)
Carlos Hernandez passed away on April 21,2017. The details for his funeral are as follows:
Monday, April 24, 4.00PM-6:00PM - Viewing 1
Pierce Funeral Home
9609 Center St.
Manassas, VA 20110
Phone: 703-257-6028
The last 20 minutes will be prayer and eulogy.
Tuesday, April 25, 6:00PM-8:00PM – Viewing 2
Pierce Funeral Home
9609 Center St.
Manassas, VA 20110
Phone: 703-257-6028
The last 20 minutes will be prayer and eulogy.
Thursday, April 27, 10:30AM-11:30AM – Funeral Service
Holy Trinity Catholic Church
8213 Linton Hall Rd
Gainesville, VA 20155
Phone: 703-753-6700
Thursday, April 27, 1:00PM-2:00PM - Internment
Quantico National Cemetery
18424 Joplin Rd.
Triangle, VA 22172
Phone: 703-221-2183
Saturday, April 29
12:00-2:00PM – Private Luncheon
2:00-4:00PM – Celebration Luncheon
Dunbarton Clubhouse
9600 Craighill Dr
Bristow, VA 20136
Phone: 703-530-9600
Important Numbers
Sonia Hernandez
Home 703-330-1297
Mobile 703-474-0599
Liz Hernandez
Mobile 571-213-8894
Royce Hernandez
Mobile 240-423-2670
Vivian Hernandez
Mobile 317-502-4191
Hector Medina (23rd Co) (3/12/17)
Dear Classmates,
We have just learned of Hector's death on 9/16/2016. We have not been in touch with Hector for several years. If anyone has please let me and Jack Pierce (23rd Co. Rep) know anything that you have. His last known address was in Huntsville, AL.
Gordo
Linda Tillman (Wife of Dick Tillman (1st Co) (3/12/17)
Update 3/15/17- See Eulogies For Linda Tillman
Update 3/14/17
Linda Tillman, wife of Dick(1st Co.) died from complications following surgery for brain tumors. She had brain tumors about 3 years ago which were successfully, surgically removed. They returned last year and the decision was to operate again or they would be terminal. She was operated on at Mayo Clinic last October in Jacksonville but never really recovered. She lingered at home until a week or so ago and then went into hospice. I think she died on the 28th of Feb.
The following is from Dick:
Linda's Memorial Service will be on Thursday, March 9 at 10:00 am at the Holy Apostles Episcopal Church in Satellite Beach, Florida. Our family will be receiving friends on Wednesday March 8, 4-6 pm at the Beach Funeral Home, 1689 S. Patrick Dr., Indian Harbor Beach. Updated information can be found on www.BeachFuneralHome.com. A Celebration of Life for Linda will be planned at Lake Wawasee, Syracuse, Indiana this summer. In lieu of flowers, any contribution may be made to a charity of your choice, in her memory, or directed to Wuesthoff Hospice House, 661 Eyster Blvd. Rockledge, FL 32955, the Melbourne Yacht Club, or the Wawasee Yacht Club (attn: Steve Wolfer).
The girls and I wish to thank all who have sent prayers, condolences and well wishes to the family.
Love,
Dick, Laurie, Libbie, and Susan
Paul Herner (20th Co)
From Pete Russell, 20th Co rep:
Paul Herner, 20th Company, passed peacefully on Feb 18 at 9:30 am. He had double pneumonia and Influenza A.
I intend to get an obit into "Shipmate" soon. Nancy Shogren, Paul's companion for 34 years.
Paul Miller (2nd Co)
Jeanne Miller (jeanne6945@gmail.com) reports that her husband died on 16 January 2017. (No further info at this time)
Richard Columbus Freeman, III.(3rd Co) (2/19/17)
Richard "Dick" Columbus Freeman, III., passed away on Saturday, February 11, 2017, at Piedmont Hospital. He was 81.
His funeral service will be held on Friday, February 24th, at 10:30am in the sanctuary of Peachtree Road United Methodist Church, located at: 3180 Peachtree Road, Atlanta, GA 30305. His viewing will precede the service that morning, and will also be conducted in the sanctuary, beginning at 9. His burial will follow the funeral, and will be conducted that afternoon at 1:30, at the Georgia National Military Cemetery located at: 1080 Scott Hudgens Drive, Canton, GA 30114.
Born in Washington, DC on January 21, 1936, to Mr. James Newton Buck Freeman, ESQ. and Mrs. Lillian Perry at the Columbia Hospital for Women, he was raised in Mount Airy, NC, where he was a Boy Scout. He graduated from Mount Airy High School with the class of 1954, completing his high school course work early to enlist in the United States Navy in 1953. He then received an appointment to attend the United States Naval Academy (class of 1958), from United States Congressman Ralph Scott of the Fifth Congressional District for North Carolina.
Upon graduation from USNA with a Bachelor of Science, he entered flight school in Pensacola, where he trained in multiple aircraft. Upon becoming a Naval Aviator on March 04, 1960, he served in Patrol Squadron 40 (VP-40, Crew 5), at Naval Station Sangley Point in the Philippines, where he was an ordnance officer on a Martin P5M Marlin float plane, conducting air patrols during the Vietnam War. He was later a Patrol Plane Commander. He also attended Military Justice training, and received the National Defense Service Medal, Armed Forces Expeditionary Medal and the Cold War Service Medal, among others. It was during his time in the Navy, that he met his beloved wife, of 52 years, Martha Anne Kemp on St. Simons Island, GA in 1963, and married on January 29th, 1965, at Northside United Methodist Church in Atlanta.
Upon his medical retirement from the Navy, Mr. Freeman attended law school at the University of North Carolina, during which time his first two sons were born in Chapel Hill. Upon graduation on June 2nd, 1969, he became licensed to practice law in both North Carolina and Georgia, electing to move to Atlanta to join Haas, Holland, Levison & Gilbert. He then started a successful sole proprietorship, Richard C. Freeman III, PC, where he practiced law for over 40 years, specializing in complex business litigation. During this time, he became well known in the area for his keen wit, compelling storytelling abilities, courtroom tenacity and dedication to his clients, with cases throughout local, state and federal courts, including: Georgia Court of Appeals, Supreme Court of Georgia, United States Court of Appeals (Fifth, Eighth and Eleventh Circuits) and the United States District Court for the Northern District of Georgia. He was also admitted to practice before the United States Supreme Court.
When not practicing law, he was a devoted husband and father, spending as much time as he could with his family, including his kids' sporting events and activities, and numerous family trips, as well as an annual family vacation to Sanibel Island, FL.
He is survived by his beloved wife, Mrs. Anne Kemp Freeman, brother, James Newton Freeman, Jr., his sons, Richard Columbus Freeman, IV., Stephen Kemp Freeman and Duncan Perry Freeman, his daughters-in-law, Karen Marie Freeman, Cynthia Sanders Freeman and Rachel LaRue Freeman, and four grandchildren: Stella Ann Freeman, Calista Marie Freeman, Duncan Perry Freeman, II., and Parker LaRue Freeman, as well as numerous cousins, nephews and nieces. He will be sorely missed.
Jeanette Gatje (Wife of Pete Gatje (24th Co)) (2/1/17)\
Update 2/2/17
Obituary
A Navy wife, loving mother and grandmother, and volunteer, Jeanette Garrett Gatje died on Monday, January 30, 2017 at home with friends and family at her side.
Born in Haines City, Florida to Mavis Murphy Garrett and John Lewis Garrett, she grew up in Bartow, Florida. Jeanette graduated from Florida State University in 1959 where she was a member of the Pi Beta Phi Sorority. She married Peter Herbert Gatje on July 4, 1959 and at that time, began her career as the wife of a Naval Aviator. She thrived as a Navy wife; she loved moving to new places, making friends, and getting involved in the community, especially volunteering with the Navy Relief Society. In 1986 Pete retired from the Navy and in 2000 they moved from Oakton, Virginia, to Stoney Creek at Wintergreen in Nellysford, Virginia.
Jeanette enjoyed golf, bridge, gardening, and was active in the Nelson County Master Gardener program. Jeanette is survived by her husband of 57 years, and her children, Karen Gatje LaPorte, her husband Steve, and children Kyle and Lindsey Davidson; Michael Gatje and his wife Malisa; and Scott Gatje, his wife Debi, and their children, Alex, Sean, and Andrea. Jeanette is also survived by her brother Allen Garrett and his wife Carol who reside in Tampa, Florida. In lieu of flowers, the family suggests that any desired memorial contribution be made to Hospice of the Piedmont, Charlottesville, Virginia.
A memorial service will be held on 11 o'clock on Friday, February 10, 2017 at the Emmanuel Episcopal Church, 7599 Rockfish Gap Turnpike, Greenwood Virginia, 22943. A luncheon will be held in the Parrish hall immediately following the service.
Memorial Service
Jeanette G. Gatje
Our Beloved Wife and Mother
Friday, February 10, 2017
11:00 a.m. with a luncheon to Follow
Emmanuel Episcopal Church
7599 Rockfish Gap Turnpike
Greenwood, Virginia 22943
Jeanette cherished her friends and family. We would welcome your attendance at her memorial service. The service will be followed by a reception luncheon in the Parrish Hall at Emmanuel.
2/1/17
From Pete Gatje:
Jeanette Gatje, wife of Pete Gatje, passed away during the late afternoon of Monday, January 30th after an 18 month battle with stage 4 lung cancer. At the time of death she was surrounded by clergy, Hospice workers, friends, and her husband Pete. Jeanette had many friends among the USNA Class of 1958 wives and our classmates. She loved the Navy and especially enjoyed our '58 football tailgates, being part of the "58 football cheering section, and '58 class reunions. A memorial service is planned for Jeanette at the Emmanuel Episcopal Church in Greenwood, VA. Time and date for the service will be announced at a later date.
Your friend and classmate,
Pete
From Gordo:
You can contact Pete at his home address:
56 Black Walnut Lane
Nellysford, VA 22958
434-361-1309
Gordo
Mig Sturr (Wife of H. Dixon Sturr (20th Co)) (2/1/17)
Update 2/2/17
Obituary
Mig Sturr, age 76, of Bel Air, MD passed away on January 10, 2017 at the Upper Chesapeake Medical Center in Bel Air, MD. Born in Forty Fort, PA, she was the daughter of Peter Aloysius a WWI and WWII officer and Florence Irene (Simmers) Garrity an OR and school nurse. Mig was the wife of the late LCDR H. Dixon Sturr Jr. During their first 25 years of marriage, as a career military wife, they bought and sold 23 homes across the Unites States.
She loved painting with oils, watercolors and acrylics, and was the owner of Creative Travel Planners in Bel Air, MD which afforded her the opportunity to travel the world extensively with her daughters and grandchildren. Once she settled in Maryland she joined the sisterhood of PEO.
Mrs. Sturr is survived by her two daughters, Dixanne Sturr and Dara-Lynn (Sturr) VanPee and her husband, Pascal all of Bel Air, MD. Mrs. Sturr also has six grandchildren, Joshua and Lauren Lund of Virginia, Jeremy and Jasmine Sturr of Bel Air, MD, and Sasha and Quinn VanPee of Bel Air, MD. In addition to her parents and husband, she was preceded in death by her daughter, Sharon (Sturr) Biondolillo and grandson, Luka VanPee.
In lieu of flowers, contributions may be made to American Heart Association (for Mig) – Maryland, 217 E. Redwood Street, 23rd Floor, Baltimore, MD, 21201 or The Robert Packard Center for ALS Research at Johns Hopkins (for Sharon), 5801 Smith Avenue, McAuley Suite 110, Baltimore, MD 21209-3652 or the Alzheimer's Disease Association (for Dixon), 1850 York Road, Suite D, Timonium, MD, 21093, or the Make A Wish Foundation (for Luka), 17 Warren Road, Pikesville, MD 21208.
MC COMAS FUNERAL H
OME, P.A
50 W. Broadway Bel Air, MD 21014
Tel. (301) 838-1368
2/1/17
My name is Dixanne Sturr and I am the daughter of Dixon and Mig Sturr. I wanted to inform you that my mother, Mig, passed away on January 10,2017. She had been fighting a variety of medical issues over the last 3 years and was unable to recover from a surgical procedure on January 6th. She died at Upper Chesapeake medical center after being removed from life support. She was surrounded by her 2 daughters, son-in-law, and 4 of her grandchildren. She was cremated and her ashes were mixed with my father's ashes so they could be together forever. Please feel free to contact me if u so wish at crazysturr@aol. com.
George Roberts Allender (16th Co) (1/25/17)
There will be a Service of Commttal at the Columbarium on Thursday, 26 January 2017 at 1300 for CAPT George Roberts Allender, USN (Ret), Class of 1958 (DOB: 25 August 1934, DOD: 20 January 2017).
Susan Smith Harper (Wife of Hugh Harper (22nd Co))
Susan Smith Harper died Friday, Jan. 6 after a sudden illness.
Susan was the older of two daughters born to Dr. John Vernon Smith and Laura Smith. Her parents moved from Springville, Iowa to San Francisco when Susan was an infant. The family later settled on the other side of the bay, in Piedmont, California, a small, picturesque town located in the hills above Oakland.
Susan was a brilliant student. She attended the University of California, Berkeley, for one year, then transferred to George Washington University in Washington, D.C., where she graduated Phi Beta Kappa with a bachelor's degree in speech pathology.
She married her high school sweetheart, Hugh James Harper, shortly after Hugh's graduation from the U.S. Naval Academy. The couple had two children: Laura Harper Powell and Scott Harper, and raised them in Northbrook, Illinois, on Chicago's North Shore.
Susan was primarily a stay-at-home mother, but worked occasionally as a speech pathologist, a tutor for learning disabled children, and a preschool teacher's aide. After a long stint in suburban Houston, she and her husband moved to Norfolk in 1997.
Susan was predeceased by her son Scott, who died in 2013 (surviving spouse Jane Harper). She is survived by her husband Hugh; daughter Laura (spouse Doc Powell); three grandchildren: Jackson Harper, Natalie Harper and Wesley Harper; her sister, Margaret Buran; and nephews, Sean Buran and Jason Buran. She will be remembered as a sweet and selfless woman who loved her family dearly.
A memorial service will be held next month in California. Arrangements are being handled locally by H. D. Oliver Funeral Apartments in Norfolk.
Paul Theodore Sudmeyer (3rd Co) (12/31/16)
Paul Theodore Sudmeyer (July 13, 1935 - December 23, 2016)
Paul T. Sudmeyer, beloved husband and father, departed this life on Friday, December 23, 2016, at home in Newton, North Carolina, after 81 full years of life. He was born July 13, 1935 in St. Louis to the union of Ludwig and Emma M. (Riechmann) Sudmeyer.
Paul graduated from Roosevelt High School in 1953. He attended St. Louis University and served with the United States Marine Corps Reserve until he was accepted as a midshipman at the United States Naval Academy. Following his graduation from in 1958, he was commissioned a 2nd Lieutenant in the United States Marine Corps. He served as the Battery Commander of Hotel Battery, 3/12 during combat operations in the Republic of South Vietnam. Paul also served a second combat tour as a liaison between I MAF and III MAF. Other highlights include service with the Marine Barracks at Fort Meade Maryland, when Marines guarded the National Security Agency. Paul's awards include two Bronze Stars with combat 'V'.
Paul continued to serve others in the insurance and construction industries. In the final stages of his career, Paul returned to government service as a FEMA Comptroller, and served in several deployments to designated States of Emergency through the United States.
Paul was united in marriage to Elizabeth Hines Sudmeyer on June 21, 1968. They enjoyed forty- eight years of marriage.
Paul loved to fish, tinker, and to discuss new ideas and concepts. He was known as a keen competitor in Rummicube, Wii Bowling, and any game. He held trophies in tennis and shooting.
The Christmas tree in the Abernathy Laurels Chapel was decorated each year by a devoted Paul since joining this community.
He was preceded in death by his sister, Mathilda, and his parents Ludwig and Emma Sudmeyer.
Paul's surviving legacy, in addition to his wife, Elizabeth; are daughter Megan and her husband Jody; son Scott and his wife Dawn; son Todd and his fiancé' Kelly; grandchildren Ashley Porter, Brandon Porter, Samuel Sudmeyer, Joshua Krohn, Jason Krohn and Jenelle Simeone and 5 great grandchildren
A Service of Remembrance will be held at Spirit Place, Abernethy Laurels on Thursday, December 29, 2016 at 11am with Pastor Matthew Miller officiating.
In lieu of flowers, donations may be made to The Fisher House Foundation, Inc. 111 Rockville Pike #420 Rockville, MD 20850.
George McAleer (20th Co) (12/23/16)
12/27/16
George McAleer of Springfield, VA. On Friday, December 23, 2016 at Greensprings Village. Beloved husband of Joanne Duggan; devoted father of George III (Rhonda), Christopher (Kim), and Patrick (Molly); son of the late George, Sr. and Josephine McAleer; and brother of Jim (Sandee) and Mary Jo (Dave) Ostropwski. He is also survived by seven grandchildren, one great-grandchild, numerous nieces and nephews.
Visitation will be held on Thursday, December 29 from 1 to 3 and 6 to 8 p.m., at Fairfax Memorial Funeral Home, 9902 Braddock Road, Fairfax, VA. A Mass of Christian Burial will be held on Friday, December 30 at 10:30 a.m., at Holy Spirit Catholic Church, 5121 Woodland Way, Annandale, VA. Burial with full military honors will be held at Quantico National Cemetery, 18424 Joplin Rd, Triangle, VA, on Tuesday, January 3, 2017 11 a.m. In lieu of flowers, donations may be made to the Holy Cross Abbey (www.virginiatrappists.org).
- See more at: http://www.legacy.com/obituaries/washingtonpost/obituary.aspx?fhid=4443&n=george-mcaleer&pid=183215621#sthash.71DPHJzE.dpuf
12/23/16
From Gordo:
The bad news seems to come in multiples. I received the following from George's sister:
Sad news this morning. Brother George died early this morning from his bout from MS.
He's fought this battle for 40 years...never complaining. He has been living at Greenspring
Retirement Home for the past 5 years. His wife, Joanne and his 3 boys survive him. No
funeral arrangements have been made yet; probably next week. More later.
Thanks for the memories! Mary Jo Maloney Ostrowski.
Franz R. Wiedemann (1st Co) (12/23/16)
From Gordo,
Update 12/24/16
A block of rooms has been reserved at Loews Hotel in Annapolis for the evenings of 5 and 6 January 2017 for persons attending the Franz Wiedemann Memorial Service on Friday, 6 January at the Naval Academy Chapel and Columbarium. The block is listed as the Wiedemann Memorial Block and the rate is $109.
Here is the link: https://www.loewshotels.com/annapolis/wiedemann-memorial-block
Update: 12/23/16
A memorial service for our classmate Franz R. Wiedemann will be conducted in the U.S. Naval Academy Main Chapel at 10:30 a.m. on Friday, 6 January 2017 followed by interment (inurnment?) at the Naval Academy Columbarium.
There will be a reception at Alumni House on King George Street at 1230 p.m.
12/22/16
I regret to inform you that our esteemed classmate and friend Franz R. Wiedemann passed away from cancer in his home in West Chester, PA, on Tuesday morning, 20 December 2016, in the company of his wife Alice, their daughter Melissa and son Drew.
Information on the funeral services will be disseminated when provided by the family.
Francis Massie Hughes, Jr. (3rd Co)
Francis Massie Hughes, Jr., 80, died Thursday, Oct. 20, 2016. He was born Aug. 10, 1936, in Bremerton, Wash., to the late Francis Massie Hughes and Katherine Jane Eynon.
Massie grew up as a Navy "junior," moving from base to base. On Dec. 7, 1941, the family was living in the Navy Quarters P on Ford Island, only about a half-block away from the USS Arizona which was attacked. Massie's father, Cdr. Hughes, the squadron commander of a PBY unit, was the first pilot in the air after the attack.
After the Battle of Midway, Massie and his brother, Eynon, were sent to live with their aunt in Ft. Lauderdale. There, Massie started school and was confirmed in the Catholic Church at St. Anthony's. He then attended boarding school in Bardstown, Ky., at St. Joe Preparatory School. During the summer of his junior year while visiting his father in Turkey, he decided to attend the Naval Academy.
Massie graduated from the Naval Academy in 1958 and left for duty in the destroyer Navy, serving on the Camberra and the O'Hare. His next assignment was for the building of the first guided missile destroyer – the USS Charles F. Adams. As he was leaving for his new duty, Massie met the woman who would become his wife, Diane Ahnfeldt. At the commissioning of the Adams in Boston, he proposed and the following February they were married in the Navy Chapel in Washington, D.C. The Adams moved home base to Charleston, S.C., and there, Diane taught Spanish at St. Andrew's High School, while Massie sailed around the Caribbean.
Massie left the Adams for a new assignment at BUPERS in D.C., but with all of the relocating associated with the Navy and now planning a family, Massie opted to leave the Navy. Massie III was born at Walter Reed General Army Hospital, and shortly after, the family moved for Massie's new job at HiAcres Orange Concentrate plant in Maitland, Florida. Their twins, Kari and Kevin, were born in Orlando, FL.
From Florida, the Hughes moved to Milwaukee as Massie took a position as project engineer for the Joseph Schlitz Brewing Co. He was then promoted to plant engineer for the new Schlitz Brewery in Winston Salem, N.C., where the family lived for 10 years.
After a management reshuffling at Schlitz, Massie found a fulfilling position as facilities operations manager for the new Target Distribution Center in Maumelle, Arkansaas. The Hughes moved to Little Rock in 1980 and have called it home ever since. After taking an early retirement in 1994, Massie and Diane enjoyed many travels together all over the world with friends from around the country.
Massie enjoyed his church family at Christ the King Catholic Church, where he was an usher on most Sundays and enjoyed helping with the church's fundraiser, Rexfest.
He is survived by his wife of 55 years, Diane Hughes; older brother, Eynon Hughes of Phoenix; step-brother, Donald Lovelace of Charleston, S.C.; step-sister, Sister Helen Louise, CSJ, of San Diego; two sons, Massie Hughes and wife Tammy of Warner Robins, Ga.; and Kevin Hughes and wife Tracey of Bellevue, Wash.; daughter, Kari Gillenwater and husband Spence Fricke of Little Rock; and seven grandchildren: John "Trey" Gillenwater, Ryan Gillenwater, Madison Hughes, Mackenzie Hughes, Kaitlyn Hughes, Kennedy Hughes and Ashley Frances Hughes.
A funeral mass with military honors will be held at 10 a.m. Saturday, Nov. 5, at Christ the King Catholic Church, 4000 N. Rodney Parham, with Msgr. Francis Malone officiating. An inurnment will follow at the church's Columbarium, with a reception following the services. Visitation is scheduled for 6 p.m. Friday, Nov. 4, at Hunter's Green Clubhouse, #16 Hunter's Green Circle, Little Rock.
In lieu of flowers, memorials may be made to Catholic High School Foundation, 6300 Father Tribou St., Little Rock, AR 72205, or the local Juvenile Diabetes Research Foundation, 11324 Arcade Dr., Ste. 16, Little Rock, AR 72212.
Funeral arrangements are being handled by the Little Rock Funeral Home at 8801 Knoedl Court, Little Rock AR 72205, 501-224-2200. Sign the online guest book at
www.littlerockfuneralhome.com.
Richard Perley Whitney (15th Co)
Richard Perley Whitney died Oct. 17, 2016, at his apartment on Cumberland Avenue in Portland. He was born to Perley W. H. and Marion G. (Campbell) Whitney on Oct. 22, 1934, in Sanford. Richard was a 1952 graduate of Sanford High School. He enlisted in the U.S. Navy in 1953 and graduated from the U.S. Naval Academy in 1958. Richard served on active duty until 1962 and then in the U.S. Navy Reserve until 1976. He worked for the Trane Company as a sales engineer from 1962 to 1969, and then enrolled at the Andover Newton Theological School, where he was awarded a Master of Divinity degree in 1974. As part of his graduate studies, he and his wife and two children spent a year in Rhodesia (Zimbabwe), where Richard was a teacher and chaplain at the Chikore Secondary School. While maintaining a lifelong interest in philosophy and theology, he then continued to pursue his interest in engineering. Richard worked at several mechanical engineering firms in various capacities and eventually established his own company, Whitney Engineering, which specialized in geothermal heating and cooling systems. He retired in December 2015.
He enjoyed golf, darts, Red Sox baseball, and was a voracious reader of non-fiction, primarily about philosophy, religion, science, mathematics, psychology, and history. He liked to listen to historic speeches, watch lectures, and take classes at University of Southern Maine.
Richard is survived by his two children, Rear Adm. Mark R. Whitney and his wife Lisa, and professor Donna L. Whitney and her husband Marc Hirschmann; three grandchildren, Naomi L. Whitney-Hirschmann, and twins John T. and Austin G. Whitney; former wife Linda (Borden) Johnson; brother Donald H. Whitney and wife Joyce; and many cousins, nieces, and nephews.
His son remembers many conversations about his beloved U.S. Navy and his daughter remembers many detailed discussions about thermodynamics over the years.
Family and friends gathered at the shore in Ogunquit on what would have been the day after Richard's 82nd birthday and shared memories and photographs. Richard will be buried at sea following a committal ceremony conducted by the U.S. Navy.
Richard's cats, adopted from the local animal shelter, were his excellent companions over the years. For those who wish to honor the memory of Richard, the family requests donations to be sent to:
Animal Refuge League of Greater Portland
449 Stroudwater Street
Westbrook, ME 04092
or online (www.arlgp.org)
David Charles Eppling (21st Co)
Cmdr. David Charles Eppling went home to be with Jesus on Sept. 11, 2015. Born in Evanston, IL he lived a life of adventure traveling all over the world for his country, his companies, and his own curiosity. Yet his greatest adventure was living for Jesus and loving his real and extended family. He graduated from the Naval Academy in 1958 and served two combat tours in Vietnam earning numerous medals and citations. His life was changed when he surrendered to Christ at mid-life and found a new mission of leading men to Jesus. He is survived by his wife Elaine, 3 sons, 7 grandchildren, in-laws and the Dragon Lady. He taught us to attack the problem, push past the edge of the map, nothing is as bad or as good as it first seems, and make the best call you can with the information you have when you have to make it - but make a call. A memorial is planned was held on Saturday, October 17 at 3 pm in the Corey-Kerlin Funeral Home (940 Cesery Blvd. in Arlington). He calls to friends, foes, and those who knew him to consider the claims of Christ and be saved. In lieu of flowers, the family requests memorials be made to the Cmdr. David C. Eppling Leadership Scholarship Fund: Truett-McConnell College, Advancement, 100 Alumni Drive, Cleveland, Georgia 30528
Published in the Florida Times-Union on Oct. 11, 2015
Richard Scruggs Anderson, Jr., (8th Co) (9/11/16)

Capt Richard Scruggs Anderson USN (Ret) died September 1, 2016 of heart failure at INOVA Lansdowne Hospital. He was born, May 27,1935 in St. Louis, MO. He is survived by his wife of 57 years, Barbara Ludwig Anderson; and children, Pamela Anderson Schippers (Myron), Deborah Anderson Dickerson (Tod), Richard Scruggs Anderson, III and Heather Anderson Cleary (Gregg); and five grandchildren, Myron Schippers Jr., Patrick Schippers, Kennedy Dickerson, Griffen Dickerson and Meghan Cleary. He was preceded in death by his son, Heath Lisle Anderson.
He graduated from the US Naval Academy in Annapolis, MD class of 1958, earned a Master's of Science in Oceanography, from Naval PG School, graduated from Naval War College and received a Juris Doctorate from George Mason University School of Law. During over 40 years in service to the US Navy, he was a Captain of the USS Corporal (SS346), explored the Deep Ocean as a DSRV pilot, and was a Special Assistant, on the Joint Chiefs of Staff. He was awarded the Defense Superior Service Medal, the Legion of Merit, the Navy Commendation Medal, and the Navy Achievement Medal in addition to various unit and campaign medals.
Service for Capt. Richard S. Anderson, Jr. (US Navy Ret.) will be held on September 13 at 11 a.m. at Hall Funeral Home, 140 Nursery, Purcellville, VA 20132. A reception at Loudoun Golf and Country Club, Purcellville, VA 20132 followed. Donations in his name should be made to the
American Heart Association
and the
American Cancer Society
.

Arrangements by Hall Funeral Home, Purcellville, VA. Please visit

www.hallfh.com

to express online condolences to the family.


- See more at: www.hallfh.com#sthash.fMjY5yRi.dpuf

Walter Francis Mitchell (12th Co) (8/14/16)

Walt died on Aug 12, 2016 after a long, lingering illness. Funeral arrangements are as follows:

Monday 15 Aug: Visitation at Kalas Funeral Home, 4-7 PM, 2973 Solomons Island Road, Edgewater, MD 21037

Tuesday 16 Aug: Funeral Mass at 1030 St. Mary's Catholic Church-109 Duke of Gloucester St., Annapolis, MD

Committal immediately following at the Columbarium at the Naval Academy Cemetery. Gate 8 entrance ID required

Reception at the Annapolis Yacht Club from 1-3 PM

12 Dock St, Annapolis, MD 21401

Phone: (410) 263-9279

Obituary:

Walter Francis Mitchell (LCDR USN Ret.), 81, of Annapolis, Maryland, passed away peacefully surrounded by his family on Friday, August 12, 2016. A 1958 graduate of the United States Naval Academy, he loved his family, the Catholic Church, the United States Navy - especially the Class of '58, golf, happy hours at Carrol's Creek Cafe, Sunday breakfast at Chick and Ruth's Deli, the Redskins, the Nationals and his wide network of friends.

"Walt" was born on January 2, 1935 to Walter S. and Rita M. Mitchell in Washington, DC. After graduating from Gonzaga College High School, he joined the Navy Reserve as a Seaman Apprentice and attended the Sullivan School to prepare for the Naval Academy entrance exams. He graduated with a B.S. in engineering and graduated from the Naval Post-Graduate School in 1965 with a second B.S. and advanced studies in meteorology.


Walt was very proud of his sons Scott (Ellen) Mitchell and Martin (Sandy) Mitchell, daughters Kathleen (Mike) Murphy, Suzanne Fajer, Michele (Chris) Jackson, many loving grandchildren, nieces, nephews and extended family. He was a dedicated father, grandfather, brother and friend to all. He is also survived by his brother Robert (Bernadette) Mitchell and his former spouse and mother of his children Regina Walsh Mitchell. He is predeceased by his sister Rita (the late John) Wettlaufer and his son-in-law Salo Fajer.
During his 20 year career as a Naval officer, Walt received his Naval Aviator Wings in 1960; served at the Navy Fleet Weather Facility and served as the officer in charge of the Antarctic Support Force. Following two deployments to McMurdo Station, Antarctica, and two seasons directing the Southern Hemisphere Forecasting School, Walt directed development of highly classified satellite systems for Naval ships and carriers; served as Navy Satellite Liaison Officer to NOAA and the NASA Goddard Space Center Meteorological Laboratory and retired from the Navy in 1978.


Upon retiring from the Navy, he worked with SAIC and STX, and taught in Anne Arundel County public and private schools and Anne Arundel Community College. He served as a church lector for 53 years, 31 of those years with St. Mary's Church in Annapolis.


Friends and family are invited to a visitation on Monday, August 15, from 4pm to 7pm at the George P. Kalas Funeral Home, 2973 Solomons Island Rd., Edgewater, MD. A memorial mass will be offered on Tuesday, August 16, 2016 at 10:30am at St. Mary's Catholic Church, 109 Duke of Gloucester Street, Annapolis, MD 21401. Inurnment will follow at the US Naval Academy Columbarium. In lieu of flowers, memorial contributions may be made to Gonzaga College High School, 19 Eye Street, Washington, DC 20001 and St. Vincent De Paul c/o St. Mary's Church, 109 Duke of Gloucester St., Annapolis, MD 21401.An online guest book is available at www.kalasfuneralhomes.com.

For more info: Refer to the Funeral Home website for more information: http://www.kalasfuneralhomes.com/

Darrell Clinton Troutman (24th Co) (7/29/16)

Dear friends and family,

From Dara Troutman:

We're very sorry to inform you that Darrell passed away on Tuesday, July 26, at 2:30 p.m., after a four year battle with cancer. He was at home in Lincoln, surrounded by his immediate family. He died less than an hour after our pastor presided over a Service of Commendation (last rites for Lutherans) at his bedside.

A memorial service will be held at 11 a.m. on Saturday, July 30, at First Lutheran Church, 1551 South 70th Street, in Lincoln. Inurnment will follow in the church's columbarium.

For those family members who would like to be part of the procession into the sanctuary, we would ask that you arrive at church by 10:30 a.m. We'll gather in the chapel for fellowship and prayer prior to the memorial service.

His obituary is attached.

We're grateful for your love and support at this difficult time.

Shirley, Brent, Brenda, Dara and families

P.S. Shirley's address is 9130 Pioneer Court, Lincoln, NE 68520

Obituary

CAPT Darrell Clinton Troutman, USN, Retired

February 8, 1936 – July 26, 2016

Darrell Clinton Troutman, the second child of Carl and Dorothy (Fleer) Troutman, was born at home near Winside, NE, during a major blizzard, on February 8, 1936. He passed away on July 26, 2016, in Lincoln, after a courageous four year battle with cancer.

His initial schooling was in District 81, the same rural school his father attended. Upon the death of his grandfather, Herman Fleer, in 1946, his parents purchased "The Daylight Store" and the family moved to Winside. Darrell and the entire family spent a significant amount of time operating "Troutman's Super Saver" store. While in school he participated in football, basketball and track, and with local softball and baseball teams. He graduated as valedictorian of his Winside High School class in 1953.

Darrell attended Wayne State College for one semester and then enlisted in the Army, completing basic training at Fort Leonard Wood, MO. In June 1954, he was appointed to the U.S. Naval Academy and graduated with an engineering degree on June 4, 1958.

On June 22 of that year, he married his high school sweetheart, Shirley Ann Barner, in a military wedding at St. Paul's Lutheran Church in Winside. They moved to Pensacola, FL, to begin their aviation career in the U.S. Navy.

During 31 years of military service they lived in Florida, Georgia, Texas, California, Maryland, Virginia, and Nebraska, and overseas in Japan and Italy. Significant events included graduation from the Naval Postgraduate School with a master's degree in aeronautical engineering, presence aboard the USS Forrestal during a major tragedy in 1967, and three separate deployments to participate in the Vietnam conflict. His combat decorations include the Silver Star, the Distinguished Flying Cross (2 awards) and the Air Medal (9 awards).

His last active duty assignment was Commanding Officer of the Naval Reserve Officers Training Corps (ROTC) unit at the University of Nebraska-Lincoln. Upon retirement from the Navy, Darrell and Shirley remained in Lincoln where he taught mechanical engineering at UNL, was a licensed realtor, and served as Director of Ancillary Services for the Martin Luther Home Society. He was a member of First Lutheran Church, the American Legion, past member of the Sertoma Club, delivered Meals-on-Wheels, drove the train at the Folsom Children's Zoo, and volunteered with the Veterans Administration. He was an avid golfer and card player.

Darrell is survived by Shirley, his wife of 58 years; his son Brent and Tami Troutman of Puyallup, WA; daughters Brenda Bell and Dara Troutman, both of Lincoln; grandchildren Tyler and Nicole Troutman of Spokane, WA, Brooke and Jonathan Jones of Puyallup, WA, and Evan and Bryce Bell of Lincoln; great-granddaughter Aria Jones; brothers Dwight and Judy Troutman of Omaha, Kirk Troutman and Gregg and Carla Troutman of Ralston, and sister Judy Troutman of Lincoln.

He was preceded in death by his parents, son Clint Bradley, brother Gary, and sister Lynne.

A memorial service will be held at 11:00 a.m. on Saturday, July 30, at First Lutheran Church, 1551 S 70th Street in Lincoln. Inurnment will follow in the church columbarium. No visitation. Memorials to First Lutheran, Tabitha, or a charity of choice.

Raleigh Ralph Ford (19th Co)

From Ralph's Daughter, Emily

I am sorry to inform you that my father passed away peacefully Tuesday evening, July 26, 2016 . He had been battling alzheimer's for over four years. An inurnment and memorial service will be held at Dallas National Cemetery at a later date.

Walter C. Peters Jr.(9th Co) (7/15/16)

Walter C. Peters, Jr. was a remarkably interesting father, husband (twice), and entrepreneur. In a very gutsy move, he learned to fly while in high school and carried his love of flight for many decades. After high school he surmounted the arduous academic, mental and emotional challenges imposed on US Naval Academy midshipmen, graduating in 1958. At that time the relatively new Air Force was pulling graduates from the other military academies so he joined their growing officer ranks, serving in the Strategic Air Command. His civilian occupations included aircraft sales and commercial real estate, among others. The challenges of finding a proper facility for his own aging father led to his creation, construction, and development of Arcadia Estate Assisted Living, a premium care facility. Alas, his frequent pipe smoking was a likely contributor to various cancers which effectively ended his life at least a decade or two too early, in addition to causing a host of maladies along the way. Walter is survived by five sons, Daniel, Mark, David, Charles, and Brian, two daughters-in-law, Sarah and Elizabeth, and three grandchildren, Cameron, Audry and Hannah. We would be remiss to not mention his two ex-wives who made such a contribution to raising and educating his children, despite obstacles along the way: Marta Revilla and Cindy Wheeler. He will be missed. Funeral services will be held Monday, June 27th at 12 Noon, at Messinger Mortuary, 7601 E. Indian School Road in Scottsdale, with a visitation one hour prior. Private family interment with military honors will take place at St. Francis Cemetery. Memorial contributions may be made to Disabled American Veterans, 1510 N 79th Street, Scottsdale, AZ 85257. You may leave an online condolence for the Peters family at www.messingermortuary.com.

Published in The Arizona Republic on June 26, 2016

Joseph Anthony Burgard (9th Co) (5/17/16)

Joseph Anthony Burgard Jr. of Sierra City, California, passed away surrounded by his family on April 30, 2016, in Grass Valley, California.

He was born on June 18, 1934, in Los Angeles, to Joseph Sr. and Anne Burgard, he was the fourth of six children. Joe earned his Eagle Scout Rank in 1952 and graduated from the U.S. Naval Academy in Annapolis, Maryland in 1958. Later, he worked at Aerojet General in Sacramento as a rocket engineer, and held management positions for several manufacturing firms.

In 1974, he purchased Valmont Corporation (aka Aaburco Inc.) a light manufacturing business in Grass Valley. It produced tabletop restaurant equipment including the CHEFMASTER Food Cutter and the PIEMASTER Turnover Machine. It also provided local metal polishing and electroplating. Joe was an early adopter of computers and local area networking in the 1980's, e-commerce in the 1990's, and co-owner of Mrs. Doublebee's Pasties in Grass Valley. He sold his business in 2004, retiring to Sierra City where he enjoyed hiking, kayaking, taking photos, and working in his shop.

He cherished Frances, his wife of 58 years, and their four children Elizabeth (John) Fulgaro, Daniel (Karen), Gwendolyn (Stanley) Devereux and Jeffrey (Jacqueline.) "Papa Joe" enjoyed sharing movies and the mountains with twelve grandchildren and five great-grandchildren. He is also survived by siblings, Doris (Marvin) Hayes, John (Donna) and Robert (Barbara).

He was preceded in death by Lucille (Howard) Mosbacher and Rosemarie (Anthony) Buffum.

A family memorial service will be held in June. In lieu of flowers, contributions may be made to Immaculate Conception Church, POB 302, Downieville, CA 95936 for the preservation of St. Thomas Church in Sierra City.

Hooper & Weaver Mortuary

459 Hollow Way, Nevada City, CA 95959

(530) 265-2429

http://www.hooperandweavermortuary.com/obituaries/joseph-anthony-burgard-jr/

John F. Fox (7th Co) (5/25/16)

Commander John F. Fox, USNR (Ret.),died on May 21, 2016, age 79 of Cherry Hill, NJ. John is survived by his wife Patricia of 58 years. Dear father of John C. (Cindy) Fox, Margaret Fox, Mary (Andrew) Bott, and Joseph Fox. Loving grandfather of Christine Fox, Alexis Bott, John Michael Fox, Emily Bott, and Victoria Bott. Dear brother of Andrew (Anna) Boyle.

John graduated from the Naval Academy and after serving active duty, he remained in the Reserves until retiring as Commander in 1978. As a civilian he worked as a civilian Engineer and later for the NAVSEA in various positions serving the fleet. After Federal retirement, he spent the next 20 years as Vice-President for a Defense Department civilian contractor. John enjoyed golfing with friends, watching sports, but most of all spending time with his family.

Relatives and friends of the family will meet for his viewing and funeral on Thursday morning, May 26, 2016 from 9:00am to 11:00am at the BOCCO FUNERAL HOME, 1300 North Kings Hwy., Cherry Hill, NJ 08034. Funeral Mass will be celebrated on Thursday at 11:30am at The Catholic Community of Christ Our Light Church, 402 North Kings Hwy., Cherry Hill, NJ 08034. Interment Colestown Cemetery, Cherry Hill, NJ. In lieu of flowers donations may be made to the Alzheimer's Association or The Tuberous Sclerosis Alliance. For condolences and an expanded obit, please visit: www.BoccoFuneralHome.com.

John Andrew Finegan, Jr (17th Co) (5/25/16)

John Andrew (Jack) Finegan, Jr. died peacefully at home after a long battle with Lewy Body Dementia on May 16, 2016 at the age of 81. Jack is survived by his wife Paula Setzer Finegan of Hickory, his sister Anne Finegan Rollings of Jacksonville, FL. his sister Patricia Finegan Houk of Hickory, daughter Catherine Finegan Hitesman of Asheville, NC, sons, William Riley Holden III of Kanazawa, Japan, Michael Paul Finegan of Huntersville, NC and John Patrick Finegan of Wake Forest, NC. He was preceded in death by his parents, John Andrew Finegan, Sr. and Eleanor Fuller Finegan. In addition to his parents, he was preceded in death by two daughters-in-law, Tomomi Sakashita Holden and Sonya Carter Finegan. He was born April 27, 1935 in Richmond, VA.

He attended Hickory High School and The Asheville School and upon graduation accepted an appointment to the United States Naval Academy in Annapolis, MD. After completing his Bachelor of Arts degree at UNC Chapel Hill, he spent the majority of his working career in marketing/advertising with the First National Bank of Catawba County and Hickory Springs Mfg. Co., where he retired in 2000 as Director of Corporate Communications. Jack's civic involvement included being past Treasurer of both the Hickory Community Theater and the Western Piedmont Symphony Orchestra. He was also a past member of the Hickory Jaycees, the Kiwanis Club and La Danse Club. Jack was an accomplished artist, dancer, and crossword puzzle freak (done in ink, first try, no mistakes!). He was an avid tennis player and formed long lasting friendships with his "tennis buddies". After his children were grown, he became a Big Brother to continue giving his love and leadership to a younger generation that needed guidance. He was devout in his faith as a lifelong member of St. Aloysius Catholic Church. His family was his greatest love and source of pride. His leadership and steadfast adherence to a high moral code have benefitted his children and grandchildren.

The family will be receiving from 6:00 8:00 pm on Friday, May 20 at Bass-Smith Funeral Home. His funeral service will be held Saturday, May 21 at 2:30 pm at St. Aloysius Catholic Church in Hickory. Burial will follow in Oakwood Cemetery. The family would like to extend a heartfelt thank you to Jack's caregivers, Alana Gibbs, Diane Gibbs, and Kimiko Haughwout, for their wonderful care and support. In lieu of flowers, donations may be made to Hospice of Catawba Valley, 3975 Robinson Road, Newton, NC 28658 or to a charity of one's choice. Bass-Smith Funeral Home in Hickory is serving the family of John Andrew (Jack) Finegan, Jr. Funeral Home Bass-Smith Funeral Home Bass-Smith Funeral Home 334 2nd St., NW Hickory , NC US 28601 Visitation Bass-Smith Funeral Home Bass-Smith Funeral Home 334 2nd St., NW Hickory , NC US 28601.

Joe Burgard recently passed away. No further info at this time.

Francis Aloysius Conery III (13th Co) (5/2/16)


Update 8/15/16

From Gordo:

Frank will be inurned at the USNA Columbarium Friday, 19 August at 1130. His widow, Marion, will be hosting a reception at the USNA Club immediately after the inurnment ceremony.

Marion would like a count of those expecting to attend the reception so that she can inform the club.

Please respond to me if you expect to attend the reception. Please do NOT provide negative responses

Update 7/15/16

There will be a Service of Committal at the Columbarium on Friday, 19 August 2016 at 1130 for LCDR Francis Aloysius Conery III, USN (Ret), Class of 1958; (DOB: 30 October 1935, DOD: 20 April 2016).

Updatre 6/27/16

Francis Aloysius Conery III '58

LCDR Francis Aloysius Conery III, USN (Ret.) died peacefully in his sleep on April 20, 2016. A resident of Manchester NH, he was the son Frank A. Conery, and Ethel McGee Conery and entered the Naval Academy from his hometown of Worcester MA after graduating from St. John's High School in Worcester. Frank was a member of the 13th company. Following graduation, he reported to Pensacola FL and received his Naval Aviator wings in March 1960. He then reported for a four year tour with VP-6 at Barber's Pt., HI, with several deployments to Japan and other Pacific islands. A tour as an instructor pilot in VP-31 was interrupted by the Gulf of Tonkin incident, and he was transferred to NAS Corpus Christi in the Fall of 1965 where he completed another two years as an instructor in VT-28. During that time, he became fully carrier qualified and left in December 1967 to join CVA-3, Bon Homme Richard, at Yankee Station in the Gulf. Orders to the E-2B Hawkeye RAG, VAW-112 were followed by a tour with VAW-114 deployed aboard the CVA-63, Kitty Hawk, and another three cruises to the Gulf. From there, he went to the US Naval Station, Brooklyn, NY and then to Manchester, NH, as the CO of a small joint service command, the Armed Forces Examining and Entrance Station, supporting NH, VT, and part of MA. Frank faithfully served his country as a naval officer for twenty years. During that time, he found flying E-2's to be the most exciting and satisfying flying that he did. Employment in production management and then computer analysis at Polaroid followed, and after fifteen years he, again, retired.

After retirement, Frank and Marion, enjoyed many of their golden years traveling in their motor home. Frank was an original member of the USNA Recreational Vehicle Chapter, and for years served as its webmaster.

First and last, Frank was a family man. He leaves his wife of 57 years, Marion Devine Conery, and five children: Kathleen Conery and her husband Jeff Hoodock, Frank A. Conery and his wife Brenda, Deborah Conery and her husband Manny Content, Caroline Conery and Maureen Conery, four grandchildren, Jonathan, Kelsey, Frank, and Christopher, and five great grandchildren.

Frank will be inurned at the Naval Academy Columbarium at a future date.

5/2/16

Manchester, NH - Sometime during the night of April 19th, 2016, Francis Aloysius Conery III went to bed and passed away, peacefully, in his sleep. He will be remembered by his large, loving family, wife Marion; 5 children and their spouses : daughter Kathleen & Jeff, son Frank IV & Brenda, daughter Debbie & Manny, daughters Caroline, and Maureen; 4 grandchildren : Jonathan, Kelsey, Frank V, and Christopher; 5 great-grandchildren : Alyson, Brianna, Aniyah, Jovhan, and Ellijah; and his two surviving brothers Robert and Michael. He also leaves his sister-in-laws and nieces and nephews, and the many friends he made thru his years in the Navy, his employment at Polaroid, and his years of RV'ing. He was predeceased by his parents Frank II and E Francis Aloysius Conery IIIthel (McGee) Conery as well his younger brother Danny.

At 7, Sandy, as his family called him, decided he would be a pilot and at 10 he decided he would go to the Naval Academy (USNA class of 58) although, he admitted, he wasn't sure what that was. He attained both goals and his 20 years of service were a source of pride, with his 5 deployments during the Vietnam War as a pilot flying off an aircraft carrier the most challenging and rewarding part of his career. Frank met the love of his life his future wife in his teens, at the dentist, and later when trying to decide who to ask on a date, shy Marion or another girl - he flipped a coin. It came up for the other girl and he called Marion. They were married for 57 years. After retiring a second time, from Polaroid this time, Frank and Marion began to travel again. The Navy had shown him much of the world and now, together, they explored the US, reconnecting with old friends lost due to transfers and making new ones as well. And once they began their genealogy hobby they discovered extended family spread around the country.

He shared with his family his slightly cracked sense of humor, a love of reading, and enjoyment of music, although not everyone bought into the folk phase. We love you Dad.

Calling hours at Lambert Funeral Home & Crematory, 1799 Elm St, corner of North St., Manchester will be Sunday, April 24th, from 2 to 5 pm. The funeral service will be held on Monday at 11 am in Bedford Presbyterian Church. Encryptment will take place at a later time at the US Naval Academy, Annapolis, MD.

Go to www.lambertfuneralhome.com

Lambert Funeral Home

1799 Elm St

Manchester, NH 03104

603-625-6951

Hugh Lee Palmer (14th Co) (4/11/16)

Hugh Lee Palmer, a Dunedin (FL) resident and business owner, died Wednesday, April 6 at age 80. He was preceded in death by his wife (Patricia) of 52 years. He was born February 1, 1936, in Lebanon, OH. Hugh grew up in Middletown, Ohio and was a 1954 graduate of Middletown High School, Middletown, Ohio.

After graduation, Hugh was appointed to and attended the United States Naval Academy. Upon graduation in 1958, he married Patricia Burns (also of Middletown) on June 12, 1958. Pat and Hugh were childhood sweethearts. To honor his USNA military obligation, he became a Naval aviator which included serving on the USS Enterprise for about three years. In 1965, with a young family to raise, he resigned his commission to return to Middletown, Ohio, to begin a new career working for Armco Steel. In 1980 Hugh and family relocated to the Florida Gulf Coast. He was initially employed by Dean Steel Buildings in Fort Myers, Florida and eventually struck out on his own to become a Class A General Contractor in Dunedin, Florida.

Hugh's interests included membership in the Clearwater Bass Club, Emmanuel Community Church, attending USNA alumni events and spent many hours documenting the Palmer genealogical history. We now possess a rich archive thanks to his efforts. Survivors include three sons, Scott, of Tampa, FL, Gregory (Kim), of Miami Shores FL and Christopher (Suzanne) of St. Petersburg, FL; three grandchildren Taylor, Thomas and Patrick; two brothers, retired Col. Warren (Nancy) Palmer, of Plymouth, Mich., Pat (Diana) Palmer, of Cheswick, Pa.; a sister, Cecelia McLane, of Redmond, Ore.; a sister and brother-in-law Carol Burns McAdow and Samuel J. McAdow of Dublin, OH; a sister-in-law, Linda Palmer, of Cincinnati and brother-in-law Thomas Redding of Lima, OH. He was preceded in death by a brother, Michael Palmer; a sister Nancy Palmer Redding and brothers-in-law, Douglas McLane and Robert S. Burns.

A remembrance service will be held at 11 am Saturday, April 16, at Emmanuel Community Church in Palm Harbor. Words can't adequately describe his amazing life. However, you may want to read an article the Times wrote about a portion of his USNA career and Hugh's complete obituary. .

http://www.tampabay.com/news/military/as-uss-ienterprisei-is-decommissioned-dunedin-veteran-remembers-his-time/1262007

http://www.legacy.com/obituaries/sptimes/obituary.aspx?n=hugh-l-palmer&pid=179571481#sthash.7PiKgowM.dpuf

Richard Charles Gibson, Jr. (23rd Co) (3/12/16)

Richard C. Gibson, Jr., known to his friends as Hoot, 80, of New Hartford, died on Wednesday, March 9, 2016, at St. Elizabeth Medical Center.

He was born on February 10, 1936, in Parkersburg, W. Virginia, a son of the late Richard, Sr., and Harriett Lawher Gibson. He graduated from Marietta High School in Marietta, OH, in 1954 and the United States Naval Academy in 1958. After graduating from the Naval Academy, Hoot became a Naval Air Attack Airman during the Vietnam War and served on the Intrepid with the VA 106 Squadron. After the war, he was a test pilot until he retired from the Navy in 1980. After he retired from the Navy, Hoot worked for General Electric as a manager and also worked for Integrated Sensors.

He married Martha (Molly) Goldman on August 6, 1971, at Edwards Air Force Base, a blessed union of 45 years. Hoot was an active member of the New Hartford First United Methodist Church, where he served as a trustee, treasurer for many of the committees at the church and Head of Family Nursey School Board. He enjoyed making people feel welcome at church as they first arrived. Hoot was also a member of the New Hartford American Legion.

With his free time, he loved to cook and was well-known for his New England clam chowder. He created a gourmet cooking club with his friends, where he enjoyed preparing many special meals together with them. He also loved to follow Navy Football and traveled to watch many Navy vs Army Games, "Go Navy Beat Army". He was a loving husband, father and grandfather who viewed his grandchildren as his treasures and cherished the time he spent with them.

He is survived by his wife, Molly Gibson, of New Hartford; children, Mark Gibson, of New Hartford, and Pam Mason and her husband, Bill, of Whitesboro; grandchildren, Erin, Jack and Evan Mason; sisters-in-law, Joann Simons, Betty Goldman and Nancy Murry; and many nieces, nephews and great-nieces and nephews. He is also survived by very close friends from high school, the Naval Academy and the VA 106 Squadron. He was predeceased by his son, Richard (Rick) Gibson, III.

The family would like to offer a heartfelt thank you to the ICU team at St. Elizabeth Medical Center for all the special care given to Hoot.

A memorial service will be held on Saturday, March 19, at 1:00 at the New Hartford First Methodist Church with the Rev. Bradley Chesebro and Rev. Carol Jubenville. Interment will be in Arlington National Cemetery at the convenience of the family. The family will greet everyone following the service.

Arrangements are with the Dimbleby, Friedel, Williams & Edmunds Funeral Home, New Hartford.

In lieu of flowers, please consider the New Hartford First Methodist Church, Heart Association or the Stevens-Swan Humane Society in memory of Hoot.

For online expression of sympathy, go to www.dfwefh.com

Thomas Lucke (16th Co) (2/4.16)

Thomas Lucke, 79, formerly from Oxford, MD, now of Winter Haven, FL, passed away January 25, 2016.

He was preceded in death by his wife, Barbara D. Lucke. He is survived by three daughters, Cherie Carroll, Lynn Smith and Barbara Lucke; step children, Bonnie Meehan, Bo Mullan, Beth Sahley, James Mullan; 12 grandchildren.

Tom was born in New York City February 24, 1936. He grew up on the Eastern Shore of Maryland. After High school he attended the Naval Academy. He graduated form John Hopkins University with a degree in engineering and began a career as a mechanical engineer. In his late 20s, he moved back to the Eastern Shore of Maryland, became the owner of Dickerson Boat Builders. He was also an artist/craftsman in stained glass and photography and a marine surveyor. His biggest hobbies were racing his sailboats on the Chesapeake Bay, fishing and model sailboat racing. His greatest passion was his dogs.

A Celebration of Life will be determined for a later date in Maryland in the fall of 2016. In lieu of flowers, donations may be made to one of the following organization Tom cared most about: Coastal Conservation Association @ joincca.org or The ASPCA (American Society for Prevention of Cruelty to Animals) @ www.aspca.org

Carl Eugene Ingle (14th Co) 01/29/16)

LCDR Carl Eugene "Gene" Ingle, January 13, 1934 - January 7, 2016 ...He graduated with the USNA Class of 1958 and proudly served his country until he retired in 1978. He then went on to work for General Dynamics of San Diego and the College of the Desert in Palm Desert where he retired again in 2004. ... Gene is survived by his loving wife of 49 years, Mary.

A Funeral Mass was held at 10:30 AM on Thursday January 28 at Our Mother of Confidence, 3131 Governor Drive, San Diego, followed by Military Honors at Miramar National Cemetery at 12:30 PM.

If you are unable to attend, you might want to sign the Guest Book online obituaries.sandiegouniontribune.com.

Jean Ray Whittenberg (23rd Co) 01/17/16

Update 2/12/16

Jean's graveside service, with full honors, Arlington National Cemetery, will be at 1PM, on Friday, April 8th, 2016. Attendees must be at the Administration Building
30 to 45 minutes before the ceremony.

01/17/16

Col. Jean Ray Whittenberg, USAF, Ret., 80, of Peachtree City passed away Jan. 6, 2016. He is survived by his wife Joan Whittenberg; daughter Janet (Mike) DiBenedetto of Peachtree City; grandson Michael (Ashley) DiBenedetto, Jr. of Dunwoody; and nephew Gary (Jackie) Whittenberg of Ft. Collins, Colorado. A funeral service was held on Sunday, Jan. 10, at 3 p.m. in the Chapel of Mowell Funeral Home in Peachtree City. Minister Billy Rowe officiated. Burial will follow at a later date at Arlington National Cemetery in Washington, DC.

Moston Robert Mullholland (4th Co) (01/12 16)

Update 01/17/16

Rev. Dr. Moston Robert "Bob" Mulholland Jr., 79, passed away on December 20, 2015. He was born on September 3, 1936 in Rutland VT, the son of Moston and Georgine (Schou) Mulholland.

Bob's life was dedicated to serving and glorifying God. He was a New Testament scholar, serving as professor of New Testament and Spiritual Formation at McMurray College in Abilene, TX, and later at Asbury Theological Seminary in Wilmore, KY, also serving as Vice President-Provost and Chief Academic Officer. He traveled the world teaching in 12 countries such as Korea and Russia. Bob was a prolific author, writing seven books, biblical commentaries, multiple reviews and chapters, and contributing to several revisions of the Holy Bible, including the New Living Translation.

He is survived by wife Lynn Mulholland, son Jeremy, daughter Tareena (Tim), brother Bill (Linda), Marsha (Larry), and furry companion Charlie the cat.

A memorial service was held at the Shirley Community Church on Tuesday, December 29, at 11:00 am.

From Charlie Pinkham:

We just received a late Christmas letter from Lynn Mulholland, Bob's wife, saying that Bob died on December 20th in the hospital where he was being treated for advanced cancer and serious pneumonia. As you may recall, Bob left the Navy after serving in the Supply Corps and went into the ministry which he was destined to do! He rose thru the ranks of the Methodist discipline and became the Provost for Ausbury Theological Seminary, and developed many programs for transmittal to Churches in Russia.

Bob and I were roommates for our first 3 years at USNA, we were both from VT and both were on varsity Crew teams. ?

Lynn's contact info is as follows:

Lynn Mulholland, P.O. Box 622, Greenville, Maine 04441.

Home Phone No.: 207-695-2843.

Email address is: gwenethsu@gmail.com

Charlie

Peter Neil Midgarden (11th Co) (12/21/15)

Obituary

Mar. 10, 1935 - Dec 18, 2015 `Peter Neil Midgarden was born in rural North Dakota on March 10, 1935. As a child he was a reader and adventurer. He enjoyed hunting, fishing and trapping like the heroes in his books. He played all sports in high school. He graduated from the US Naval Academy in 1958 and became a Naval Aviator, flying A-7 Corsair II's from aircraft carriers during the Vietnam conflict. He retired with the rank of Captain after serving in NATO as the liaison between US and allied forces, for which he was awarded the third highest award given by the Defense Department, the Defense Meritorious Service Medal.

When he retired, he and his wife chose to live in Silverhill, AL, where for the rest of his life he tended to the needs of family, church and the community. He invested in the lives of youth as a Cub Scout leader for many years. He was a beekeeper, gardener, fruit and vegetable grower, boat builder, woodworker, and baker of specialties from his Norwegian heritage. He was a true gentleman who always spoke with kindness, humility and generosity. His greatest joy was in serving his God, his church, and his family. Pete taught Sunday school and studied the bible before resting each night. There were only two things for which he had no patience: watching TV and eating out. He always preferred a simple meal at home.

Mr. Midgarden passed away Friday, December 18, 2015. He was preceded in death by his parents, Gunder and Florence Peters Midgarden and brother, Nels Midgarden. He is survived by his wife of 54 years, Aleda Avera Midgarden; son, David (Silvia) Midgarden of Guatemala City, Guatemala; daughter, Anne (Gregg Fugate) Midgarden of Wapakoneta, OH; brother, James (Vickie) Midgarden of Grafton, ND; sister, Sue (Ron) Nichols of Mandan, ND and three grandchildren, Patrick, Agostina and Peter Midgarden. Funeral services will be held Tuesday, December 22, 2015 at 2 PM at the Zion Lutheran Church in Silverhill, AL. A visitation will be held one hour prior to the services in the Fellowship Hall of Zion Lutheran Church. Interment will be held in the Silverhill Cemetery in Silverhill, AL. Memorials may be made to Zion Lutheran Church. Arrangements are by Mack Funeral Home & Crematory, HWY 59, Robertsdale, AL.

Guest Book

"Aleda, David, Anne and family Condolences and sympathy to..."

See more: http://obits.al.com/obituaries/mobile/obituary.aspx?n=peter-n-midgarden&pid=176957645&fhid=5598

Funeral Home

Mack Funeral Home & Crematory




22154 State Hwy 59




Robertsdale

,

AL

36567




251-947-7781

Benjamin Franklin Montoya (5th Co) (12/20/15)

Update 12/21/15

"A wake and rosary will be held on January 5th, 2016 at the Sacred Heart Church of Palm Desert, California.

The funeral service will be on January 6th at noon at the Sacred Heart Church of Palm Desert.

The graveside service will follow at the Coachella Valley Public Cemetery.

Condolences can be sent to Ben's wife, Ginney at 4361 Whispering Oaks Circle, Granite Bay, CA 95746.

Please do not send flowers. If you would like to honor Ben's memory, please consider a donation to his beloved

Seabee Museum:

Diamond Anniversary Campaign

CEC/Seabee Historical Foundation

PO Box 657

Gulfport, MS 39502-0657

Obituary

Rear Admiral Benjamin Franklin Montoya, CEC, U.S. Navy, (Retired)

Ben was born in Indio, California on May 24, 1935 to Benjamin and Margaret Montoya. The family traces its lineage to Chihuahua, Mexico. He graduated from Coachella Valley Union High School in 1953 and attended Cal Poly in San Luis Obispo, California before entering the U. S. Naval Academy in 1954, joining his new friends in the class of 1958.

Among the usual midshipman activities, Ben led the baseball team to many victories, including two over Army. He was honored as team captain of the '58 team. The day after graduation, he married his high school sweet heart, Virginia Cox also of Indio. The long marriage produced five sons, two daughters and 17 grandchildren.

The new Ensign Montoya, CEC, USN began a 32-year career in facilities construction and maintenance and Seabee battalion duty in Vietnam. He was an early entrant into the Navy's environmental programs and held various senior command positions; reaching the pinnacle of the Civil Engineers Corps as Commander, Naval Facilities Engineering Command and Chief of Civil Engineers. He retired in 1989 with the rank of Rear Admiral. In addition to his Naval Academy education, Ben also received degrees from Rensselaer Polytechnic Institute, Georgia Tech and a JD from Georgetown Law School. His civilian career was spent in the utility industry where he held senior positions with PG&E in California and as President and CEO of Public Service Co of New Mexico, his father's home state. Throughout his naval and civilian careers, Ben was an inspirational leader and role model to all who knew him, especially to Hispanic Americans.

Ben was appointed to various boards, including the 1995 Base Closure Commission. He served on the Naval Academy Board of Visitors from 1994 to 1999; the last two years as Chairman. He was most proud of being nominated by his classmates and selected by the U. S. Naval Academy Alumni Association as a 2008 Distinguished Graduate.

Ben passed quietly in the company of his family and classmates. He is survived by his wife of 57 years, Ginney, his five sons, Ben, Chris, Pat, Mike, and Dave, his two daughters, Terri and Tasha, plus 17 grandchildren. He leaves two brothers, Arthur and Santiago (Jim). He was preceded in death by his parents and brother, Richard.



Barbra Minar (Wife of Gary Minar (20th Co))

Barbra Minar passed away on Nov 5th, after a long and courageous struggle with systemic lupus. She contracted the disease shortly after she and Gary were married in 1960 and has been up and down the health scale ever since. She raised 3 children, was a great wife, grandmother, friend, teacher, artist and author. She has written children's books , inspirational books and her latest "Walking Into The Wind", about fighting a chronic disease and staying 'healthy and courageous through it all due to her faith'. She will be missed by so many, but she is with her Lord and suffers no more.
From Gary Minar
Frank Kenneth Zemlicka (18th Co) (10/26/15)
Lieutenant Colonel Frank Kenneth Zemlicka (US Air Force, Retired) passed from this earthly existence on Sunday, October 18, 2015 from a well-worn, but worn out heart. Born February 16, 1936 in Manhattan, NY to Frank H. and Virginia Webster Zemlicka, Frank lived his life with a never ending thirst for knowledge.
After graduating high school, Frank went on to attend Annapolis Naval Academy, graduating in 1958. He then took his commission in the United States Air Force as an Aeronautical Engineer. As a young officer he received many awards and rank advancements. Frank served his country honorably throughout his twenty plus year career. After retiring from the Air Force, he moved to Utah to be close to his children. As a civilian, he began his second career as program manager at L-3 Communications (formally Unisys and Sperry Univac) working for another twenty years. After retiring from L-3, Frank worked briefly for NASA, helping to design a Space Shuttle Recovery System.
Frank was always very active and full of life. His favorite hobby was tennis and he was ranked in Ohio and in Utah. Hamilton Racquet Club was a second home to him. He was such a positive force in the lives of all those he touched.
He leaves behind his daughter, Suzanne, two sons, Frank ("Butch") and Paul, 12 grandchildren and 20 great-grandchildren. Preceded in death by his Father and Mother, brothers, Paul and Robert, daughter, Katherine, and great-grand son, Jonah. What a glorious reunion they are now having - one that he so looked forward to.
A private celebration of Frank's life will be held at a later date and interment will be held at Arlington National Cemetery with full Military Honors, as befitting a gentleman like Frank.
Our family would like to thank all of those whom have ever been touched by our Father and the many, we are sure, who have touched and held a place in his heart. Thanks, Dad, for being there for us and meaning so much to us. We miss you already. Until we meet again... We love you.
Joseph Port (23rd Co) (10/18/15)
From Gordo
Joe died several days ago...cause unreported. I have the following from USNA:
CDR Joe Port 's funeral will be in St. Andrew's Chapel and committal at Columbarium on Monday, 26 October at 1400, followed by reception at the Club
Joe will be inurned with his beloved Vera who preceded him.
Last Call: Shirley Cordova (Wife of Dick Cordova (17th Co) (10/18/15)
Dick Cordova forwarded info that his wife Shirley passed away on the 2nd of October.
Wayne Douglas Gardner (2nd Co) (9/9/15)
Wayne Douglas Gardner was born on January 15, 1936 in Flint, Michigan. He was the only child of the late Arthur and Thelma Gardner. Following his graduation from Flint Technological High School , Wayne began furthering his education while serving his country at the US Naval Academy. Following his graduation in 1958, where he was in the top ten percent of his class, he went on to serve in the United States Air Force for 3 years on active duty and 5 ½ years as a reservist.
After leaving the service, Wayne worked for a short time at the Michigan Employment office in Flint. It was there that he met co-worker Sharon Herfurth, who became the love of his life. They married and began their family together. Wayne and Sharon welcomed 4 beloved daughters: Cheri, Lisa, Judy and Julie. They raised their children in Livonia, Michigan.
A hardworking man, he always found time to spend with his family. They took many family vacations throughout the years, including driving across the country to California.
In 1962, Wayne earned a Master's Degree in Industrial Administration from the University of Michigan and initially provided for his family by working at Ford Motor Company. While working full time and taking an active role in raising his daughters, Wayne decided to pursue a degree in law and in 1971 he obtained his Juris Doctorate from the Detroit College of Law. He joined a law firm and practiced law for 27 years
In 1998, Wayne decided to retire to spend more time with his family. He spent many hours helping his daughters around their homes and babysitting his cherished grandchildren: Marie, Michael, Matthew, Sarah, Douglas, Bridget, Alyssa, Mitchell and Jessica. He was always there to provide support. Being active in his grandchildren's life was important to him.
Wayne and Sharon traveled extensively, including trips to Europe. He also enjoyed collecting model cars, boating, reading and listening to country music.A strong man of faith, he prayed for his family and others daily and was active in the church. He served every month at Open Doors Food Pantry in Canton. and in the church prayer ministry.
Although many saw him as a private, quiet man, Wayne could be the life of the party with his dry sense of humor.
On September 5, 2015, Wayne passed away, surrounded by his loving family. Wayne will be deeply missed by all his family, friends and those fortunate enough to have known him.
Wayne was the loving husband of Sharon for 56 years. He was the cherished father of Cheri (Pete) Dwyer, Lisa (Dan) Whitehead, Judy (Bart) Dolley and Julie (Chip) Stark. He was the proud grandfather of Marie (Jeff) Huntley, Michael Dwyer, Matthew Whitehead, Sarah Whitehead, Douglas Dolley, Bridget Dolley, Alyssa Stark, Mitchell Stark and Jessica Stark, and the great-grandfather of Jeffrey Huntley III.
Wayne's family will receive friends for a visitation on Tuesday September 8, 2015 from 3-8 pm at the Harry J. Will Funeral Home, 37000 Six Mile Rd (east of Newburgh and I-275) in Livonia.
His life will be celebrated with a funeral service on Wednesday September 9, 2015 at 10:30 am, in state at 10:00 am, at St. Michael Lutheran Church, 7000 N. Sheldon Rd. (south of Warren Ave) in Canton.
For those who wish to make a memorial contribution in Wayne's memory, the family suggests donations to:
St. Michael Lutheran Church
7000 N. Sheldon Rd.
Canton, MI 48187
or
Samaritan's Purse
PO Box 3000
Boone, NC 28607
www.samaritanspurse.org/donate
Harry J Will Funeral Homes
37000 W Six Mile Road
Livonia, MI 48152
734-591-3700
Stanley Earl Bump (23rd Co)
Update 8/23/15
From Ellie Bump
A Celebration of Life will be held on Saturday, September 5th , 2015 at 1:00pm at Timber Ridge at Talus, 100 Timber Ridge Way NW, Issaquah, WA. His ashes will be buried at sea.
Update 8/18/15
Rear Admiral Stanley Earl Bump, USN (Retired) passed away August 11, 2015 after battling ALS (Lou Gehrig's Disease) for several years.
RADM Bump was born in Portsmouth, New Hampshire on September 29, 1936. He graduated from the U.S. Naval Academy in 1958. He served on two destroyers - USS William C. Lawe (DD 763) and USS Luce (DLG 7) - before accepting Admiral Rickover's invitation to join the submarine force in 1965. He served on the USS Tecumseh (SSBN 628) (BLUE) and the USS Flasher (SSN 613) before receiving his first command, the USS Francis Scott Key (SSBN 657) (BLUE).
He served on the staff of Commander Submarine Force, U.S. Atlantic Fleet for five years. He then commanded the submarine tender USS Holland (AS 32) in Holy Loch, Scotland, from July 1979 to May 1981. He next served as Commander, Submarine Squadron SIXTEEN from June 1981 to June 1983 and participated in the development of Naval Submarine Base Kings Bay, Georgia.
He was selected for Flag rank in 1984 and served on the staff of the Chief of Naval Operations. He next served as Commander, Submarine Group SIX in Charleston, South Carolina, from August 1985 to June 1987.
From August 1987 through August 1989, he was assigned as the Deputy Commander in Chief and Chief of Staff Iberian Atlantic Area in Oeiras, Portugal. Following this tour of duty, he returned to Charleston, South Carolina assuming command of the Charleston Naval Base in August, 1989. RADM Bump retired from the Navy on October 1, 1991.
He is authorized to wear the Distinguished Service Medal, Defense Superior Service Medal, Legion of Merit (6 awards), Meritorious Service Medal, Navy Achievement Medal, Presidential Unit Citation, Meritorious Unit Citation (3 awards) and Portuguese Medal of Merit First Class.
From Stan's Family (8/12/15)
We would like to inform everyone of the sad news that our wonderful husband, father, and grandfather, Stan Bump, passed away on Tuesday morning (8/11/2015). He passed away swiftly and peacefully surrounded by his immediate family.

There is to be a Celebration of Life for Stan and the date will be announced shortly. We would ask that Stan's final wishes are observed, and there are to be no flowers. Donations to the ALS Society would be welcomed instead.
Edward Wilcox Featherston (16th Co) (7/24/15)
Updated 7/31/15
From Keith Featherston
On July 19, 2015, Edward W. Featherston, MD, devoted husband of C. Lynn Featherston; loving father of Edward W. "Ned" Featherston, Jr. and his wife Jill A. Basye-Featherston. Predeceased by son David J. L. Featherston and brothers Frank Hunter Featherston and John H. Featherston, Jr.. Cherished grandfather of Alicia A. Basye-Featherston and Lucas W. Santos-Basye. Dear twin brother of Robert "Keith" Featherston and his wife Dianne C. Featherston. Also survived by many nieces and nephews. Ed graduated from Lane High School in 1953. He attended the United States Naval Academy along with his twin brother Keith, where Ed was on varsity crew. He attended the University of Virginia School of Engineering and the Medical College of Virginia. As a youth, he was active in the Boy Scouts, became an Eagle Scout, and, was awarded the Order of the Arrow. He loved to tell stories about his adventures hiking across the United States from a Boy Scout Jamboree when he and his buddies were 15 years old. He married Lynn Featherston in 1960. They had two Boys, David and Ned Featherston. David was killed by a drunk driver at the age of 15 years. Ed served in the military as a flight surgeon in Vietnam. He also worked on the Altitude Chambers at the Natick Research Labs in Natick, Mass. Ed practiced ophthalmology in Timonium, MD and Westminster, MD. He was the Chief of Ophthalmology at the Church Home Hospital before it closed. Ed was an avid sailor. He used to boast that he once sailed from Annapolis, MD to Bermuda using only Celestial Navigation. He loved swimming, hiking, camping, scuba diving and just about anything that involved the outdoors including water. His home was, "home base", for his sons and his son's friends. Most of all, Ed loved his family, He was a wonderful father, grandfather and friend. He will be missed. A memorial service will be held Saturday, 11 AM at Dulaney Valley Memorial Gardens Chapel. Contributions may be made to National Parkinson Foundation, gift processing center, PO Box 5018, Hagerstown, Md. 21741-5018. Arrangements by Ruck Towson Funeral Home, Inc.
A memorial service was held Saturday 25 July), 11 AM at Dulaney Valley Memorial Gardens Chapel.
Contributions may be made to:
National Parkinson Foundation, gift processing center
PO Box 5018, Hagerstown, Md. 21741-5018
Earlier correspondence from Keith:
My twin brother, Dr, Ed Featherston , (Medical Doctor), who has been suffering from Parkinson's Disease for many years is now in Hospice.
They think he may have gotten a dose of Agent Orange during the Vietnam War, when he was a Battalion Doctor with the First Air Cav Division (ARMY).
This may have caused the Parkinson's Disease.
Keith Featherston ('58 - 8th Company)
Betty Macauley (Wife of Bill Macauley (2nd Co) (07/21/15)
From Bill Macauley
My wife of 56 years, Betty Macauley, died peacefully on May 1st while in hospice care in Mid Coast Hospital in Brunswick, Maine. She had been in declining health for several years and finally just didn't have the strength to go on.
She leaves her daughter Kim Edgar of Homestead, Florida, her son William Macauley MSgt USAF (Ret) of Rosamond, California, three granddaughters and two great-granddaughters.
Respecting her wishes there were no services. She was cremated and her ashes will be scattered in her favorite spot near the shore of our property in Brunswick on a future date.
With profound sadness,
Bill Macauley
Edna Felix (Wife of Ken Felix (19th Co) (7/15/15)
From Pete Westphal
Some of you may not know that Edna Felix, widow of our classmate Ken Felix, died last week apparently of liver cancer. None of us 58ers knew until the obituary was announced in the local newspaper last Monday. Edna was active in USNA affairs specifically the alumni association Low Country chapter luncheons. Lee and Arden Polhill, Bob Mason and George Stubbs attended the wake yesterday.
Curtis Sterling Sword, Jr. (9th Co) (6/8/15)
From Jim Adkins
I made contact this week with Curt's son Curt III. Russ suggested I use the internet which I did and Russ's suggestion as usual was the right idea.
Curt was diagnosed about three years ago with Encephalitis caused by a virus probably from a mosquito bite. He had severe swelling of the brain but recovered once he had the right medication. However, the virus came back a second time and his health deteriorated pretty quickly. In the meantime, Judith was diagnosed with Multiple Myeloma. Judith initially took care of Curt, then Curt took care of her and finally she took care of him. It has been a tough several years. Fortunately Curt III lives close by and I can tell from talking with him that he has been a major help to them. He was at their house to cook breakfast on Mother's Day and that was the day Curt died. Curt III said his Dad had told him a couple of days earlier that he was ready to go and all he wanted was food and water.
The situation with Judith is she is having Chemo treatments and is also on Dialysis. She can take a call and her number is 858 925 7495. She does not do email. She is still living at the following address:
950 Santa Florencia
Solana Beach, CA 92075
William Carroll Hotard (3rd Co)
Update 6/8/15
Commander William C. Hotard, USN (Ret.), died at Whidbey Island, WA, on 14 May 2015. He was 78 years old.
"Bill" was born in College Station, TX, and entered the Naval Academy from Bryan, TX. He graduated in June 1958 as a member of the Third Company. After graduation, he attended naval aviation training in Pensacola, FL.
Upon completion of flight training, he flew in an anti-submarine squadron (VS-29) then attended the Naval Postgraduate School in 1964-1965. He transferred to the University of Maryland for further postgraduate education, finishing in 1966.
After graduate school, he flew in several squadrons and was stationed at the Naval Academy as an instructor for two years. After that, he served in VR-24 in Naples, Italy, for four years, then three years at NamTraGru in Memphis, TN. His final Navy assignment was as commanding officer of the PASS office at FleetAirMed in Naples, Italy. He retired as a commander in 1981. His awards included the Air Medal, the Navy Commendation Medal and the Navy Meritorious Unit Medal.
After retirement, Bill began his civilian career, teaching computer science at the University of California, San Diego. He earned an MS in computer science while teaching there. He taught at UCSD until 1995, when he moved to Oak Harbor, on Whidbey Island, WA.
At Oak Harbor, Bill was heavily involved in community life. He was active in Habitat for Humanity, The Oak Harbor Yacht Club, MOAA, the Mariner's Cove Homeowners Association and Grace by the Sea Anglican Church.
He is survived by his wife of 55 years, the former Lola C. Schuck; daughters, Christine Seiveno and Susan Hotard; brother, John Hotard; and two grandchildren.
Memorial services were conducted on 21 May 2015 at Grace by the Sea Anglican Church, followed by cremation. His ashes will be scattered in the waters of Possession Sound to commemorate his love of sailing in the local waters.
From Gordo
I have been asked by Lola Hotard, wife of classmate, William C. Hotard (Bill/ Third Company), to notify the class that Bill passed away suddenly on Thursday, 14 May. Their address is: 2292 N. Mariners Beach Dr., Oak Harbor, Washington 98277. Tel: 360-279-8518. Funeral arrangements are pending but Lola is aiming for a funeral in Oak Harbor on Thursday, 21 May.
Lance Herold (5th Co) (5/4/15)
From Ron Fisher
Jennifer, Lance Herold's daughter, called and told me that Lance had peacefully passed away in his sleep during the early morning hours, Sunday, April 26 and that he had gone to bed about midnight the evening before in very good spirits. Lance had been battling diabetes for years but was still playing softball up until a few years ago.
Jennifer also said that "there will be a page set up for Dad on the website there, we are trying to put together a face book memorial page for Dad and they will have a link there for it."
Visitation will be on Monday May 4th, 2-4 pm and 6-8 pm and a service will be held on Tuesday May 5th at 1:00 pm at:


Fairfax Memorial Park
9902 Braddock Rd, Fairfax, VA 22032

Telephone (703)425-9702
Reception to follow at the home of Noel Herold, Lance's brother at 11385 Attingham Court, Manassas, VA 20111. Noel will have maps with directions to his home
There is a video of photos of Lance ands family on the web site www.fmfh.com
Internment at Arlington National Cemetery at a later date.
Obituary:
On Sunday April 26, 2015, Lance Herold, CAPT, USN Ret. died peacefully in his sleep. He was the loving father of Brett, Jennifer, Douglas,
Susie, Peter, many grandchildren, and great-grandchildren. He was preceded in death by his parents Clarence (Bud) and Lily Herold and survived
by his brother, Noel. Born October 28, 1936 in Brooklyn, NY, he graduated from the US Naval Academy in 1958. He subsequently
qualified as a Naval fighter pilot and later as a line officer. He graduated from MIT top in his class with Master's degrees in Electrical Engineering
and Marine Architecture. Subsequently he was the Commanding Officer at the Naval Electronics Facility. He retired
as Captain. The family wishes to express sincere thanks and appreciation to the many friends and family who enriched his life. In
lieu of flowers, contributions in the memory of Lance Herold can be made to the Wounded Warrior Project.
James Elwood Harvey III (20th Co) (5/4/15)
James E. Harvey III, 80, of Brick, passed on Monday, April 13, 2015, at Arcadia Hospice House, Arcadia, FL. Born in Long Branch, he lived in Little Silver before moving to Brick in 1978. He also resided in Punta Gorda, FL. Jim was a graduate of the US Naval Academy, Annapolis, Maryland in 1958. He served in the United States Navy for 23 years, retiring as a captain. He worked for the US Government as an Electronics Engineer and retired in 2001 from Fort Monmouth.
He is survived by his wife, Rita; his sons, Michael and his wife Laura Di Napoli, Darrin Di Napoli, and James Harvey; his daughter, Karen Harvey; and 6 grandchildren. He also leaves his sister, Jane Harvey.
Visiting will be from 10 a.m. to 12 noon Monday, April 20 at the Silverton Memorial Funeral Home, 2482 Church Road, Toms River. Funeral services 12 noon at the funeral home. Entombment to follow at St. Anne Cemetery, Wall. In lieu of flowers, contributions to the Wounded Warrior Project or the American Cancer Society would be appreciated. www.silvertonmemorial.com
Silverton Memorial Funeral Home
2482 Church Rd. Toms River, NJ 08753
(732) 255-6363
Thomas Holt McCormick (18th Co) (04/10/15)
Memorial service for Ret. Colonel Thomas (Tom) Holt McCormick of Auburn, Alabama, is Saturday, March 28, 2015 at 1 p.m., Trinity United Methodist Church, Opelika, Alabama. Reverend Earl Ballard is officiating. A reception will be held immediately following the service. Mr. McCormick, who died on March 10, 2015, in Columbus, Georgia, was born in Hinton, West Virginia on April 15, 1937. He was raised by his school-teaching parents Mac and Martha McCormick in West Virginia. He graduated from the U.S. Naval Academy in 1958 and received his Master's Degree from the University of Missouri. Tom served 24 years in the U.S. Air Force and his career field was missiles. Upon his service retirement, he continued working with missiles in Huntsville, Alabama, finishing at Stennis Space Center in Mississippi. Later he became a United Nations weapons inspector and traveled to Iraq looking for weapons of mass destruction. As a civilian, he headed up the Hancock County Food Pantry in Mississippi. Tom loved his country and his church, where he ran the We Care Ministry. He was involved with Osher Lifelong Learning Institute at Auburn teaching history classes. He enjoyed gardening, his dog, his family and Auburn sports. His was a life of service. He is survived by wife of fifty-five years Sally, daughters Lea McCormick of Los Angeles and Kate McCormick of Minneapolis, son Cary McCormick of Phoenix and two grandsons Austin and Chase. In lieu of flowers the family requests donations be made to Samaritan's Purse, PO Box 3000, Boone, NC 28607 or Feeding God's Children, TMUC, 800 Second Ave., Opelika, AL 36801. Jeffcoat-Trant Funeral Home & Crematory is in charge of arrangements. www.jeffcoattrant.com.
Jeanne Stubbs (Wife of George Stubbs (17th Co)) (3/13/15)
Jeanne Stubbs died on March 10th.
More info will be provided as we receive it.
August William Brewer (17th Co) (3/8/15)
Update 7/6/15
From Gordo
Bill Brewer's wife Deb informed me that a service for Bill at the Naval Academy columbarium has been scheduled for 1100 on the 12th of August.
From Bill Schraam:
I am saddened to have to pass the word that August William Brewer died on Thursday the 5th of March 2015. According to his wife, Debbie, Bill had been ill for some time and his heart finally failed him.
The family plans to have a service for him at the Naval Academy at a later date. I have given Debbie the contact information for the Chaplin's office at the Academy and they will make all the arrangements. As soon as a date is scheduled for the service I will let you know. I have also offered to help Debbie with the drafting of an obituary for Shipmate.
Bill
Donald Malcolm Robinson (13thCo) (3/5/15)
Update 6/1/15
From Tom Powell
Barbara Robinson, wife of Donald M. Robinson, (13th Company), and her family have asked me to notify the class that Don passed away on March 1, 2015. Don, commissioned in the U. S. Marine Corps, was 78 years old. Their address is: P. O. Box 4630, Palm Springs CA, 92263. Funeral Mass and a celebration of life were held at Sacred Heart Catholic Church in Palm Desert, California. In lieu of flowers, contributions were sent to ALS, and Disabled American Veterans.
3/5/15
Donald M. Robinson, 78, born on October 10, 1936, in Los Angeles, CA, passed away March 1, 2015. He resided in Palm Springs, CA at the time of his passing. Arrangements are under the direction of Forest Lawn, Cathedral City, CA. More info will be provided as soon as it becomes available.
James Goodwin Brewer (19th Co) (2/15/15)
Belated Notice from Bill Brewer's daughter, Jill .
Jim died about two years ago. More info will be provided as it is available.
Thomas E. Lacy, Jr. (Non Grad) (2/10/15)
Thomas E. Lacy, Jr., 80 of Fayetteville, passed way Wednesday night, January 28, 2015 surrounded by his loving family. Born in Ilion, on January 24, 1935, he was the son of Thomas E. and Mildred Lacy, Sr. He attended Columbian Prep School, the Naval Academy, Colgate Collage and obtained his Bachelors and Masters degree in Education from Oswego State University.
Prior to retirement, Tom was a teacher for Jamesville-DeWitt Schools for 35 years. He was a member of the Dewitt Community Church, and the Masonic Lodge of Fayetteville as the Head Master. Tom was also a dedicated wood worker, he loved to read, do puzzles, watch sports especially the Boston Red Sox and the New England Patriots. He was a loving husband, father and grandfather.
Surviving are his wife, Donna Marie Brown Lacy of 55 years; daughter, Kristin (Clifford) Thomas; son, Erick (Ilkenia) Lacy; sister, Joyce Dussault; and seven grandchildren, Benjamin, Aaron, William, Simon, Ivy, Val and Ana.
Funeral services were held on Saturday, January 31, 2015 at 11 a.m. at the Eaton-Tubbs Fayetteville Chapel, E. Genesee St., Fayetteville.
For a guest book please visit:
EATON - TUBBS
Fayetteville - 637-3214
Date of Death: January 28, 2015
Eaton-Tubbs Funeral Home
7191 E Genesee St Fayetteville, NY 13066
315-637-3214
Published in Syracuse Post Standard from Jan. 30 to Feb. 1, 2015​
Laura Ann Wilcox Manazir (Wife of Bud Manazir (12thCo)) (01/24/15)
The following is from Bud:
On Feb. 7th at 10 AM we will celebrate the life of the beautiful Laura Ann Wilcox Manazir. The celebration service will take place at the Sheperd of the Hills United Methodist Church, 26001 Muirlands Blvd. , Mission Viejo, Ca 92691. The very closest main intersection is the I-5 Freeway and La Paz Road. The location puts the church just north of La Paz and across the street from an Albertson's supermarket.
If you are able to attend, we would love you to be with us. If you not able to be with us, we know you will be there in spirit.
There will be a reception on the church campus after the service, please send Bud a short return email, so we can be assured that we provide sufficient refreshments. (Remember only Jesus was able to divide the loaves and fishes. Thanks.)
We know this beautiful lady touched numerous lives, then all together on the 7th we will wish her God's speed and absolutely know that she has RE-joined her band of angels, because she was one on earth and she has returned to her previous assignment to watch over many, not just us few. But we were the privileged ones! We got to love her.
For those who need to arrangement for accommodations, search the cities of Mission Viejo, Lake Forest or Laguna Hills.
David Bruce Gibson (9thCo)) (01/01/15)
Captain David Bruce Gibson, USN (Ret.) '58, age 77, of Rogers, Arkansas died Thursday, December 25, 2014 in Fayetteville. He was born February 16, 1937 in Glen Ridge, New Jersey to David Stanley and Janet Lucille Cornell Gibson. Although a native of New Jersey, he attended Admiral Farragut Academy, a naval honor school, in St. Petersburg, Florida for his last three years of high school prior to receiving his congressional appointment to the Naval Academy. He graduated in June of 1958 in the 9th Company from the Naval Academy. Upon graduation, he became a Navy line officer. He served on five ships, all capable of speeds greater than 30 knots, over a 31 year career; Charles P. Cecil (DDR-835), Stickell (DDR-888), Wright (CC-2), Richmond K. Turner (CG-20) and Ranger (CV-61). With a mid-career change in naval designator to Engineering Duty Officer he served at four industrial activities: Hunters Point Naval Shipyard, Ship Repair Facility Subic Bay, Naval Sea Systems Command headquarters in Washington D.C. and the Supervisor of Shipbuilding and Repair in Boston. In between duty stations, Dave did post graduate work at Harvard Business School and the Naval Post Graduate School in Monterey, California where he earned a Master's Degree in Physical Oceanography. During Dave's career, he received numerous awards and decorations. He retired from the Navy in 1989 on the parade grounds of the Washington Navy Yard. His civilian career then started in Washington, D.C. as a senior project manager for Ronson Management Corporation. In 1991, he began the rewarding career of teaching high school physics and mathematics in northern Virginia. He retired to the good life in 1996 to the shoreline of Beaver Lake in Rogers, Arkansas along with wintering over in the lower Rio Grande Valley. With free time, he published two books of his Navy experiences and developed an extensive ancestral database. Dave had a lifelong love of the sea and in retirement he continued this passion by cruising the high seas in style to many places around the world. He never received a phone call on these cruises concerning an engineering problem below decks.

Dave is survived by his wife Twyla Patterson Gibson; daughter, Laura Larsa Grisham and her husband Cliff Blaine Grisham of Fayetteville, Arkansas; two sons, Anders T.C. Gibson and his wife Julie Skacel Gibson of Houston, Texas; Brian Chauncey-Rizal Gibson and his wife Sara Lyn Gibson of Manassas, Virginia; one brother, Rodger Wallace Gibson of Louisville, Kentucky; eleven grandchildren and his previous wife, Nancy Gordhamer Gibson of Fayetteville, Arkansas.

Funeral arrangements are under the direction of Moore's Chapel with burial at a later time with full military honors in Arlington National Cemetery in Arlington, Virginia.
Born: February 16, 1937
Death: December 25, 2014
Share your thoughts and memories in the guestbook.
Sign the guestbook

Read the guestbook
Paul Frank Malcewicz (5th Co) (12/12/14)
Paul Malcewicz, USNA class of '58, died suddenly on Dec 6th, 2014, at home in Walnut Creek, CA. His health had been failing over the past few years. It was a blessing that he died quickly and he did not suffer. He would have wanted it this way. Paul was born in Utica, New York, son of Frank and Stephanie Malcewicz. When he was 2 the family moved to California. He always considered himself a "California Boy". Paul attended grammar and high school in San Francisco. He was a gifted athlete and played football for Archbishop Riordan High and later for Stanford University. He also excelled in baseball and tennis . He was on the wrestling team at the Academy. He was very proud to be a graduate of Annapolis. He often spoke of all the wonderful times he had there and of his many friends. Of course his escapades will be remembered by those who knew him After spending 10 years in the Navy, he went to work for Pac Bell-AT&T, from which he retired after nearly 30 years. Paul loved to hunt and fish when he was younger. Reading was his passion and second to that, his "discussions". These were well known.
He is survived by his daughter Alicia (John) Deffebach, his grandchildren, Mitchell, Lillian, Rachel and Harry, his sister, Joan Loberg, whose grandson, Nicholas Loberg, is attending the Academy, four nephews, one niece and his former wife, Dellie Malcewicz. His daughter, Stephanie predeceased him.
A funeral Mass will be celebrated at 11 AM on Saturday, January 10, 2015, at St. John Vianney Catholic Church in Walnut Creek, CA. Interment with military honors following the service at Holy Cross cemetery in Colma , CA, near his parents.
Patricia Woodbury (Wife of Mike Woodbury (7th Co) (12/9/14)
From Mike:
Patricia passed away on October 9th, 2014. She was at home with me and our 4 children at her side. She was diagnosed with cancer early this year and underwent surgery on May 7th. When presented with the option of a second surgery, she let me and the family know that she would have no more surgery and she chose to enter hospice care at home. Patricia was born in Norfolk, VA in Feb. 1944. Her dad (USNA, 1929) was serving on one of the support ships preparing for the invasion of Normandy which took place 4 months later. She loved the Navy and the 7th Co. Class of 58 folks with whom she had shared good times at our various gatherings. I'll miss her greatly, but I'm grateful that she was with me for 50 years.
Frederick Williams Laing, Jr. (24th Co )
From Chet Kunz and Pat Hanavan:
Fred (Bill) Laing, 24th company, passed away Monday night. Pneumonia caused his heart to finally stop, and he died peacefully.
Celebration of Fred Laing's life will be Sunday, 21 September, from 1 to 4 at the farm: 65 Whippoorwill Rd, Hillsdale, NY. There will be graveside services at the family lot, but time is not yet set.
Chet and Debby Kunz report that Navy Mutual Aid is very helpful in these circumstances. Word should be put out to the ladies that they are the number 1 call to make!
Gordo
Mary Lee Gebhart (Wife of Ken Gebhart (14th Co)) (8/30/14)
From Ken
Mary Lee died this morning (August 28, 2014) of heart failure. We fought it for two years.
More details to follow.
John Lawrence Higgins Jr. (15th Co) (8/27/14)
John Lawrence Higgins Jr., 79, of Wyckoff, NJ died August 25, 2014. Beloved husband of Katherine (Carroll) Higgins of Wyckoff. Loving father of John and his wife Ellen of Ho-Ho-Kus, NJ; Mary Katherine and her husband Glenn Schulhafer of Waldwick, NJ; James and his wife Andrea of Wayne, NJ and Erin and her husband Don McLoughlin of Glen Rock, NJ. Dear Grandfather of Jack, Maddie, Meg, Shannon, James, Cate and Will.
Larry graduated Ridgewood High School Class of '53; Wyoming Seminary Class of '54 and the United States Naval Academy Class of '58. Larry was President of Higgins Buick, Inc. in Ridgewood before his retirement in 1991. He was a member of the Ridgewood Country Club and Trout Unlimited.
A funeral mass will be celebrated Friday, August 29, 2014 at 10 AM at St. Gabriel The Archangel R.C. Church, Saddle River. Visitation Thursday, August 28th from 2-4 and 6-8 PM at the C.C. Van Emburgh Funeral Home, Ridgewood. Interment Maryrest Cemetery, Mahwah, NJ. In lieu of flowers donations to U.S. Naval Academy Foundation for Athletic Excellence, 25 Maryland Ave, Annapolis, MD 21401, in his memory would be appreciated. www.vanemburgh.com.
Harry James Hansen III (15th Co) (8/27/14)
From Gordo
I regret to forward the following from Mary Hansen:
Today, Harry passed away after battling cancer for over 2 years. He was a member of the 15th Company and took his commission in the Air Force, later to return to his Navy roots.
We resided in Hampstead, NC for the last 20 years and our families are spread across the country.
I will pass along any additional details when I receive them.
Charles Robert Larson (8th Co)
Update 7/28/14 : Baltimore Sun Obituary
Update 8/8/14 Bio From Memorial Service Program
Dear Classmates,
It is with profound regret that I must announce that our classmate, leader, and hero to many of us died at home Friday night. Chuck had waged a long and valiant fight against leukemia.
Chuck's funeral will be as follows
Wednesday 30 July 2014
1000 - Memorial Service Naval Academy Chapel
1100- Burial USNA Cemetery
Early arrival is recommended.
Gordo
John Kurtz Gilligan (24th Co)
From John Potter
Update 7/24/14
John Kurtz Gilligan passed peacefully among the pines of the El Dorado National Forest. The advance of congestive heart failure never kept Kurtz from frequenting the Sierra Region he so loved.

Born in Penn Yan, New York to John Mack and Hilda Kurtz Gilligan, Kurtz grew up in Penn Yan where he earned his Eagle Scout rank. Graduating from Penn Yan Academy in 1954, he accepted an appointment to the U.S. Naval Academy, Class of '58. Receiving his officer's commission, Kurtz served 20 years in the U.S. Navy. He retired from his last posting at Mare Island Naval Shipyard and settled in Vallejo. He obtained his teaching credential and taught for 15 years in the public schools of Vallejo, Richmond, Fairfield and surrounding areas. He was active in his church and donated his time to Meals-on-Wheels and driving other seniors around town. He was also active in the USNA Alumni Assoc. and planned to attend their 60th Class Reunion in August.

He is survived by his eight children; their mothers, Beverly Boyd Gilligan and Janiece Whittington and by his long-time loving companion, Margaret Irvin. He has nine living grandchildren and one who predeceased him.

Services will be held on Saturday, Aug. 23, at 11 a.m., at Montclair Presbyterian Church, 5701 Thornhill Drive, Oakland. His ashes will be scattered at sea.

Donations may be made to Vallejo Meals-on-Wheels, Montclair Presbyterian Church, or to a Veteran's assistance charity.
See more at: http://www.legacy.com/obituaries/timesheraldonline/obituary.aspx?n=lcdr-john-kurtz-gilligan&pid=171825667&eid=sp_shareobit#sthash.75pNzF88.dpuf
James Stewart Wilson, Jr. (5th Co)
Captain James (Jim) S. Wilson, Jr., age 78, of Corpus Christi and Huffman, Texas passed away on Wednesday, June 25, 2014. He was born on June 24, 1936 in Schenectady, New York to parents, James S. and Ruth Wilson.
Jim graduated from the U.S. Naval Academy (Class of 58) where he lettered in 150 lb. football as a tackle. After graduating from submarine school, he served aboard the destroyer, "Hale" and submarines, "Balao, Pickeral, and Henry L. Stimson". Captain Wilson participated in the Cuban Missile Crisis Blockade and was a plank owner and original Gold Crew Member (weapon's officer) aboard the Polaris submarine, "Henry L. Stimson" during his active duty. He left active duty as a Lt. Commander to spend more time at home with his wife and three young sons, however, achieved the rank of Captain in the Naval Reserves.
As a civilian, Jim worked for many years for Texas Instruments in the Houston area, received a patent, and traveled extensively throughout Europe for Geo-Physical sales. He formed Nav-Mar, a marine surveying company with longtime friend, Captain F.M. Kershaw, and later worked with his brother, Bill at Montrose Molding in New Jersey. Close to retirement, Jim moved to Corpus Christi where he worked for On Call Mooring, and as a ship agent for La Quinta Marine.Jim was an active builder and "Mr. Fix it" for most of his life. A few of his projects included: building a sailboat, kayak, go cart, TV, lake house and airplane (TeenieTwo), which he flew for many years. He was an active member of the Experimental Aircraft Association and held officer positions in the local Houston chapter. In later years, Jim became an avid radio control model aircraft hobbyist, building and flying numerous models. He also enjoyed skeet shooting at the Corpus Christi Naval Air Station (Sands skeet club), windsurfing, and hunting with his family and friends.
Jim was always an active supporter of his son's athletic endeavors and attended a vast majority of their games, especially Huffman Falcons football. You always knew when Jim Wilson was in the stands. He served as the president of the Falcon's Football Booster Club. In the words that still echo with his family, Jim Wilson would say, "Tide, Time, and Formation wait for no man, I am shoving off"! He was preceded in death by his parents and sister, Katherine Apgar. He is survived by his wife of 55 years, Ann Burke Wilson; brother William (Bill) Wilson; three sons, Grant (Bonnie), Bruce (Kate), and Rich; and six grandchildren, Taylor, Eric, Courtney, Kyle, Lindsey, and Kelsey. Graveside Services will be held at 9:00 a.m. on Monday, June 30, 2014 at Coastal Bend State Veterans Cemetery. A Memorial Service will be held at 1:00 p.m. on Monday, June 30, 2014 in the Coastal Bend Hall at Mirador in Corpus Christi , Texas (5857 Timbergate Dr.). In lieu of flowers, donations may be made to the James S. Wilson Memorial Foundation at the
. The Wilson family would like to thank the staff at the Mirador Memory Care and Skilled Nursing Care units, as well as, Hospice for their love and support. To view tribute, please visit www.seasidefuneral.com.
Robert Langdon Halterman (18th Co)
Robert L. Haltermann of Ft. Lauderdale, FL formerly of Darnestown, Maryland, a former Air Force officer, NASA engineer and space tourism advocate died on June 1st, 2014.
Mr. Haltermann was born in Johnson City, New York and lived parts of his youth in New Jersey and Maine. He graduated from Admiral Farragut Academy and won an appointment to the U.S. Naval Academy from Maine's 2nd District Congressman Charles P. Nelson. Upon graduation from the Naval Academy in 1958, Mr. Haltermann was commissioned a 2nd Lieutenant in the U.S. Air Force. He became one of the first Atlas-ICBM Launch Officers assigned to the nation's first operational ICBM wing at Francis E. Warren AFB, Cheyenne, Wyoming. Captain Haltermann and his crew were on duty throughout the Cuban Missile Crisis in October 1962. In later years, on tour in Russia and listening to folk singers while having lunch in the Kremlin, he remarked how strange it was being entertained by those who were once targeted by nuclear missiles under his control.
In 1963, he took a position with NASA's Goddard Space Flight Center at Greenbelt, Maryland. During his tenure at Goddard he led a team to integrate and launch scientific satellites from the Western Test Range that resulted in three successful launches; directed advanced upper stage development programs and performed pioneering work on solid, cryogenic liquid and hybrid engines and stages; and led the effort for seeing the Center's payload accommodations designed into the new Space Shuttle transportation system. After three years at the Consumer Product Safety Commission where he was involved in the recall process of over 200 hazardous products, Mr. Haltermann returned to NASA Headquarters to develop Space Shuttle utilization policy. One policy accommodated the first non-government space participants as Payload Specialists.
In 1984, he retired from NASA to become a principal for an entrepreneurship that chartered the Space Shuttle as a private space liner. He represented the company's interests to White House and Congressional leaders, negotiated payload integration agreements with NASA and service contracts with payload customers. After booking the inaugural flight, the venture ended prematurely in the wake of the Challenger accident. Mr. Haltermann then became an Associate Contractor supporting the International Space Station. He performed development work in the areas of operations and commercial utilization for the NASA Headquarters and Program offices. Mr. Haltermann's NASA awards included the Apollo Operations Task Force Group Achievement Award. Towards the end of his career he joined the Space Transportation Association and led an effort to lay the groundwork for the coming of public space travel. He conducted the "Going Public" series of space tourism conferences. His Division distinguished itself by being awarded the first Space Tourism Pioneer "Orbit" Award for a not-for-profit organization.
Mr. Haltermann co-owned with his wife Phyllis a travel agency. They traveled extensively to Europe, Asia, Africa and North and South America. He enjoyed the live theater, symphony and opera as he regularly attended the Kennedy Center, National Theater and on several occasions the London Stage.
Mr. Haltermann's marriage to Kayla Winrow Fitzmaurice ended in divorce. From that marriage he is survived by two sons, Kurt Warren Haltermann of Fort Saskatchewan, Alberta and Ryan Scott Haltermann of Calgary, Alberta and a daughter, Leslie Kim Prosser of Surry, British Columbia, seven grandchildren and two great-grandchildren. Mr. Haltermann's second wife, the former Phyllis Ann Clar, preceded him in death in 2009.
The family will receive guests on Friday, June 13th from 1:00pm until 2:00pm when the Memorial Service will be held at the funeral home. Arrangements were made by: Kraeer Funeral Home and Cremation Center, 200 N. Federal Hwy., Pompano Beach, FL 33062. Phone: 954-941-4111.
Henry GeorgeVargo (17th Co) (6/6/14)
Update 9/20/14
From Gordo
I received the following:
My name is Maurann (Vargo) Hakun. I wanted to invite you and your classmates to my father's memorial service at the Naval Academy Columbarium. His service will be on Friday October 10th at 1130 with a reception immediately following at the Officers' Club. There is no mass....just a short ceremony at the Columbarium. Also, could you please ask them to let me know if they are coming so that I may have an accurate head count for the reception?
Please contact me nlt 1 October if you will attend. Include the number who will be going to the Club.
Gordo
Henry "Hank' George Vargo of Jacksonville, Florida passed away peacefully, Tuesday, June 3, 2014 at the age of 77.
Born on September 17, 1936 in Greensburg, Pennsylvania to Henry C. and Anna R. (Masarik) Vargo. He graduated from Saint Vincent College Preparatory School in 1953 and then was appointed to the United States Naval Academy, where he graduated on June 4, 1958. On June 5, 1958, he married the former Josephine Ann Littler in Annapolis , Maryland . Hank served in the United States Navy for 20 years as a Surface Warfare Officer and was decorated with a Purple Heart and a Bronze Star for actions in the Vietnam conflict amongst his numerous other awards. He retired from the U.S. Navy in 1978 and was employed as a Naval Science Instructor for the Navy Junior ROTC Program at Harborcreek, Northeast High Schools and at William Allen High School, in Allentown, Pennsylvania, where he retired in June 1998. He and his wife, Joanne, then relocated to Jacksonville , Florida . Hank was a life-long Pittsburgh Steeler fan and an avid golfer. He was also the former Commander of the American Legion Post in Northeast, Pennsylvania . His passions were watching movies, reading and visiting with his children and grandchildren.
Hank is survived by his brother, Thomas E. and his wife, Judith Vargo of Woodland Park, Colorado; six children, Roberta (Curt) Levsen of Enoch, Utah, H. Vance Vargo and his wife Susan of Saginaw, Michigan, John T. Vargo of Jacksonville , Florida , Matthew A. Vargo and his wife Susan of Signal Mountain, Tennessee, Phillip A. Vargo and his wife Susan of New Castle, Pennsylvania, and Maurann (Mark) Hakun of Gambrills, Maryland; one niece, thirteen grandchildren and a great grandson. He was preceded in death by his parents, Henry and Anna, and his wife, Josephine Ann in 2000.
A celebration of life and Memorial Mass will be held at 11:00 a.m., Saturday, July 5th, at Holy Spirit Catholic Church, 11665 Fort Caroline Road, Jacksonville and a Memorial reception at American Legion Post 316 off Atlantic Avenue shortly thereafter. His remains will be interred at the Columbarium at the United States Naval Academy in October. In lieu of flowers, it is requested that all contributions be made to the USNA Alumni Association for maintenance of the Columbarium and grounds.
Jacob Evert Illes (16th Co)
LtCol Jacob (Bud) Iles, USMC (Ret) went to his Heavenly Home 23 May 2014. He is survived by Elaine, his wife of 55 years , his son Dr. Brett Iles, PhD, one brother Rev. Richard Iles, and his wife Peggy, one nephew Brian and one niece Khristy.
Bud was a member of the First Conservative Baptist Church, Jacksonville, Fla. In lieu of flowers a memorial contribution can be made to the First Conservative Baptist Church 12021 Old Saint Augustine Road. Jacksonville FL 32258.
Visiting hours at Craig Funeral Home May 29th (Thursday) at 6-8 PM
Funeral Services will be held at First Conservative Baptist Church May 30th (Friday):
12:00 – 12:30 Visiting
12:30 – 1:30 Funeral Service
2:15 - Internment at Jacksonville National Cemetery
Ellie Browne (Wife of Ed Browne (5th Co))
Burial for Ellie Browne, widow of '58 classmate, Edward R. Browne, will be at 9:00 AM at Arlington Cemetery on Thursday, June 5 with instructions to check in no later than 8:30 AM in the Admin Bldg and provide your own transportation within the Cemetery.
Michael Marion Dallam (6th Co) (5/7/14)
Update 6/9/14
From Joyce Dallam::
On July 28th, starting with a ceremony at 10am at the Columbarium on the Yard of the USNA, we will honor and bid farewell to Mike. After the inurnment, at approximately 10:30, we will gather in the USNA Chapel for a Memorial Service and afterwards, from 11:15 to 1:30 there will be a luncheon buffet available at the Naval Academy Club for all who wish to stay and eat, visit and reminisce.
Mike's family and I will love to see all who can make it. For those who can't, think of us in prayers on that day.

Joyce also asks that you indicate whether or not you will attend the luncheon buffet. E-mail her at mmd686@aol.com
Update 5/25/14
Mike will be inurned at USNA on Monday 28 July. Further details will follow
5/7/14
Mike died on 30 April 2014 at 8:20 PM (EDT) in Pennsylvania. The following is from his wife, Joyce :
My darling Mike left us all Wednesday evening, April 30th. He was surrounded by loving family. I held his hand till the end and beyond. For all who knew him you know how much I have lost. For those who did not get to meet him I am sorry because he was a man of great love and compassion and caring. It was my privilege to have been his wife. We filled our few short years with as much adventure and fun and love as we could. I now have a lifetime of stories to share. Mike's legacy to me is his beautiful family and through them he will always be with me. At some point in the future there will be an inurnment ceremony for Mike's ashes at the USNA. Keep Mike's children, grandchildren and me in your thoughts and prayers as we come to grips with the full extent of our loss and try to heal from it.".
Mike died of Pulmonary Fibrosis complicated by Parkinson's Disease but he mostly died from the continual and increasing restrictions on his life. He accepted when he could no longer fly with the thought we could still drive. When the fractured vertebra was discovered that made long distance travel difficult but as long as he and I could get out to go to movies and dinner he thought he could be satisfied with that. But, when even a trip away from home became too grueling, the light went out of his eyes and he died shortly after. He held on till his daughters, Meg and Amy, and his two grandsons, David and Andy, could get there. His son, Matt, had been with him for 5 days prior to that and they had had a very loving and meaningful time. Surrounded by those who loved him so dearly, Mike left us. It was as beautiful a passing as we could make for him. He was at home, under the care of hospice, so he got to look out at the yard just beginning to blossom and around the room at objects that had meaning and the faces of people he loved. We held on to him till the very end. His grip on my hand was amazing and did not weaken until he was gone. I held his left hand with my left hand and reached my right up to cover his loving heart and left it there till it ceased to beat. I don't think I will ever meet his like again.
Joseph Fredrick Rosenberg (20th Co) (5/7/14)
Update 5/15/14
Captain Joseph Fredrick Rosenberg, USMC, died in Springfield, Tennessee on 20 April 2014 at age 80. Fred was born on 29 March 1934 in Troy, Alabama, the son of Joseph Samuel Rosenberg and Jeanne Solomon Rosenberg. He graduated from Troy High School in 1952. Fred applied for a Congressional appointment to the U.S. Naval Academy and was selected a third alternate. Considering the probability of the third alternate not moving up to primary, he attended the University of North Carolina in Chapel Hill from 1952 to 1954. In his sophomore year, the third alternate moved up to a primary appointment and Fred entered the Naval Academy with the Class of 1958. He graduated from the Academy on 4 June 1958 as a member of the 20th Company, earning a Bachelor of Science Degree in Engineering and a commission as 2nd Lieutenant U.S. Marine Corps. The "Southern Gentleman", as he was known to his Company-mates, was a member of the Varsity Golf and Pistol teams, lettering in both sports and making the All-American Pistol Team.
Fred attended Marine Corps Officers' Basic School at Quantico, Virginia, and in 1959 was accepted for flight training at Naval Air Station, Pensacola, Florida, earning his Naval Aviator wings in September 1960. Although his flight training preference at Pensacola was jet attack, circumstances led him into helicopters and, in 1960, he was assigned to Marine Helicopter Squadron HMM 361 ("Flying Tigers") at El Toro Marine Corps Air Station (MCAS), Santa Ana, California where he flew the HUS-1 "Seahorse" helicopter and served as Squadron Engineering Test Pilot. Two years later, he was reassigned to HMM 163 ("Ridge Runners"), Marine Air Group 36, Third Marine Aircraft Wing at MCAS El Toro.
Fred resigned his Marine Corps commission in 1962 and became a Senior Flight Analysis Engineer at the Lockheed Corporation "Skunk Works" in Burbank, California, working on the development of the long-range SR-71 "Blackbird" reconnaissance aircraft under Kelly Johnson, a well-known aeronautical innovator. In 1967, Fred moved to Nashville, Tennessee, and attended Nashville School of Law, earning a jurisprudence law degree in 1971. For 43 years he practiced law in Tennessee, seventeen in Springfield as a country lawyer with his office in his barn at Hidden Pond Farm, accompanied by his German Shepherd dogs and his cars. Fred wrote in his USNA '58 20th Company autobiography that he apparently had followed his instincts after being accused of being a "sea lawyer" in his Plebe year at the Academy.
Fred was a longtime member of Toastmasters, where he met his future wife, Shelly Liebson. They were married in 2000. He was also a member of the Freolac Club of Vanderbilt University in Nashville for over 30 years where, between 1992 and 2003, he presented numerous literary papers for discussion and critical review. He was an avid reader and loved cars. At the time of his passing, he had started writing his second book - a remembrance of the cars he had owned throughout his life and the circumstances and antics associated with each car. His first book, entitled Practicing, was a published collection of case law from his practice.
In addition to Shelly, Fred is survived by his children Alexandra Rosenberg Greenberg, Stephen Rosenberg, Sally Rosenberg Swanson, and step-daughter Jessica Liebson; a brother, John Rosenberg; and six grandchildren.
Memorial services were conducted on 26 April 2014 at Austin and Bell Funeral Home in White House, Tennessee. A graveside service is planned at Green Hills Cemetery in Troy, Alabama on 19 July 2014 where Fred's ashes will be scattered and a marker will be placed at the site of his parents' burial place.
Pete Russell '58, Gene Deegan '58, Dick Buss '58, and the Rosenberg Family
Update 5/13/14
From Fred's widow, Shelly:
We will be having a "gathering" at the site of Fred's parents' burial place in Green Hills Cemetery in Troy, Alabama on the 19th of July at noon. A marker has been ordered and will be placed on his parents' grave site before the gathering. Our service will be a stand up one so it will not be long. We will also be scattering his ashes at the site at that time.
James Leo Fitzgerald, Jr. (3rd Co) (4/12/14)
Updated 5/7/14)
Jim passed away on 30 March, 2014 due to congestive heart failure. Becky Fitzgerald provided the following obituary:
Commander James L. Fitzgerald Jr., USN (Ret.), passed away on 30 March, 2014 at home in Aiea, HI. He was known as Rick to his family, Fitz to his classmates and Jim to others.
He was born in Bay Shore, Long Island to James L. and Grace (Doyle) Fitzgerald on July 18, 1935. They moved to Syracuse, NY when he was three. He graduated with the Christian Brothers Academy Class of 1953, where he was an All-City football player. He was very proud when his senior year CBA football team was inducted into the 2012 Lasallian Athletic Hall of Fame. He next attended Bullis School, Class of 1954, where he played baseball and football. The "Little Admirals" met the greatest University of Maryland freshman football team since 1947 and defeated them 26-7 in the first annual Silver Bowl Charity game. Fitz then brought his red head of hair and athletic ability to the Naval Academy where his talents at a number of activities soon became evident, particularly his play with the football squad. He graduated and was commissioned with the Class of 1958, a member of Third Company (the Brigade's Color Company, 1957-1958).
Fitz loved sea duty. A Surface Warfare Officer, he served aboard BORDELON (DDR 881); COMDESDIV 262; XO, CLAUD JONES (DE 1033); XO, VOGELGESANG (DD 862); Aide/Executive Assistant COMSIXTHFLT. Shore duty: Naval Postgraduate School, MS degree in Operations Analysis; Strategic Analysis Support Group, Washington, DC; Bureau of Naval Personnel; XO, Data Processing Service Center Pacific; CO, Navy Regional Data Automation Center, Pearl Harbor, HI. He retired from active duty on 1 July, 1983.
Jim had two private sector jobs before retiring in 1990. The first as Director, Pacific Region with Systems Management America Corporation and the second as Manager, Pacific Region with Bolt Beranek and Newman Communications Corporation.
Rick was predeceased by his parents and younger brother Michael. He is survived by his loving wife Rebecca Fitzgerald; daughter Karen (Frank) Marrero who brought him great pride and joy; beloved grandson Frankie; sister JoAn (William) Feyerabend with whom he shared a close bond; and many dear nieces and nephews.
He worked hard, he played hard. He enjoyed sharing good meals, wine and laughter with family and friends. He loved and was loved in return.
Jim's ashes will be scattered at sea with a committal ceremony performed aboard a deployed U. S. Navy ship.
Sandra Louise Johnson (Wife of Dick Johnson 23rd Co ) (5/7/14)
Sandra Louise Johnson, 75, passed away at home in Payson, Ariz. Feb. 7, 2014. Sandy began her life in Homer City, Pa. as "Sally," daughter of the late Lloyd and Ruth Shadle. Born April 17, 1938, she was a bit of a tomboy early in life.
Following high school, Sandy moved to Washington, D.C., where she eventually met her beloved husband, the late Richard (Dick) Johnson. Later, Sandy moved to Chicago and became a stewardess for American Airlines. Her career was brief as she and Dick soon married and Sandy assumed the role of Navy wife and loving mother.
Sandy was passionate about helping others. After raising her three children, Sandy began a second career, counseling women who had experienced sexual assault. Her support and guidance helped countless women heal. Sandy later became a respected seminar leader specializing in assertiveness training.
Sandy and Dick retired to Pine, Ariz. where they were surrounded by their children and grandchildren. Sandy greatly valued her large circle of loving friends, both near and far, with whom she laughed, cried and enjoyed life.
Sandy is survived by her son, Rick Johnson; son, Rob Johnson; daughter, Kris Emminger; grandchildren David (Elizabeth), Austin (Ally), Taylor, KC, and Mikey; and great-grandchildren Isabelle, Brooklyn, Hallee, Ayla, and Huxley.
A memorial service will be held at 11 a.m., Monday, Feb. 17 at the First Baptist Church of Pine, 4039 N. Hwy. 87, Pine, AZ 85544. In lieu of flowers, donations may be made to Hospice Compassus, 511 S. Mud Springs Road, Payson, AZ 85541.
The Payson Roundup
Paul LeRoy Weitfle, Jr. (12th Co) (4/11/14)
Paul LeRoy Weitfle, Jr., beloved husband of 55 years to Virginia E. (nee Halfpenny), devoted father of Bonnie J. Weitfle, Michael P. Weitfle, Kathleen M. (Martin) Schickel, Paul L. Weitfle, IV, Christopher J. (Maria) Weitfle, Jeanette M. (William) Burdick and Diane M. Weitfle, devoted grandfather of Kristine, Michael and Michelle Gehler, Elias, Sophia and Paul L. Weitfle V and loving brother of Jean (Harry) Madera. Passed away under the care of Hospice of Cincinnati on Monday, April 7th at the age of 78. Visitation will be held on Monday, April 14th from 11AM until 12:30PM at Thomas-Justin Memorial, 7500 Montgomery Road (45236) Kenwood. Mass of Christian Burial will follow at 1PM at St. Gertrude Catholic Church, 7630 Shawnee Run Road (45243) Madeira. Burial will follow at Gate of Heaven Cemetery. Mr. Weitfle is a graduate of the US Naval Academy. He served in the United States Navy and the US Navy Reserves for 28 years, retiring as a Captain. He was also a 32 year employee of Procter & Gamble, working in the IT department. Condolence may be shared with the family through our website, ThomasJustinMemorial.com
Howard Lynn Hall (11th Co) (4/7/14)
Lt/Col. Howard Lynn Hall, USAF (Ret.), 78, of North Phoenix, AZ passed away on March 25, 2014. He was born in Amherstdale, West Virginia. Howard graduated from the U.S. Naval Academy where he earned his Bachelor's Degree in Engineering. He served in the U.S.A.F. for twenty and a half years. During that time, he was a Navigator and served two tours in Vietnam where he earned the Bronze Star. He then worked in flight operations before being assigned for four years at The Citadel, The Military College of SC. Howard earned his Masters Degree in Economics from the University of Colorado and his MBA from The Citadel.
He was a patient, loving and generous husband, father and grandfather. He always took care of family and especially enjoyed his grandchildren. We have lost our Papa too soon. Howard is survived by his loving wife of 43 years Lynn; his two children, Howard (Wendy) and Sarah (Dacun); his three grandchildren Brittany, Jackson, and Elizabeth; his mother Violette Ann; brothers Ray (Joy) and Michael; and sisters Rosemary and Rebecca.
A memorial service will be held on Wednesday, April 2, 2014 at 11:00 a.m., La Casa de Cristo Lutheran Church, 6300 East Bell Road. Interment will be at National Memorial Cemetery of Arizona. In lieu of flowers, the family requests that those wishing to make a donation may do so through Habitat for Humanity in Howard's name (habitat.org). Arrangements entrusted to Messinger Pinnacle Peak Mortuary.
George H. Brenner (1st Co)
George Brenner, 78, a prominent area realtor since 1967, died February 20, 2014. He was the husband of Diane M. (Daigle) Brenner. Born in Cambridge, MA, he was the son of the late Ernest and Elinor (Schwartz) Brenner and step-son of the late Marsha Brenner. A graduate of Somerville High School and the U.S. Naval Academy, Annapolis, MD, Class of 1958, Mr. Brenner served in both the Marine Corp and the Navy during the Korean and Vietnam Wars. He was the owner of Brenner Realtors in Westport, MA and Newport, RI, and formerly employed by Larry Nunes Real Estate in Middletown, RI.
Along with his beloved wife, he is survived by his children, Linda Alexson and her husband Andrew of Ipswich, MA, Karen Brenner Leslie and her husband Matthew of Westwood, MA, Robert Brenner and his wife Dara of Atlanta, GA, Judith Uphold of Salt Lake City, UT, and Jeffrey Brenner and his wife Melissa of Wakefield, MA; his sisters Nancy DeAngelo and her husband Floyd of Greenwood Lake, NY, Barbara Brenner-Morris and her husband Edward of Bellingham, WA, Patricia Mostert and her husband Christopher of Malibu, CA, and Susan Brenner of Manhattan Beach, CA; and his grandchildren William, Holly, Jeffrey, Kyle, Jared, Noah, Samuel, Jaron, Grace and Abbey. He was also the father of the late Eric Brenner.
Funeral services were held Monday, February 24th at 10 AM at Temple Beth El, 385 High St., Fall River with burial in RI Veterans Cemetery, Exeter, RI. The family requests no flowers, but donations in his memory may be made to United Way of RI, 50 Valley St., Providence, RI 02909 or Make A Wish, 20 Hemingway Dr., East Providence, RI 02915. Shiva will be observed at his late residence on Tues and Wed, 2-4 & 7-9 PM.
Helen Donnan (Weisner) Meurer (Wife of Phil Meurer 10th Co) (02/24/14)
Nov 4, 1936 - Feb 16, 2014(02/23/14)

Helen was born in Gray Court, South Carolina as the eldest child to Ned and Janie Weisner. Her father was a welder and the family traveled as his occupation required, staying in Gray Court, SC when he traveled overseas. As a younger girl, she enjoyed dancing. The family eventually settled in Lancaster, SC. While in elementary school, she wanted to be a journalist. She was active in the 4-H club, winning the State 4-H award for an entomology project while in high school. Upon graduation, she decided to follow her mother into a nursing career by attending the distinguished program at John's Hopkins, where she earned her diploma degree as a Registered Nurse. She really enjoyed being a nurse in the Operating Room. While at Hopkins, she met a Naval Academy Midshipman, Philip Meurer, who she fell in love with and married. After being married, they had two children, David and Debbie, and she enjoyed being a stay at home Mom with her children.

Philip was commissioned in the Air Force, and together they traveled across the United States and the world, including the Philippines on two occasions. While stationed in the Philippines with her family, Helen volunteered as an OR nurse, helping to treat wounded servicemen, and later worked with "Operation Baby-Lift", caring for children leaving Vietnam for the US. She won an award from the American Red Cross in recognition of her service. Eventually they settled in San Antonio, Texas, where she was able to continue working as a Public Health Nurse and she continued her life of serving others. She and her husband retired in San Antonio, Texas, where they enjoyed living for years, making many friends. When her health declined in her later years, she and her husband moved to Gainesville, Florida to stay with family.

She enjoyed traveling with her husband in an RV, especially to the National Parks and similar areas in the Northwestern US, such as Colorado, Wyoming, Utah, and even into Canada. Her hobbies included sewing, where she became renowned for making Raggedy Ann and Andy Dolls. She fell in love with quilting and lovingly created many keepsake quilts for family members. She and her quilt club made quilts for newborn babies with birth complications to help keep them warm.

After a full life, she passed away in her sleep on February 16, 2014. She is survived by her husband Philip Meurer; son David Meurer (Sherry); daughter Debbie Meurer Colpitts (Richard); sister Edna Earle Faust (Clint); and grandchildren Joshua Meurer, Sarah Meurer, Linda Diane Colpitts and Kayli Nicole Colpitts. She was well loved by her devoted husband, and all her family, and will be missed by all whose lives she touched.

". . . for I want to go wherever you go and to live wherever you live: your people shall be my people, and your God shall be my God." Ruth 1:16

A celebration of her life will be held Saturday, February 22, 2014 at 10:30 a.m., in the Heritage Room of WILLIAMS-THOMAS FUNERAL HOME DOWNTOWN, 404 North Main Street, with Fr. Rich Clark of St. Michael's Episcopal Church officiating. Another celebration will be held in San Antonio, at a time and location to be announced. Please visit her memorial page at www.williamsthomasfuneralhome.com

FOR FURTHER INFORMATION

WILLIAMS-THOMAS

DOWNTOWN

(352) 376-7556

- See more at: http://www.legacy.com/obituaries/gainesville/obituary.aspx?page=lifestory&pid=169773808#sthash.VAYuET9z.dpuf
Leo Ernst Therrien (24th Co)
Leo was born on April 6, 1935, in Coos Bay, Oregon, the son of the late Leo E. and Helen Therrien. He was married to Dorothy Ann Bailey on June 7, 1958, in Newport, R.I.
Leo attended the U.S. Naval Academy, graduating in 1958, with a bachelor of science degree followed by serving proudly in the Navy for over 21 years, both on surface ships and submarines, as well as shore duty. He retired from the Navy in 1978, with the rank of lieutenant commander. He also obtained his master's degree in business administration from the University of New Haven. After his military service, he worked as a systems manager at Computer Science Corp., in Middletown, R.I. and then for Three Rivers Community Technical College as a computer manager, retiring in 1997.
Leo also loved to bow hunt and camp with his family. He was a member of Aerie #1313 Fraternal Order of Eagles in Warwick, R.I., and in 2001-2002 was Eagle of the Year for Rhode Island State Aerie #10042. He loved to spend time with his grandson working on computers and sharing the special bond they had.
He is survived by his wife, Dorothy Ann (Bailey) Therrien; his daughter, Alice L. (Therrien) Fitzgerald and her husband, James; his son, Eric Therrien; and by his grandson, Travis M. Fitzgerald. His is also survived by his brother, C. Dale Therrien of North Carolina.
Leo's family will greet relatives and friends from 5 to 7 p.m. on Thursday, Feb. 20, at the Dinoto Funeral Home, 17 Pearl St., Mystic. A funeral service will be conducted at 10 a.m. on Friday, Feb. 21, at the North Stonington Bible Church, Jeremy Hill Road, North Stonington. Burial with full military honors will follow in the Rhode Island Veterans Cemetery, Exeter.
To share a message of condolence or remembrance with his family, please visit www.dinotofuneral.com
Bernice Doyle McCandless (Wife of Bruce McCandless (19th Co)) (01/17/14)
From Gordo
I regret to inform you of the passing of Bruce's wife, Bernice. She had fought a long and valiant fight against cancer to which she succumbed this past Tuesday. Burial arrangements are not yet firm. Bruce sends the following:
In lieu of flowers, for anyone interested, I suggest donating a unit of blood in Bernice's name or making a donation to either breast cancer research or animal welfare in her name. In treating her anemia, a battle that we seemed to be winning, she received thirty-something units of blood. I'll have to count up the instances to get an exact number, but it's around thirty.
Many of you know and respect Bruce's many accomplishments and might want to pass along your condolences. Bruce can be reached at bruce2mc@logcabin.com.
_________________________________________________________________________________________________________________________
Bernice Doyle McCandless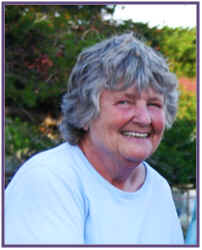 24 April 1937; Rahway, NJ - 14 January 2014; Conifer, CO
_____________________________________________________________________________________
Saturday, 25 January 2014

Memorial Service: 1:00 pm
St. Laurence Episcopal Church
26812 Barkley Road, Conifer, CO 80433
Reception to Follow:
Brooks Place Tavern & Restaurant
25577 Conifer Road, #100, Conifer, CO 80433
_____________________________________________________________________________________
Monday, 3 February 2014
Funeral Service: 1100
United States Naval Academy Main Chapel
101 Cooper Road, Annapolis, MD 21402
Interment to follow:
United States Naval Academy Cemetery; Plot 1185
Reception to Follow:
Naval Academy Club, 2 Truxtun Road: Leyte Gulf Room
RSVP bruce2mc@logcabin.com to enable a head-count and for access to The Yard
___________________________________________________________________________________________
In lieu of flowers, please consider one of the following:
1) Donating a unit of blood in Bernice's memory at a local blood bank;
2) Making a donation in support of (breast) cancer research at a charity of your choice; or
3) Making a donation to the Evergreen Animal Protective League, c/o Susan Nocket, Evergreen Cat Lodge, 32163 Soda Creek Drive, Evergreen, CO 80439, or online at www.eapl.com
Janice Marie Krabbenhoft Bradley (Wife of John Bradley (16th Co)) (01/15/14)
Janice Marie Krabbenhoft Bradley loving wife of Lt. Col. John Bruce Bradley, USAF (Ret.) 16th CO, with dignity joined our Lord and Savior while being cared for by the gracious nurses at the Hospice Care Center for her Alzheimer's in Brooksville, FL. She passed into his loving care at 13:14 on 12/18/2013 where she has now made her final move to her new home in the splendor of Heaven.
Funeral services were on 23 December and held at David C. Gross Funeral Home, 6636 Central Ave, Saint Petersburg, FL 33707. Viewing visitation was held one hour prior to the service with a reception to follow her burial. She was laid to rest at Woodlawn Cemetery, not far from the funeral home.
Jan was born on the 10th of July, 1937 in Fargo North Dakota, the third child of four children and the only girl born to Ewald and Clarice Krabbenhoft. She graduated from Fargo High School in 1955 and a few years later she began her globetrotting and career adventures by making her first move from her home in Fargo to Alexander, VA to be nearer to her fiancé, John Bradley, who at the time was a Midshipman at the U.S. Naval Academy. While waiting for John to graduate, Jan worked for the CIA in Washington D.C. After Jan and John were married their first assignment moved them to Keesler AFB, Mississippi and after 9 months in Harlingen TX, they moved on to Altus AFB, Oklahoma. There Jan enjoyed teaching both Kindergarten and Sunday school. A few years later they were transferred to Offutt AFB in Omaha Nebraska where she continued her civil service career and when they moved back to Alexandria, VA she worked for the Defense Advanced Research Project Agency with Dr. Kahn, founder of the ARPA net, the precursor to the Internet.
Always the professional career woman she found herself working as Assistant to the director of the Defense Commissary Agency European Region while living in Heidelberg Germany. Upon their return to the States they settled for a brief time in Alabama where she worked at the Redstone Army Arsenal in the Patriot Missile office. While there she received an Army Commendation Medal for her support to Israel's receiving the Patriot Missile. Jan finished up her 21+ year career after they moved to Florida where she worked at MacDill AFB, FL for the Special Operations Command Central as the special assistant to General Toney, deploying Green Beret Troops.
Jan is predeceased by her parents and her brother Arlen Krabbenhoft. She is survived by Arlen's wife Marie Krabbenhoft, his son Ronald and his two daughter's Karen and Sharon Krabbenhoft, her older brother Dennis and his wife Nancy Krabbenhoft and their son Tom and his wife Linda Krabbenhoft. She is also survived by her younger brother Charles and his wife Bonnie Krabbenhoft and their daughter Lori Von and her husband Lt. Col. Adrian Claymen's USMC along with their daughter Autumn.
Jan is additionally survived by her husband Lt. Col. John Bradley, USAF (Ret) and their three children: Daughter Susan Kelsey, along with her son Daniel and his wife Bridgette Kelsey and their daughter Isabella, and Susan's daughter Francis and her Husband David Cooke; Daughter Kathleen Stutts, along with her daughter, Tera Johnson and Tera's son Craig and Kathleen's son Kenneth; and Son Charles and his wife Becky Bradley and their two children Erica Brooke and John Charles.
If you desire to make a contribution, please make it to:
Mayo Clinic
200 First Street SW
Rochester, MN 55905
Attn: Alzheimer Disease Research
I received an email from Nancy Krabbenhoft, Jan's Sister-in-Law. The below poem she quoted suits Jan to a T.
A VIRTUOUS WOMAN (adapted from Proverbs 31)
"Who can find a virtuous woman of noble character?
She is worth far more than rubies.
Her husband has full confidence in her
And lacks nothing of value.
She brings him good, not harm,
all the days of her life.
She works with eager hands
and secures sustenance from afar.
She arises while it is still dark
and provides food for her family.
She sets about her work vigorously;
her arms are strong for her tasks.
She opens her arms to the poor
and extends her hands to the needy.
She is clothed with strength and dignity;
she can laugh at the days to come.
She speaks with wisdom
and faithful instruction is on her tongue.
She watches over the affairs of her family
and does not eat the bread of idleness.
Her children arise and call her blessed;
her husband also, and he praises her.
Many women do noble things,
but she surpasses them all.
Charm is deceptive, and beauty is fleeting;
but a woman who fears the LORD is to be praised.
Give her the reward she has earned,
and let her works bring her praise in every place."
I have included Jan's Garden Gate and the eulogy I gave at her funeral.
John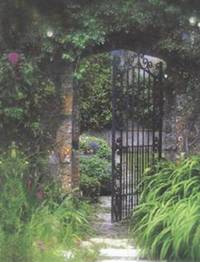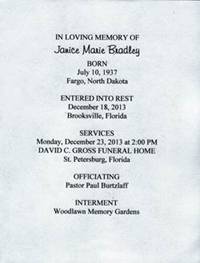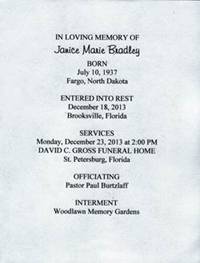 My Eulogy

My heart is truly touched by your presence as we gather to say goodbye to the earthly body of our Dearest Janice: Wife, Mother, Sister, Aunt, Grandmother, and Friend ~ she was always treasured, loved, honored.

Over the many years, how many special gifts at Christmas, birthdays, christenings, anniversaries, etc. did we each receive from her thoughtful heart?

How many cards, letters, how many special messages and packages, how many beautiful/inspirational booklets did she shower upon us?

In how many special places did we share her gracious company?

In the Parks, at the beach, around the Pool, at the Restaurants, and in her Homes? While you were with her, it was as though no one else was around, so focused she would become, just on you.

No matter where she went, she drew in new friends, acquaintances, and admirers ~ here in the U.S., in Europe, at the Utah Olympics, in North Dakota, Florida, and California, anywhere, everywhere.

Jan touched each and every one of your lives in uniquely individual ways. "Stranger" was not a word in her vocabulary because she made acquaintances and friendships with everyone she met including the next person in the checkout line at the grocery store. Strangers became cherished friends for life. Friendly and charming was the essence of Jan. But those of us within her Family were the most fortunate of all.

She was a strong woman who was always there living her life and giving of herself to others in true representation of a vehicle of our Lord. Her faith allowed her to handle the difficulties of life with grace and that kept her strong. She was strong when I was sent to serve our country in Vietnam. She was strong when her son was diagnosed with thyroid cancer and again always the vigilant angel created by God, she was strong and my strength when I too was diagnosed with cancer.

Although Jan was a strong woman she loved to sing and was a member of several church choirs. One of her dreams was to sing with the Mormon Tabernacle Choir and as a birthday surprise Susan took her to a tabernacle choir rehearsal. What appeared to Jan to be an out of the blue invitation, thanks to Susan, they ask her to come up and sing with the practicing choir. It was a Joyful experience for Jan that she cherished for the remainder of her days.

One of Jan's special attributes was always putting others before herself. She lived her life believing in her heart, "give and you shall receive" and she gave of herself to others more than most could ever conceive of doing, merely because she never considered "What's in it for me." She lived her life in thought and deed content in knowing the blessings she would receive from the Kingdom of Heaven by the light of the Lord.

And now that her earthly light has been extinguished, let's always celebrate the precious memory of her, thinking of her often, recalling to mind special times we shared with her, remembering her wise counsel, her deep Lutheran faith, her beautiful smile, her easy laughter, and, above all, her kind and loving spirit.

Truly, each of us has been blessed by having had this special woman in our lives!

Max Neil Akers (5th Co) (12/18/13)

Funeral services for Capt. Max N. Akers, USN (Ret.), 80, will be 10 a.m. Friday, Dec. 13, 2013, in the Centennial Chapel of the Harvey-Douglas Funeral Home, with the Rev. Morgan Ashworth officiating. Interment will be at Ft. Sill National Cemetery, Elgin, at 2 p.m., with Chaplain Dan Capri officiating with Military Honors provided by the United States Navy. The son of John Q. Akers and Luvene Griffin Akers, Max was born on April 12, 1933, and passed away Dec. 8, 2013, in Ardmore, OK. Max was born at Graham, and graduated from Fox Consolidated High School in 1951. After graduation from high school, Max moved to Washington, D.C. where he worked as a congressional patronage appointee in the Post Office for the House of Representatives. Max had joined the Naval Reserve in April 1950, and was recalled to active duty in March 1952. While serving with the Seabees, Max received a congressional appointment to the Naval Academy. He was in the Naval Academy Prep School Class of 53 and entered the U.S. Naval Academy in June 1954. At the Academy, Max was an honors student, graduating 99th in his class.

Following graduation, he reported to the USS Noble APA (218) where he served in various engineering billets and as navigator. He then went to submarine school and nuclear power training. Max served on board USS Scamp (SSN-588) and four SSBNs, including a command tour of USS James Madison (SSNB-627) Gold. Max attended the U.S. Naval Postgraduate School, earning an M.S. Computer Science 1966-68. Post command tours included Engineering Training Director, FBMSTC, Charleston, S.C.; Executive Officer, Naval Submarine Base, Bangor, Wash.; Commanding Officer, Naval Reserve Center, Charleston, S.C.; and Chief of Staff, Charleston Naval Base, Charleston, S.C.

After retirement in October 1985, Max was employed as operations manager, the BDM Corporation, Charleston, S.C. Max also worked as a independent consultant in defense industries. In 1990, Max moved back to his native Oklahoma where he became a certified real estate appraiser and provided community service as a member of the board of directors, Arbuckle Conservation District and Southern Oklahoma Development Authority.

Survivors include two daughters, Cheryl Rogers and Carol Diaz, both of Gig Harbor, Wash.; and four grandchildren, Jacob Diaz, Candace Diaz, Ashley Rogers and Bailey Rogers. Condolences may be made to the family online at www.hdouglasfuneralhome.com.

Roderick John Pejsar (11/27/13)

From Gordo

I regret to report that Rod died of pulmonary fibrosis on 19 December.

Rod made it to REUNION 55 this past May where he received significant help from his old friend Dave Gibson. The Life Event Center at Florida Memorial Gardens is handling funeral arrangements.

Condolences may be sent to his widow, Jane Starling Pejsar at their home address 11 Inwood Way, Indian Harbor Beach, FL 32937 or at her e-mail jstarpejsar@yahoo.com.

Roderick Gorton ((2nd Co) (11/20/13)

Received the following from Lucky Lovitt:

Gordo, I received a message from one of Rod Gorton's daughters, Giovanna. Rod is one of our classmates who moved to Italy to live. There he met his wife and raised six children. His daughter attended our 50th reunion with him. She said that Rod fell off a ladder while working on a roof window on 14 Nov. He died shortly thereafter. His family were gathered there this weekend for what I assume was his burial. I wrote back to her for more information but haven't heard anything yet.

Anne (Nancy) Leary (Wife of John Leary (24th Co)

Nancy Leary, a retired teacher at St. Mary's Catholic School in Alexandria, died peacefully August 6, 2013 at her home in the Mount Vernon section of Alexandria, VA after a short illness. She was 79. After teaching at a private school in Alexandria, Mrs. Leary taught fourth grade at St. Mary's from 1985 until her retirement in 1996. Born Anne Louise Bisio in Danbury, CT, Nancy, graduated in 1955 from the College of New Rochelle. She was a member of Good Shepherd Catholic Church in Alexandria and the Mount Vernon Yacht Club. She loved the water and spent many vacations boating with family or combing the beaches of Cape Cod. Her husband of 26 years, retired Navy Cmdr. John Leary II, died in 1986. Survivors include four children, Missy Leary, Andrea Steierman and John Leary III, all of Alexandria, and Bob Leary of Essex, CT; and two grandchildren, Ryan and Ellen. She also leaves her four-footed playmate, Lila.

Visitation was on Monday, August 12, 2013 from 6 to 8 p.m. at Demaine Funeral Home, 520 South Washington Street, Alexandria, VA. Funeral Mass was held on Tuesday, August 13, 2013 at 10:30 a.m. at Good Shepherd Catholic Church, 8710 Mt. Vernon Hwy, Alexandria, VA. Reception followed at Good Shepherd. In lieu of flowers, Nancy's wishes would be to donate to Good Shepherd Housing and Family Services, 8305-17B Richmond Highway, PO Box 15096, Alexandria, VA 22309 (http://www.goodhousing.org/).

William George Prince (9th Co)

From Gordo

Bill's wife, Marlene, has informed me that Bill died on Tues, October 15. He had been ill for several years with Parkinson's and Alzheimer's. Visitation is at Liberty Road Chapel, 3767 W. Liberty Road, Ann Arbor, MI on Tuesday, 22 Oct 3PM-8PM. Funeral Mass at St Thomas Catholic Church, 530 Elizabeth St., Ann Arbor, MI on Wednesday, 23 Ocy at 10AM. Bill was not only a classmate, but also a shipmate on the USS Soley (DD707).

Frances Barker (Tinker) Runzo (Wife of Mel Runzo (10th Co) (9/30/13)

From Mike Giglio (10/2/13)

Frances Barker Runzo, better known as "Tinker" to her friends and family, died Sept. 28, 2013.

Tinker was born in Norfolk and attended Larchmont Elementary and Maury High School. Her father, Harvey Barker, moved the family to Princess Anne County in 1955 where she graduated from Princess Anne High School in 1957. Tinker earned a B.S. in Education and an M.S. in Counselor Education from Old Dominion University. She taught 5th grade at Louise Luxford Elementary School where two of her students introduced her to Lt. Melvin Runzo, USN, a helicopter pilot, who she married six months later. Tinker was a Counselor at Kellam High School until a change of duty took the family to Fairfax County, VA, where Tinker was a high school Guidance Counselor in the Fairfax County School System, working in Oakton, Falls Church, Annandale and JEB Stuart high schools. She retired from the Fairfax County School System after 25 years of service, and she and her husband, Mel, moved to Williamsburg, VA, where she was a volunteer for the Colonial Williamsburg foundation, giving tours of the St. George Tucker House, a job she continued after moving back to Virginia Beach. She served for five years on the First Night Williamsburg Board of Directors, where she was coordinator of the food service vendors. In 2010, they moved to Atlantic shores in Virginia Beach.

Tinker is survived by her loving husband of 51 years, Melvin Runzo, USN (ret'd); son Chris Runzo and wife Beth; grandsons Aaron, Dustin and Ethan; a sister Barbara Hull; two nieces Patty Bartneck and Peyton von Hirsch, of Virginia Beach; an aunt, Bernice Rea of Crozet, VA, and numerous cousins and friends who were a source of much joy throughout her life.

A Memorial Service will be held at Eastern Shore Chapel Episcopal Church on Oct 17 at 1 p.m. followed by inurnment at Eastern Shore Chapel Cemetery with a reception to follow in the Church's Parish Hall.
In lieu of flowers, memorial donations in her memory may be made to Eastern Shore Chapel Episcopal Church, 2020 Laskin Rd, Virginia Beach, Va 23454; or Atlantic Shores Employee Gift Fund, 1200 Atlantic Shores Drive, Virginia Beach, Va 23454.

H.D. Oliver Funeral Apts., Laskin Rd Chapel is handling arrangements. Online condolences may be made to the family at hdoliver.com.


Max David Marbain (4th Co)

CDR Max David Marbain, USN (Ret.), 77, of Mechanicsburg, died at home and surrounded by his loving family on Monday, September 9, 2013 after a long battle with cancer. He was born in Danby, MO, on February 29, 1936. Max's survivors include his loving wife of 27 years, Jessica Marbain; four children; and five grandchildren. He will be missed by his loyal employees, his many associates and friends.

Max graduated from Festus High School, in Danby, MO, the United States Naval Academy at Annapolis where he lettered in crew, and Harvard University where he received his Master of Business Administration. Max's naval career encompassed tours in Georgia, California, Hawaii, Florida, the Philippines and Washington, DC, where he served on the staff of the White House under President Lyndon B. Johnson. He often accompanied the President to the Texas White House and Camp David. Max later served aboard the USS Forestall and in Vietnam.

Max was a land developer in Central Pennsylvania for more than thirty years. His designs and innovative floor plans were featured in national industry publications. Max received numerous awards and recognition throughout his career. Having built more than a thousand homes, Marbain Associates continues to be at the forefront of residential development.

All are welcome to join Max's family at his home at 2933 Arcona Road, Mechanicsburg on Friday, September 13, 2013, from 4:00 to 8:00 p.m. The family suggests memorial contributions to Paralyzed Veterans of America, 801 18th Street NW, Washington, DC 20006, Humane Society of Harrisburg, 7790 Grayson Road, Harrisburg, PA 17111, or Susquehanna Service Dogs, 3700 Vartan Way, Harrisburg, PA 17110.

Max's family has entrusted his care to Myers-Buhrig Funeral Home and Crematory in Mechanicsburg, (717) 766-3421. Read Max's full obituary and sign his official guest book atwww.Myers-Buhrig.com

Robert Lee Harshberger (21st Co)

Bob died in Coronado, CA. on 8 September after a long struggle with cancer. Information on funeral or memorial services are forthcoming..

Update 9/13/13

Service of Resurrection will be held for Bob Harshberger '58 at 1000 Friday 20 September 2013 at Sacred Heart Catholic Church, Coronado.

From Bob's Coronado Friends: neighbors and church congregation:

Our wonderful friend and longtime Optimist Bob Harshberger passed away with his family at his side Sunday afternoon. Bob had been failing for several months following a recurrence of cancer that he has fought for years.

Bob was always a cheerful fellow with a smile and a handshake or a helping hand. If his gang of barbershop singers ever serenaded your love on Saint Valentine's Day, you already know how Bob brought joy into a room. A collector of hats, cars, and friends, Bob could always be depended upon for a good story about growing up in Johnstown, PA where he apparently knew everybody.

Bob traveled back and forth across the border organizing the building of seventy-five houses and a passable church in the slums of Tijuana. He was always willing to try something that the poor folks asked for. He even endeavored to build a brick house for a lady who asked.

Bob was a Naval Academy classmate of John McCain and several other members of our club. I don't think Bob and Claudette ever missed one of our parties.

Should you want to send a note to the family, the address is 1217 Alameda Blvd, Coronado, CA 92118-2710.

Connie Dawson (Wife of Bill Dawson (23rd Co)

I regret to report that Connie Dawson, wife of Bill Dawson (23) has died. Connie passed away 0700 this morning (Thursday 8 Aug 2013). A Catholic Funeral Mass in Latin is scheduled for 1100 Friday 16 Aug at St. Johns Beloved church in McLean, VA followed by a reception at the Army Navy Country Club in Arlington, VA (1330-1530).

Gordo

Mary Ann Gross (Wife of Skip Gross (18th Co )

From Jerry Larson

Mary Ann Gross, passed away on Thurs, 25 July 2013 after a lengthy illness

William L. Hendrix (6/28/2013)

From Rupe MacLean

After his wife Alice passed away, Bill reestablished contact with the Class and began attending our monthly dinners in Annapolis and the home football games and tailgates. In the past couple years his health has been bothering him and in 2012 he did not renew his season football tickets. I tried contacting him periodically by email and by phone, but he didn't respond then his phone was disconnected.

Obituary: Annapolis Capital Newspaper, Sunday 23 June 2013

HENDRIX, WILLIAM L. "BILL", of Gambrills, Md. died Friday evening at Trinity Care Center in Round Rock, Texas from complications of a massive heart attack. Born on November 14, 1935 to William O. and Anna Hendrix in San Pedro, Ca. his formative years were spent on the west coast before moving east. A 1953 graduate of Vallejo High School, he briefly attended the U.S. Naval Academy before finishing his career with the U.S. Army. While in the service, he distinguished himself as a gifted Russian cryptanalyst with the National Security Administration. On August 31, 1958 he married the only true love of his life, Alice Joan Phillipson, who preceded him in death in 2002. He was a member of St. Paul's Lutheran Church of Glen Burnie, Md. Those who knew him will remember his passionate nature, his sharp intellect and whit, his discerning eye, and his hearty laugh. He is survived by his two sons, William C. "Willie" Hendrix and wife Stephanie of Round Rock, Tx. and Mark T. Hendrix and wife Diana of Lexington, Ky. He is also survived by six grandchildren; Jonathan, Benjamin (wife Melinda), Brittany, and Grace Hendrix of Round Rock, Tx., Stephen Hendrix of Los Angeles, Jeff Hendrix (wife Emily) of Lexington, Ky., great grandson Jonas Hendrix of Lexington, Ky., brother R. Paul Hendrix (wife Sue) of Bothell, Wa., and sister Mike Hendrix Kendall (husband Ed) of Vallejo, California. Private services will be held for the family. Cremation services provided by Heart of Texas.

James Donald Swearingen (6th Co.)

From Gordo

I received the following today regarding Jim

You guys have been very very special to Jim. Please know that. He was never so touched in his life as when you contacted him to join your group. If he never told you, he expected that everyone in his class would have looked down on him because he felt the need to resign in order to follow his calling as a priest. Calling him to join the luncheons was the kindest and most wonderful thing to happen to him. He really enjoyed your company and looked forward to the luncheons, even though he could rarely make it physically. He suffered a lot in the past few months and just wanted it to be over. This week he suddenly worsened and before you know it, it was over. But know that he had the best last day anyone could hope for, and he never suffered. He just grew so weary that he went to sleep and never woke up.

His funeral will be this Saturday, June 8th, at 11am.

Location Advent of Christ the King (Episcopal) 261 Fell Street San Francisco, CA 94102-5193 TEL 415 431 0454

Grayden Frederick Lombard (7th Co) (5/10/13)

Update 2/5/14

Fred Lombard will be Inurned at Arlington Cemetery at 11:00 Am on Friday, February 21, 2014. Anyone wishing to attend should meet at the Administration Building at 10:30 AM.

From Bill Drury

Fred Lombard died Friday, May 10th, after being bedridden at home for six months. Fred totally lost his eye sight three years ago and has steadily gone down hill ever since. Final arrangements have not been made, however we anticipate a service and Inurnment at Arlington or USNA.

Fred's wife, Sandra, can be contacted at:

128 Central Park Lane
Evans, GA 30809

(H) 706-955-9933
(C) 706-973-7539

(e-mail) sandrahultlombard@yahoo.com

Clarence Howard Keim II (10th Co)

Update (4/2/13)

Clarence Howard "Bud" Keim, LCDR U.S. Navy (Ret) went home to be with his Lord on Easter Sunday Morning, March 31, 2013, after a courageous fight with Leukemia (MDS).

LCDR Keim was born in Topeka, Kansas on August 14, 1935. He and his brother, Ray, were raised in a Foster home for 12 years. He eventually moved to Kansas City, MO to live with his father, Clair Henry Keim where he graduated from Paseo High School. He received a Congressional appointment to The U.S. Naval Academy in Annapolis, MD, graduating Class of 1958. He continued on to receive a Master of Science in operations Research/Systems Analysis from United States Naval Post Graduate School, Monterey, CA.

Bud was married to Carol Juanita "Nita" Woodard on January 4th, 1959; they enjoyed 54 exciting years together.

Bud served his country in an illustrious 24 year career commissioning 2 submarines, The USS James Monroe and the USS Lewis and Clark, several nuclear powered ballistic missile submarines, serving at sea for much of his career; culminating in a seven year tenure with the Joint Chiefs of Staff at the Pentagon. He briefed Presidents, Vice Presidents and Secretaries of State in numerous strategic operations. He patrolled the seas during the Cuban Missile Crisis and spent several tours of duty in the depths of the South China Sea. He was considered an expert in submarine warfare.

Bud recently retired from the City of Canton Health Department where he worked as an engineer. Bud amassed a huge extended family in which he was loved tremendously, including his church family as well. Bud enjoyed studying God's Word and sharing his faith in Jesus Christ with anyone who would listen.

(4/1/13)

From Bud's Son Rocky Keim

To all who befriended me during these days of struggle and loss, thank you for your prayers. But this Easter morning our God has called his humble servant home. His name was Clarence Howard Keim II "Bud". At 5 yrs of age he lost his mother and was raised in a foster home with his brother. At 18 he earned a Congressional appointment to the Naval Academy and at 22 he met his bride, and her father, whom he idolized and strived to emulate his entire life. He patrolled beneath the surface of Cuban waters during the Cuban Missile Crisis, commissioned several nuclear powered submarines, and patrolled the South China Seas until serving the Joint Chiefs of Staff in the Pentagon. He raised us with discipline and a strong work ethic, but mostly with a love for Jesus Christ. He had compassion for all people and never uttered an ill-conceived word about anyone. He was not a big man by most measures, but as my brother in law said, he was a Spiritual giant, and that's how I will remember him. Thanks to all, and Peace to you

Richard Kenneth Alexander (10th Co) 03/03/13

Update 5/26/13

Reminder: Dick's Inurnment will be held at 1030 on 3 June at the USNA Columbarium

Update 03/09/13

Once again, I am sending this on behalf of my mother, Barbara Alexander. The memorial service for my father will be Saturday, March 16, 2013, 11:00am, at the Gales Ferry United Methodist Church, 10 Chapman Lane, Gales Ferry, CT  06335.  In addition, we have confirmed his inurnment at the United States Naval Academy in Annapolis, MD, for Monday, June 3, 2013, at 10:30am.

It has been wonderful hearing from so many of you!  My mother finds great comfort in all of your memories and kind words.  It is also great to reconnect with some many people once again.  All the emails have provided my mother and the 4 of us "kids" with so much support and we all truly appreciate it.  I have spent the last week with my mom and she is doing very well.  She has her moments, as we all do, but she is very strong and is coping well for now.  The hard part will be after March 16, once the service is over. 

Once again, here is his obituary: 

http://byles.com/fh/obituaries/obituary.cfm?o_id=1989927&fh_id=10364


Nancy Oaks
nancya@snet.net
home:  (860) 872-2895
cell:  (860) 614-2474


From Dick's Daughter, Nancy Oaks:

It is with a heavy heart that I tell you my father, Richard Alexander, passed away on Wednesday, February 27, 2013.  As you may know, he had been ill for several years with a lung disease. Just before Christmas, he was hospitalized and then was placed in a rehab facility not too far from home.  Unfortunately, he was too sick to bring him home.  But as a family, we had a priceless 2 months to spend with him and bond as a family like we had never done before.  It is his final gift to us and one we will treasure forever. 

My mom is doing pretty well.  Of course, she has her moments but the 4 of us are always here for her.  He was so sick at the end that we are grateful he is not struggling any longer.  That doesn't make it any easier but it does give us all a great bit of comfort.

If you have any questions, feel free to contact me at my email address,

nancya@snet.net

.

Mom will continue to stay connected with people since she is much more tech savvy than Dad ever was!!  He always claimed he was going into the digital age kicking and screaming since he was so analog...;)

Nancy Oaks, the oldest of the 4 kids

A celebration of Dick's life will be held on Saturday, March 16, 2013, at 11:00am at the Gales Ferry United Methodist Church. Burial will be private at the United States Naval Academy Columbarium in Annapolis, MD. There will be no calling hours. Funeral arrangements are being coordinated by Byles Memorial Home, 99 Huntington Street, New London, CT 06320. The family requests that in lieu of flowers, gifts be made to the Gales Ferry United Methodist Church, 10 Chapman Lane, Gales Ferry, CT 06335.

Dick's Obituary:  http://byles.com/fh/obituaries/obituary.cfm?o_id=1989927&fh_id=10364 (Note from Fred Victor: If this link does not work, paste it directly into your browser)

Michael J. Hanley (7th Co)

Michael J. Hanley, Major USMC Ret., 76, of Westerville, passed away Saturday, November 24, 2012. Preceded in death by wife Darolyn K. Hanley,
parents James L. and Elizabeth S. Hanley, and brother Daniel A. Hanley. Survived by son, Timothy M. Hanley of Powell; and brother, James L. Hanley Jr. of
Huntington Beach, CA.

Michael was a 1954 graduate of Westerville High School, where he excelled academically and was all-league in football and basketball,
and a 1958 graduate of the US Naval Academy. He later received Masters degrees from The Naval Postgraduate School and George Washington University. After
graduation, Michael joined the USMC and completed USN flight training in 1960. During his thirteen years as a USMC fighter pilot, Michael flew the F-8 Crusader
and the F-4 Phantom II and served a year in Vietnam assigned to the 3rd Marine Air Wing at Da Nang Air Base. He served the last five years of his USMC career at
the Pentagon and retired with numerous awards and decorations.

Following his service to his country, Michael worked for BDM in the DC area, Battelle Memorial Institute in Columbus, and as a private consultant in Ops analysis and technical writing. In retirement, Michael enjoyed writing, music, football and caring for his dogs. He will be greatly missed. A family graveside service is planned for Friday at 2 p.m. at Blendon Central Cemetery with military honors. Friends may join the family at a Celebration of Life Reception at 3:30 p.m. Friday at Grace Lutheran Church in Westerville. Arrangements by HILL FUNERAL HOME,
Westerville.

Published in The Columbus Dispatch on November 27, 2012

John Edwin Robbins (18th Co)

Lieutenant Commander John Edwin Robbins, USN, Retired, passed away at his home in Tallahassee on November 15, 2012, surrounded by his loving wife, Ruth and his daughter and son, Paige Robbins Parker and Russell Hunter Robbins. Mr. Robbins was born on June 6, 1934 in Seattle Washington, the son of John Edwin Dalquest and Thelma Robbins.

Following his primary education, Mr. Robbins attended the Severn School in Severn, Maryland, where he graduated in 1954. Thereafter, he was appointed to the United States Naval Academy, Annapolis, Maryland, where he graduated in 1958. He then served his country in the for twenty years.

During his service, he married his wife, Ruth on March 6, 1965. He retired from the Navy with an honorable discharge in 1978, having earned a Masters Degree in criminal justice from Rollins College in 1977, utilizing the G.I. Bill and studying nights and weekends. Following the service of his country, Mr. Robbins went to work for the Florida Department of Commerce where he served faithfully until a stroke forced his retirement in 1995.

He was a founding member and past president of the Killearn Kiwannis Club and a member of the Holy Cross Anglican Church. Mr. Robbins is survived by his wife, Ruth Hunter Robbins, daughter Paige Robbins Parker and her husband, Julius F. "Rick" Parker III, son Russell Hunter Robbins and his wife, Shari of Louisville, Kentucky, son Walter Allen Robbins and his wife, Sharon of Andersonville, South Carolina, his sister, Judith R. Palen of Jacksonville, brother, Robert W. Robbins of Pensacola, and two grand-children, Hunter Marie Parker and Blaine Dalquest Parker.

A memorial service will be held on November 20, 2012 at 10:30 A.M. at Fellowship Presbyterian Church, 3158 Shamrock South. In lieu of flowers, the family asks that memorial gifts be made to the Holy Cross Anglican Church, 4859 Kerry Forest Parkway, Tallahassee, Fl 32309 or the Leon County Humane Society, 413 Timberlane Road, Tallahassee, Fl 32312.

Bevis Funeral Home, (850) 385-2193 , www.bevisfh.com , is in charge of the arrangements.

Wayne Arnie Putnam (7th Co) (11/11/12)

Update 3/30/13 from Diana

On Monday-April8, 2013 ( for those that wish to) we will process at 10:30 am from Brinsfield Funeral Home in Leonardtown, MD to ANC. We are to meet at the Administration Bldg at ANC by 12:30 pm. You can meet us at ANC at the Administration Bldg. The service is to begin at 1:00 pm. Immediately following the service Deb and I will host a remembrance reception at the Embassy Suites – Crystal City/National Airport in the Adams Morgan room of the hotel. Parking is discounted at the hotel for those of you who wish to join us to remember Mom and Dad. Deb and I will be staying for the evening at the Embassy Suites

Although the day will be a sad one filled with honor, I do look forward to seeing those of you who come that I haven't seen in a long time, never actually met but have heard your names for years and those that are just friends of Mom and Dad.

Update 3/6/2013 From Diana

The burial service for Mom (Bev) and Dad (Wayne) will be on April 8th at 1:00 pm. The guests for the service are to congregate at the Arlington National Cemetery Administration Building at 12:30 pm. Deb and I are planning a reception to follow at the Embassy Suites Crystal City-National Airport. We look forward to seeing everyone there after the service.

Update 03/02/2013 Funeral Services for Wayne and Bev

From Put's Daughter Diana

Date: Monday – 8 April 2013 Time: 1:00 pm.

Procession Departure from Brinsfield, Leonardtown, MD approx 10:30 am

Reception following the services - .more details to follow.

I will be sending another email with more updates about the reception soon.

You can meet us at Arlington for the services as opposed to processing from Leonardtown, MD

Diana Moeller

6554 Honeycutt Ln

Gloucester, VA 23061

804-695-9449 (h)
757-268-5676 (c)

Wayne was born on December 22, 1936 in Kankakee, IL to the late Arnie W. Putnam and Frieda Putnam (Ebling).

Wayne grew up in Kankakee, IL, and graduated from the U.S. Naval Academy, receiving his commission in 1958. In 1959, he completed Naval flight training and was awarded his "wings of gold," commencing his career as a Naval Aviator. Wayne retired in 1987 at the rank of Captain. During his naval career he earned Navy Battle "E", Republic of Vietnam Armed Forces Honor Medal (First Class), Navy Achievement Medal, Air Medal S/F-1, Republic of Vietnam Campaign Medal, Vietnam Service Ribbon, Navy Unit Commendation, Air Force Expeditionary Medal (Cuba), Navy Expeditionary Medal (Cuba), National Defense Service Medal, Expert Pistol Ribbon, Meritorious Service. Throughout his career, Wayne, with the enduring support of his loving wife Beverly Jean (Bowman) Putnam, served our nation with distinction and honor.

Wayne was a devoted husband and father. Wayne had many interests throughout his life, including a life-long love of golf. He would play at every opportunity, traveling frequently to his vacation home in Hilton Head, SC to play every day he was there. He participated in many retired military tournaments with his former Navy class mates, and won several events. He enjoyed teaching his grandson Matthew how to play, and was thrilled that his step great-granddaughter Amber wanted to learn and play with him as well. Wayne also donated much of his time helping local organizations such as Meals-On-Wheels in St. Marys County as well as hospice assisting patients to and from hospitals in Baltimore, MD and Washington, DC area.

Wayne is survived by his daughters, Diana Moeller (Chuck) of Gloucester, VA, Debra Lyn Zurkowski (Robert) of Hollywood, MD; three grandchildren, Michael Zurkowski, Matthew Zurkowski, and Megan Zurkowski; one step granddaughter, Rebecca Kelly Moeller; four step great grandchildren, Destiny Moeller, Brittany Bowles, Amber Bowles, and Cassie Bowles; and his sisters, Frieda Cummings and Nina Wilson. In addition to his parents, he was recently predeceased by his wife, Beverly Jean (Bowman) Putnam.

Family will receive friends for Wayne's Life Celebration on Friday, November 16, 2012 from 5:00 p.m. until 7:00 p.m. at the Brinsfield Funeral Home, 22955 Hollywood Road, Leonardtown, MD 20650. Prayers will be recited at 6:30 p.m. A Memorial Service will be held on Saturday, November 17, 2012 at 11:00 a.m. at St. John Francis Regis Catholic Church, 43927 St. John's Road, Hollywood, MD 20636. Interment will be in Arlington National Cemetery at a date to be determined.

Memorial contributions may be made to Hospice of St. Mary's, P.O. Box 625, Leonardtown, MD 20650.

Condolences to the family may be made at www.brinsfieldfuneral.com.

Anthony A. Anthony (11th Co) (10/21/12)

The following was provided by Tony's son, Bill.

Anthony A. Anthony, age 77, of Erie, PA passed away at his home on Saturday, October 13, 2012. Tony was born on June 2nd 1935, in Erie a son of the late Anthony and Mary Louise (Paris) Anthony.

A 1953 graduate of Erie Cathedral Prep where he excelled in sports, he went on to graduate from the United States Naval Academy in Annapolis, MD, Class of 1958. While attending the Academy, Tony started both ways at left tackle for Navy's nationally rank football team. In his senior year, the 5th ranked Naval Academy went on to dominate the 8th ranked Rice University Owls with a 20-7 win in the 1958 Cotton Bowl. In June 1958, Tony was commissioned a 2nd Lieutenant in the United States Marine Corp and five years later left the service at the rank of Captain in the Marine Corp Reserves.

From the mid 1960's until early 1996, Anthony enjoyed a long career in the Electronics Industry working for companies such as Erie Technological Products, Murata Manufacturing Co., Ltd., and later Spectrum Control Inc.

In 1996, Tony co-founded X2Y Attenuators, LLC with his Naval Academy classmate and longtime friend, Don Harris of Santa Monica, CA. Tony was a prolific inventor. During his life he was granted over 140 issued U.S. and International Patents on X2Y Technology, which is applied in electronic components that are used in products around the world including satellite radios, automobile braking systems, commercial and military aircraft, portable heart defibulators and computer microprocessors to name a few. In 2003, Tony was recognized by the IEEE EMC Society with a Technical Achievement Award for X2Y Technology.

Tony was also preceded in death by two brothers, Thomas Anthony and Frank Anthony, both of Erie, PA.

Anthony is survived by his loving wife of 16 years, the former Pamela Kay Keith whom he married on October 19th, 1996, as well as her son Colin Keith and wife Mary-Kay Keith of Erie, PA. Tony is also survived by five children, William Anthony and wife Julie of Erie, PA, Dr. Richard Anthony and wife Svetlana of Glendale, CA, David Anthony and wife Lori of Erie, PA, Mary Anthony of San Mateo, CA and Kathryn Anthony of Austin, TX; and his eight loving grandchildren. In addition, Tony is survived by his wonderful brother Richard Anthony and wife Marsha of Erie, PA; and many beloved nieces and nephews.

Tony also had a great love and enjoyment for his Great Danes, Maxamillion, Othello, Dante and Kaiden.

Friends may call at the Brugger Funeral Homes & Crematory, 1595 West 38th Street at Greengarden Blvd. on Wednesday, 17 October, from 2-5 and 7-9 pm. On Thursday, 18 October, There will be a brief visitation from 11:00 am to until the time of a service at 12:00 pm, with Pastor Dennis Miller of Lakewood United Methodist Church officiating.

In lieu of flowers, contributions can be made to the "Fund for Cathedral Prep" fund online at https://www.prep-villa.com/page.cfm?p=595&LockSSL=true, by mail c/o Cathedral Preparatory School, 225 W. 9th Street, Erie, PA 16501 , or the local Make a Wish Foundation located at 1001 State Street, Erie, PA 16501.

Julius Robert Juliano (3rd Co)

Dear Classmates,

I just received a call informing me that Bob died in his sleep, yesterday, 11 October.
I will provide funeral details when I receive them.

Update 10/21/12

A Celebration of the Life of Bob Juliano was held on Friday 19 October at the Army Navy Country Club of Fairfax.

Gordo

Beverly Putnam (Wife of Wayne Putnam (7th Co)

Update 11/3/12

The family will receive friends on Friday, November 16th at 5 pm – Brinsfield Funeral Home, Leonardtown , MD .
Prayers will be recited at 6:30 pm .

A memorial Service will be held on Saturday, November 17th at 11:00 am, St. Johns Francis Regis Church,
43297 St John's Road Hollywood , MD 20636. Internment will be at Arlington National Cemetery at a later
date to be determined.

Update (10/8/12)

Beverly Jean (Bowman) Putnam of Great Mills, MD passed peacefully on October 1, 2012 at Johns Hopkins Hospital in Baltimore, Maryland.

Beverly was born on July 15, 1937 in Kankakee, IL to the late Nicholas Bowman and Bessie Gertrude (Irvine) Bowman.

Beverly grew up in Kankakee, IL, graduating from the University of Illinois in 1959. She raised her two daughters in various parts of the country while loyally serving as the wife of a career Naval Aviator. The family settled down in Great Mills, Maryland when husband Wayne retired after 30 years of service to our country. She enjoyed most of all spending time with her family and friends. Beverly spent numerous years reuniting with her Chi Omega sorority sisters all over the country over the past 50 years. She enjoyed cooking wonderful meals for all who would partake, shopping for the best deal of the century and overall just having fun. Beverly touched the lives of many people and her kind heartedness, radiance and grace will be missed tremendously.

She is survived by her devoted and loving husband, Wayne A. Putnam; daughters, Diana Moeller (Chuck) of Gloucester, VA, Debra Lyn Zurkowski (Robert) of Hollywood, MD; three grandchildren, Michael Zurkowski, Matthew Zurkowski, and Megan Zurkowski; one step granddaughter, Rebecca Kelly Moeller; and four step great grandchildren, Destiny Moeller, Brittany Bowles, Amber Bowles, and Cassie Bowles. In addition to her parents, she was also predeceased by her sister, Ellie (Bowman) McBroom.

Memorial Services will be determined at a later date. Information will be forthcoming.

Memorial contributions may be made to Hospice of St. Mary's, P.O. Box 625, Leonardtown, MD 20650.

Condolences to the family may be made at www.brinsfieldfuneral.com.

Arrangements by the Brinsfield Funeral Home, P.A., Leonardtown, MD.

10/2/12

Beverly passed away passed away on Monday, Oct. 1st, after being hospitalized at St. Mary's hospital in Leonardtown, MD for several weeks and then moved to Johns Hopkins on Sep. 19th. Her doctors there evaluated her situation and were very pessimistic regarding her outlook for recovery even if she were kept on her dialysis treatments. Discontinuing the dialysis led to her passing on Monday, Oct. 1st. More information on the Memorial Service for Bev will be provided when available.

Charles Henry Haughey (16th Co)

Charles Henry Haughey passed away from complications of Alzheimer's disease August 25, 2012 surrounded by his wife, Margie and their five children. He was 78. Chuck spent his Navy career at Brunswick Naval Air Station flying P2Vs. He resigned his Commission in November 1963 on completing his obligated service. He pursued a career as a commercial airline pilot, retiring a Capt. with U.S.Air.

A memorial service celebrating his life was held at Brackett Funeral Home September 2, 2012 in Brunswick, ME.

Attending were his wife, and children: John, Jennifer, Chuck, Jeff and Jane and their families, including 10 grand children.

A host of friends attended, including:

John Whittier, Capt. U.S. Air, and USNA Class of 1958 classmates Ernie and Kathleen Anderson (16), Hugh and Cynthia Gates (16), Pete and Judith Berg (18), Kent and Erna Lawrence (16), Ralph and Nona Luce (15), and Lou Shane (16).

The memorial service was a tribute by his children to a much loved husband, father and grand father and an extraordinary man.

Burial will be at the family home in Nova Scotia, Canada.

Margie's address is: Marguerite Haughey
P.O. Box 471
Enfield, NH 03748-0471

Please remember Chuck with a gift to your favorite charity or by planting a tree.

John Francis Grucza III (6th Co)

From Jack's Son Jack:

John F. "Jack" Grucza III of USNA 1958's 6th Company passed in his sleep on Sunday August 19th 2012, after battling advanced lymphoma and collateral respiratory complications. He was surrounded by his devoted wife Nancy and all of their children, their spouses, and grandchildren, who came in from Maryland, California, and Texas to be with him in his final weeks, including his 76th birthday. 

Jack and Nancy were married to each other for 54 years, beginning with their ceremony on the USNA campus Chapel in Annapolis right after graduation. Nancy was a graduate of nearby Mary Washington College. Following graduation, Jack served on a number of ships, including the destroyer FISKE, in the 6th Fleet.

After completing his active naval service, he joined FMC for a couple of years and then IBM for the rest of his career. He spent most of his IBM years at their Burlington facility in Vermont. He raised his 3 children there; Jack, Jennifer and Amy.  They were fascinated by tales from Jack's days at the Academy, his midshipmen's cruise on the battleship NEW JERSEY, Army-Navy games, and the exploits of his fellow classmates. He further served the Navy in the USN Reserve unit in Burlington.

Jack really enjoyed living in Vermont, especially the fishing, and he made many cherished friends there. After his children flew the nest, he accepted assignments with IBM in Manassas, VA, Austin, TX (as IBM representative to SEMATECH, a leading-edge semiconductor research consortium), and finally Poughkeepsie, NY, where he retired at age 56. Jack enjoyed 20 years of Hudson River valley retirement living with Nancy at their home in nearby Wappingers Falls.

service will be held to celebrate Jack's life at 2pm on Saturday 1 September at the Wm. G. Miller & Son Funeral Home, 371 Hooker Ave., Poughkeepsie, NY,

Alan Allan Poindexter

On Sunday, 1 July, Alan Poindexter, Captain, USN, astronaut and son of our classmate John Poindexter was killed in a jet-ski accident
off of Pensacola, FL. He was riding with his son, and his other son apparently collided with them on HIS jet ski. That's very preliminary,
and according to a generally reliable source at the Association of Space Explorers. NASA already is listing him as "deceased" on their
biographical website..

Roy Lee Reinarz, Jr.(11th Co) (6/29/12)

Roy Reinarz Jr., 75, of Lago Vista., Texas died of Prostrate cancer on 29 April 2011.
Born in San Antonio, Roy was an Eagle Scout, a United States Naval Officer, a husband, dad,
granddad, and great-granddad; a defender of the Christian faith and a friend to the needy.

(A guest book from the funeral home is available for signature at the following website:

http://www.beckchapels.com/sitemaker/sites/BeckFu1/obit.cgi?user=370064ReinarzJr#.T-uTIPxg0Fo.email

Anthony Dennis Miller (23rd Co) (6/21/112)

Update 6/25/12

From Jeff Miller, Tony's Son

Services Honoring Anthony Dennis Miller

Monday, July 2, 2012

12PM: Military Service at Florida Memorial Gardens (5950 US HWY 1, Rockledge, FL 32955)

2PM: Memorial Service honoring and celebrating Tony's life at the Tortoise Island Club House
(727 Loggerhead Island Dr., Satellite Beach, FL 32937)

Following the service those who wish are welcome to come to the home Bonnie and Tony shared for 27years
(528 Hawksbill Island Dr., Satellite Beach, FL 32937)

Funeral arrangements are being coordinated by Beach Funeral Home. www.beachfuneralhome.com

On their website under "Our Services" there is a link to Anthony Miller. In addition to service details
you can leave a condolence message, share a story and/or a photo, etc.

-----------------------------------------------------------------------------------------

Bonnie has asked that in lieu of flowers that donations are made to:

The Flying Leatherneck Aviation Museum

T-4203 Anderson Ave, San Diego, CA 92145 www.flyingleathernecks.org

The Marine Corps Heritage Foundation

3800 Fetter Park Dr., Ste 104, Dumfries, VA 22025 www.marineheritage.org

----------------------------------------------------------------------------------------

Recommended Hotels in the area:

Radisson Suite Hotel Oceanfront (3101 N Hwy A1A, Indialantic, FL 32903)

Reservations:+1 (800) 967-9033 US/Canada Toll-free

Telephone:+1 (321) 773-9260

http://www.radisson.com/melbourne-hotel-fl-32903/melbourn

Hilton Melbourne Beach Oceanfront (3303 N Hwy A1A, Indialantic, FL 32903) 321-777-5000 http://www3.hilton.com/en/hotels/florida/hilton-melbourne-beach-oceanfront-MLBHIHF/index.html

Crowne Plaza Melbourne Oceanfront (2605 N Hwy A1A, Indialantic, FL 32903) 877-701-9252
http://www.cpmelbourne.com/

DoubleTree Suites by Hilton Melbourne Beach Oceanfront (1665 N Hwy A1A, Indialantic, FL 32903) 321-723-4222 http://doubletree3.hilton.com/en/hotels/florida/doubletree-suites-by-hilton-hotel-melbourne-beach-oceanfront-MLBBODT/index.html

Update 6/22/12

From Jack Pierce

I have received some preliminary information from Tony's son, Jeff. Services for Tony will be held on Monday, 2 July. A military ceremony will be at Florida Memorial Garden, time 1200. The address is 5950 S. US Hwy 1, Rockledge, FL. A memorial service to honor and celebrate Tony's life will be at the Tortoise Island Club House, time 1400. Following this, Bonnie will welcome everyone to her house.

There will be more details coming, including hotels etc.

Sincerely,
Jack

6/21/12

LtCol Anthony Miller, USMC (ret) passed away yesterday. Tony had recently suffered a massive heart attack. This, combined with the lung cancer that he has been fighting proved too much.

Tony will be buried in Florida. More details will be provided when available. Condolences may be sent to Bonnie at:

528 Hawksbill Island Drive
Satellite Beach, FL 32937

Jeremiah Fraher (14th Co) (5/19/12)

From Gordo:

I regret to pass along our latest class death. It arrived a bit late so the dates at the end of the announcement are all past. Thanks to Kent Lawrence who brought this to my attention.

Jeremiah Fraher, 78, of Londonderry, died Friday, April 20, 2012, at his home surrounded by his family.

He was born on Sept. 28, 1933, in the Bronx, N.Y., a son of Irish parents, the late James and Margaret (O'Brien) Fraher. At the age of 2, his family returned to Ireland. He was raised in the village of Abbeyside, County Waterford, and left Ireland in 1954 to attend the U.S. Naval Academy, graduating with the class of 1958.

He was a resident of Londonderry for more than a year, formerly living in Wickford, R.I. Commander Fraher served in the U.S. Navy, retiring after 23 years of dedicated service. He served across the country and around the world including California, Guantanamo Bay, Virginia, London, England, and Newport, R.I. He was chief engineer on the USS Hyman in Newport, R.I., and then the supply officer on the USS Morton in San Diego, Calif . He retired as comptroller at the Naval Education and Training Center in Newport, R.I. Following his retirement from the Navy, he worked as a financial analyst in Newport, R.I.

While living in Rhode Island, he belonged to the North Kingstown Senior Center, and volunteered for many years at the Rhode Island Food Bank and local food pantry. Mr. Fraher belonged to the Military Officers Association of America. He enjoyed gardening, reading, golfing, traveling and taking walks. His favorite vacation spot was a family beach cottage in Maine.

He is survived by his wife of 49 years, Patricia (Cole) Fraher of Londonderry; one son, James Fraher of Warwick, R.I.; one daughter, Tara Hathaway and her husband, Doug, of Holliston, Mass.; three grandsons, Raeburn Hathaway, Jacob Hathaway and James Hathaway; two sisters, Peggy Motherway and her husband, John, of Cloyne, Ireland, and Maureen Scott and her husband, Keith, of Spain; his sister-in-law, Pat Fraher of Towson, Md.; as well as many nieces and nephews. He was predeceased by his two brothers, James Fraher of Towson, Md., and Laurence Fraher of Abbeyside, Ireland.

There are no calling hours. Following cremation, a memorial Mass will be celebrated on Friday, April 27, at 11 a.m. in St. Mark's Church, One South Road, Londonderry. Burial will follow later in the afternoon in the N.H. State Veterans Cemetery, Boscawen. The Peabody Funeral Homes and Crematorium of Derry and Londonderry is assisting the family with arrangements. To send a condolence or for more information, go to www.peabodyfuneralhome.com.

Reid Brundage Paige (20th Co)

From Pete Russel

It is with deepest regrets that I inform you that our 20th Company Classmate (and my roomie), Reid Brundage Paige, passed away on May 10, 2012 in Oakdale, CA. His wife, Ann, said there will be a service and burial at Saint Matthias Anglican Church in Oakdale this coming Thursday (17 May) at 1000. Ann says she's doing fine with all the help of family and friends. Her phone number is 209-848-9015 in the event someone would like to call.

At an appropriate time, I will coordinate with Ann and one of her sons to work up a suitable entry for Reid for Shipmate.

John Richard Rasavage (5th Co) (4/7/12)

From Gordo:

We have just learned that LtCol John Rasavage, USMC (ret) died on 22 March. While Lance Herold will work at putting together an obituary for Shipmate, I am sure he can use some help. Please provide him with any info that you may have, especially his active duty years. Lance is at lherold58@verizon.net..

His widow, Phyllis, may be contacted at 415 N. Waugh Road, Mount, Vernon, WA 98273.

Otto Clyde Rice (12th Co) (3/27/12)

Otto Rice passed away on March 7, 2012 at his home in Sarasota, FL after a battle with cancer. He was born December 17, 1934 to Myrtle Marie and Basil Hamilton Rice who are both deceased. He entered the Naval Academy in 1954 with the Class of 1958 and, assigned to the 12th Company. He earned his Navy "N" as a member of the '56 National Championship Dinghy Sailing Team.

Prior to his entry to the Naval Academy, he attended and graduated from Sarasota High School in 1952 and attended Rollins College in Winter Park, Fl. for a year until June 1953. He worked part time at the Rollins College Theater and local news papers.

Upon graduating from USNA in 1958 he was Commissioned in the Navy and attended the Navy Supply Corps School from August '58 to March '59. He was promoted to Lieutenant (jg) in the Supply Corps on December 4, 1959 and served aboard the USS Cowell (DD 547) for about 19 months as Supply/Disbursing Officer. He served with the Naval Administrative Unit at Lake Mead Base, Las Vegas, NV from which he was honorably discharged as a Lieutenant in February 1963. He married Judith Beaver in 1962, who predeceased Otto with cancer and congestive heart failure in October 1998. Otto is only survived by a sister, Barbara Burnett, who is in a nursing home, suffering with Alzheimer's, and a Nephew, Glen Ayala, and numerous other nieces and nephews.

After his service in the Navy, he worked as a Senior Applications Engineer for American Standard, Singer, Snider and Mcquay and others as the company was acquired and purchased. He moved with the company to Columbus and Elyria, OH to Auburn, NY and Minneapolis, MN before he retired and moved back to Sarasota in 2006. He then worked part time for The Crowley Museum, a Nature Preserve.

Otto desired to be cremated, as he had personally discussed with Glen Ayala some years prior to his death. He wanted his ashes scattered partly in the Nature Preserve and partly for a Burial at Sea in the gulf near Sarasota, Fl. Some of his ashes have already been scattered at the Nature Preserve. Mr.Ayala has contacted the Navy to try to arrange the Burial at Sea. His ashes have been sent to the Jacksonville Naval Base for a Military Burial at Sea at a later date.

John Robert Bruce (17th Co) (3/15/12)

John Robert Bruce passed away early in the morning of March 6, 2012. John was born on June 25, 1936 in Crawfordsville, Indiana. His parents were Dr. Robert Wallace Bruce and Maud Louise (Moon) Bruce, and he referred to himself as a faculty brat from Wabash College. John left high school early to attend Earlham College one year, and from there he won a congressional appointment to the U.S. Naval Academy. He graduated in 1958 and was always pleased that President Eisenhower handed him his degree.

Unable to fly in the Navy, he became a navigator in the Air Force. On December 19, 1960, he married Jeannette Louise DeSadier in Shreveport, Louisiana. Their son Robert Douglas was born on August 26, 1963 in Columbus, Mississippi. On April 7, 1967 a daughter, Moira Louise, joined them in Dayton, Ohio. John was a member of two air refueling squadrons, the 301st and the 901st. In southeast Asia he was a member of the AC130 gunship squadron. During his military career he was awarded the Distinguished Flying Cross and several Air Medals and Commendation Medals. He also held a masters degree in aerospace engineering and an MBA. He retired from the Air Force in 1980 as the faculty executive officer at the United States Air Force Academy and started a career with Martin Marietta as a systems engineer.

John devoted a good portion of his time to civic responsibilities. At various times he served as cub master, a choir member and senior warden of his church and president of Gleneagle Sertoma. He also had been a member of the North End Rotary and the Winter Night Club. His interests were wide and varied, and he loved to hike in the mountains, play racquetball, attend Bronco games and any basketball game, as he was a true native of Indiana. He played a good hand of bridge and loved attending the symphony and opera. Regional basketball tournaments and the Santa Fe Opera were favorite vacation spots. Jeannette and he traveled the world and enjoyed each spot on the globe. He loved his church, adored his family and was an exceptional neighbor and friend.

John was preceded in death by his parents, his sister Emily, an infant nephew, and his nephew John Aaron. He is survived by his wife, his son Doug, his daughter Moira and her husband David Jones, and his three grandsons Rostislav William, Vadim Robert and Austin David. He is also survived by his nephew Dr. Bruce Rolfe and his family, and a niece Jeannette Anna Rolfe. The memorial service will be held at St. George's Anglican Church, 217 Pikes Peak at 11:00 am on Saturday, March 10, 2012. In lieu of flowers, please consider a donation to the Wounded Warriors Project (www.woundedwarriorproject.org).. Good night, sweet prince.


Robert Lyman Shearer (14th Co) (2/28/12)

Bob Shearer finally lost his long battle with cancer. Bob died on Friday 24 February at his home in Naples, FL. At this time there are no plans for a memorial service or formal burial ceremony.

(See Comments on the Binnacle List).

Richard David Whelan (21st Co) (3/9/12)

Published in Syracuse Post Standard on January 22, 2012

January 18, 2012 Richard D. "Dick" Whelan, 77, of Chaumont Bay, NY, went to be with
the Lord on Wednesday, at home surrounded by his loving family. Dick was under the care of Hospice and his wife Doris. A native of Camillus, he graduated from Camillus High School
in 1952. Dick was a U.S. Navy veteran. After his honorable discharge in 1955, he joined the TV Channel 3 production crew, where he worked as local sales manager. In 1987, Dick accepted appointment as general sales manager at the sign-on of TV Channel 50 in Watertown and then became general manager of that station and served in that capacity until 1997. At that time Dick accepted the position of regional sales manager of the Dave Mance/Community Broadcasters Radio Group in Watertown and remained until permanently retiring in 2007. Predeceased by his parents, Elizabeth and David Whelan; brother John "Jack"; and an infant daughter, Kim. Dick was a Syracuse University fan, loved gardening and planted beautiful flowers around his yard, and he was a member of the Camillus Elks Lodge. Survivors include his wife of 53 years, Doris (deBerjeois) Whelan; children Erin (Ronald) Togni, Sheri (George) Goldthwaite, Jeffrey (Mary-Ann McGriff) Whelan, Timothy (Marilyn) Whelan and Debra (Brian Paventy) Champouillon; grandchildren Tabitha (David) Love, Jessica (Ed) Gardner, Heather (Jason) Rudick, Danielle and Kimberly Togni, Richard Goldthwaite, Erin Hicks, and Christopher and Brian Whelan; great- grandchildren Abigail and David Love, Devin, Dustin, Dayton and Dausin Gardner, and Jennifer Reynolds; sisters Marilyn McCarthy, Pat (Jack) O'Hern and Bette (Mathias) Asprinio; sisters-in-law Beverly Whelan and Jeannine deBerjeois; aunt Betty Goodwin; and many nieces, nephews and cousins. In accordance with Dick's wishes, his family donated his body to Upstate Medical College for Anatomical Studies. A memorial Mass will be celebrated at 10 a.m. Saturday, January 28, 2012, at Holy Family Church, Syracuse. Donations to Hospice of Jefferson County. To leave a special message for the family, please visit
NewcomerSyracuse.com

Margaret Price Lawe (Wife of Dick Lawe 22nd Co) (2/21/12)

Margaret was born into the family of Guy and Ida Price on October 10, 1934 in Fredericksburg, Virginia. She was child number 13 out of 15 children. Margaret met the love of her life, Richard Lawe, while she was living and working in Washington, D.C. Richard was attending the U.S. Naval Academy in Annapolis, MD. Margaret and Richard shared fifty-five years together: they shared five children, three grandchildren, one great-grandchild, three overseas tours, 20+ addresses, 10+ dogs and cats, thousands of separations during Richard's hunting and fishing trips and mom's shopping at Nordstrom. Margaret loved life. She would light up the room. She was kind and generous and she brought joy, laughter, and love to everyone whose lives she touched. She was known as "Mom" to many people throughout her life. She was the kind of wife and mother everyone wishes for. She spent many years at Richland Elementary School (San Marcos, Ca) helping children learn to read. She was a gracious Marine Corps Officer's Wife, exhibiting great strength and courage during the course of Richard's military career. Her family and many friends will remember her for her wonderful sense of humor, her dignity and poise, and her ability to make everyone she met her friend, her flaky piecrust and amazing apple pie. She set a wonderful example for her children with her tenacity through hard times, her loyalty in her marriage with Richard, and her boundless energy, vivacity and zest for life. Margaret passed peacefully February 6th surrounded by loving friends and family. She is survived by four children: Valerie Lawe Cannon of Ukiah, CA; Leslie Marie Shaw of Vista, CA; Kathleen Margaret Lawe of San Diego, CA; Billy and Maria Lawe of Menifee, CA, grandchildren Wes & Bart Shaw and Journee Rose Lawe and great-grandson Steve Shaw; sisters Ida, Nancy, Jean and brothers, Bill, and Roy "Butch" in and around Fredericksburg, VA. She will be remembered and cherished all the rest of our lives. A celebration of Margaret's life will be held at the Murrieta Community Center on April 22nd from 2:00-4:00 pm. Our family is deeply grateful to Hospice of the Valleys for their compassionate care. In lieu of gifts or flowers donations to hospice would be appreciated.


Published in Press-Enterprise on February 19, 2012

John Ruth (17th Co) (2/6/12)

John Ruth, 76, a resident of Colorado Springs since 1970, passed away on Tuesday, January 31, 2012 due to complications from a serious head injury sustained in a fall. Born January 26, 1936 in Lebanon, PA to Richard and Matilda Ruth, John was a graduate of Lebanon High School in 1954 and Annapolis, US Naval Academy in 1958. John was married to Joanne Fields from1959 to 1981 when they divorced. He then was married to Lynne Gordon from 1987 until they divorced in 2011. John had continued to maintain a good relationship with both. John retired from Academy School District 20 where he was a teacher from 1970 to 1995. He enjoyed reading, woodworking, fishing and traveling. John was preceded in death by his parents and sister Jane York, He is survived by his sister Mary Jones, his brother-in-law Alvin York, his children David (Judy), Dan (Lisa). Alisa (Robert) Lockwood and grandchildren Claire, Eleanor, Olivia, Lydia, and Jonathan, as well as nieces and nephews. A memorial service will be held at 3:00 p.m., Saturday, February 4, 2012 at Cappadona Funeral Home, 1020 Fillmore St. Colorado Springs, CO with an internment in Lebanon PA. In lieu of flowers memorials may be made in John's name to the Pikes Peak Library District.


Alan Gordon Roach (9th Co) (01/14/12)

Update 2/6/12

The Fort Rosecrans services have been cancelled by the family. With honors they would not have been allowed to put the urn in the wall.

All services, including military honors, will be at the church. Services at the church will be at 9 AM (note - this is a change). The family will have private services at a later date.

Update 2/2/12

The Al Roach Family has indicted that donations in Al's memory may be made
to the Navy Marine Corps Relief Fund in lieu of flowers.

The following is from Al's daughter, Gwen Poe:

My father, LCDR Alan Roach USN (ret) passed away 1/9/2012 at 12:07 AM in San Diego Hospice. He could no longer hold back the liver cancer that was ravaging his body and his immune systems was just too weak to fight off the pneumonia he contracted just before New Year's Eve. He is in a much happier place now and is at peace finally, now he is with my mother.

His memorial service is scheduled for Monday, February 6, 2012. Beginning with a church service at 9:30 am at Saint Dunstan's Episcopal Church at 6556 Park Ridge Boulevard San Diego, CA 92120, where my mother's service had been in June. After the service there is a light reception followed by his service at Fort Rosecrans.

The service at Ft. Rosecrans is at 12pm with full military honors and a bagpiper.

My father was a wonderful man he is very much missed by us all.

(See Last Call for Barbara Roach)

Donald Phillip Norkin (6th Co) (1/10/12)

Don Norkin of North Bethesda passed away on On January 4, 2012. Cherished husband of Sharon Lynn Norkin; adored father of T. Sterling "Tracy" Norkin, Donna Heaton, Debbie Moore and Douglas Norkin; loving grandfather of Regan, Arielle, Kristopher, Emma-Sophie and Brynna; beloved brother of Leonard Norkin. Funeral Service private. In lieu of flowers, donations may be made to the Michael J. Fox Foundation for Parkinson's Research, www.michaeljfox.org. Arrangements by Danzansky-Goldberg Memorial Chapel.

Thomas Walsh Top (11 Co) (1/07/12)

Tom died on Dec 22, 2011. . His widow is Marta Brakke. Address P.O. Box 193 Republic Washington 99166. Phone 206-276-2622 E-mail missmarta@msn.com.

Tom was born in Olympia, WA on June 26, 1936 to Leonard and Mary Top and spent his childhood there. He graduated from Olympia High School in 1954 and was the center on the varsity football team when they won the 1953 Washington state championship against Queen Anne High School.

After high school he was recommended to the Naval Academy in Annapolis, MD by Congressman Russell Mack. He rowed on the crew team there and placed in the top third of his graduating class in 1958. He then served 4 years in the Navy on a destroyer squadron, stationed mostly in the Pacific.

When he left the Navy, he attended the University of Washington Law School in Seattle, WA, served on the Law Review, and graduated in 1965. He passed the Washington State Bar in 1966.

Following a national search, he was chosen to work for the Civil Rights Division at the Justice Department in Washington, DC and prosecuted violations of integration policy in various school districts in Texas, Arkansas, and other states from 1966-1969. He served under Attorney General Ramsey Clark. He frequently told stories about his experiences during that time in his life.

He returned to the Pacific NW in 1970 and worked with several law firms. He also had the unique experience of being the attorney for the Rolling Stones during their stop in Seattle in the 1970. He ended his career as a personal injury attorney working for Lane Powell from 1985 until he retired in June of 2001.

He married Marta Brakke in April of 1983 at St. Mark's Episcopal Church and fathered a much beloved son, Sam, now a resident of Bellingham.

All his life Tom loved the outdoors and enjoyed hiking, skiing and camping. One summer he and his wife discovered Republic, WA with the fossil dig and the trout fishing in Curlew Lake, and fell in love with the region. In 2002 they moved to a log house in the mountains there. He died at home surrounded by the heat of the woodstove and soft lights, with his wife and son holding his hands.

He is survived by his wife, Marta Brakke, son, Samuel Top, and sisters, Betsy Schultz and Mary Ann Moulton. There will be no services. Donations to forgetmenotshelter.org or any animal shelter or animal rescue would honor his memory.

Dorothy Krauter (Wife of George Krauter (8th Co) (12/16/11)

From George Krauter

My wife of 52 years went to be with her Savior on Oct 11, 2011 from complications of Alzheimer's dementia with which she suffered for 4 years. She accompanied me in 20 years of my career and was with me in the Philippines and Madrid. Spain. She gave birth to out 3rd son during the middle of my year long deployment to Viet Nam and was with me for a number of class reunions.

Gary Kirkwood Roberts, Sr. (11th Co) (9/27/11)

Gary passed away on September 21.

Update 10/ 19/11

Commander Gary Kirkwood Roberts passed away on 21 September at his home in Salt Lake City, Utah. He was born on 27 August 1935, in Greely, Colorado to Lillis Mabel (Tate) Roberts and Harry Kirkwood Roberts. He attended Reno High School and entered the Naval Academy in June 1954 with the Class of 1958. Following graduation, he embarked on his 22-year naval career, during which he earned his Masters Degree in Computer Science at the Naval Postgraduate School, Monterey, CA. Gary was an avid Navy fan and a regular attendee at class reunions. As Company-mate Chuck Baker recalls early in Plebe Year, Gary's vibrant voice could be heard on the stadium PA system "…and the tackle was made by Pete Jokanovich on the 33 yard line…"which gave fellow Plebes in 11th Company a longed-for sense of comfort. Gary never lost his enthusiasm.

After his retirement from the Navy, Gary spent years in his second career as an engineer with GTE before final retirement and move to Salt Lake City, where he could revel in his life-long passion for skiing.

Gary is survived by his sons, Gary Roberts of Menlo Park, CA, and John Roberts of Denver, CO. He is also survived by his sisters, Judy Wright and Helen Dinwoodey of Salt Lake City. He is preceded in death by his parents, stepfather Norman Tourssen, and brother Ronald.

A private memorial service was held by the family, and with a suggestion that any remembrances should be made to the Naval Academy Alumni Association.

A guest book is available for signing at the following link:

http://www.legacy.com/obituaries/rgj/obituary.aspx?n=gary-roberts&pid=154005841&eid=sp_shareobit

Dale Allen Westbrook (12th Co) (7/21/11)

Retired Navy Commander Dale Allen Westbrook , 74, of Rossville, died on Monday, July 18, 2011 at his residence. He was a 1954 graduate of Rossville High School and a 1993 inductee into its Sports Hall of Fame. Graduating from the U.S. Naval Academy in 1958, he served in the Naval Aviation Community until his retirement in 1978. He was of the Protestant faith and a member of McFarland Memorial United Methodist Church.

He was preceded in death by his wife, Gisela Klara Reichstein; and his parents, Darrel Edwin and Alice Clarkson Westbrook. Survivors include his brother, Retired U.S. Navy Captain Darrel E. Westbrook Jr. (Jean); several nieces, nephews, great-niece, great-nephews, cousins, and special aunt, Mildred Beagle Clarkson.

Condolences may be sent to www.lane-southcrestchapel.com. In lieu of flowers, contributions may be made to your favorite charity.

Funeral services will be held on Friday, July 22, at 10:30 a.m. in the South Crest Chapel with Reverend Hoyt Jenkins of Jasper, Ga., officiating. Burial will follow in the Chattanooga National Cemetery with full military honors. Honorary pall bearers will be the Rossville High School Class of 1954 in attendance.

The family will receive friends on Thursday, July 21, from 5-8 p.m. at the South Crest Chapel of Lane Funeral Home and Crematory, Rossville.

James Charles Tipton (10th Co) (7/15/11)

Update 5/28/12

There will be a Protestant funeral service at 1300 in Main Chapel on Monday, 04
June 2012 for Lt Col James Charles 'JC' Tipton, USAF (Ret), Class of 1958 (DOB
15 January 1933, DOD 13 July 2011) followed by committal at the Columbarium. A
reception will be held after the Committal at the Alumni House on College
Avenue.

Gordo

Update 2/21/12

Peggy Tipton has scheduled a service for J.C. at the Naval Academy Chapel at 1 PM on Monday,
June 4th. His inurnment in the USNA Columbarium will be followed by a reception for family, classmates and
friends.

J.C. Tipton died at Southwestern Medical Center on Wednesday, 13 July 2011. His ashes will be inurned at USNA at a later date.

Update 7/18/11

A tribute to J.C. From his son, Chris:

James Charles Tipton - Jan 1933 - July 2011

My father, known by his family and friends as J.C., passed away peacefully this morning at 11:50, surrounded by his wife of 53 years and his two children. He lived a truly wonderful life. He had a huge smile for everyone he met, he would ask you how you were doing because he really wanted to know, listen to your stories intently, and leave you with a feeling that he was the nicest man you'd ever met, and he was. He was a twin brother, a loving son, a patriotic and loyal man, an amazing father and a doting husband.

He grew up in rural northern Alabama. He served his country for over 25 years, beginning in Korea as an Underwater Demolition Specialist before being accepted to the U.S. Naval Academy as a member of the Class of 1958. Upon graduation from Annapolis, J.C. was commissioned in the U.S. Air Force and served around the world - Vietnam, Japan, Canada, Denmark and various U.S. bases. His wife Peggy was by his side from their first blind-date in Annapolis in 1957, and they had their 53rd wedding anniversary two days ago, July 12th. He and Peggy adopted me and then their daughter Liz while they were stationed in Canada with the Air Force, and boy did we get lucky! He was the best father either of us could have ever wanted. He was confident but humble, hard-working but jovial, strict but fair, and he had our respect. He loved his family with all his heart and we loved him back.

He retired with the family to Dallas in 1977. His second career with Rockwell-Collins in Richardson led him to many of the friends our family still shares today. He was an avid runner, voracious reader, non-stop traveler and a lover of life. He lost his battle with dementia but he never lost that smile, even if he had forgotten your name. He would still hold the hands of his grandchildren with a look of pure love in his eyes. His granddaughters both gave him stuffed animals to hold on to when the end drew near, and he clutched them both as he passed on. His spirit lives on with his wife, his children, his grandchildren, his brother and his vast network of friends all over the world. We love you Dad...you will be missed.

Edwin Wilson Oldham (6th Co) (7/1/11)

Update 8/8/11

There will be a Memorial Service for Ned Oldham at the USNA Columbarium on Friday, October 7, 2011 at 11:00 AM.

Update 7/15/11 (See Obituary Below)

The Celebration of Life Service will be held at 2 PM July 23, 2011 at First Presbyterian Church of
Akron, 647 East Market St., Akron, OH 44304.

The family hopes to have a service at the USNA Columbarium and a memorial in Naples, FL later this fall.
Word will be disseminated as soon as the details can be arranged.

A memorial fund has been established for Ned for the Athletic Excellence Program. You may make contributions to: USNA Foundation
Inc., 25 Maryland Ave., Annapolis, MD 21401- please make note that the contribution is in memory of Ned Oldham for the Athletic Excellence Program.

From Harry Hurst (7/1/11)

Ned passed away on Tuesday night, June 28, 2011 from complications of Parkinson.
Ned has been steadily going down hill for the last couple of years and got to
the point were he could not swallow. He died peacefully in the care of Hospice
and Karen and the boys getting to spend some precious time with him in those
last days.

Ned will be Cremated but final arrangements are not firm at
this point. I have talked with Karen and told her that all of the Teammates and
Classmates have been praying for Ned and asking about him. I will be in contact
with son Jeff to assist in any way I can and I will let you know when final
arrangements are made.

Ned Oldham's Obituary (7/15/11)

Edwin W. "Ned" Oldham II, 74, of Akron, OH and Naples, FL, passed away peacefully at Avow Hospice of Naples, FL, on June 28, 2011 with his loving wife Karen and four boys Jeff, Scott, Mark and Eric at his side. He was a great husband, father, grandfather, brother and friend. Ned had a wonderful and blessed life.

He valiantly fought an atypical form of Parkinsonism Plus for 7 ½ years with his wife Karen as his caretaker. In his last days he & Karen also had the loving assistance of Tammy and Lori as live-in caretakers.

A 1958 graduate ('58 is Great) of the United States Naval Academy, "crazy legs" Oldham was the captain of the USNA football team that beat Rice in the Cotton Bowl and ended the season ranked 3rd in the country. Ned also scored all 14 points in the Army-Navy (Oldham 14- Army 0) game his senior year. He was 6th Company Commander his final semester; ranked in the top 10% of his graduating class he was named a Scholastic All American.

Ned grew up in Akron, OH with his Father Albert, Mother Ruth, Sister Nancy, Brother's Bill and Bob and many relatives. Armed with a General Engineering degree from USNA and a Law Degree from The University of Akron, Ned became a prominent Intellectual Property Attorney in Akron and Naples. He was instrumental in bringing the National Inventors Hall of Fame to Akron from Washington DC. He authored a book "Freedom to Invent". He was a long time member of First Presbyterian Church of Akron.

He loved sports and was an avid athlete who loved competing and was often found to be in a heated golf match with his friends or family. He & Karen were blessed to have the opportunity to travel & golf internationally. He also cherished many family trips such as ski trips to Colorado or Utah.

Ned is survived by his faithful wife of 53 years, Karen; four sons Jeff (& Rene) of Dayton, OH, Scott (& Joan) of Akron, OH, Mark (& Pam) of Orlando, FL & Eric (& Tara) of Naples, FL; eight grandchildren Alex, Connor, Jessica, Michael, Daniel, Morgan Leigh, Edwin W. III "Trey" & Ava Mae; Sister Nancy (& Darrel) Seibert, Bothers Bill (& Pat) & Bob (& Cindy). Ned is preceded in death by his parents and his lovely grandchild Linnea Rose.

Many will remember him as a gentle man with a deep faith and a everflowing positive outlook on life. He had a great and witty personality and a loving heart. The Celebration of Life Service will be held at 2pm July 23, 2011 at First Presbyterian Church of Akron, 647 East Market St., Akron, OH 44304.

A memorial fund has been established for Ned for the Athletic Excellence Program. You may make contributions to: USNA Foundation Inc., 25 Maryland Ave., Annapolis, MD 21401- please make note that the contribution is in memory of Ned Oldham for the Athletic Excellence Program.

Barbara Roach (Wife of Al Roach (9th Co)) (6/29/11)

Update 7/31/11

Barbara's Roach's Memorial Service will be held on August 13, 2011 at Saint Dunstan's Episcopal Church on the corner of Wandmere Street and Park Ridge in San Diego CA 92120. The Memorial Service will start at 10 a.m. The date for Barbara's internment at Fort Rosecrans has not yet been scheduled but will be on or after August 15th.

The family has no special requests regarding flowers or donations in Barbara's memory.

Condolences to the Roach Family may be sent to
7473 Rowena
Street, San Diego, CA 92119.

From Jim Adkins:

Al Roach's wife Barbi died a few days ago. The family has not yet scheduled the Memorial Service but expects it to be in the next two weeks. No further info at this time.

John Albert Besecker (16th Co)

Update 6/12/2011

Jack Besecker passed away on Sunday 22 May. (See obituary below). Funeral arrangements are as follows:

2:00 PM July 30, 2011 (Note this is a change from the original date)
McKee Funeral Home
115 East Birch Lane
Romney, WV

Phone 304-822-8151

After the Memorial service, there will be a get together near by. Directions or guiding cars will be provided at the service.

Obituary

Cmdr. John Albert Besecker USN (RET), 74, of Springfield, W.Va., passed away on Sunday, May 22, 2011, at his home with his wife by his side, while under the care of Hospice of the Panhandle. Born on Oct. 2, 1936, in Washington, D.C., he was the son of the late Clifford A. and Elsie R. Besecker. Cmdr. Besecker joined the Navy in 1958 after graduating from the U.S. Naval Academy in Annapolis. He continued his naval education by graduating from the Naval Postgraduate School in Monterey, Calif., in December of 1968. He received the National Defense Service Medal, the Armed Forces Expeditionary Medal, the Vietnam Service Medal, and the Expert Rifle and Pistol Medal.

While in the Navy he was a Staff Operations and Plans Officer, Operations Analyst and submarine commander. His last active-duty assignment was at the Pentagon in Washington, D.C. He retired from the Navy on Oct. 1, 1978. He then settled in the Washington, D.C., area where he and his wife, Anne, opened a small business. As the business grew, so did the need for more space. They finally settled in their new home along the South Branch River in Springfield, W.Va., where they continued their small business until he became unable to continue working.

After moving to Springfield, John made it a point to make friends in the area and become a country boy sporting a John Deere cap and riding his blue Ford tractor, he could be found on any given weekend fixing the road in the subdivision or working on his and Anne's property. He loved life in the country and would spend as much time as he could outdoors. After the loss of his leg due to an injury, he enjoyed sitting on the veranda and looking across the river and over their property. He was an elder in the Mormon church. Although he didn't have the opportunity to attend services in the last several years, he always enjoyed the visits of President and Mrs. Showers.

Survivors include his wife of 33 years, Anne Germain Besecker, of Springfield; eight children, Charlotte Besecker Turner and husband Steve, of Asheville, N.C., John Besecker, of Longwood, Fla., Robert Besecker, of Deltona, Fla., Terri Besecker Hensley and husband Michael, of Bountiful, Utah, G. Kendall Sherry, of Palm Springs, Calif., Charles (Chucko) A. Sherry, of Springfield, W.Va., Lynn Valentino, of Dallas, Texas and Michael Valentino, of Vern, S.C.; seven grandchildren; four great-grandchildren; two special brothers-in-law, Tom Germain and wife Christie, of Springfield, Va., and John Germain and wife Dorothy, of Fairfax, Va.; two special sisters-in-law, Edna Kartmann, of Port Orchard, Wash. and Margaret (Peggy) Bauer, of Kent, Wash.; his special little buddy, Joshua Kitzmiller, of Slanesville, W.Va., and several other friends from the area.

The family would like to express their thanks to Hospice of the Panhandle, John Daskal of Sav-A-Lot pharmacy in Fort Ashby, Tonya Cozatt of Earth Zone in Short Gap, the Kitzmiller family of Slanesville, McKee Funeral Home and to all of the others who have been there when needed during this difficult time. A memorial service will be held at a later date. Memorials may be sent to Hospice of the Panhandle, 122 Waverly Court, Martinsburg, WV 25402. All arrangements are being handled by the McKee Funeral Home of Romney, W.Va.

Gerald Edward Bellows (18th Co) (5/6/11)

Jerry Bellows passed away on Monday 2 May after a long illness. The memorial service will be at 1300, Friday May 13 at the Lafayette-Orinda Presbyterian Church, 49 Knox Drive, Lafayette, CA .The internment will be a family service at the church prior to the memorial service.

Richard Peter Nalesnik (23rd Co) (5/6/11)

The following info was provided by his widow,

I apologize for the delayed messaging. On Monday, April 25, 2011 Richard P. Nalesnik '58 passed away. He was 76 years old. A Catholic mass was held Thursday, April 28, 2011 at St. Pius X Church in Bowie, Maryland and he was interred at Maryland Veterans Cemetery in Crownsville, MD immediately following the service.

Please feel free to distribute this message to the
rest of the class of '58, visit his memorial website and sign the guest book at


http://www.beallfuneral.com/sitemaker/memsol.cgi?page=profile&section=info&user_id=368155

Dick left the academy Plebe year.

Patricia Watts Prather Wife of Robert J. Prather 1st Co)

Teacher, church member A resident of Claremont since 1974, Patricia Watts Prather died on April 7, 2009 at Claremont Manor following a long illness with pulmonary fibrosis. She was 76. A native of New Mexico, Ms. Prather was born in Roswell on June 23, 1932. She grew up there and in El Reno, Oklahoma and attended several colleges before graduating from the University of Florida in 1957. Later, she received her law degree from the University of La Verne. In 1958, she married Robert James Prather Jr. of Laurel, Mississippi. Following the death of her husband in 1973, Ms. Prather and her children relocated to Claremont. She taught school at nearby Vineyard Elementary for many years and specialized in bilingual education. She retired in 2000. Ms. Prather was a member of St. Ambrose Episcopal Church and the Phi Mu Alumni Association. Ms. Prather is survived by her brother, George Watts of Seal Beach; her daughters, Katherine Snodgrass of Altadena, Charlotte Milton of Memphis, Tennessee and Stephanie Moser of Pewaukee, Wisconsin; her son, Robert James Prather III of Cleveland, Georgia; and by her 8 grandchildren, Rebecca, Charlotte Jean and John Thomas Hare of Memphis, Tennessee, Mary Pat, Lisa and Robby Snodgrass of Altadena and Alex and Austin Moser of Pewaukee, Wisconsin. Funeral services will be held at 10 a.m. today, April 15, 2009 at St. Ambrose Episcopal Church, 830 W. Bonita Ave., Claremont. Memorial donations may be made to The Ranches, 6209 Hendrix Rd., NE, 2 FL, Albuquerque, NM 87110, which provides help for children and their families.

David Geary Willingham (19th Co)

Update 5/12/11

Dave will be buried at Arlington Cemetery, Thursday, 9 June 2011. We will meet at the Arlington Cemetery Admin Building starting at 1030. We will leave in time for a graveside ceremony at 1100. There will be a reception at the Ft Myer O Club immediately following the ceremony.

2/9/11

David G. Willingham (19th Co.) passed away at home late in the evening of Friday, February 4, 2010.

His Funeral Mass will be at Blessed Sacrament Catholic Church at 10:00 AM on Thursday, February 10, 2010. The church is located at 1427 Braddock Road, Alexandria, Virginia. There will not be a viewing and the family requests that flowers not be sent. Following the Mass a reception will be held at a restaurant near the church.

If you plan to attend the reception, please e-mail the Giglios @ giglio3936@aol.com

Inurnment at Arlington National Cemetery will be at a later date.

Sue Anne Doty (Wife of Bob Doty (14th Co)

From Sue Doty's son, Buddy Houston:

On behalf of my brother Jeff and myself, we would like to share with you the following:

On Wednesday, December 29, our mother Sue Anne Doty passed away peacefully in her sleep of natural causes. She was battling an illness as well as grieving the loss of her husband, COL Robert Doty Jr (USAF Ret), who passed away exactly a month ago.

Below are the viewing and funeral details:

Viewing:

Monday, January 3, 3-5 and 7-9


Pumphrey Funeral Home


300 West Montgomery Ave


Rockville, Md 20850

Funeral Services:

Janurary 4, 11:00


St Rose of Lima Catholic Church


11701 Clopper Rd


Gaithersburg, Md 20878

Richard Havelock Alexander (6th Co) (12/20/10)

Update 4/21/11

Funeral services for '58 classmate Major Richard H. "Dick" Alexander, USMC (Ret), 6th Company will be held in Arlington Cemetery at 1300, 16 May, 2011. The ceremony will be an inurnment in a family plot. Guests are asked to meet at the Arlington Administration Center at 12:30 on that date.

Upon completion of the graveside service, guests are invited to a reception to meet family members at the Sheraton International Hotel on Orme Street at Columbia Pike, near the Navy Annex. A map to the reception site will be provided at the Administration Center.

From Poj Walters 12/22/10

Major Richard H. (Dick) Alexander, USMC (RET), Class of 1958 passed away on Sunday, December 19, 2010. He had been ill and in poor health for about nine months. Richard was, up until the very recent past, an active member of the Puget Sound Alumni Chapter and designed the Chapter Newsletter which is still in use today. Dick took the lead in encouraging the Chapter to honor Major Megan McClung, USMC, who was the first woman graduate of Naval Academy to be killed in combat. He was a loyal, dedicated Marine and enthusiastic supporter of the Naval Academy. Dick will be cremated and his ashes inurned at Arlington with his father and grandfather.

There will be a local Memorial Service for Dick on Monday, December 27, 2010, at 2 p.m. at the Kitsap Naval Base Bangor Chapel. A reception will follow at the Inside Out Café at Bangor Plaza across the street from the Chapel. The family requested the service be on this date for convenience of family members from out of town. Many of our Alumni are traveling or involved in other Holiday activities; however, we encourage anyone who can to attend.
Inurnment will be at a later date in Arlington National Cemetery.

From Poj Walters (12/20/10)

Dick Alexander was taken off life support about 1700 today in the
hospital in Bremerton WA and expired shortly thereafter. At bedside
was his wife Inge, and children Rene, Rica, and Bill.

Arrangements regarding services will be announced later. Dick had
requested his ashes be inurned at Arlington Cemetery, probably with
his father and grandfather. At such time as those arrangements are
made, I will fly with his ashes back to D.C. for that ceremony.

It was a hard departure for Dick, dragging out nearly 9
months. Luckily, I had a last conversation with him after the
Army-Navy game, the day before they did an endoscope that led to his
going on life support.

Poj

Robert Eldon Doty, Jr. (14th Co) (11/30/10)

Update 12/2/2010

The wake for Bob will be Thursday 2 December at Pumphry Funeral Home on Rte. 28 in Rockville from 3 PM to 5, then again from 7 PM to 9. The funeral Mass will be Friday 3 December at 11 AM at St. Rose of Lima located on Clopper Road, Gaithersburg, MD. Interment will follow at All Souls Cemetery located in Germantown.

From Sue Anne Doty (11/30/2010)

Bob passed away at 6:15 pm last night. He was with loved ones and died a peaceful and happy. My sisters, younger son and one of the men from the Knights of Columbus was with me when Bob passed. Bot kept his sense of humor all the way to the end. As I was giving him his last dose of morphine, I told him he was turning into a dope addict and he smiled and did what he could to laugh. He was one in a million and he will be greatly missed by me, and everyone he was in contact with.

The wake will be at Pumphrey's on Rte. 28 in Rockville, Mass will be at St. Rose of Lima on Clopper Road, Gaithersburg, and Internment will be at All Souls Cemetery in Germantown. I will know the days and times later today.

Thank you all for all of your prayers and concerns. They are what kept Bob going for the past 6 years, knowing that most men die within 2 years of their diagnosis, your prayers pushed Bob to keep fighting a rough, and very hard battle up to his end.

James Izard (13th Co)

Update 11/5/10

Celebration of Life - Jim Izard "58

The following is from Jim's widow, Shirley:

Date: Saturday, 11/13/10

Time: 11:00 am

Place: Diablo Hills Condominiums Club House

Marchbanks Drive--at 2nd driveway on the right from Ygnacio Valley Rd. Walnut Creek, CA

Ygnacio Valley Rd--Is a Walnut Creek freeway exit from S-680 & off 24-from SF

From N-Take N Main exit - go L -- Go L on Treat Blvd.--- Go to Oak Rd turn R---

Go to Ygnacio Valley Rd - Turn L stay in Left lane-- go to Marchbanks Drive Turn L at light

Go to 2nd drive on Right-( where club house is located)

Street parking OK-any uncovered spaces Ok in any of Three Driveway parking areas- for D H Condominiums

If you plan on attending please advise John Potter at - john.potter@1958.usna.com

10/12/10

Dear Classmates,

I regret to pass along the following note from Jim's widow, Shirley:

Jim Passed away this last Friday the 8th.. He had a long stay in the hospital (six weeks) with an infection in his gastrointestinal system and just could not fight it off-

I have no further word regarding funeral arrangements.

Gordo

Hylan Benton Lyon. Jr. (12th Co) (7/22/10)

10/10/10 Update from Walt Mitchell

Hylan B. Lyon Jr. died suddenly at his home in Heath, TX on July 20, 2010, his 74th birthday.

He was born in New London, CT, the son of World War II Veteran Rear Admiral Hylan B. Lyon Sr. and wife Wilma. He entered the Naval Academy from Santa Cruz High School with the Class of 1958. He was a member of his high school Basketball team and played on the Plebe Team at USNA. He was a member of the 12th Company.

Upon graduation he entered the Navy Flight Training Program in Pensacola, FL and earned his Wings in 1960. He was then a pilot with VP-47 in Alameda, CA and Whidbey Island, WA flying P5M Sea Planes.

Hy then went to the Naval Post Graduate School in Monterey, CA. from which he was selected for the PhD program at the U. of California, Berkley. He received his PhD in Physical Chemistry in 1967 through an Office of Naval Research Advanced Science Fellowship at the Lawrence Livermore Radiation Lab.

Hy was then transferred to VP-4 in Hawaii and Japan flying the P-3 aircraft on reconnaissance missions over the Vietnam Area. Hy was then transferred in 1969 to the Office of Naval Research where he was a Science Policy Analyst for the State Department. He also served on the President's Science Advisory Staffs under Presidents Nixon, Ford and Carter.

Hy resigned his Commission as a Commander in 1974 to investigate new challenges in his life as a Scientist.

From 1974 to1977, Hy was the Deputy Director of the Science, Technology and Industry Directorate in the Organization for Economic Cooperation and Development (OECD) in Paris, France. He also served as Acting Director of Research for the International Energy Agency during its initial year of operation. In the years following 1977, he followed his interests in science and research. For at least 10 yrs, he was with Texas Instruments, Inc. as Manager of Advanced Planning and Manager of Government Relations. Hy then became President and Chief Operating Officer of Polytronix. Additionally, Hy was a member of the Technology Steering Group for the DOE Center of Excellence in the Processing of Advanced Materials. He was a member of the Senior Advisory Group for the Institute for Defense Analysis and a Board Member of the Aerospace Technology Working Group. He was Executive Vice President of the North Texas Commission for the Regional Technology Program. He was on the Dean's Advisory Council at the U. of California, Santa Cruz Jack Baskin School of Engineering and the U. of Texas, Dallas. Hy also served as Chair of Texas Veterans for McCain during the Presidential Campaign.

His1959 marriage to Miriam Jackson ended in divorce.

Hy is survived by his wife Sandra Starr Lyon and her two sons Kenneth and Christopher and his wife Rebecca, Hy's son Matthew and wife Jasmine and two children, son Andrew, son Jonathan and three children, daughter Karen and husband Jeff Rogers and three children, and Hy's sister Sharon Gugat and husband Kevin and three children.

A Memorial Service was held in the USNA St. Andrew's Chapel with Commitment of his ashes in the Columbarium at the Academy on September 27, 2010.

George Kermit Coyne, Jr. (7th Co)

Update 11/1/10

George will be interred at Arlington Cemetery on Tuesday, November 9, 2010. Those attending should arrive at the Administration Bldg at 2:30 PM for a 3:00 PM Burial.
 
There will be a reception at the Ft Myer Officer's Club at 4:30 PM. All are invited and, for planning purposes only, those who plan to attend should notify  Harry H Hurst at harryhurst@msn.com as soon as possible.


Update 7/21/10

Our opportunities to say farewell to George will be as follows:

VIEWING: Tuesday, July 27 - 10:00 AM to 1:00 PM at Demaine Funeral Home on Washington St. Old Town Alexandria.

FUNERAL MASS: Wednesday, July 28 - 1:30 PM. at Good Shepard Catholic Church, 8710 Mount Vernon Hwy. Alexandria, VA.

BURIAL: Tuesday 9 November 3 PM at Arlington (details on this later).

Gordo

George III will be our only remaining contact. His address is:

1004 Danton Lane
Alexandria, VA 22308-2620

703-328-4112

---------------------------------------------------------------------------------------------------------------------

I am, once again, saddened to tell you of the loss of a good friend and one of our class leaders. George succumbed on 14 July after a lengthy bout with cancer. At this time I have no information regarding funeral or burial plans.

Regretfully,

Gordo

Update 6/26/10

DAVID E. BERTKE, 75, passed away suddenly on Wednesday, June 16, 2010, in Charlotte, N.C. He grew up in Chelsea, MI, the son of Roy and Erma Bertke. He graduated from the U.S. Naval Academy, and received a Masters Degree from U of M. David enjoyed sailing, wind surfing and especially running. He ran in the Boston Marathon after he turned 70 years old. He will be deeply missed by his wife, Phyllis; sisters, Barbara Byrum of Jackson and Marcia Westerbeke of Lake Havasu City, AZ; and his extended family.

There will be a memorial service to celebrate his life at the Unitarian Universalist Church of Charlotte on Saturday, June 26, at 1:00 p.m. In lieu of flowers, those who wish can send memorial donations to the Church's Social Justice Fund or to the charity of your choice in his memory.

---------------------------------------------------------------------------------------------------------------------

From Gordo

Dear Classmates-

I am sorry to report that we lost Dave Bertke. Dave died suddenly and unexpectedly of a cerebral hemorrhage. His memorial service will be on Saturday, June 26, at the Unitarian Universalist Church of Charlotte, NC.

His widow, Phyllis can be reached at dbertke@bellsouth.net or 4415 Pebble Pond Rd., Charlotte, NC 28226.

Please stay close.

Gordo

Robert Michael Nazak (21st Co)

Update (9/28/10}

Arlington Memorial Service and Internment

Fort Myer Chapel 1:00 P.M. October 19, 2010

Interment

Arlington National Cemetery

Update (6/25/10)

Bob's Memorial Service will be held at 1400 on Sunday 27 June at Woodward Funeral Home in Louisa, VA. In lieu of flowers, donations may be made to the Navy Relief Society or the AKC Canine Health Foundation.

-----------------------------------------------------------------------------------------------------------------------------

Bob Nazak died yesterday (June 21, 2010) of a sudden, massive heart attack. His funeral will be 1400 Sunday, 27 June at Woodward Funeral Home, Louisa, VA.

Interment at Arlington in about two months, time/date TBA.

Louis Henry Fisler (21st Co)

Capt. Louis H. Fisler, 75, of Palmetto, went to be with his Lord on June 6, 2010. Services were held on Monday, June 14, 10a.m. at Christ Episcopal Church, 4030 Manatee Ave. West, Bradenton, with the Rev. Joel J. Morsch officiating. Inurnment will be at Sarasota VA National Cemetery with a graveside service.

Lou was born in Schenectady, NY, February 15, 1935. He graduated from US Naval Academy, with distinction in 1958; received his gold wings in 1959; served with squadron VP-6 (Blue Sharks); received his Masters in Operations Research, US Naval Post Graduate School. His tours of duty included US Naval Academy, Instructor; Naval Air Rework Facility (NARF), Quonset Point, Production Officer; NAESU, Philadelphia, Executive Officer and then Commanding Officer; COMPATWINGSPAC, Assistant Chief of Staff; COMFAIRWESTPAC, Assistant Chief of Staff; NARF, Alameda, Commanding Officer; and Naval Aviation Logistics Center, Patuxent River, Deputy Commander. He retired as a Captain 1985 after 33 years of dedicated service, receiving the Navy Commendation Medal and three Presidential Legion of Merit medals.

After retirement, he was a math instructor at State College of Florida (MCC). He was a member of Christ Episcopal Church. He was an active member of VFW, Post 2488, as well as a member of American Legion, Post 309, and Elks, Palmetto 2449. His hobbies included gardening and taking care if "his" kitties at the VFW. Survivors include his beloved wife Ruby, son, Mark Fisler (Paula), daughters, Kathryn Rogers (Ralph) and Elizabeth Hix (Keith) and seven grandchildren. Family and friends will miss the loss of one so dear to us.

In lieu of flowers, memorials may be made to Christ Episcopal Church, TideWell Hospice, 5955 Rand Blvd, Sarasota, FL 34238, Animal Network Inc., c/o Lindalee Anderson, 310 10th Ave, East, Palmetto, FL 34221. Arrangements by Griffith-Cline Funeral Home.

Peter Donald Hofstedt (16th Co) (5/14/10)

Peter Donald Hofstedt,74, longtime resident of Briarcliff Manor and loving Husband and Father of five, died on April 22, 2010, at his home after a long illness. A Tarrytown native and U.S. Naval Aviator, Peter married his high school sweetheart, Ann Elizabeth Marron, at Transfiguration Church, in 1958. Peter was born on December 21, 1935, in Brooklyn, NY, to Carl and Genevieve Hofstedt, and grew up in Tarrytown, NY, where he attended Washington Irving High School, serving as school president and lettering in three sports. He was appointed to the United States Naval Academy at Annapolis in 1954, lettering on the baseball team and serving as vice president of his graduating class. He graduated in 1958 with a BS degree in Electrical Engineering. Upon graduation, Peter was commissioned as an Ensign in the United States Navy and attended flight school where he earned his aviator wings in 1959. Peter piloted a Martin P5M Marlin and was stationed in Bermuda (Squadron VP-45) where his role was to patrol our nation's coastline in search of Soviet submarines. He next became an instructor in the School of Pre-Flight at NAS Pensacola, Florida. In 1963, Peter was honorably discharged from the U.S. Navy with the rank of Lieutenant.

After returning to Westchester with his family, Peter joined the New York Telephone Company/NYNEX in 1964. He retired after 30 years. Peter was also active in the Briarcliff community during his 45 years as a resident, serving as a Little League coach, league officer, vice president, and treasurer; a Boy Scout Webelos leader; a lector at St. Theresa's Church; and a volunteer at the Ossining Food Pantry. Peter was also a Briarcliff School Board Trustee for seven years, serving as president from 1980-81 and 1983-84. Through the years, Peter enjoyed watching his children perform on the athletic fields and stages of the Briarcliff schools. He was also an avid reader, sports fan, and fisherman always in search of a lunker.

Peter is survived by his beloved wife of 51 years, Ann, as well as his five cherished children and 13 adored grandchildren: Chris and Christine Hofstedt of Larchmont, NY, and their children Meg, Peter, and Natalie; Doug and Denise Hofstedt of Severna Park, MD, and their children Clare, Michael, and Patrick; Beth Ronan of Briarcliff Manor, NY, and her children Bobby and Brian; Matt and Ariane Hofstedt of Annapolis, MD, and their children Anderson and Quin; and Jennifer and Dan Krehnbrink of Guilderland, NY, and their children Finn, Aidan, and Kaitlin. He is also survived by his sister, Marjorie ""Bunny", and Henry Crepeault of Tarrytown, NY.

Mass of Christian Burial was celebrated on Friday, April 30th at St. Theresa's Church in Briarcliff. A private burial took place at the family gravesite in Winchendon, MA.

Memorial donations may be made to The American Heart Association. Waterbury & Kelly Funeral Home of Briarcliff Manor 1300 Pleasantville Road Briarcliff Manor, N.Y. 10510 914-941-0838.

Glynn Compton Harper (16th Co)

Glynn Compton Harper, 74 of San Augustine, passed away Wednesday, January 13, 2010, in Lufkin, after an lengthy illness. He was born October 21, 1935, in Shelby County, Texas, to Hattie Frances (Compton) Harper and William Bruce Harper. He was rector of Christ Church Episcopal in San Augustine. Before that he served as rector at St. Anna's in New Orleans, LA. He held numerous post in the churches in and around the Houston area, namely St. James, St. Andrews, and St. Peters.

Glynn graduated from the US Naval Academy with the Class of 1958 and served as a submariner. He later separated from the Navy and went to seminary, including studying at Oxford, England. He spent his adult life in the service of God through the Episcopal Church.

Close to retirement age, Glynn dedicated himself as a author. He has published "A Perfect Peace" and "Arise Beloved." Glynn Compton Harper will be remembered as a brilliant man and a good friend.

Memorial Services were held on Monday, January 18, 2010, at 11:00 a.m. in the Christ Church Episcopal in San Augustine to honor his life.

He is survived by: Goddaughter: Dixie Harris, and her husband, Lt. Col. Bryan of Abilene, his brother: Richard Harper of Pasadena, and his adopted sister: Jill Buffington of Harrison, Township, MI, as well as a host of dear friends.

He was preceded in death by his father, William Bruce Harper, his mother, Hattie Frances Compton, and his brother, Thomas Paul Harper.

In lieu of flowers, we ask that you make a memorial in Glynn's name to Christ Church Foundation, 201 South Ayish, San Augustine, Texas.

Charles Emerson Harrison (12th Co)

There was a Committal Service on Friday 0930 March 26th, 2010 in St. Andrew's Chapel for LCDR Charles Emerson Harrison, USN (Ret).

Charles (Chuck) Harrison, 74 died Thursday, February 26, 2010 at Groton Regency.
Mr. Harrison was born on June 23, 1935 in Elmira, NY the son of Charles and Ruth Emerson Harrison. Chuck graduated from Ithaca High School in 1953 and joined the Navy Reserve. He entered the U.S. Naval Academy graduating in the class of 1958 and attained retired status from the Navy in 1972 as a Lt. Commander. He was a member of the U.S. Submarine Veterans, Groton Base, the Fleet Reserve, Branch 20, the Mystic Chorale Group, Mensa and many others too numerous to mention.

Chcuk is survived by hid wife Marry Harrison of Groton, his four daughters Mardyne and Dion Smith of Branford, Denyse Espinoza of GA, Helyn and James Go of Oakdale, and Katherine Harrison of VA, his son C. Edward Harrison of HI, 15 grandchildren and 12 Great-Grandchildren, and many nieces and nephews. Chuck lived his life to the fullest everyday. Besides his family, he leaves behind many friends he met on his journey through life.

Calling Hours will be from 5:00 until 7:00pm on Friday, March 5, 2010 in Fulton-Theroux Funeral Home, 181 Ocean Ave., New London, CT 06320. Interment will be held at the convenience of the family at the U.S. Naval Academy. Please visit our website www.fultontherouxnewlondon.com for photos and tributes.

In Lieu of flowers donations may be made in his memory to USSVI Scholarship Program, 40 School St., Groton, CT 06340; Niantic Rotary Foundation, P.O.Box 339, Niantic, CT 06357, or VITAS Hospice Charitable Fund, 255 Pitkin St, East Hartford, CT 06108.

Last Call John Paul Berry (14th Co)

Update 6/7/11

There will be a Committal Service at the Naval Academy Columbarium on Monday, 27 June 2011 @
1200 for John Paul Berry, Class.

On February 13, 2010, John Paul Berry passed away suddenly in Annapolis, MD. John Paul is survived by his beloved wife, Wilma (Billie) Berry; his mother, Mary Ellen Berry; brothers and sisters, Elizabeth Collins, Marybeth White, Charles Palmer III, David Berry, and Thomas Berry, Jr.; devoted father of John Paul Berry, Jr., Patrick Berry, Colleen Ginsburg, Stacy Isaacs and Carole Elliott. He is also survived by his loving grandchildren, Kristen Isaacs, Steven Berry, Jamie Williams, Robert Isaacs, Jr., Sarah Ginsburg, Cora Berry, Julian Berry, Charlotte Elliott, Cecelia Elliott and Thomas Elliott. A public viewing will be held at Mariners Church, 1592 Whitehall Rd., Annapolis, MD 21409, phone (410) 757-6064, Friday, February 19, 2010 at 10 a.m.; public service to follow at 11 a.m. Refreshments following. For further information, please visit http:// www.marinerschurch.com . Interment, private, will be held at a later date. The family asks that in lieu of flowers contributions may be made to the Mariners' Missions Fund, http://www.marinerschurch.com or Campus Crusade for Christ, http:// www.militaryministry.org .

John Coventry Chambliss (8th Co)

The following obituary appeared in "The State", a South Carolina paper.

COLUMBIA — Lt. Col. John Coventry Chambliss, U.S. Marine Corps (Ret.), died February 9, 2010. Known as Jack, he was the son of John Lockwood Chambliss and Barbara Channing Miller Chambliss of Falls Church, Va. He was a graduate of the United States Naval Academy and served in the Marine Corps from 1958 to 1978. His military duties included tours in Okinawa, Vietnam, and Marine Corps Headquarters in Arlington, Va. He earned a degree from the Naval Postgraduate School in Monterey, Calif., and a master's degree from the University of Michigan in communication information and control engineering. After retiring from active duty, he worked with Federal Data Corporation for 10 years and was an adjunct professor of mathematics at American University in Washington, D.C.

The family returned to Columbia in 1986 where Mr. Chambliss was an active participant in the community. He received a master's degree in rehabilitation counseling from the University of South Carolina and taught criminal justice and mental health at U.S.C. as an adjunct professor. He was a committed volunteer, focusing on adult literacy and literacy teaching in the prisons and drug and alcohol rehabilitation counseling. He also volunteered at the Midlands Veteran Rehabilitation Center, Habitat for Humanity and Harvest Hope Food Bank. He was on the board of the Columbia Pastoral Counseling Center and the local Red Cross Pherisis Program.

Mr. Chambliss was a dedicated member of Eastminster Presbyterian Church, where he served as an elder, Bethel Bible teacher, Kerygma teacher, adult Sunday school teacher and tutor in the Champs program. He also was a Stephen Minister and leader in the Stephen Ministry program, which he found especially rewarding and meaningful.

An avid golfer for his entire life, Mr. Chambliss always walked the course and carried his bag. He was a member of the Midlands Master Gardeners Association and specialized in teaching new Habitat homeowners how to care for their yards. He also was a member of the Columbia Cotillion Club.

Surviving are his wife of 49 years, Coleman McPherson Chambliss; two daughters, Elizabeth Chambliss and her husband, Erik Semmelmeyer, of Montclair, N.J., Julia Craig and her husband, Tim, of Columbia; four grandchildren, Lucy Coleman Semmelmeyer, Jane Lockwood Semmelmeyer, Elizabeth Grace Craig and Elaine Coventry Craig; sisters, Dana Anderson of Astoria, Ore., and Natalie Chambliss of Mountain House, Calif.

A memorial service will be held 11 a.m. Saturday, February 13, 2010, at Eastminster Presbyterian Church. Visitation will be 5-7 p.m. Friday at the home, 10 Mallet Hill Court, and on Saturday in the Eastminster parlor following the memorial service.

The family wishes to express heartfelt thanks for the supportive care of the nurses and staff on 8th Averyt at Baptist Hospital.

Memorials may be made to Eastminster Presbyterian Church or the charity of one's choice.

Please sign the online guestbook at www.dunbarfunerals.com.

Vera Sidonie Port (Wife of Joe Port 23rd Co)

The following sad news is from Ray Landrum:

Joe Port's wife, Vera, passed away Jan. 19. A Funeral Mass will be held on Friday, Jan.29 at 10:30 AM in St. Andrews Chapel. Inurnment will follow at the Naval Academy Columbarium.

The following was published in the The Capitol Newspaper on 22 Jan:

Vera Sidonie Port, 73, of the Arnold/Annapolis area, previously of Potomac, died Jan. 19 at John Hopkins Hospital in Baltimore after a four month illness. Born on Oct. 12, 1936, in the tropical paradise of Salvador, Bahia, Brazil. A smoldering Latin beauty with movie star looks, she never lost her native passion for life and "calor humano." She graduated from Cazenovia College in upstate New York with an associates degree in 1957. While living and studying in upstate New York, she had met, at church, the love of her life and eventual husband of 51 plus years, Joseph C. Port (Cdr. USN, retired, Class of 1958). They married following his graduation on June 5, 1958, at the Naval Academy Chapel. A loving mother and devoted Navy wife, she raised four children in a dozen different homes, across four continents. She was also a nurturing grandmother to nine grandchildren and her force and influence will live on in them. Throughout the decades, she was the matriarch and rock of the family as the Navy called them to duty in stations in the U.S. and abroad, including Pensacola, San Diego, Hawaii, Japan, Patuxent River, Annapolis, Italy, and Brazil. In the late 1960's and early 1970's she worked for the Brazilian American Cultural Institute in Washington, D.C., promoting Brazilian art and culture. In the late 1970's and early 1980's, when the family was living in Brazil, she worked as the in-country representative for the Italian aerospace company Selenia. Later in the 1980's when the family had moved to Long Island, New York, she worked as a sales associate at the Macy's in downtown Manhattan. After the family moved to the Annapolis area in the late 1980's, she opened Vera's Bakery & Café in Severna Park, where her Brazilian and international cooking were legendary to her loyal customers. She also established Vera's Wedding Cakes and for years supplied equally renowned artisan cakes for area weddings. She later became an icon of the local Farmers' Markets in Anne Arundel County known for her delicious breads and scones and other unforgettable baked delicacies. Compassionate and giving, she rescued animals and donated regularly to charities for orphaned children in Brazil. She is proceeded in death by her father Charles G. Hasler; her mother Dulce Bottas; and one brother, Niel R. Hasler, all of Salvador, Brazil. She is survivied by her husband, Joseph Clinton Port of Arnold, whom she married June 4, 1958; three sons, Charles F. Port of Annapolis, Joseph C. Port, Jr. of Frederick, Christopher N. Port of Bryson City, N.C.; one daughter, Katia Port Reecer of Arlington, Va.; her stepmother, Eugenia Hasler of Salvador, Brazil; two brothers, Charles Hasler of Salvador, Brazil, Gerald B. Hasler of San Paolo, Brazil; two sisters, Elza M. Hasler of Lexington, Ky., Patricia M. Principe of Salvador, Brazil and nine grandchildren. Funeral Mass will be held Friday, Jan. 29 at 10:30 a.m. at St. Andrews Chapel, US Naval Academy, Annapolis, MD (enter Gate 8). Inurnment USNA Columbarium. In lieu of flowers donations may be made to the American Red Cross to help Haiti. Arrangements by the John M. Taylor Funeral Home, Inc. Online condolences may be made to www.johnmtaylorfuneralhome.com.

From Chuck Smith

At Saint Martha Catholic Church today (4 January 2010), Classmates from the San Diego area gathered to bid farewell to Tom Doyle (19). Tom's widow, Audrey, and family graciously hosted class members, wives, shipmates and friends at their Temecula home, following the service and military honors. Attending the service were Claudette and Bruce Craig (19), Shari and John Dean (22), Madelyn & Joe Fenick (7), Dick Hanson (7), Dick Lawe (22), Chuck Smith (20) and Dotty and John Washburn (7). Several Class members/wives commented positively on the opportunity they had to see Tom recently at the December Class Lunch on 9 December

From Gordo:

I regret once again to be passing along the word on the loss of a classmate. Tom Doyle passed away on Wednesday, 29 December. He had been in apparent good health and suffered a heart attack. We have been in touch with his son, Tom Jr., and have learned that the funeral service will take place on Monday, 0900, 4 January 2010, at St. Martha's Church, at 37200 Whitewood Road, Murieta, CA 92563.

John James Dittrick, Jr (17th Co)

Captain John J. Dittrick, Jr., USN, (Ret.) was hospitalized at Sentara Virginia Beach General Hospital on August 20, 2009.due to a sudden illness. Jack passed away on Thursday, November 12, 2009 at Sentara Virginia Beach General Hospital , Virginia Beach, Virginia.

A message from Carolyn Dittrick:

Dear Family, Friends and Neighbors,

We deeply appreciate all of your thoughtfulness, prayers and support.

We will be holding a Celebration of Life to honor, appreciate and remember Jack Dittrick. We would be honored to have your presence in sharing in this meaningful time.

Saturday, December 5, 2009
1:30 p. m. service

Eastern Shore Chapel Episcopal Church
2020 Laskin Road
Virginia Beach , VA , 23454

757-428-6763

Refreshments to follow in the adjoining Parish Hall

If you are traveling from out of town, we recommend the Hampton Inn Oceanfront North, 3107 Atlantic Ave. , Virginia Beach , VA 23451 . Please ask for Bobbi Gilpin at 757-428-7233 ext 6134. Please reference The Dittrick Family (It is $99/night for a double queen and includes breakfast, with all oceanfront rooms.)

***
In lieu of flowers, the family has requested that any donations be made to one of the following organizations.

Please reference In Memory of John J. Dittrick, Jr. when providing a donation. They in turn will notify us that a donation has been sent.

Donations In Memory of John J. Dittrick, Jr.

National Prior Disease Pathology Surveillance Center (NPDPSC)
2085 Adelbert Road
Room 419
Cleveland , Ohio 44106
216-368-0587

Ocean Conservancy - Membership Department
Donations In Memory of John J. Dittrick, Jr.
1300 19th St. NW
8th Floor
Washington , D.C. 20036
800-519-1541
www.oceanconservancy.org

American Legion Troop Support Program Operation Comfort Warriors.
You can use your credit card to make an online donation or you can mail a check to:

Operation Comfort Warriors
PO Box 1055
Indianapolis, IN
46206.

From Bob Pidgeon

Bob Phillips passed away on Veterans Day after a protracted illness. He is survived by his wife, Cleo, two daughters (Lynn and Karen) and a son, Marc.

His funeral is planned for 1400 Sunday, 15 November at the First Baptist Church of El Campo TX, Bob's home.

The following obituary was published in the Victoria Advocate on November 13, 2009:

Robert E. Phillips, Captain USN Retired, of El Campo, passed away on Nov. 11, 2009. He was born on Dec. 24, 1934 in Dallas.

At age 14 he got his private pilot license and Ham Radio License, W5NZ. He graduated from Amon Carter in Fort Worth in 1953. He attended Texas University for one year and was appointed to the Naval Academy. He graduated from the Academy in 1958.

After 26 years in the Navy he retired in 1984 and went sailing. He later built a 42-foot Catamaran and sailed it with his wife. They then started traveling in a motor home and after three years of traveling he looked and settled down in El Campo in September 2004 with his wife.

He is survived by his wife, Cleo; three children, Lynn Brown, Karen Warfield, and Marc Phillips and their spouses; seven grandchildren; and five great-grandchildren.

He was preceded in death by his parents, Earl Jennings and Eunice Driskill Phillips, and a brother.
Visitation will be on Saturday from 2 p.m. to 6 p.m. at Triska Funeral Home. Funeral services will be at 2 p.m. on Sunday, Nov. 15, 2009, at the First Baptist Church with Rev. Rick DuBroc officiating.
Pallbearers will be Walter Rutherford, Noel Rodriguez, Edmund Holub, Shane Naiser, Rick Lindley, and Donald Preismeyer.

Memorial donations may be made to Houston Hospice-El Campo, P.O. Box 1417, El Campo, TX 77437. Triska Funeral Home, El Campo, 979-543-3681.

James Lawrence Buchanan (24th Co)

From Gordo

James "Bucky" Buchanan died in an automobile accident yesterday evening near his home in Las Vegas. Bucky's funeral will be held at 2 PM, Friday, November 13th at the Palm Mortuary, 1325 N. Main St. Las Vegas, NV 89101.

In lieu of flowers, the family is asking people to make donations to the UNLV Foundation for the Academic Scholarship Fund.

George Frenger Lisle (18th Co)

From Mike Cunningham:

I'm sorry to have to inform you that our company mate and good friend George
F. Lisle passed away early this morning (11/7/09). George had been fighting cancer for
a long time. I don't have the full details yet but I do know that the funeral will be held at St. James
Episcopal Church, on Camp Road, in Johns Island (Charleston), SC at 11:00 am
on Monday, 9 November.

I talked to Red Gottsche, our other roommate, and he and I are both planning
to attend the funeral and will represent the 18th Company.

George Martin Kelley, 73, of Cadiz, died Saturday, October 10, 2009, at his home, surrounded by his loving family. He was born January 31, 1936, in Cadiz, a son of the late Martin Alonzo and Ruth McCloy Kelley. George was an Electrician for IBEW 246. He attended the U.S. Naval Academy and was a Naval Veteran of the Korean Conflict. He was a member of the Cadiz American Legion and the Cadiz Fraternal Order of Eagles. Surviving are his wife of 41 years, Judy Covert Kelley; his children: Kim Kelley of Toronto, Scott (Vicki) Kelley of Steubenville, Lincoln (Gina) Kelley of Empire, Vince Kelley of Stratton, Jody (Tom) Mack of East Springfield and Nikki Case of St. Clairsville; 14 grandchildren; 2 great grandchildren; and a sister, Pat Pezzopane of East Palestine.

Friends may call Monday, 2-4 and 7-9 at Clark-Kirkland Funeral Home, Cadiz, where funeral services will be held Tuesday at 11 a.m. with Rev. George Romage officiating. Burial will follow at Holly Memorial Gardens, Pleasant Grove. Military honors will be performed by the Cadiz American Legion.

George was a non-grad who stayed in touch with the class

Thomas Joseph Lamb (19th Co)

Tom Lamb died while in hospice in North Carolina Friday evening 18 September.

From the Lamb Family:

As most of you know, my father loved the water. He was so proud serving his country in the Navy, and was a strong supporter of the USNA Class of 1958 (as evidenced by his large collection of "Great in 58" ball caps & T's). Dad spent a lot of time on the water in any boat that was available to him throughout his life. My sister Eileen and I would go to Key West with a crowd of friends in tow and dad would wear us out with daily fishing, SCUBA, or kayaking trips, which usually started at 0600. We had to explain that the Lamb sisters needed their rest while on vacation, so he let us sleep in until 0800 - thanks dad. I guess you never lose the midshipman within.

My father's final resting place will be overlooking the water at the Columbarium at the US Naval Academy. We will have a ceremony in St. Andrew's Chapel, committal in the Columbarium with military honors, followed by a luncheon at the Officer's Club. Details are below. If you plan to attend the luncheon, please let me know so I can I give them a headcount.

Thank you for all your support during this difficult time. Dad, we sure have had some fun and will miss you!

Love Barb barb@blueberrymarketing.com

Tom's service will be at the USNA Chapel, downstairs in St. Andrews Chapel at 1030 on Tuesday 6 October. Following the service we will proceed to the columbarium. This will be followed by lunch at the O&F Club. All attendees are invited.

Tuesday, October 6th 10:30 am
Memorial Service St. Andrew's Chapel
Followed by Committal in the Columbarium & Luncheon at the Officer's Club
US Naval Academy
121 Blake Road

John Elias Dickson, Jr. (14th Co)

John E. Dickson, Jr. (14th Co.) will be buried at Arlington on Friday 13 November. Meet at the Admin Building at 0830. Burial at 0900.

Col. John E. Dickson Jr. USAF (Ret)., 73, passed away Tuesday, 1 September 2009. John was born in Long Island, N.Y., in 1936 to John E. Dickson and Anne Noble Dickson. He has one surviving brother, Peter. John married Margie Goodwin in 1960 and they had two children, John Geoffrey and Tania Anne.

In his youth, John was an accomplished classical pianist and attended Julliard for 14 years. He retained a love for music his entire life. A military career was his goal however, and he was accepted to and graduated from the U.S. Naval Academy in 1958. He opted to go with the U.S. Air Force and served a total of 27 years.

He served in the Strategic Air Command (SAC). He flew EB47s as an electronic warfare officer and B58s as a DSO. In Vietnam, he served as a navigator on EB66s. He won the Distinguished Flying Cross for finding the first SAM site in Laos. After the war, he served with 6514th Test Squadron who worked on developing drone technology. His Air Force career later took a turn toward space. His final assignment for the Air Force was when he became the director of safety for the Eastern Space and Missile Range at the Patrick AFB and oversaw the first 18 shuttle launches. John attained the rank of colonel and retired in 1985. After his military retirement, John went on to work for SRS Technologies in Huntsville for 13 years. His second retirement came in 1998.

John is survived by his wife, Margie; his son, Geoffrey and his wife Rita and their children Renee and Ryan; his daughter Tania and her son Jon Smith; and his brother Peter and his wife Linda.

A viewing will be from 2 to 4 p.m. Saturday at Valhalla Funeral Home. The graveside service will be at a later date at Arlington National Cemetery. He will be remembered as a beloved husband, father, friend, and a patriot that loved his country.

Please sign online guest book at www.valhallafunerals.com.

George Peyton (10th Co)

George Peyton passed away January 18, 2008 in Manassas Park, Virginia. There are no other details at this time.

Donald Arthur Boerner (15th Co)

Lieutenant Donald "Don" Arthur Boerner died on August 14, 2009 in Hot Springs Village , AR after a 3-year battle with Alzheimer's. He was 73 years old.

A resident of Hot Springs Village , Don was born April 3, 1936 in Massillon , OH and was the son to the late Harold Arthur Boerner and Ethel Traphagen Boerner. He attended Massillon High School , was an Eagle Scout and was appointed to the U.S. Naval Academy in 1954.

Upon graduation with the Class of 1958, he served ten years active duty both aboard ships and ashore. He left the U.S. Navy in 1968 and joined the Eastman Kodak Company in Rochester , NY as an Industrial Engineer. In 1987, he left Eastman Kodak to join Management Recruiters in Columbus , OH as a technical recruiter in the glass industry. On January 3, 2000, he retired from Management Recruiters and relocated to Hot Springs Village , AR. There, he attended Holy Trinity Episcopal Church and was a member of the choir, Ultreya, and past member of the Needs and Resources Analysis Task Force.

Don is survived by his wife Gail; son David A. Boerner and his wife, Margaret, of Lake Jackson, Texas; step-sons, David Sidoti and his wife, Lissette, of Belmont, CA, and Steven Sidoti and his wife, Marie, of Cincinnati, OH; four grandchildren, Meredith Rainey, Christen LaVigne, Bianca Sidoti, Daphne Sidoti; sister Jean Roberts of Cuyahoga Falls, OH, and brother-in-law Richard McLinden of North Canton, OH. Don was preceded by sister Alice McLinden of Akron , OH .

A memorial service was held at the Holy Trinity Episcopal Church in Hot Springs Village , AR on August 24, 2009; his ashes will be interred at that location. Memorial gifts may be made to Alzheimer's Arkansas (www.alzark.org) or Holy Trinity Episcopal Church, Hot Springs Village , Arkansas .

Robert Patrick

Nicolls

(10th Co.)

Pat passed away Saturday night at the Baylor Medical Center after a long illness.

Subject to change, the viewing will be on Wednesday August 26. Burial Thursday August 27 at the Dallas-Fort Worth National Cemetery.

Laurence Stanley Gifford (5th Co)

Larry Gifford died at home on 28 July. No cause of death was reported.

Relative's and friends are invited to Larry's life celebration at Money and King funeral home 171 W. Maple Ave., Vienna, VA on Monday 10 August from 2 - 4 and 6 - 8 PM. A Mass of Christian Burial will be celebrated at Our Lady of Good Counsel Catholic Church, 8601 Wolftrap Rd., Vienna, VA on Tuesday 11 August at 10:30 AM. Internment will follow at Quantico National Cemetery at 2 PM. Please view and sign the family's guestbook at www.moneyandking.com.

Tom died on 16 July. No further details at this time.

William Sachse (14th Co)

Bill Sachse died on 27 June 2009 after a battle with cancer. He was able to make it to the 50th reunion after surgery, but it came back with a vengeance. Services will be held at the United Methodist Church in Bradford, PA at 10 AM on 2 July,

14th company roommates Curt McGaffin and Tom Theohary will represent the class.

Edward A. Studer (20th Co)

Edward A. Studer, age 72, of Burnsville, MN, passed away June 5, 2009. Edward attended Christ the King School in Minneapolis and St Thomas Academy. In 1958 he graduated from the US Naval Academy and entered the Marine Corps serving attaining the rank of Captain. USMC. He is preceded in death by his brother Michael. Survived by loving wife, Miriam; children, Lisa (Dick) Eekhoff, Edward (Tamantha) Studer; grandchildren, Ava and Jill-Ann Eekhoff; siblings, Patsy (Fred), Barbara, Mary Ellen (George) and Tim.

Memorial Services were held on Wednesday, June 10, 2009 at White Funeral Home, 12804 Nicollet Ave. S., Burnsville. Interment was at the Fort Snelling National Cemetery.

William Jasper Peters, III (14th Co)

From Gordo (9/12/09)

Bill Peters' funeral will be at 0900 at the Old Chapel (the one down the hill) at Ft. Myers on 8 October. That's a nasty time of day to get around so please leave lots of time to get there.

From Mary Sue Peters (6/26/09)

The funeral arrangements for Bill will be as follows: Visitation on Saturday, 27 June 2009 from 6-8 pm at Segle Funeral Home in Pulaski, Virginia, and the funeral on Sunday at 3PM at First United Methodist Church with a reception being held at the Family Life center at the Church. Burial will occur later at Arlington National Cemetery at a later date according to schedule they provide.

Bill had suffered from an unspecified lung disorder for some time.

From Mary Sue Peters (6/25/09)

Last evening at 8:50 PM Bill took his last earthly breathe. He had suffered tremendously for several weeks with his breathing problems. Letting him go has been a difficult thing for me, for when you love someone we become very selfish with making decisions of giving them up. I know that God now has a wonderful person in his arms, for Bill had found God to be a part of his daily earthly life. We have not made arrangements at this time due to notifying all of family and making arrangements for the burial in Arlington. Thank each of you for being his friend and keep us in your prayers.

Love and peace to each of you. Bills Wife, Mary Sue