Shipmate 2019-2020

CLASS OF 1958 SHIPMATE COLUMN

JULY-AUGUST 2021

■ THEN AND NOW

THEN – In 1970 the Class of '58 participated in the Annual Homecoming activities at the Academy. On Friday the 9th of October we joined other Alumni for a reception in Dahlgren Hall and dinner in the Mess Hall and on Saturday attended the football game. Then on that Saturday night we had our annual Class Homecoming dinner party. The party was held at the Royal restaurant on West Street with drinks and light hors d'oeuvres followed by a roast beef dinner. The cost was $10 and that was for a couple, but did not include drinks.

NOW – Our Class leadership is starting to think about our next Class reunion which will be our 65th and will be held in the spring of 2023. It just takes a bit longer to organize things these days. Oh, and don't expect dinner to pay $10 (per couple) for dinner this time.

■ IN THE LINE OF DUTY

LCDR Guy (Sam) Houston USN, 12th Company, died in November 1969 serving with Carrier Air Wing 3 on board the USS Saratoga while deployed in the Mediterranean. Sam was participating in flight maneuvers at the time of the accident.

LCDR Keith Rasmussen, USN, 24th Company, died on October 19th 1971. Keith was piloting an E-2B over the Sea of Japan when his plane collided with an A-7. All five members of Keith's crew perished in the crash. Both planes were operating from the USS Midway and entering the landing pattern at the time of the collusion.

In the January-February 2021 Class column I reported on the death of LT Bruce Wilhelmy in 1966. Dick Buss, a Companymate of Bruce from the 20th Company, sent in some additional information regarding Bruce and the fatal accident. At the time of his accident in 1966 Bruce was doing an acceleration run at 28,000 feet when the wings came off the plane. Investigators determined that an exhaust leak had caused Bruce to lose consciousness from carbon monoxide fumes and the plane went out of control at high speed.

Dick also noted that Bruce received the Distinguished Flying Cross for obtaining low level photos over Cuba during the Cuban missile crisis in 1962.

■ CLASS ATHLETIC LEGENDS

The Alumni Association has asked Class Presidents to present names of outstanding athletes in their classes. In the next several columns I will list our Classmates nominated for this honor. Let's start with:

Harry Hurst, 7th Company.

* Plebe football, basketball and baseball

* Varsity football

* 3 N's, 2 N stars

* AP back of the week for gaining 137 yards on 9 carries for 2 touchdowns against William and Mary

* Set Navy record for three touchdown receptions in one game. Never broken in 62 years.

* 1958 Cotton Bowl Championship team (leading ground gainer and all-purpose yard gainer)

Played both offense (halfback) and defense (safety)

* Honorable mention All-American

John Griffiths, 6th Company

* Varsity Tennis and Squash, Captain of both teams

* Squash All American twice

* Never lost a match to a Cadet

* 6 N's, 5 N stars

* In 1957 Navy won the National Intercollegiate Squash Racquets Association Championship and John played #1 for Navy. He was ranked #4 in the Nation and voted All American.

* In 1958 John won the Maryland State Men's singles Championship and was invited to play in the National Men's championship

■ CLOSING RANKS

Ronald Kirk, 9th Company. Died on 17 September 2020

Kenneth Gebhart, 14th Company. Died on 29 April 2021

Byron Nelson, 19th Company (non-grad). Died on 8 April 2021

Bert Concklin, 24th Company. Died on 23 December 2020

Joseph Paull, 6th Company. Died on 19 March 2021

Catherine Morgan, wife of David Morgan 1st Company. Died on 15 May 2021

Sandra Pidgeon, widow of Robert Pidgeon, 2nd Company. Died on 1 May 2021

USNA CLASS OF 1958 SHIPMATE COLUMN

JUNE 2021

IN THE LINE OF DUTY

In 1969 we lost two more Classmates in aircraft accidents. In both theses cases they were victims of circumstances outside their control.

LCDR Alan Hospes, USN, (2nd Company), died on the 31st of July 1969. At the time Al was assigned to VA-36 and stationed at NAS Cecil Field. On the 31st he was flying an A-4C on a training flight when fate intervened. During a practice bombing run the engine flamed out and Al ejected however the chute did not open.

CAPT Wilbur Wright, USAF, (18th Company), died on October 9th 1969. At the time Will was an electronics warfare officer with the 93rd Bombing Wing stationed at Castle AFB. He was a crew member on B-52Fs and at the time of his death he was on a training flight. The plane was conducting night time practice touch and go landings and overran the runway, crashed and exploded on impact. All 6 crew members perished in the crash.

■ CLASS OF '58 WEBSITE

If you haven't checked lately I recommend you visit our Class Website. It is full of information of interest. The Website was created by Poj Walters and Fred Victor around the time of our 45th reunion and is now maintained by Fred Victor, 11th Company, and he does an outstanding job. The Home page has current information such as the names of recently deceased Classmates and wives. You can click on a name there and access an obituary for that person. At the left of the Home page is a list of other sections of the Website you can visit. News/Events is especially useful in the run up to reunions for example. Also in this section is a link to the comprehensive guidelines for preparing and administering obituaries that Terry Cooper put together a couple of years ago and is still relevant today. Shipmate has our Class of '58 columns from Shipmate. Photo Gallery has pictures (surprise). Roster has an up to date Class roster. Binnacle List has reports of Classmates who are ill. Last Call has obits for deceased Classmates and wives. Board of Trustees lists your Class Officers and Company Reps lists the Company Representatives and Assistant Company Representatives. Links for '58ers and Fleet Link have links to other websites of interest. One important note about the website. Fred does a great job and deserves a lot of credit, but he depends on all of us to provide him with the information that goes into the website. For example, if you move, change your phone number or email address be sure to let Fred know. Also, any info and/or pictures from trips or special events in your lives that you would like to share would be welcome.

Our Class of '58 Website address is http://1958,usnaclasses.com/default.htm.

■ THE ONLY THING THAT IS CONSTANT IS CHANGE

That observation was made by an ancient Greek philosopher by the name of Heraclitus. Another example of how right he was is June Week at the Naval Academy. Only now it is called Commissioning Week and it takes place in May. So let me ask for an opinion poll. Can you think of a good reason for the changes? Does there need to be a good reason for changing a tradition? Is tradition a good thing in the military? Send your opinions to w_schramm@comcast.net.

■ CLOSING RANKS

Arthur Ridley, 4th Company, died on 5 March 2021

Patricia Gladin, widow of Jack Gladin, 23rd Company, passed away on 25 February 2021

Mary Sue Jones, widow of Bob Jones 3rd Company, died on 22 February 2021

Juanita Medlock, widow of Chuck Medlock, 7th Company, died on 5 December 2020

USNA CLASS OF 1958 SHIPMATE COLUMN

MAR-APR 2021

■ HHI LUNCHEON

A small group of 58ers gathered in December for a Christmas luncheon. The location was Hudson's on the Docks at HHI. Now perhaps you have not been to Hudson's on the Docks or do not know what or who HHI is? Well, HHI refers to Hilton Head Island and I will guess that Hudson's is a bar/restaurant owned by Mr. Hudson. Since it is on the Docks it is probably near the water, but I am guessing that based on the photos on the wall in the picture. Attending the luncheon and also in the picture were George Stubbs (17th) and Lee Polhill (19th) in the front row and Bob Mason (9th) and Bill Pendley (3rd) in the back row. Tom Grimm, Pete Berg and Pete Westphal were unable to attend.
"Hudson's on the Docks at HHI"

■ HOSPITAL POINT?

I suspect that most of our Class would venture to say that Hospital Point has that name because the Naval Academy Hospital is located there. However, that is no longer actually true. The name of the point is the same, but the Hospital is no longer there. The old hospital building is still there but it is no longer a hospital. The USNA Alumni Association has some offices in the building as does the United States Naval Institute. Across the Severn River at the Naval Support Activity there is a modern medical facility and the Sick Bay in Bancroft Hall is much enlarged from what it was during our days as Midshipmen.

The first hospital at the Academy was built in 1846 but it was poorly built and in a bad location. That building was replaced in 1852 with a new facility adjacent to the Officer's Club. In 1868, after the Civil War, when the Academy returned to Annapolis, land was purchased north of College/Dorsey Creek and in 1871 a new hospital was built. Designed by RADM David Porter it was very modern for the day, but it had to be closed in 1876 because of a prevalence of malaria. The building, then known as Porter's Folly, was used for storage. In 1903 Congress appropriated a large amount of money for rebuilding the Naval Academy facilities and a new hospital was opened in 1907. In 1939 and again in 1941 new wings were added and this was the building we knew as the Hospital. In 2017 the hospital function was moved across the Severn. An ever evolving Academy in a changing world.
"The Naval Academy Hospital that we knew"

■ IN THE LINE OF DUTY

LCDR Robert Kornegay USN (13th Company) died on March 15th 1967 in a plane crash. At the time Bob was assigned to the Naval Ordnance Test Station at China Lake. He was on a flight to Quonset Point as part of the crew of a Douglas A-3B Skywarrior. The plane was making a fueling stop at Lockbourne AFB in Ohio when it crashed short of the runway during a GCA approach. All three members of the crew were killed.

LCDR Alexander Lupfer USN (10th Company) died on 13 May 1967 as the result of the crash of the TF9-F jet he was piloting. At the time he was a flight instructor flying out of NAS Kingsville Texas. Alex had served in 5 different fighter squadrons in the fleet, had deployed to Vietnam and saw combat, had studied aeronautical engineering at the NPS in Monterey and had two years experience as a flight instructor prior to the crash. Alex was a very experienced and well qualified pilot, but sometimes events happen that are out of the control of even the best aviators.

■ FLAG OFFICERS AND GENERAL OFFICERS (continued)

Phil McNall, 15th Company, was another of our Classmates who rose to Flag rank. Phil's first tour was on the USS Estes (AGC-12). He then went to the Supply Corps School and transferred from surface line to the Supply Corps. Later he would go to the Naval Postgraduate School in Monterey and earn a Masters degree in operations analysis. That was followed by a tour as the aide to the Commander of the Naval Supply Systems Command. Then back to sea on the USS New Orleans (LPH-11). His first command was the Fleet Materials Supply Office, then Naval War College and duty as the Supply Officer on USS Nimitz (CVN-68). He served as Commanding Officer of the Supply Center in San Diego, followed by a tour as Supply Officer for the 7th Fleet. His final tour was as Commanding Officer of the Aviation Supply Office. Phil retired in 1988 and dropped his anchor in San Ramon California. In his retirement Phil worked as a professional golf instructor (does that count as work?) and as a defense industry consultant. RADM Phillip McNall USN (ret) passed away on 28 November 2020.

RADM Richard Pittenger USN (ret), 17th Company, grew up with a love for the sea which was a bit strange for someone born in Nebraska. But Dick's family moved to Washington State when he was young and he smelled salt air. As a school boy he was a Sea Scout/Sea Cadet and when he graduated from High School he joined the Navy Reserve. In the Reserves he applied for an appointment to the Academy and was accepted. During his career in the Navy Dick had a lot of sea duty and loved every minute. His first ship was the USS Dupont DD-941. His other seagoing tours were USS Norfolk, DL-1, USS Farragut, DLG-6, USS Pledge, MSO-492 as Commanding Officer, USS Perry, DD-944 as XO, USS Connole, FF-1056 as Commanding Officer and DESRON 26 as Commander. During his career Dick became one of the Navy's leading experts in ASW. That focus started with his earliest shipboard assignments and continued during his career. At the Naval Postgraduate School he earned a Masters degree in underwater acoustics. Later during duty with the staff of COMCRUDESLANT he was the ASW officer on the staff and developed the concept of an "ASW Squadron". The USS Connole was a part of that Squadron which won several Fleet awards during Dick's tour as CO. During his final years on active duty Dick served as the Director of ASW programs for the CNO and as the Oceanographer of the Navy. After retiring from the Navy Dick went to work for Woods Hole Oceanographic Institution where he was in charge of the WHOI fleet of research vessels, both surface and sub-surface, and served in that capacity for 14 years.
"RADM Richard Pittenger"

■ THE REST OF THE STORY

In past Class columns I have written about the careers of Classmates in the years following graduation, but I have not written about Classmates who did not graduate although I am sure many of them had distinguished careers. In this column I would like to highlight the career of one such Classmate. His name is Reginald Vachon and he died in December 2020. I learned of his life from reading his obit and I feel the rest of his story is worth sharing. Although he did not graduate from the Academy Reggie did go on to earn a BS in engineering, a MS in nuclear engineering and a PhD in mechanical and aeronautical engineering. He also earned a law degree as well and was a member of the Alabama State Bar and admitted to practice before the Supreme Court. He was an engineer with NASA and with the Army and was a retired US Army Colonel. During his life he founded several engineering companies and was a registered engineer in six States, as well as in Europe and Asia. He worked internationally in Brazil, Honduras, Nicaragua, Belize, Venezuela, Saudi Arabia, Egypt, Sudan, Iran, Indonesia, Hong Kong and Russia. Reggie was also a distinguished academic and was a chaired professor of mechanical engineering at Auburn, an adjunct professor at Purdue and a recipient of the Outstanding Teacher award from the ASEE. In 2019 he was awarded the ASME Medal for eminent and distinguished achievement in engineering. During his career he served as President of the American Society of Mechanical Engineers, Chair of the American Association of Engineering Societies, President of the Pan American Academy of Engineers, Vice President of the Union of Pan American Engineering Societies and Vice President of the World Federation of Engineering Organizations, and the list goes on. (Note: if you knew Reggie during his time at the Academy or in late life and would like to share your memories please contact me.)

■ CLOSING RANKS

Tom Powell, 13th Company, died on 9 December 2020

Bob Slaven, 1st Company, died on 3 December 2020

Chapin (Chip) Day, 23rd Company, passed away on December 23rd 2020

Phil McNall, 15th Company, died on November 28th 2020

Robert Pidgeon, 2nd Company, passed away on 30 December 2020

Ernie Luders, 3rd Company, died on 8 January 2021

David Eller (non-grad) died on 15 December 2020

Reginald Vachon (non-grad) died on 24 December 2020

CLASS OF 1958 SHIPMATE COLUMN

JAN – FEB 2021

■ WASHINGTON DC NEWS FLASH – The Class of '58 DC Chapter held a luncheon on 29 October. Attending were Buff Walter, Ted and Bev Smedberg, Pete and Julie Russell, Paul and Barb Polski, Taylor Keith, Gordon and Jane Gerson, Frank and Linda Gamboa, Whitey and Lois Edwards, Dan and Pat Belay and Jack and Ann Adams. The guest speaker was Dr. Marcus Hedahl an Associate Professor and the current Stockdale fellow at the USNA Stockdale Leadership and Ethics Center. Dr. Hedahl spoke about today's leadership precepts and how they are presented to the Brigade of Midshipmen.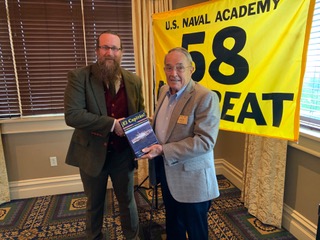 "Dr. Hedahl and Jack Adams"

■ THE ADMIRAL CHARLES LARSON AWARD FOR ETHICAL LEADERSHIP – Each year the Stockdale Center for Ethical Leadership presents the USNA Class of 1958 Admiral Charles Larson Award for Ethical Leadership to a member of the faculty or staff at the Naval Academy who has demonstrated integrity, service and leadership while upholding the highest standards of ethical behavior. This year the Award went to Ms. Sarah White the Deputy for Facilities and Construction at the Naval Academy.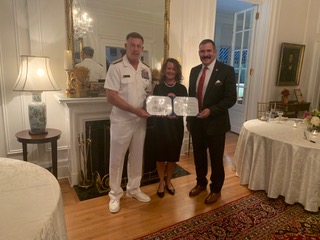 "Ms. Sarah White receiving the Admiral Charles Larson Award

for Ethical Leadership"

■ IN THE LINE OF DUTY – In recent Class columns I have been looking back at the stories of our Classmates who died in the Line of Duty. The next name on that list is Captain Leonard Reynolds USAF, better known as Pete, from the 22nd Company. Pete went into the USAF after Graduation and at first became a launch control officer in the Air Force missile program. Later he went into flight training and was first in his class. On 8 July 1964 he was piloting an F-105D and collided in mid-air with a KC-135 refueling plane over California. Pete did not survive the collision.

It would be almost 2 years before we lost another Classmate and that was Lt. Christopher "Bruce" Wlhelmy, USN from the 20th Company. Bruce went Navy Air after graduation and in 1962 he was flying RF-8 Crusaders with VFP-62. When the Cuban missile crises happened Bruce distinguished himself as one of the pilots flying high speed, low level missions over Cuba. On 17 February 1966 Bruce was assigned to the Navy test pilot program at Pax River and fate intervened. He died while he was flying a T-28 and during an extreme test the plane crashed.

■ FLAG OFFICERS – I suspect that if someone checked they would find that the person whose picture has appeared in the most issues of Shipmate would be none other than RADM John (Jack) Adams USN (ret), Class of 1958. Jack Adams, 4th Company, is the President of the Class of '58 Washington DC Chapter of the Class and in almost every Class column I report on luncheons of the very active DC Chapter and those reports include pictures of Jack with the guest speaker du jour. So now that you know what he looks like, let me highlight his distinguished career. Jack went Navy Air and earned his Wings of Gold in December of 1959. He was assigned to VS-32 where he flew the S2. Shore duty followed at NPS Monterey and in Washington DC including duty as an Aide to an Admiral which is always exciting. Then sea duty on USS Randolph CVS-15 for two years, shore duty at the Naval War College and back to sea with VS-24 on USS Intrepid. Jack's first command was VS-22 where he flew the S-3A. That tour was followed by a tour as Chief Staff Officer at VS-WING ONE, then duty at NAVOP05 in Washington before returning to VS-WING ONE as Commander. In 1981 he was given Command of the USS Sylvania AFS-05. In 1983 he served as Commander of Service Squadron Two and was promoted to Flag Rank. As a RADM Jack served as the 81st commandant of the Washington Naval District, had a tour with the Joint Chiefs and then served as Commander ASW Wings Pacific. His final active duty tour was as Commander Naval Bases, San Diego. During his active duty career Jack flew 50 different types of military aircraft and made arrested landings on 16 different aircraft carriers. He also traveled to all seven continents during his Naval career and, in his words, "had an absolutely splendid time". As you might expect Jack followed his distinguished Naval career with a distinguished career in the private sector. In his spare time he served on the Naval Academy Alumni Association Board of Trustees, on our Class of 58 Board of Directors, as Vice President of both the Navy League and the Association of Naval Aviation, and as a Director of the Navy, Marine Corps, Coast Guard Residence Foundation and the list goes on.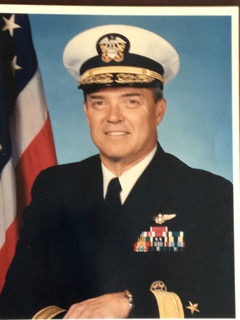 RADM Jack Adams, USN (ret)

■ CLOSING RANKS -

Ronald Daringer, 16th Company, died on 26 October 2020

Dick Tillman, 1st Company, passed away on 15 October 2020

Bob Stibler, 18th Company passed away on 12 November 2020

Tom O'Neill, 22nd Company died on 13 October 2020

(Check our Class of 1958 web site for more details on their passing)

USNA CLASS OF 1958 SHIPMATE COLUMN

NOVEMBER-DECEMBER 2020

■ CLASS LUNCHEON?? IN WASHINGTON DC??

The Washington Chapter of the USNA Class of 1958 was able to resume luncheons in August. Deciding that if one guest presentation is good then two must be better, the leadership scheduled a double header. First up was our Classmate Harry Hurst. He discussed the talent on the Navy football team and was articulate, witty, and entertaining as usual. Harry gave an optimistic forecast for the upcoming season (note: this was before the BYU game). On a more serious note, our Classmate Taylor Keith gave a scholastic report on the history of Hatuey Beer. (Hatuey was brewed in Cuba and served to us in Gitmo on our Midshipman cruises.) Taylor reported that once there was a native Chief in the Caribbean named Hatuey who fought the Spanish in the 16th Century. He ended up being caught by the Spanish on the island of Cuba and was burned at the stake in 1512. History does not report if he was caught because he had been drinking too much beer, but for some reason Bacardi named a beer in his honor and made Hatuey Beer from 1927 until the late 1950's. (Craft beer and ale with the name Hatuey are still being brewed and are available in the U.S.)

The following Classmates and guests attended the luncheon: Buff Walter, Phil Taylor and son, Ted and Bev Smedberg, Pete and Julie Russell, Paul and Barbara Polski, George Ojalehto, Rupe and Joan MacLean, Sally Larson, Taylor and Lynn Keith, Alice Weidmann, Harry and Peg Hurst, Mike and Eileen Giglio, Gordon and Jane Gerson, Frank and Linda Gamboa, Whitey and Lois Edwards, Charlie and Peggy Brooks, Dan and Pat Bellay and Jack and Ann Adams. The Master of Ceremonies and the two speakers are pictured in a Class of '58 version of "The Masked Singer".
"Taylor Keith, Jack Adams and Harry Hurst"

■ FLAG OFFICERS AND GENERAL OFFICERS

In this column I would like to highlight two of our Classmates who both became Naval Aviators and rose to Flag Rank through the Patrol Squadron (VP) community. I refer to Jesse Hernandez and Bill Pendley. Something else they share was that they both had been in the 3rd Company.

RADM Jesse Hernandez, 3rd Company, received his Wings of Gold in December 1959 and reported to VP-46 at NAS North Island in San Diego. His tour in VP-46 was unusual in the sense that during that time the Squadron went from P5Ms to P2V-5Fs, to P2V-7s, to P3As (the first Squadron on the West Coast with the P3s). His next tour was to Pax River for Test Pilot School and the Naval Air Test and Evaluation Center. During this time Jesse flew 25 different aircraft. (How did he remember where the on/off switches were in so many different planes??) Further tours included Flag Lieutenant for COMCARDIV 6, a tour in VP-50, VX-1 in Key West, back to Pax River, then VP-46 as XO and CO. In 1982 he had Command of Patrol Wing 10 and in 1985 was selected for Flag and served as Commandant of the Washington DC Naval District followed by a tour as Commander Patrol Wings Pacific. Jesse's final tour was as Commander U.S. Naval Forces Japan. Well done.
"RADM Jesse Hernandez, USN"
RADM William Pendley, 3rd Company, received his Wings in February 1960 and reported to VP-45 at NAS Bermuda. He then attended American University and earned a Masters in International Relations and was a PhD Candidate (ABD). Bill's next tours were on the USS Essex as Assistant Navigator, Armed Forces Staff College, and back to VP-45. Then OPNAV in Strategic Plans and Policy followed by yet another tour with VP-45 as XO then CO. Next was a tour as COMPATWING 11 Operations Officer then back to Washington as Executive Secretary to the CNO. After being promoted to Captain, Bill had a tour as Commander Patrol Wing 11. Next was Washington at OPNAV followed by a tour on the Staff of CINCPACFLT. After promotion to Flag rank he was Commander Patrol Wings Atlantic Fleet from 1983 to 1985. After another Washington tour at OpNav Bill was sent to Korea as Commander, U.S. Naval Forces Korea and Senior Member United Nations Military Armistice Commission. His final tour was as Director Strategic Planning and Policy at CINCPAC. BZ!
"RADM William Pendley, USN"

■ IN THE LINE OF DUTY

In our last column I wrote about two of our Classmates who died in the line of duty in 1961 and both involved accidents in F8U Crusaders.

In June of 1963 we lost yet another Classmate flying an F8U. LT. Donald Meyer USN, 4th Company, died in an accident near Hawaii while operating from the USS Hancock, (CV-19). The accident happened at twilight when Don was attempting a carrier landing. According to eyewitness reports the visibility was poor and Don dropped below the flight path, was unable to recover and wave off and crashed into the fantail of the Hancock.

In January of 1964 CAPT. Carl Larsen USAF, 16th Company, died in an accident in Osan, Korea. At the time Carl was stationed at Kadena AFB, Okinawa. On the 23rd of January he was piloting his F105D Thunderchief and crashed while landing at Osan AFB in Korea. According to USAF records the cause of the accident was a stuck throttle which caused the plane to overrun the runway.

■ CLOSING RANKS

Jim Sheenan, 1st Company, passed away on 14 September 2020

Barry Howard, 4th Company, died on 17 July 2020

Newt Moore, 1st Company, died on 30 June 2020

Al Rachap, 12th Company, passed away on 27 June 2020

Rosemary Adkins, wife of Jim Adkins, 9th Company, died on 3 September 2020

Betty Farnan, widow of Dick Farnan, 20th Company, died on 31 August 2020

Note: Obits for deceased Classmates and spouses may be found on our Class Website: 1958.USNACLASSES.COM

Note: In the July-August of Shipmate I reported the death of Charles Bowne, but misspelled his name as Browne.

USNA CLASS OF 1958 SHIPMATE COLUMN

OCTOBER 2020

■ IN THE LINE OF DUTY - In our Class column in the September issue of Shipmate I wrote about the loss of two Classmates, James Moore and John Paul Price, in 1961. Both were flying F8U Crusaders at the time of their deaths and sadly that pattern continued the next year. FIRST LT Alexander Longdon USMC, 7th Company, was killed on 14 September 1962 when his F8U Crusader collided in mid-air with an Air National Guard F86 near Dallas Texas.

In 1962 the Navy introduced the P3A Orion into the fleet. The first Squadron to get their Orions was VP-8 and they took delivery of their first P3A in August of 1962. Just a few months later LT Theodore White, 16th Company, was lost at sea, along with 13 other crewmates, when his VP-8 P3A crashed on 30 January 1963. The accident happened at night, about 500 miles from land in the Atlantic when the plane was operating at about 500 ft altitude during a training exercise.

■ FLAG OFFICERS AND GENERAL OFFICERS – Referring back to the September 2020 Class column again you will/may/perhaps recall I wrote about the careers of General JB Davis USAF, 14th Company, and LTGEN Terry Cooper USMC, 24th Company. Terry passed on an interesting bit of history that took place in 1990. Then LTGEN JB Davis was Commander of US Forces Japan and then MAJGEN Terry Cooper served as JB's Deputy Commander. At the same time ADM Chuck Larson, 8th Company, was CINCPAC and RADM Bill Pendley, 3rd Company, was on his staff. And RADM Jesse Hernandez, 3rd Company was in Command of Patrol Planes in the Pacific and RADM Jack Adams, 4th Company, Commanded Naval Bases San Diego and was dual hatted as Commander Maritime Defense Zone, Sector California. Simply put the Class of 1958 was pretty much in charge of the Pacific for that brief period in time. The photo shows JB and Carol Davis, Chuck and Sally Larson and Terry and Bettie Cooper at JB's quarters at Yokoda AFB during a visit by Chuck and Sally to Japan.
"Class of '58 Flag Officers and their Ladies"

■ REFLECTIONS – In 1983 a writer for the Norfolk Ledger-Star named Pete Rowe did a series of articles about the USNA Class of 1958. He interviewed 13 of our Classmates reflecting on their careers in and out of the Navy. Steve "Whitey" Edwards, 17th Company, was one of those 13. In 1983 Whitey had retired from the Navy as a Captain and had taken the job of Commandant of the Maine Maritime Academy. At the time his reflections on his career were; "How many people did we touch? How many lives did we affect? Is it enough to command an aircraft carrier as opposed to making a lot of money or sculpting a beautiful statue? I had an absolutely super career, absolutely great. The wife loved it. I loved it. I went into it with a goal – command destroyers. Did it. When not doing it again at 45 I decided to do something else." So recently I asked Whitey to comment on those reflections some 37 years ago. He said he still remembers that his Navy career had been a blast. "Lots of sea duty, which was by choice. Didn't join the Navy to drive a desk." He served on 6 destroyers, was XO of 2 and CO of 2. The USS Lester and the USS Semmes. Whitey spent 4 years at the Maine Maritime Academy after he retired from the Navy then moved to the DC area and had a very rewarding career of 15 years working for GE on Navy projects.

Another of those 13 Classmates was John McCain, also from the 17th Company. John retired from the Navy in 1981 as a Captain and by 1983 was just getting going in his political career. In 1982 he ran for the seat of retiring Congressman John Rhodes of Arizona. A year later speaking to Mr. Rowe, he recalled that "there was 115 degree heat in July and August, but I knocked on 16,000 doors." John won the nomination and was elected in November of that year. In 1983, looking back on that election, he reflected; "For once, I was correct. People want someone to represent them who understands the issues, can articulate the issues and get things done." Later, after rising to the pinnacle of public life John wrote in his book Faith of My Fathers that "Nothing in life is more liberating than to fight for a cause larger than yourself, something that encompasses you but is not defined by your existence alone." The photo is John and his family on stage after he accepted the nomination for President at the 2008 GOP Convention. John died in 2018.
"2008 GOP Convention"

■ LEGACIES - Jim Adkins, 9th Company, was pleased and proud to advise us that his grandson James Newton Adkins IV was inducted into the USNA Class of 2024. That means he will graduate 66 years after his grandfather did. But that is not all of this story. Jim's son is the Class of 1986 and Jim's granddaughter is Class of 2014. This is a Navy Blue and Gold family for sure.

■ GOOD QUESTION FOR REEF POINTS - Jack Adams, 4th Company, was recently asked a question by the widow of a Classmate. She was donating her late husband's Naval sword and had noticed what appeared to be a six pointed Star of David engraved on the sword near the hilt and asked Jack why that would be. He checked and sure enough his sword had the same symbol. So Jack contacted RADM (ret) Sam Cox, Class of 1980, who is the Director of the Naval History and Heritage Command and the Curator of the Navy. His report is that it is a Six Pointed Persian Star not the Star of David. To prove they meet specifications U.S. and British military swords are required to have the Persian Star together with the word "proved" etched on the blade as a guarantee of the quality of the steel. The origin of the symbol is unknown, but dates back to the Persian empire as a symbol for Damascus Steel. Note: I can say from personal knowledge that not all Naval Officer's swords have the Persian Star symbol. In late 1959 I received my Navy wings in Corpus Christi Texas and moved to Coronado California to join a VP Squadron. During the move my sword was either lost or stolen and I had to buy a replacement. The one I bought at the Navy Exchange was made in Japan and has no Persian Star. Not being sure of the quality of the steel I wisely avoided sword fights during my career.

■ CLOSING RANKS

Daniel Leonard, 24th Company, passed away on June 27th 2020.

Joseph Hutchinson, 8th Company, died on 30 June 2020.

William Newt Moore, 1st Company, died on 30 June 2020.

Eric Thacher, 16th Company, passed away on 1 July 2020.

Russell Vreeland, 2nd Company, died on 1 July 2020.

Barry Howard, 4th Company, died on July 17th 2020.

SEPTEMBER 2020

■ IN THE LINE OF DUTY

Looking back at the list of Classmates who died "in the line of duty" there were two who died in 1961. Both were Naval Aviators flying F8U Crusaders and both were flying from the USS Independence at the time of their accidents.

LTJG James Moore USN, (3rd Company) died on April 6th 1961. Jim was assigned to VFP-62, a Photographic Recon Squadron and was flying the F8U-1P Crusader. At the time of his death he was engaged in a night carrier qualification exercise on board the USS Independence. His plane crashed into the sea following launch from the carrier when one of the wings on his aircraft folded.

LTJG John Paul Price USN, (6th Company) died on 22 August 1961. John was assigned to Fighter Squadron VF-84 and was also flying the F8U Crusader. At the time of his accident John was deployed to the Med on board the USS Independence and crashed while attempting to land on the carrier.

■ FLAG OFFICERS AND GENERAL OFFICERS

In the July-August 2020 issue I introduced a segment in our Class of '58 column celebrating our Classmates who achieved Flag rank. In this issue I would like to briefly highlight the careers of two General Officers from the Class of 1958. One in the Marines and one in the Air Force.

LtGen Matthew T. Cooper, USMC (24th Company) served on active duty for 35 years. During his career Terry had 20 years in Command tours. He served two combat tours in Vietnam, Commanded two Marine Corps Divisions, was Commanding Officer of Camp Pendleton and also Commanding Officer of the Marine Corps Officers School at Quantico. After his retirement in 1993 he became the President and CEO of the Marine Toys for Tots Foundation and served in that role for 15 years. The Headquarters for Toys for Tots is named the Cooper Building in his honor. He has also served as a Trustee of the Naval Academy Alumni Association and on the Board of Directors of the Naval Mutual Aid Association. In 2011 Terry was selected as a Naval Academy Distinguished Graduate. Semper Fi.
"LtGen Matthew Cooper, USMC (ret)"
General James Davis USAF (14th Company) was one of our Classmates who earned 4 Stars. After graduation JB obtained his Air Force wings and was assigned as a KC-97 pilot. He yearned, however, to fly something faster and in 1967 underwent F4 Phantom training. In January of 1968 he was assigned to the 13th Tactical Fighter Squadron based in Thailand and by September of that year he had flown 100 combat missions over North Vietnam. That tour was followed by duty at SHAPE in Europe then back to the States to attend the Armed Forces Staff College. In 1979 he was given Command of the 474th Tactical Fighter Wing. By 1988 he was Commander of U.S. Forces in Japan and concurrently served as Commander Pacific Air Forces. His final duty was as Chief of Staff for SHAPE. JB retired from the Air Force in 1993. A great career in the Wild Blue Yonder.
"General James Davis, USAF (ret)
■ COMPANY OFFICERS REDUX
Pete Westphal (1st Company) passed on some information about one of our more well known Company Officers. I refer to Captain Perrich, USMC, known to our Class as Bonzo, the Company Officer of the 3rd Company. Pete went into the Marines after Graduation and in 1966 he was the CO of B Company, 3rd Engineer Battalion with the 4th Marines in Chulai. LtCol Perrich was the CO of the 1st Battalion, 4th Marines and Pete's engineers supported the 1st Battalion in their combat operations. Pete saw LtCol Perrich many times at his Command Post and went along on a number of the combat operations. By this time Bonzo had mellowed and when Pete told him he had been considered a terror at the Academy he admitted that he had worked at it. Bosco, as his friends called him, made full Colonel and was considered a good Marine recognized for his intellect.
■ REFLECTIONS
In 1983 the Ledger-Star was the afternoon paper in Norfolk Va. In October of that year they published a 3 part series about the USNA Class of 1958 written by Pete Rowe a staff writer on the paper. It was 25 years since our graduation, a time to reflect on both the past and the future. Mr. Rowe interviewed 13 of our Classmates for his article.
One of those Classmates was Hollis Holthaus (4th Company), the son of a pharmacist in Nebraska. Hollis went Navy Line, but as he neared 20 years service he found himself with repeated tours in communications billets and that was not what he wanted. As he told Mr. Rowe, "My interest in the Navy was in ships. I wasn't interested in boondoggle communications." At the same time a tumultuous personal life had left him divorced and shattered. As an Officer he never held command at sea and drifted from destroyer to diesel sub to spy ships to communications. In a communications billet at the White House he said that he had "dealt with Christian telecommunications people and found most were very naive". So Hollis retired in 1978 as a Commander and recognizing his calling elsewhere he moved to Los Angeles and helped establish the U.S. Center for World Missions, streamlined fund raising for World Vision, a relief organization and became the executive director of the Union Rescue Mission which feeds and houses hundreds of the poor and homeless. And that was where he was in 1983. Later he would go on to become the executive director for the Chicago Christian League, another large rescue mission. Hollis found satisfaction in serving the homeless and needy and said "But for the grace of God I could have been one of those men". He died in 1993.
" Hollis Holthaus, LA Skid Row, 1983"

Pete Gatje (24th Company) was another of those interviewed in 1983. At the time he was a Captain and told Mr. Rowe that he had hopes to attain Flag rank, but that would not come to be. Pete had earned his Navy Wings after graduation and later became a Restricted Line Officer with a specialty in oceanography and meteorology. He retired in 1986 following a tour as Commanding Officer of the Naval Oceanography Center in Norfolk VA. After retirement he worked for ST Systems as a Systems Engineer. Like many of our Classmates he had found a new career with a Company that had links to the Navy. He also became a Park Ranger for the Northern Virginia Regional Park Authority and as a Supervisor had responsibility for maintaining over 1000 miles of trails, but hiking the trails of the Appalachians was a hobby for Pete and keeping the trails open was his way of saying thank you.

899 of us graduated on the 4th of June in 1958 and in our careers and personal lives there have been 899 different stories.

■ CLOSING RANKS

Jim Corder, 3rd Company, died on 21 May 2020

Floyd Hissong, 14th Company, died on 23 May 2020

Don Leo, non-grad, passed away on 9 March 2020

James Lott, non-grad, passed away on 15 June 2020

Patricia Salmon the wife of Michael Salmon, 8th Company, died on 25 May 2020

Arden Polhill the wife of Lee Polhill, 19th Company, died on 10 June 2020

Correction: In the July-August issue of Shipmate I incorrectly reported the death of Charles Browne. It should have read Charles Bowne, 8th Company.

USNA CLASS OF 1958 SHIPMATE COLUMN

JULY-AUGUST 2020 ISSUE

■ FLAG OFFICERS AND GENERAL OFFICERS – The Class of 1958 had 25 graduates achieve Flag rank during their careers. These include 18 U.S. Navy Flag Officers and 2 Flag Officers in the Navies of other countries, 2 General Officers in the Marine Corps and 3 General Officers in the U.S. Air Force. One of those Classmates is VADM Ron Eytchison USN (ret) 1st Company. After graduation Ron served on a Destroyer prior to attending nuclear power and submarine training which was common in those days. After duty on both an SSN and an SSBN he was selected for graduate school which was not so common among Submarine Officers. And to make it even more unusual, as an Olmsted Scholar, two years of the graduate education was spent at the University of Sao Paulo in Brazil. After that it was a series of tours ashore and at sea including Command of the USS Skate (SSN 578). Subsequent tours included Command of Submarine Squadron Six, and a multi-hatted tour as Commander Submarine Group Eight, NATO Commander Submarines Mediterranean, Commander Submarine Force U.S. Sixth Fleet and Commander Area ASW Forces U.S. Sixth Fleet. His final active duty tour was as the Director of Strategic Target Planning where he was responsible for targeting all strategic nuclear weapons. Following his retirement Ron worked 13 years as an executive and consultant in the civilian nuclear power industry. Well done Ron. There is one more achievement that Ron can take great pride in. He can still wear his uniform! In the attached photo Ron is administering a virtual swearing in oath to new Ensigns who graduated from Georgia Tech.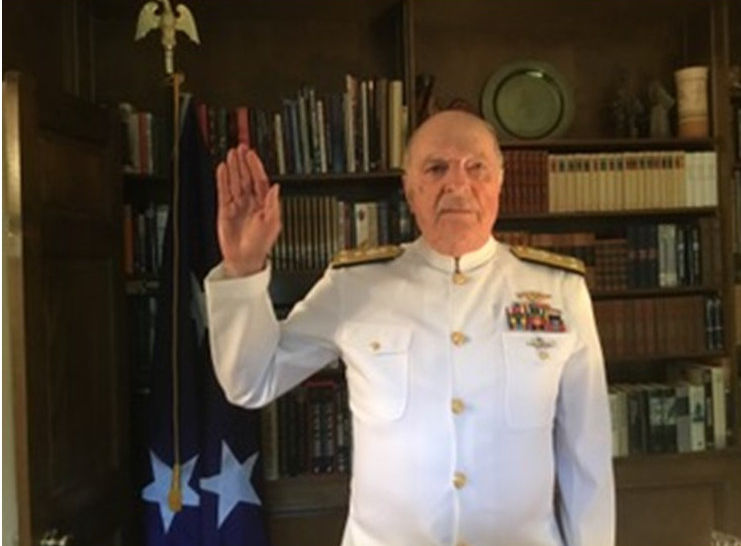 VADM Ron Eytchison in his Dress Whites
■ THE REST OF THE STORY - At the Academy Pat Hanavan, 24th Company, received the Marine Corps Association Prize. So he went into the Corps, right? Well, actually not. Instead he joined the Air Force and became a pilot. In the Air Force Pat had some very interesting assignments including flying the C-7A Caribou in Vietnam. The C-7A is a twin engine STOL cargo plane capable of landing on unimproved runways on the order of 1000 ft which is about the length of an aircraft carrier. During his career in the USAF Pat received a PhD in Engineering from UCLA and became a registered Professional Engineer (PE). When he retired in 1978 he joined the faculty at the University of Texas in San Antonio. Pat's expertise as a PE was in Software Engineering and Aeronautical Engineering. As an engineer his work took him to many countries that I am sure were more enjoyable than Vietnam. Pat also found the time to earn a Master of Arts degree in Theology along the way.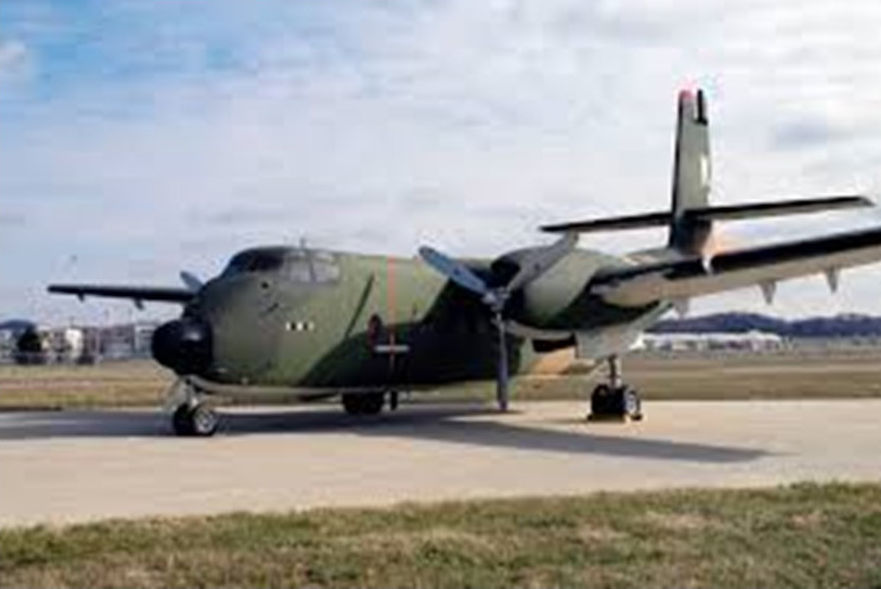 C-7A Caribou
■ IN THE LINE OF DUTY
LTJG James Wood USN, 24th Company, died on September 12th 1960. Woodie was flying an AD-5 from Moffet Field in California on a night flight and went missing off the coast.
LTJG William Flynn USN, 21st Company, died on 21 December 1960. Bill was 3rd pilot/navigator on the crew of a P2V from Patrol Squadron Seven. The Squadron was deployed to NAS Argentia, Newfoundland and Bill's plane went missing on a night flight while participating in a Fleet training exercise.
■ WHERE THERE IS THE WILL THERE IS A WAY – Mike Cunningham, 18th Company, and Dorothy Hanners, his friend and companion of 10+ years were enjoying each other's company when along came the COVID-19 situation and talk of quarantine, stay at home, etc. So Mike took action and asked Dottie to marry him and she said yes. This was in early February and the wedding was set for 17 March. The location would be the old Court House in Orange Virginia. At 10:30 the morning of the 17th Mike received a call from the Magistrate who told him the Court House had been closed because of the virus. Time for Plan B! After a discussion the Magistrate offered the parlor in their home. Offer accepted and it is now Mr. and Mrs. Cunningham. Congratulations to the bride and groom.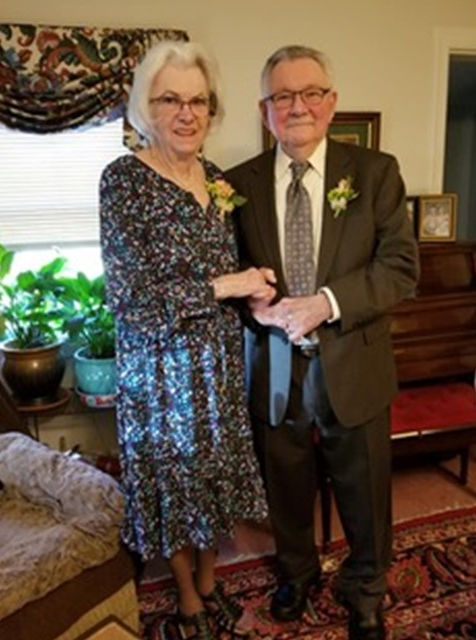 "Mike and Dottie Cunningham"

■ CLOSING RANKS

Charles Bowne 8th Company, died on 23 April 2020

Lawrence Reid, 3rd Company, died on 27 April 2020

Ed Jackson, 5th Company, passed away in January 2020

Robert Flynn, 10th Company, passed on 4 May 2020

George Myers, 16th Company, died on 14 April 2020

USNA CLASS OF 1958 SHIPMATE COLUMN

JUNE 2020 ISSUE

■ HAPPY VALENTINE'S DAY – The Washington DC/Annapolis Chapter of the Class of 1958 celebrated cupid's day with a luncheon. Present were Buff Walter, Jackie and Fred Victor, Julie and Pete Russell, John Rohrbough, Paul Polski, George Ojalehto, Rupe MacLane, Jean LeBer, Marty Hill, Eileen and Mike Giglio, Jane and Gordon Gerson, Linda and Frank Gamboa, Lois and Whitey Edwards, Terry Cooper, Pat and Dan Bellay and Ann and Jack Adams. The speaker was Dr. Joe Thomas the Director of the USNA Stockdale Center for Ethical Leadership and he spoke about the means used to impart ethical leadership principals to today's Midshipmen.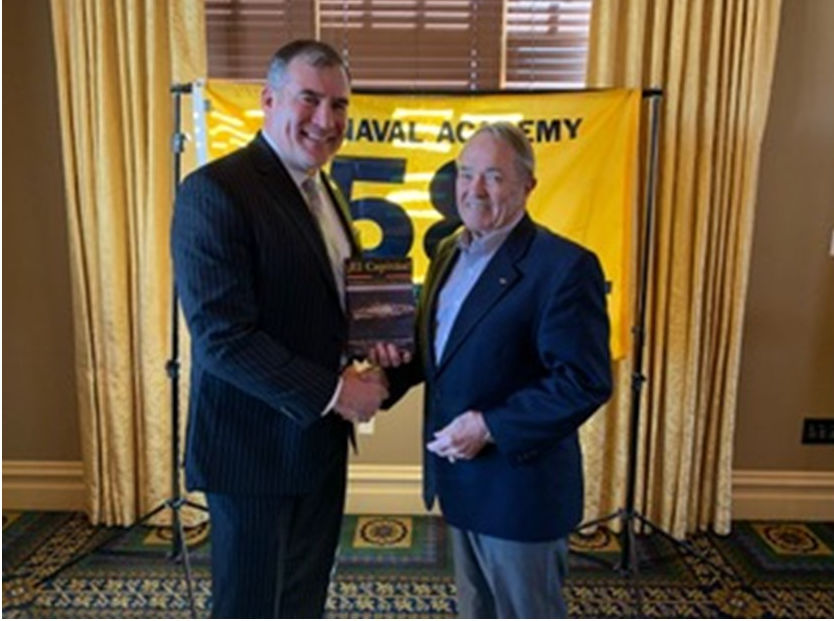 "Dr. Thomas and Jack Adams"
■ WHEN EVER TWO OR MORE. . . - Two members of the 17th Company were able to rendezvous for lunch and fellowship. Eric and Barbara Mansfield and Charlie and Peggy Brooks got together in Vero Beach while vacationing in Florida. Peggy is from Vero Beach and she and Charlie visit there almost every year. Eric and Barbara have a condo a couple of hours south of Vero Beach and so it came to pass.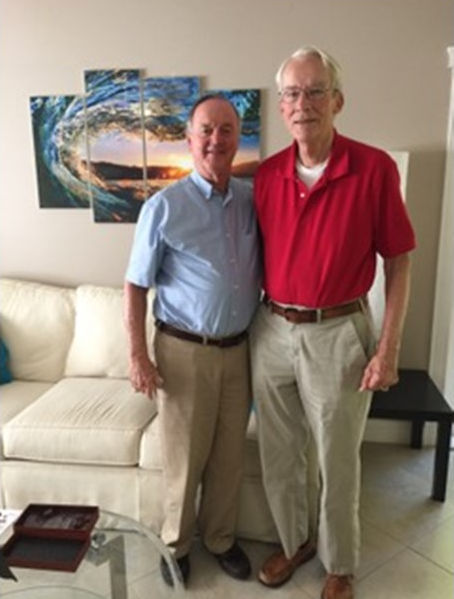 "Charlie and Eric"
■ HONOR FLIGHT ELIGIBLE – Glen Smiley, 5th Company, joined the Navy Reserve in June of 1953 after graduation from High School. In August the Korean War Truce was signed and Glen became a Korean War Vet before he joined us at the Naval Academy. Because of that service Glen became eligible to participate in an HONOR FLIGHT trip to Washington. These are all expense paid trips to Washington DC for vets of WWII and the Korean War. In Glen's case 26 vets and 27 "guardians" travelled from Denver, but Honor Flights originate from many cities. In Washington they visited various memorials and monuments as well as the Capitol and everywhere they went they were cheered, folks wanted to shake their hands, etc. Glen is probably not the only Classmate we have who is a Korean War Vet If you are one of those look into getting on an Honor Flight. Check it out on
www.honorflight.org
. In the photo Glen is kneeling, handsome guy at the far right of the front row.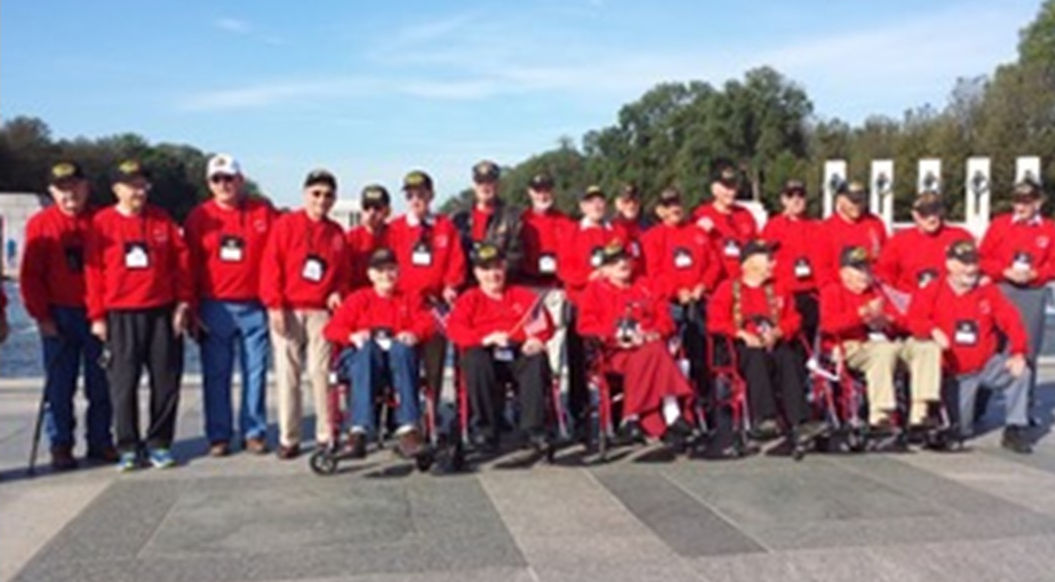 "Denver Colorado Honor Flight"

■ IN THE LINE OF DUTY – By 1960 those of us who had gone to flight training had earned our wings and were in Fleet Squadrons. More flying hours in more demanding aircraft and more demanding situations equaled more accidents.

Massey Pierce, 15th Company, was assigned to Utility Squadron 7 (VU-7) in San Diego. The primary job for VU-7 was to tow targets for Fleet training exercises. Massey died in an aircraft accident on 15 June 1960 at NAAS Brown Field.

Theodore Graver, 2nd Company was assigned to a Helicopter Anti-Submarine Squadron based at Quonset Point. On 19 July 1960 Ted was killed in a helicopter accident in Georgia while enroute from Mayport Florida to Quonset Point.

Just over 2 years after graduation and we had lost 5 Classmates, 4 of them in aircraft accidents.

■ CLOSING RANKS

James Fredericksen, 10th Company, died on 18 February 2020

William Graham, 12th Company, died on 8 March 2020

Robert Ellis, non-grad, passed away on 1 February 2020

Marion Raczek, non-grad, passed away on 1 February 2020

Loyd Shelton, non-grad, died on 8 March 2020

Don Leo, non-grad, died on 9 March 2020

USNA CLASS OF 1958 SHIPMATE COLUMN

APRIL-MAY 2020 ISSUE

■ NOTHING ENDURES BUT CHANGE – I'm sure all of us remember the thousands of meal formations we attended, marching to the Mess Hall, going to our assigned tables and having the stewards serve us family style. Well, most of that has changed. At today's Naval Academy meal formations are limited to Monday-Saturday noon meal and only the Companies that form up in the Forecourt actually march to the meal (I suspect that is to provide a show for the tourists). Instead of a formation for breakfast the Midshipmen attend Quarters. Most of the meals are optional and during those meals the Midshipmen do not have assigned tables so that is different from when we were seated in Company areas at assigned tables. At most of the meals the Midshipmen are also given options regarding what they want to eat. Oh, and I almost forgot. The upperclass can keep food in their rooms. For example 1/C can have small refrigerators in their rooms as well as coffee makers. No stoves yet, but TVs are okay. In some ways life at the Academy is like it was 60+ years ago and in other ways it is like life at any other University.

■ IN THE LINE OF DUTY – A couple of issues ago I started a discussion of our Classmates who died in the Line of Duty. There were 28 of them and in this issue I will discuss what happened to Robert Stannus and John Mason the 2nd and 3rd of that group to die in the line of duty.

Dick Stannus was in the 9th Company and after graduation he went Navy Line and was detailed to the USS Bexar (APA-237). On a deployment to WESTPAC the Bexar encountered typhoon Ellen on 9 August 1959 and two Marines were washed overboard by the heavy seas. Dick was the OOD and because he was an excellent swimmer he volunteered to go in the hazardous waters to rescue the men (conditions were too rough to launch a small boat). Dick did rescue one of the Marines, but he and the other Marine were both killed. Dick was awarded the Navy and Marine Corps Medal for his valor.

John Mason was in the 4th Company. John always wanted to fly and after graduation he went into the Air Force. He died on 14 December 1959 when his F-86 Sabrejet crashed. At that time John was in what those of us who were Navy pilots called advanced training. In John's case he was training to be an interceptor pilot.

■ LATITUDE 22+ THE ROADHOUSE CABO – I'm not sure of the details, but it seems that a detail from the 18th Company visited an establishment of some repute in Cabo San Lucas. There is photographic evidence proving that Bill "uno" Hemingway and Bill "dos" Bauer were there.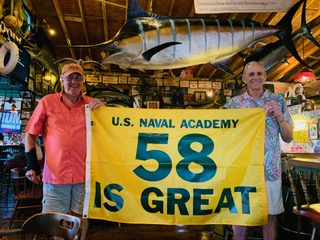 "Bill Hemingway, Jake the 1078 lb Blue Marlin and Bill Bauer"
MERRY CHRISTMAS – I know some of us are still sending out our Christmas Cards so it should be no surprise that I am still reporting on Class Holiday festivities. Our Class Washington DC Chapter had a Holiday luncheon (latitude unknown) with 52 folks present. Dan Bellay and Polly Mitchell provided the music and there were reports of singing and dancing and a good time enjoyed by all.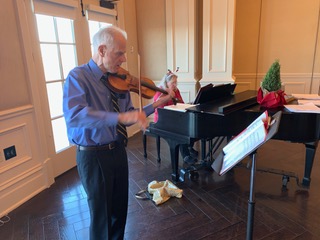 "Dan Bellay and Polly Mitchell"

■ ALUMNI CHAPTERS – If you are one of those who only read our Class of '58 column in Shipmate you may not be aware that there are a number of USNA Alumni Chapters in various locations. There are 6 Chapters in California for example and even some outside the U.S. such as in the Philippines, Singapore, South Korea, Tokyo, the UK and Spain. There is even an RV Chapter for Recreational Vehicle fans. I know that because Tom and Kay Powell, 13th Company sent me a picture of the two of them dancing at an RV Chapter gathering in Key West. (What is this about all these 58er's dancing?)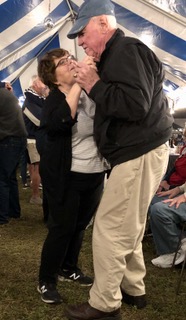 "Tom and Kay Powell in Key West"

■ WEST COAST CHAPTER LUNCHEON – Our West Coast Chapter, San Francisco Bay Branch, gathered for lunch in January in beautiful Tiburon by the Bay. Those attending were Keith and Diane Featherston who were the hosts, Bill and Virginia Oliver, Phil McNail, Bruce and Nancy Bartels, Barbara Allard and John Potter. The location was the Harbor Light Restaurant. (This is a high class place and I can tell because there are no Blue Marlins hanging around.)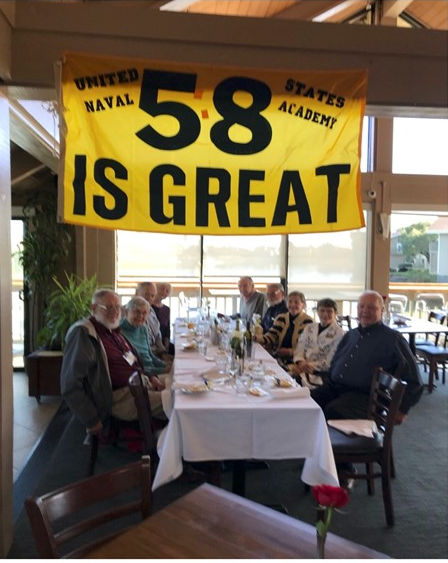 "58ers at the Harbor Light Restaurant"

■ CLOSING RANKS

George Jenkins, 10th Company, passed away on 7 February 2020

Robert Warren, 8th Company, died on 1 February 2020

Myron Kandra, 22nd Company died on 23 January 2020

Richard Cordova, 17th Company, passed away on 4 February 2020

Paul Tucker, 22nd Company, died on 17 January 2020

Jim Fredericksen, 10th Company, died on 18 February 2020

USNA CLASS OF 1958 SHIPMATE COLUMN

MARCH 2020 ISSUE

■ ARMY-NAVY DC LUNCHEON – Every year graduates from the USMA and USNA Classes of 1958, who live in the Washington DC area, gather prior to the Army-Navy football game to enjoy a nice lunch, renew old friendships and harass each other with claims how THEIR team is going to win THE game. The luncheon is held, of course, at the Army Navy Country Club and so it was on 5 December. After lunch Harry Hurst presented the case for the Naval Academy. He described the changes in Navy's coaching staff and the resulting impact on the Navy team. He described the strengths and weaknesses of our team and cautioned that Army was a 5 win and 7 loss team and therefore would be highly motivated because a win would allow them the keep the Commander in Chief trophy, go to a bowl game and chalk up a 4th straight win over Navy. Brad Johnson presented Army's case. He noted their problems with injuries to key positions and how close most of their losses have been, but also pointed out that season records do not matter much when it comes to the Army-Navy game. Since Navy was the host at this luncheon they ended the day by serenading the USMA crowd with a rendition of "The Goat is Old and Gnarly". Navy was well represented by Jack and Ann Adams, Dan and Pat Bellay, Paul and Carolyn Brown, Whitey and Lois Edwards, Frank Gamboa, Gordon and Jane Gerson, Mike and Eileen Giglio, Harry and Peg Hurst, Taylor Keith, Jean LeBer, George Ojalehto, Paul and Barbara Polski, Tom and Kay Powell, John Rohrbough, Pete and Julie Russell, Phil Taylor, Fred and Jackie Victor, Buff Walter and Bruce Wilcox.

So, what happened on December 14th? ***NAVY 31 – ARMY 7***

■ WHAT HAPPENED TO OUR COMPANY OFFICERS?

The most distinguished of our Company Officers turned out to be a U.S. Army Officer and a West Point graduate. I am referring to Alexander Haig who was the Company Officer for the 11th Company. He went on to become a 4 star General, served as the Supreme Allied Commander in Europe, was Secretary of State for President Reagan and White House Chief of Staff for Presidents Nixon and Ford.

Captain Robert Gordon Hunt was the Company Officer for the 17th Company. Captain Hunt graduated from the Naval Academy with the Class of 1949. In 1950 he was serving in Korea as a 2nd Lieutenant in charge of a Motor Pool Company. When the Chinese attacked there was chaos and a general retreat. 2nd Lt. Hunt took his trucks across the frozen Chosin Reservoir to rescue the wounded left behind in a field hospital. For his actions he received the Silver Star. He retired from the Marines as a Lieutenant Colonel.

■ JOHN MCCAIN QUOTATION – In his years as a POW John had time to reflect on many things and in later years he wrote down some of those reflections. In one of his books he wrote "It is your character, and your character alone, that will make your life happy or unhappy". Good advice for our children and grandchildren.

■ ARMY-NAVY GAME CELEBRATIONS – Back in Washington our DC Chapter Classmates gathered at the Giglios home to enjoy the game. The official report was that both the game and the party were "great". Out west in San Diego our Classmates gathered at Miramar to watch the game and enjoy each other's company. In the picture, L to R, are Al and Ann Skiles, Jan and Lore Cook, Tom Fleming, Chuck and Tam Smith, Pete Nystrom, Doree and Pete Hekman, John Washburn, Madeline and Joe Fenick. Chuck Smith also reported that the plan for 2020 is for gatherings in Coronado in March, Rancho Bernardo in June, Coronado again in September and back to Miramar in December. If you are going to be traveling in the vicinity of San Diego in any of those months please contact Chuck Smith.

"Watching Army-Navy in San Diego"

■ IN THE LINE OF DUTY – In the January-February 2020 issue I wrote that 28 of our Classmates had died "in the line of duty" following graduation. In that column I detailed what happened to Ensign George Fennell and Captain Paul Klinedinst, the first and last of our Classmates to die in the line of duty. In this column I would like to look back at what happened to 3 Classmates who were killed in action (KIA). One was a Marine Officer, one a Navy Line Officer and one an Air Force pilot. All three were killed during the Vietnam conflict.

Captain Edward Browne, USMC, 5th Company (KIA 27 July 1967) – Ed died in enemy action in Quang Tri province while serving as Commanding Officer of "D" Battery, 2nd Battalion, 12th Marines. He was killed by incoming counter battery fire while trying to rescue some of his men. He was our first Classmate killed in action.

LCDR Carl Jerrold Peterson USN, 11th Company (KIA 2 April 1969) – Carl was Operations Officer on USS Ogden (LPD-5) from 1966 to 1968 and participated in 8 major amphibious assaults in Vietnam. In 1968 he could have rotated home, but volunteered instead for duty with the riverine forces in Vietnam and was given Command of Patrol River Boat Squadron 57. On 2 April 1969 he was embarked on one of his Squadron Patrol Boats when it was hit by an enemy rocket. Carl was mortally wounded and died from his wounds.

LTCOL John Wayne Held USAF, 3rd Company (declared KIA on 21 August 1975) – John was a member of the 604th Air Commando Squadron. He was flying a Cessna Dragonfly aircraft (A37-A light attack jet) on a combat mission in Phuoc Long Province on 17 April 1968 when his plane was hit by ground fire. John ejected, but was not heard from again. On 21 August 1975 he was declared officially KIA.

■ UPDATE REGARDING GEORGE FENNELL – In the January-February 2020 issue of Shipmate I reported on the death of George Fennell, the first of the Class of '58 to die in the line of duty. I have recently learned that on 7 December 2019 the USNA Alumni Association dedicated a "Walk of Honor" in Pensacola for 42 USNA graduates who died in the Pensacola area. George Fennell was one of the 42 so honored and a brick in his name is part of that walk.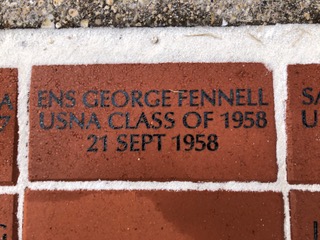 "George Fennell honored in Pensacola Walk of Honor"

CLOSING RANKS

Tony Stremic, 20th Company passed away on 19 November 2019

Jack MacKinnon, 9th Company died on 22 November 2019

Dave Allard, 7th Company passed on 30 November 2019

Allen Keith Sewell, non-grad died on 14 November 2019

USNA CLASS OF 1958 SHIPMATE COLUMN

JANUARY-FEBRUARY 2020 ISSUE

■ IN THE LINE OF DUTY - In the years after graduation we had 28 Classmates die "In the line of duty". In upcoming issues of Shipmate I will be looking back at those who died in service of their Country.

Our first Classmate to die after graduation was Ensign George M. Fennell Jr. USN, 22nd Company. George came to USNA from Brooklyn with an ambition to become a Naval Aviator. At the Academy he won the Jack Cobb Moore Award for the highest mark in the Naval Aviation Course and graduated with distinction. Following graduation George reported to NAS Pensacola for flight training. On Sunday September 21st 1958 George died in an aircraft accident in the line of duty.

The last Classmate to die in the line of duty while on active duty was Captain Paul Richard Klinedinst, Jr. USN, 24th Company. Paul also came to the Academy from New York State and graduated near the top of the Class. He served in submarines and was the Commanding Officer of the USS James Monroe. In 1980 he was the Executive Officer of the USS Howard W. Gilmore (AS-16). On January 13th 1980 the Gilmore was moored at Santa Stefano Island and was getting underway to transit to Genoa. Paul was killed while observing the casting off of lines when a large, 10 inch, mooring line parted.

■ 10TH COMPANY REUNION – In October twenty two Classmates, wives and widows of the 10th Company gathered in Williamsburg, Virginia for their 15th annual reunion. In addition to seeing old friends and telling tall tales the group had outings to Colonial Williamsburg, the Jamestown Settlement and the Yorktown Battlefield. All this was followed by nightly Happy Hours at the Embassy Suites Hotel where the picture was taken. In the picture Left to Right are: 1st Row, Alice Garvey, Bill and Mickey Hillsman, Pat and JJ Seeberger, Jean and Harlow Manahan and Eileen Giglio. 2Nd Row, Marvis Giddens, Margareta MacGregor, Pat Doss, Dianne McMichael, Bonnie Venable, Mike Giglio, and Norine Ault. 3Rd Row, Jake McMichael, Jack Giddens, Bill Garvey, Wes and Jeanne May, Dave Ault and Bob Venable.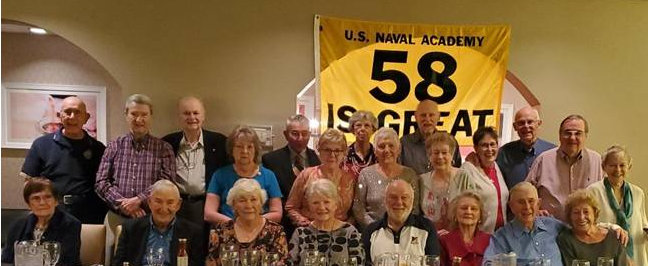 "10th Company Reunion"

■ HERE A BEAR, THERE A BEAR, EVERYWHERE A POLAR BEAR - Pat Hanavan, 24th Company, and his daughter Cindy travelled to the Hudson Bay in October to see for themselves what is happening with the polar bears. Out they went in a Tundra Rover, or the "food truck" as the bears think of it. On their outing they saw about FIFTY polar bears so I think Al Gore can relax. The picture shows Pat and Cindy in the Tundra Rover. Look close and you will note one of the polar bears admiring the "58 is Great" flag.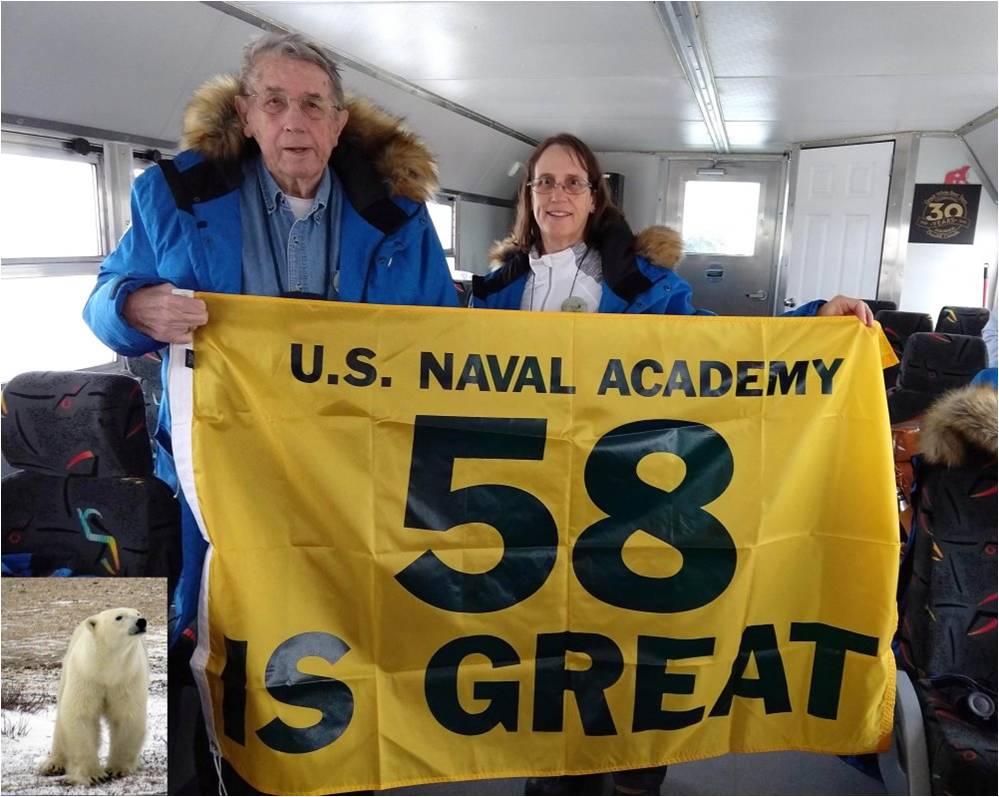 "Pat Hanavan, daughter Cindy and unnamed polar bear"

■ PARADISE REVISITED – Once a year the 58ers in the San Francisco Bay area migrate to Paradise Valley Estates for a luncheon and so it was on the 23rd of October. Dave and Barbara Allard and Bruce and Nancy Bartels, who live at PVE, hosted the event. Also present were John and Jude Potter, John Gardner, Phil McNall, Bill and Mimi Schramm, Bill and Virginia Oliver and Dave Woodberry with his daughter Marjorie Woodberry.

■ OCTOBER IN WASHINGTON DC – The 58ers in the DC/Annapolis area gathered for their October luncheon and the guest speaker was Dr. Claude Berube who is the USNA Museum Director and also a History professor. He gave a very interesting presentation about programs and projects at the Academy Museum involving Midshipmen and historical research. He also spoke about the need to restore and protect museum artifacts of historical significance, such as the 58 flag Bruce McCandless took into space.

Those attending were Buff Walter and his son Scott, Pete Russell, Tom and Kay Powell, Paul and Barb Polski, Taylor Keith, Harry and Peg Hurst, Jess Hernandez, Clivie and Nancy Goodwin, Mike Giglio, Gordon and Jane Gerson, Frank and Linda Gamboa, Dan and Pat Bellay and Jack and Ann Adams.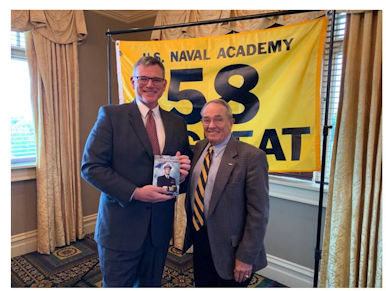 "Dr. Berube and Jack Adams"

■ COMPANY OFFICERS? - Whatever happened to our Company Officers? I thought that would be an interesting subject to report on, but turns out it is not an easy subject to find information about. The Academy does not even have a record of who the Company Officers were back in our days at USNA. The subject came up when Glen Smiley, 5th Company, wrote with a story about an experience he had with Capt. Parrish, USMC during 1st Class year. Turns out Glen and his roommate Cleve Puckette were relaxing in their room when there was a knock and in walked Capt. Parrish, the Officer of the Day. During his inspection of the room he notices a coffee cup on the desk with coffee residue in the cup and it was against regulations to have coffee in your room. The Captain then announced "somebodys been drinking coffee!", but does not ask Glen or Cleve who. Instead he starts to really check for the source of the coffee. He looked in the lockers, behind the books, in the shower, under the sink, under caps and hats, within folded uniforms, in the pockets of b-robes, in the shoe rack, etc. Glen is in a panic because not only is there coffee supplies, but also an electric grill for grilled cheese sandwiches another no no. The Captain felt under the pillows and the mattresses, looked behind the radiator and out the window and finally gave up and left the room. A minute later he came back and said "Mister Smiley, after graduation I want you to tell me where you hid your coffee" and left. So my question is, what happened to Capt. Parrish and his fellow Company Officers in the years after we graduated? If you know please let me know and where did you hide the coffee Glen?

■ ARMY? NAVY? - Bob Adams grew up in a military family. Two of his great grandfathers went to West Point. His father and a grandfather graduated from the Naval Academy. And that grandfather was Vice Admiral William Smedberg, the Supe when we were at USNA and the father of Ted Smedberg '58 which makes Bob Adams Ted's nephew. So Bob goes to the Naval Academy and graduates with the Class of 1973 and then goes on to become a SEAL. But the story doesn't end there. In 1987 Bob accepts a commission in the Army and a scholarship to medical school and becomes a doctor. In 2006 he retired from the Army as a Colonel. The unanswered question is, does he cheer for Army or Navy??

■ CLOSING RANKS

William Brown, 22nd Company died on 13 October 2019

Stan Dargis, 4th Company died on 9 October 2019

Sinkler Warley, 20th Company died on 3 October 2019

Ernest Merritt, 19th Company died on 30 August 2019

Ronald Brence, 23rd Company died on 23 October 2019

Ralph Neely, 3rd Company died on 24 October 2019

Dick Farman, 20th Company died on 1 September 2019

Owen Kirkley, 1st Company died on 20 August 2019

Barbara Detjen, widow of Richard Detjen, 9th Company passed on 5 May 2019

Marlene Prince, widow of William Prince, 9th Company passed on 13 June 2019

Frances Nutting, widow of Roger Nutting, 16th Company passed on 23 September 2019

Annette Thornton, wife of Bob Thornton, 20th Company passed on 20 September 2019

Jarvis Girard, Non-Grad, died on 7 November 2019

Marlys Girard, wife of Jarvis Griard, passed on 22 October 2019

USNA CLASS OF 1958 SHIPMATE COLUMN

■ LARSON AWARD DINNER – As you will recall our Class established an annual Charles R. Larson Ethical Leadership Award in honor of our deceased Classmate. The award, which includes a cash prize, is given to a civilian or military member of the Naval Academy faculty or staff who has contributed significantly to the Academy's mission to graduate ethical leaders for the nation. The winner of this year's award is Dr. Christine Copper. Dr. Copper is a Professor of Chemistry at USNA and has been on the faculty since 1995. She is also the Faculty Athletics Representative at the Academy and was herself a three time All-American collegiate tennis player and team captain of a national championship team. She has an exceptional ability to connect with, inspire and teach college age students. Shown in the related photo are the VADM Sean Buck (USNA Superintendent), Dr. Christine Copper, Sally Larson (widow of Chuck Larson), Gordon Gerson (Class of 1958 President) and Dr. Joseph Thomas (Director of the James B. Stockdale Center for Ethical Leadership).
Presentation of the Charles R. Larson Ethical Leadership Award

■ BUILDING 116A – It is unusual in the Navy to name a building after a living person but in the case of RADM George Meinig USN (ret), 11th Company the Navy is making an exception. The building I refer to was built to support development and testing of AEGIS technology and during the past 50 years while on active duty and in retirement George has been Mr. AEGIS. George managed the engineering development of the AEGIS Weapon and Combat Systems and their integration into AEGIS Cruisers and Destroyers and he charted the course for sending the first AEGIS system to sea. In so doing he established the technical foundation for the world's preeminent surface naval weapons system for generations to come. The name of the building will be the "RADM George R. Meinig Jr. Integrated Air and Missile Defense Engineering Development Building". BZ George.

■ THE REST OF THE STORY – Kay Higgins, the widow of John L. Higgins Jr., 15th Company, sent me the photo of herself and the grandchildren. The young man on the left of the picture is John L. Higgins the IV and he is a 1/c Midshipman (Class of 2020) in the 8th Company. After graduation Larry went to Pensacola, but that did not work out so it was off to San Diego where he was assigned to the USS Noble APA-218 as the Navigator. After several deployments to the Far East (Kay remembers these as many deployments) Larry left the Navy in 1963 and took over his father's Buick dealership in

New Jersey. Phil McNall remembers that Larry was on the Navy golf team at the Academy and he played with Larry both in San Diego and later at the Ridgefield CC in New Jersey. Larry passed in 2014.
Kay Higgins and grandchildren at the NJ seashore
■ WASHINGTON DC/ANNAPOLIS CHAPTER LUNCHEON – In August the following Classmates and spouses gathered for lunch: Jack and Ann Adams, Dan and Pat Bellay, Bill and Pat Dougherty, Whitey and Lois Edwards, Gordon and Jane Gerson, Mike and Eileen Giglio, Harry and Peg Hurst, Taylor Keith, Eric and Barb Mansfield, Paul Polski, Tom and Kay Powell, Pete and Julie Russell, Phil Taylor, Fred and Jackie Victor, Buff and Jean Walter and Bruce Wilcox. It is assumed the large turnout was due to, according to those present, the magnetic presence of the speaker who was (fanfare) Harry Hurst! Harry's subject was the upcoming Navy football season. He reported that Coach Niumatalolo (please repeat that name 3 times as fast as you can) decided after the 2018 season to make some changes. He replaced the defensive coordinator and four of the defensive coaches and changed the philosophy from "bend don't break" to "attack, attack". The new defense is a 4-5-2 and features blitzing and stunting. On the offensive side he hired the wide receiver Coach from the University of Hawaii and introduced the basics of the Hawaii run and shoot offense to go along with the basic triple option. As I write this column Navy is 2 and 0. Go Navy!
"Harry Hurst and Jack Adams"

It appears Gordo needed extra instruction after Harry's talk because Harry took him to a Navy football practice for a demonstration session. The photo shows Gordo with James Gregory, one of the smaller Navy players.

I
"Gordo and James"

■ ANCHORS AWEIGH – In the October 2018 issue of Shipmate I reported on the very interesting life Jim Clement, 19th Company, has led since graduation. For the last 20 years Jim has been traveling on cruise ships giving lectures. He reported that he has been spending about 150 days/year on such trips and clearly he knows a lot about cruising and cruise ships. So I asked Jim for some of his observations about cruising. He says the most enjoyable cruises for him are those linked to history such as cruises in the Baltic or the Med where there is lots of medieval history to enjoy. But his most interesting cruise of all was to Easter Island and Pitcairn Island. In his opinion the line with the best food is Oceania, and the one with the largest staterooms is Regent. The best entertainment is on MSC ships, the best dancing is on the Queen Marry II and the worst food is on the Fred Olsen Line cruises. One other hint. If you go to Alaska he recommends Holland America because they are grand fathered into Glacier Bay where other ships cannot go.

■ CLOSING RANKS

Richard (Dick) Abel, 17th Company, passed away on 24 July 2019 in Salt Lake City, Utah.

George Newnham, a non-grad member of '58, died on 19 August 2019.

USNA CLASS OF 1958 SHIPMATE COLUMN

OCTOBER 2019 ISSUE

■ JUSTICE ON TRIAL - Mollie Hemingway is the daughter-in-law of Bill Hemingway, 18th Company. She is a Senior Editor of the Federalist, a frequent guest on TV shows and co-author of a new book titled "Justice on Trial" the story of the Kavanaugh hearings. The book has received great reviews and is on the best seller list. Mollie has also written for a number of publications such as the Wall Street Journal, the Washington Post, The Guardian, etc and she is a Senior Journalism Fellow at Hillsdale College. The attached photo shows Mollie along with Bill's son Mark.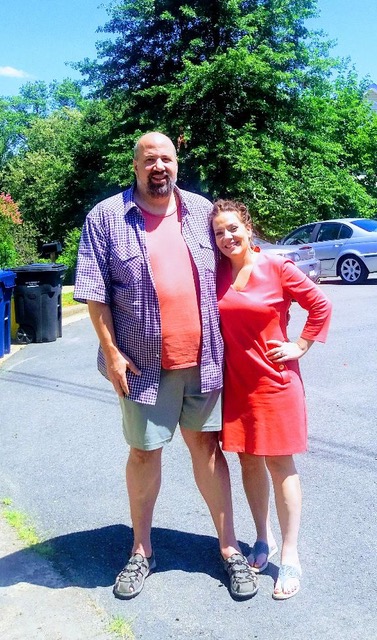 "The Hemingways"
■ NOTHING ENDURES BUT CHANGE – There are about 104 Officers working for the Commandant of Midshipmen these days or about one for every 40 Mids which seems like more than in the old days. Of that number 21 are females which for sure is more than in the old days. This latter number includes one Battalion Officer and 6 Company Officers. There are also about 43 Enlisted folks in the Exec Department including a CPO or SGT assigned to every Company which seems to me to be a really good idea. Another change is that there are Chaplins assigned to each Battalion as well as two Chaplins who are Special Assistants to the Commandant. But no Shorty.
■ THE REST OF THE STORY – Back in 1958 Zach Pate, 24th Company, was selected as one of the 10 Arleigh Burke Scholars from our Class. Being as wise as he was smart Zach obtained permission to go to sea for a period of time before going back to school for a graduate degree. So he went to sea on the USS English, earned his OOD qualification and then went off to Sub School. That was followed by duty on a couple of diesel boats and a couple of Nukes after which Zack played his Scholarship card. He went to MIT and in 3 years earned a PhD in nuclear power. Then back to sea as an XO and then Commanding Officer of the USS Sunfish. He was picked to be the PCO of the USS Ohio, a new Class of Boomers, but construction was delayed so he found himself with orders to Admiral Rickover's Staff. In 1980 Zach retired as a Captain USN and joined the Institute of Nuclear Power Operations (INPO) which had been established in the aftermath of the Three Mile Island incident. In 1984 Zach became the Chairman of INPO and would later become Chairman Emeritus. In 1997 he became the 3rd Chairman of the World Association of Nuclear Operators (WANO). Along the way Zack has been honored by being elected to the National Academy of Engineering, awarded the William S. Lee Award for Industry Leadership, the James N. Landis Medal from the American Society of Mechanical Engineers, the Henry DeWolf Smyth Nuclear Statesman Award, the Distinguished Contribution Award from the World Nuclear Association, and the WANO Nuclear Excellence Award. He has also been honored by being elected Chairman Emeritus of WANO. (If you are having trouble with your home nuclear power plant then Zach is clearly the guy to call.)
■ PARADISE REVISITED – The SF Bay Chapter held their latest luncheon at beautiful Paradise Estates instead of in San Francisco. (Not to say anything bad about San Francisco, but if you go there you probably won't find a parking spot, if you do your car will probably be broken into and you will probably step in something on the sidewalk you wished you hadn't.) But in Paradise all is well as you can see from all the smiling faces in the picture. In the picture in the top row from the left is Phil McNall, Bruce Bartels, John Davis, John Potter, John Gardner and Dave Allard. In the bottom row is Nancy Bartels, Barbara Allard, Pat Davis and Claire Barney (a guest of Phil McNall).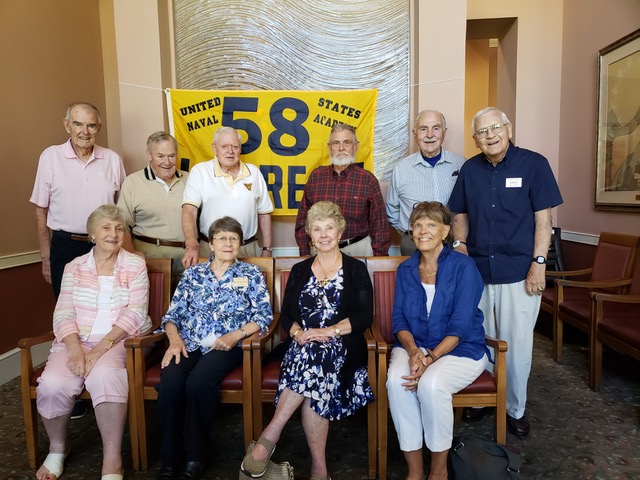 "Paradise revisited"
■ WITHOUT THE TRAINING WHEELS – 35 years ago Bruce McCandless, 19th Company made the first untethered "space walk" using a manned maneuvering unit (MMU) that he designed. Bruce was traveling at about 17,000 mph at an altitude of about 250 miles above the earth. During each of his two untethered excursions he made about 4 complete circuits around the earth.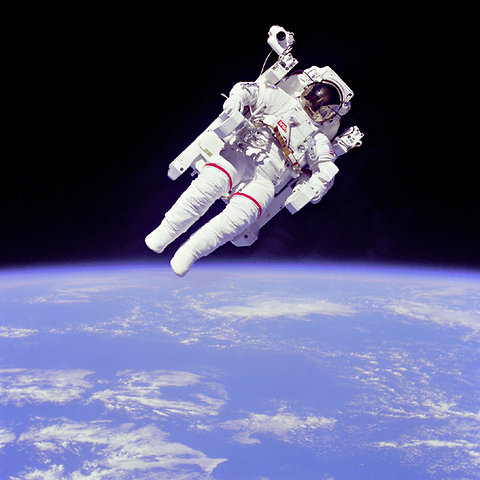 Bruce McCandless flies solo"

■ CLOSING RANKS

Beverly Hatchett, wife of John Hatchett, 12th Company, passed away on 19 July 2019.

Roxanne Kessler, wife of Ed Kessler, 15th Company, died in June 2019.

USNA CLASS OF 1958 SHIPMATE COLUMN

JULY-AUGUST 2019

■ LUNCHEON TIME – The Washington DC Chapter of the Great Class of '58 gathered for lunch in March with eleven Classmates present (Gordon Gerson, Paul Polski, Dan Bellay, Buff Walter, Harry Hurst, Whitey Edwards, John Rohrbough, Frank Gamboa, Jack Adams, Mike Giglio and Jack Nicholas) along with six spouses. Jack Nicholas, 9th Company, was the featured speaker and he spoke about the collision between the USS Nautilus (SSN-571) and the USS Essex (CVS-8).
"Jack Nicholas and Jack Adams"
■ LUNCHEON TIME (AGAIN) – Those luncheons in Washington DC must be really great because they keep having them over and over. Not satisfied with the one in March they did it again in April. Present for this one were Bruce and Terry Wilcox, Jack and Ann Adams, Tom and Kay Powell, Dan and Pat Bellay, Paul Polski, Whitey and Lois Edwards, George and Ann Ojaleheto, Frank and Linda Gamboa, Jess Hernandez, Gordon and Jane Gerson, and Mike Giglio. Bruce and Terry's son Mark was the guest speaker. Mark, a retired Naval Flight Officer, spoke about cyber security. He described the ways to detect, defend and utilize cyber techniques and some of the hardware utilized in the military today. He also discussed how cyber security impacts our every day life. Jack Adams wanted me to note that for once he is the tallest person in the picture.
"Bruce Wicox, Mark Wilcox and Jack Adams (the tall guy)"
■ LUNCHEON TIME (ONE MORE TIME) - The San Francisco area Chapter had their own luncheon in April. Those attending were (back row in photo), Bill Oliver, John Potter, Bruce Bartels, Phil McNall, Dave Allaard and Jack Brophy and in front, Judy Potter, Jeanne Brophy and Barbara Allard. The next luncheon out west is scheduled for Paradise (Estates).
"Looking good in California"
■ GREAT EIGHTS - At the most recent meeting of the Council of USNA Class Presidents a picture was taken that is worthy of our Class column. On the left is Donnie Horner the President of the Class of 2008. On the right is our own Gordon Gerson, President of the Class of 1958. And if you look closely on the wall behind them is a plaque with the names of the lettermen from the Class of 1908.
"1908, 1958, 2008"
■ THE POINDEXTER CLAN – John sent me the picture below. He noted that in his immediate family seven were/are Naval Officers and five went to USNA. The latter are John (58), his brother Chris (60), John's sons Mark (85), and Tom (92) and Chris's son Scott (84). John's son Alan, deceased as a result of a tragic accident, was commissioned after graduation from Georgia Tech. He became a Naval Aviator flying fighters, was a Naval Test Pilot and then a NASA astronaut. Alan's son Zack was commissioned out of OCS in 2013. That is a lot of Blue and Gold for one family. Is there anyone else out there in '58 land who can match that number?
John Poindexter and family"

■ CLOSING RANKS

Clyde (Skip) Schoeder, 1st Company, passed away on 22 April.

John Vick, 5th Company, died on January 2nd.

Joan Ingram, widow of Forney Ingram, 3rd Company, died on March 10th.

USNA CLASS OF 1958 SHIPMATE COLUMN

JUNE 2019

■ WASHINGTON DC CHAPTER NEWS

At the February luncheon of the DC Chapter Buff Walter, Ted Smedberg, John Rohrbough, Tom Powell, Paul Polski, Jean LeBer, Harry Hurst, Jesse Hernandez, Mike Giglio, Gordon Gerson, Frank Gamboa, Dan Bellay and Jack Adams were briefed on the Navy's latest capabilities in fixed wing ASW and area surveillance. CAPT Estenson, CDR Williamson and LCDR Williams, all from N-98, did the briefing. To save you the effort of looking it up let me explain the N-98 refers to OPNAV N98 which is the office of the Director of Air Warfare. The presentation was all the latest about Navy's P8 Poseidon and the MQ4 Triton. The P8 is the replacement for the P3 Orion which some of us had the opportunity to fly. It is a modified version of the Boeing 737, but most of us probably knew that. I'll bet fewer know about the MQ4 which is an unmanned aircraft intended to provide real-time intelligence, surveillance and reconnaissance missions over vast ocean regions. It is about 48 ft long, with a 131 ft wingspan, max speed of 357 MPH, ceiling of 60,000 ft and endurance of 30 hours. Brave new world.
"Jack Adams with the N-98 Detachment"

■ THE REST OF THE STORY

John Paul Nickerson, 19th Company, was one of our younger Classmates being only 17 when he arrived in Annapolis in 1954. With a name like John Paul it was only natural that he went Navy Line after graduation serving on the USS J.C. Owens followed by duty on the staff of DESDIV 122. That was followed by the interesting experience of being the Capsule Communicator on the USS Champlain which was a NASA Mercury recovery ship. His final Navy assignment was on the staff of Commander in Chief Atlantic Fleet. After leaving the Navy John Paul spent some time as a teacher before taking over as CEO of a family firm and then becoming a partner in two international management consulting firms. At the Naval Academy he had been the head of the drama club which led to a lifetime love of acting. In semi-retirement he was really able to indulge that love. He appeared on Broadway in "Heartland" and had small roles in the films "The Verdict", "Legal Eagles" and "Power". He also made commercials and acted in the daytime dramas "All My Children" and "One Life to Live". He also had a recurring role as an attorney on "Ryan's Hope". Even while juggling all these activities he took training in NYC and courses at Harvard and was certified as an Addiction Specialist. He would go on to co-found Pathways To Freedom which is a charitable institute for public education about addiction. In his spare time hie also wrote several novellas and stories. His creed was "Don't give up the ship".

■ MORE ABOUT SHORTY

In the March 2019 issue I wrote about BMC John Metzger, better know to us as Shorty when we were Midshipmen. Two readers wrote me with more information about Shorty Metzger. Alex Morris from the Class of 1956 passed on that his father and Shorty grew up together as buddies in New York City orphanages. Years later they would reunite in 1938 when Alex's father joined the Naval Academy Band. You can read about LCDR Alexander Morris by going to the USNA Band web site. Click on History and then click on Alexander Morris. He was the Bandleader when we were plebes and retired from the Navy in 1955 with over 47 years service. The attached picture shows both Shorty and Alexander Morris with other boys at the St. Phillips Home for Industrious Boys orphanage in New York in 1908. Shorty is at the far right in the front row. He would go on to enlist in the Navy that year. Alexander is 4th from the left in the 2nd row. He had joined the Navy two years prior and is in a Marine uniform because at that time members of Navy bands wore that uniform.
"St. Phillips Home for Industrious Boys, 1908"

The other reader who contacted me was our Classmate Kent Lawrence, 16th Company. Kent recalls Shorty giving the following words of wisdom when we were plebes. "Don't never be first, don't never be last and don't never, ever volunteer for nothing, No How".

■ CLOSING RANKS

John Bruce Bradley, 16th Company passed away on 26 February 2019

Stephen Wawak, 8th Company died on 18 March 2019

William Keith Young, 18th Company passed on 8 March 2019

John Paul Nickerson, 19th Company died on 15 February 2019

APRIL-MAY 2019

■ WHO SAYS 83 IS TOO OLD? - Harvey Cameron, 18th Company sent in a picture of himself on the slopes in Park City CO last February where he had a great time skiing. So remember whether you are skiing, paragliding, etc that as Thomas Moore once said: "Go where glory waits thee! But while fame elates thee, Oh, still remember me!"
"Harvey flies the '58 flag on the slopes of Park City"

■ REST OF THE STORY – Frank (Mick) O'Beirne, 23rd Company was a Pearl Harbor survivor although he was only 5 years old. His father was the Commanding Officer of VP-22 so it is a safe bet the family was living on Ford Island. Mick's father, who was a USNA graduate with the Class of 1926, went on to rise to the rank of VADM. Unlike his father, Mick elected to go into submarines after an initial tour of duty on the USS William Wood (DD715). He would go on to spend most of the next 15 years on ballistic missile submarines with tours on the USS Thomas Edison, and USS Kamehameha, XO tours on USS Patrick Henry and USS Von Steuben and as Commanding Officer of the USS George Washington Carver. Further assignments would include tours at the Pentagon including on the Staff of the Secretary of Defense. Along the way Mick was also the first Commanding Officer of the Kings Bay Georgia Submarine Base. After retirement Mick settled down in Groton Ct. where he served on the town council for about 19 years including a tour as Mayor. Always a proponent for the silent service Mick played a major role in saving the New London Submarine Base from closure in the 2005 BRAC cycle.

■ CLASS RINGS II – In the January 2019 issue I wrote about the story of our Class Rings and I asked if anyone remembered how much we paid for the rings. Well, Mike McLane, 6th Company did remember and reported that we paid $99. He remembers because he had won a $100 bond as a prize in the National Spelling Bee contest and he cashed the bond to pay for the ring.

■ "WHEN TWO OR THREE GET TOGETHER . . ." - The 58ers in San Diego gathered in December to plan on how Navy will beat Army in 2019, to celebrate the engagement of Dick Cordova, 17th Company to Alethea Allen, to remember the wonderful 60th reunion and to brag about the accomplishments of children and grandchildren. Pictured below are standing (L-R) Dick Cordova, Alethea Allen, Pete Hekman, Tom Fleming, Marty McCullough, Chuck Smith, Dick Hanson, Sonja Hanson Class of '99, John Washburn, Madelyn Fenick, Joe Fenick and Dick Lawe. Seated (L-R) are Tamara Smith, Doree Hekman, Ann Skiles, Al Skiles, Jan Cook, Lore Cook and Claudette Harshberger.
"San Diego Chapter Luncheon"

■ CLOSING RANKS

John Granville, 10th Company died on 23 February 2019.

William (Will) Park, 9th Company passed on 19 December 2018

Percy (Pat) Beard, 9th Company died on 23 December 2018

James (J.C.) Wright, 8th Company passed away on 19 February 2019

John Vick, 5th Company died on 2 January 2019

Frank (Mick) O'Beirne, 23 Company died on February 4th 2019

Leo Wright, 1st Company died on February 8th 2019

Barbara McKee the wife of Wayne McKee, 12th Company passed on 2 December 2018

Karen Anderson the widow of David Anderson, 22nd Company passed on 2 February 2019