Shipmate 2018-2019
USNA CLASS OF 1958 SHIPMATE COLUMN
APRIL-MAY 2019
■ WHO SAYS 83 IS TOO OLD? - Harvey Cameron, 18th Company sent in a picture of himself on the slopes in Park City CO last February where he had a great time skiing. So remember whether you are skiing, paragliding, etc that as Thomas Moore once said: "Go where glory waits thee! But while fame elates thee, Oh, still remember me!"
"Harvey flies the '58 flag on the slopes of Park City"

■ REST OF THE STORY – Frank (Mick) O'Beirne, 23rd Company was a Pearl Harbor survivor although he was only 5 years old. His father was the Commanding Officer of VP-22 so it is a safe bet the family was living on Ford Island. Mick's father, who was a USNA graduate with the Class of 1926, went on to rise to the rank of VADM. Unlike his father, Mick elected to go into submarines after an initial tour of duty on the USS William Wood (DD715). He would go on to spend most of the next 15 years on ballistic missile submarines with tours on the USS Thomas Edison, and USS Kamehameha, XO tours on USS Patrick Henry and USS Von Steuben and as Commanding Officer of the USS George Washington Carver. Further assignments would include tours at the Pentagon including on the Staff of the Secretary of Defense. Along the way Mick was also the first Commanding Officer of the Kings Bay Georgia Submarine Base. After retirement Mick settled down in Groton Ct. where he served on the town council for about 19 years including a tour as Mayor. Always a proponent for the silent service Mick played a major role in saving the New London Submarine Base from closure in the 2005 BRAC cycle.

■ CLASS RINGS II – In the January 2019 issue I wrote about the story of our Class Rings and I asked if anyone remembered how much we paid for the rings. Well, Mike McLane, 6th Company did remember and reported that we paid $99. He remembers because he had won a $100 bond as a prize in the National Spelling Bee contest and he cashed the bond to pay for the ring.

■ "WHEN TWO OR THREE GET TOGETHER . . ." - The 58ers in San Diego gathered in December to plan on how Navy will beat Army in 2019, to celebrate the engagement of Dick Cordova, 17th Company to Alethea Allen, to remember the wonderful 60th reunion and to brag about the accomplishments of children and grandchildren. Pictured below are standing (L-R) Dick Cordova, Alethea Allen, Pete Hekman, Tom Fleming, Marty McCullough, Chuck Smith, Dick Hanson, Sonja Hanson Class of '99, John Washburn, Madelyn Fenick, Joe Fenick and Dick Lawe. Seated (L-R) are Tamara Smith, Doree Hekman, Ann Skiles, Al Skiles, Jan Cook, Lore Cook and Claudette Harshberger.
"San Diego Chapter Luncheon"

■ CLOSING RANKS

John Granville, 10th Company died on 23 February 2019.

William (Will) Park, 9th Company passed on 19 December 2018

Percy (Pat) Beard, 9th Company died on 23 December 2018

James (J.C.) Wright, 8th Company passed away on 19 February 2019

John Vick, 5th Company died on 2 January 2019

Frank (Mick) O'Beirne, 23 Company died on February 4th 2019

Leo Wright, 1st Company died on February 8th 2019

Barbara McKee the wife of Wayne McKee, 12th Company passed on 2 December 2018

Karen Anderson the widow of David Anderson, 22nd Company passed on 2 February 2019

USNA CLASS OF 1958 SHIPMATE COLUMN

MARCH 2019 ISSUE

■ ARMY AND NAVY

A nice Classes of '58 tradition in Washington DC is for the a joint November luncheon for members of the USNA Class of '58 and the USMA Class of '58. And so it came to pass last November when 27 Navy '58 Classmates and wives and 31 Army '58 Classmates and wives came together in anticipation of the GAME. Pictured are Harry Hurst, USNA '58 and Brad Johnson USMA '58.
"Harry Hurst and Brad Johnson"

■ SAN DIEGO

At the November USNA Alumni luncheon the Class of 58 was represented by John Washbum, Chuck Smith and Marty McCullough.
"Class of '58 in San Diego"

■ THE REST OF THE STORY

How many remember the name John Metzger? Probably not many, but let me ask the question this way. How many remember Chief Shorty? Well, they are one and the same. John Metzger was born in New York City in 1892. He was an orphan at age 12 and enlisted in the Navy in 1909 at the age of 17. He went on to serve on 11 different ships and in 1928 was stationed at the Naval Academy as an instructor in the Department of Seamanship and Navigation where we all came to know him. Chief Shorty went on to teach seamanship to Midshipmen from 1928 to 1958 before retiring the same year we graduated. In his honor the Enlisted Quarters building at the Annapolis Naval Station was named "Metzger Hall".

Chief Shorty taught us more than how to tie knots. He also taught us about life in the Navy in ways that were not taught in the classroom. An example of his wisdom went like this: "Remember that when you graduate, you become a leader. Men will be looking up to you by the example you set. Your example will mold other men's lives."

BMC John J. Metzger died in 1976 at the age of 84.

■ CLOSING RANKS

Peter Corr, 14th Company died on 24 November 2018.

Ronald Charrier, 4th Company passed away on 26 November 2018.

Mac Baldwin, 18th Company died on 3 December 2018.

USNA CLASS OF 1958 SHIPMATE COLUMN FOR

■ REUNION AFTER ACTION REPORT

As I write this column it is late November, a little more than a month after our 60th Reunion. I think it is fair to say it was a wonderful event thanks, in large part, to the hard work of many of our Classmates who live in the Washington DC/Annapolis area. Well done to you all.

At last count we had 223 Classmates attending which is just about 25% of our graduating Class (899), and that it is a very high turnout for any Class at a 60th. The average per Company was a smidgen more than 9/Company and the Company with the highest turnout was the 17th with 18.

■ CLASS RINGS

This falls into that category of things that "I didn't know that" or if I did "I don't remember that". It seems our '58 Class rings were made by Jostens Jewelers and they came with a lifetime warranty. That means Jostens will replace any synthetic stone, resize a ring, polish and/or refinish a ring all without charge. If you really mess up your ring like dropping it into a garbage disposal that is running (and I was told this has happened), they will take what is left, melt it down and recast it, all for $70. That would also apply if your ring is really worn and you want it to look new again. If you have lost your ring and want another one they will be happy to sell one to you for $1258. Which raises the question, how much did we pay for our rings back in 1958?

■ WEST COAST TOGETHERNESS

It seems that some of our Classmates from the West Coast had so much fun seeing other Classmates at the Reunion that they could hardly wait to get back home to get together again. Just a couple of days after the reunion, on October 24th, there was a Class of '58 luncheon in San Ramon, CA. In the picture, from left to right, are Jeanne Brophy, Jack Brophy, Claire Barney (guest of Phil), Phil McNall, John Potter, John Gardner, Bruce Bartels and Nancy Bartels.

Picture # 1
"CLASS OF '58 LUNCHEON AT THE BRASS DOOR IN SAN RAMON"
■ EAST COAST TOGETHERNESS
Our Class of '58 Washington DC Chapter decided to gather before the Reunion (sort of a practice session for the BIG 60 I assume). Those Classmates present were Buff Walter, Fred Victor, John Rohrbough, Tom Powell, Charlie Pinkham, George Ojaleto, Eric Mansfield, Rupe McLean, Jean LeBer, Taylor Keith, Harry Hurst, Marty Hill, Mike Giglio, Gordon Gerson, Frank Gamboa, Whitey Edwards, Terry Cooper, Dan Bellay and Jack Adams along with twelve wives. The speaker was Dr. Chris Erble, a Professor of Ethics in the USNA Leadership Department. He spoke about the methods used to instill ethical behavior in a generation of young people whose backgrounds are quite different than ours were at their age.
"DR. ERBLE AND JACK ADAMS"
■ THE REST OF THE STORY
For Jim Fredericksen, 10th Company, June 4th 1958 was a bittersweet day. He graduated with the Class of '58, but because he had failed the commissioning physical he left Annapolis as a civilian. Instead of living his dream as a Naval Officer he set sail on uncharted waters. He went to work as a plant engineer with Union Carbide in Texas, but started a campaign to reverse BuMed's decision and obtain a commission. He obtained rebuttal diagnosis from several highly respected doctors, wrote many letters to his Congressman, and Senators and even to the President but all without any success. Finally, with the help of several retired Admirals he obtained an interview with Admiral Warden, Commandant of the 8th naval District in New Orleans. With the Admiral's help BuMed relented and approved Jim for a Reserve Commission which he obtained in November 1960. Because it had been two years since graduation a decision was made to send Jim to OCS. He has the unique distinctions of being the only Academy graduate to also be a graduate of OCS and the only student at OCS to attend as an Ensign. Finally, it was off to sea as a Naval Officer on USS DuPont, then DASH school and to sea again on USS Wilson. In 1964 Jim was approved by BuPers for transfer to the regular Navy, but BuMed again interfered and refused to approve that appointment. So in 1966 Jim returned to civilian life, but he remained in the Naval Reserve for 20 years. Jim went back to Union Carbide, but then founded his own marine service company and offshore barge construction and repair company. He would later sell his marine business and take a position as an International Project Manager and International Business Development Manager which led to assignments in Curacao, Venezuela, Thailand and South Africa as well as short term assignments in 21 other countries. Jim and his wife now live in a retirement community near Houston and he sent along a picture of himself and some of his friends to show that life does not have to be dull even if you are retired.
"JIM FREDICKSON AND FRIENDS"

■ NOTHING ENDURES BUT CHANGE

When we were Midshipmen the base pay for an Ensign was $222/month and we received 50% of that or $111/month. As I recall we received a brand new $2 bill each month for spending money when we were plebes. But, how things change. A Midshipman now receives $1087.80 a month which is 35% of the pay for an Ensign. Moreover, a plebe receives $100/month in spending money while a 3/C receives $200 and a 2/C gets $300. 1/C have full access to their monthly pay after the Academy has deducted for expenses such as uniforms, tailor shop, etc. The idea being that the 1/C will learn to manage their money and be better prepared for life after the Academy.

■ CLOSING RANKS

Newton "Chip" Buerger, 3rd Company passed away on October 10th 2018.

Charles "Chuck" Medlock, 7th Company died on 18 November 2018.

Dan Demand, 17th Company passed on 21 September 2018.

Albert "Phil" Simpson, 19th Company, died on 23 September 2018.

Tom Sinnott, 21st Company, died on November 11th 2018.

Dennis Davis, non-grad, passed away on October 4th 2018.

USNA CLASS OF 1958 SHIPMATE COLUMN

NOVEMBER-DECEMBER 2018

■ TIME MARCHES ON

Our 60th Reunion has come and gone. We saw old friends and Classmates again and spoke of the old days which just don't seem that long ago. An author named Judy Blume once wrote about friendships and the passing of time and I want to share her thoughts because I think they speak to the heart of the bonds that bind us.

WE ARE FRIENDS FOR LIFE. WHEN WE'RE TOGETHER THE YEARS FALL AWAY. ISN'T THAT WHAT MATTERS? TO HAVE SOMEONE WHO CAN REMEMBER WITH YOU? TO HAVE SOMEONE WHO REMEMBERS HOW FAR YOU'VE COME?

■ THE CHARLES R. LARSON ETHICAL LEADERSHIP AWARD

Each year our Class awards an Ethical Leadership Award to honor the memory of Chuck. This year the award went to Captain Owen Thorp USN (ret). Captain Thorp graduated from the Academy with the class of 1977. He returned to Navy to teach Mechanical and Systems Engineering and served as the academic representative for the Navy men's Lacrosse team for 20 years. He was beloved by both his students and Navy Lacrosse team members throughout his career and was an inspiration to many. Captain Thorp passed away in 2017 and the Award was accepted by his widow Kathy Thorp. In the picture below Fred Victor, Harry Hurst and Gordon Gerson, our Class President, present the Award to Mrs. Thorp.
■ WASHINGTON DC CHAPTER AUGUST LUNCHEON
Harry Hurst 7th, was back in the spotlight as the speaker at the August luncheon of the D.C. Chapter. He spoke about the Navy football team's prospects for 2018 and the key players. He also covered recent changes in the training routine for the players as well as recent NCAA rule changes. Gordon Gerson also discussed the plans for the John McCain memorial at the Academy and the 60th reunion. Attending, along with 11 wives, were Ralph Carestia 20th, Jack Adams 4th, Buff Walter 11th, Dan Bellay 7th, Fred Victor 11th, Whitey Edwards 17th, Ted Smedberg 19th, Frank Gamboa 17th, John Rohbough 8th, Gordon Gerson 11th, Tom Powell 13th, Scotty Gibbons 19th, Paul Polski 2nd, Jess Hernandez 3rd, Eric Mansfield 17th, Harry Hurst 7th, Jean LeBer 15th, Taylor Keith 19th and Ed Kessler 15th.
"Jack Adams and Harry Hurst"

■ GOURMET MEAL, ELEGANT LOCATION! IT MUST BE CALIFORNIA.

The San Francisco Bay Area Chapter mustered for their July luncheon at the elegant Paradise Valley Estates and enjoyed a gourmet meal. Present and accounted for in the picture below were: Top Row – Bruce Bartels 7th, Keith Featherston 8th, John Potter 19th, Jack MacKinnon 9th, Phil McNall 15th, John Gardner 10th and Dave Allard 7th. And Bottom Row – Barbara Allard, Nancy Bartels, Jude Potter and Mary Beth Hodge (guest of Jack MacKinnon).
■ THE REST OF THE STORY

When we arrived at the Academy 64+ years ago we were introduced to many things new things such as ice cream for breakfast. We were also introduced to new sports at least some of which, we were told, we could play in later life. One of those sports was SQUASH. Not sure how many of us went on to play and excel at squash in our later years, but at least one Classmate did and that was/is Glen Smiley 5th Company. Glen had never seen a squash racquet before coming to Annapolis and thought squash was something you ate, but in quick order he was on the Plebe squash team, then came the JV team and the Varsity team 1/c year. Years later (ca 1980) he joined an athletic club in Boulder and they had a squash court. Glen took up the sport again and by 1985 he was competing at the National Squash Tournament with the 50+ guys. A few years later he was ranked in the top tem nationally in his age group and that led to competing in international tournaments. He has played in tournaments all over the U.S. and in England, Canada, Thailand, Mexico and Aruba. In 2017 he came in 2nd in the U.S. National Doubles Squash Racquet Tournament, 80+ age group. In the picture Glen is 2nd from the left.
"Glen Smiley"

■ CLOSING RANKS

Richard "Dick" Farnan, 20th, passed away on September 1st 2018.

Art Bennett, 22nd, died on 24 August 2018.

Tom Pratt, 4th, died on the 10th of June 2018> (It was the result of a golf cart accident which I think is worth noting)

ill Meisel, 12th , passed away (no date given)

Mike Lyons, 2nd, died on the 10th of August 2018.

JoAllen Phillips, the wife of Jack Phillips, 6th, passed away on 25 June 2017. (we just received notification.)

Paula Luders, the wife of Ernie Luders, 3rd, died on 24 August 2018.

John McCain, 17th died on 26 August 2018. (see the profile of John adjacent to our Class column)
"John McCain in 1958"
PROFILE OF JOHN McCAIN FOR THE
NOV-DEC ISSUE OF SHIPMATE
THE MEMORIAL SERVICES FOR SENATOR JOHN SIDNEY McCAIN III, AN AMERICAN HERO AND STATESMAN
Senator John Sidney McCain III, U.S. Naval Academy Class of 1958, USNA Distinguished Graduate, retired Navy Captain, former Congressman and Republican candidate for President in 2008, died on 25 August 2018. His body lay in state in the Arizona State Capital on his birthday, Wednesday the 29th of August. The following day he was memorialized in a church service in Phoenix AZ. That afternoon the McCain family escorted him on a flight to Washington D.C.
On the morning of Friday August 31st at 1000 a Congressional ceremony placed the coffin in the Capitol rotunda to lay in state for public viewing until that evening. Senator McCain was only the 31st person so honored. On Saturday afternoon the funeral cortege departed the Capital and stopped at the Vietnam Memorial where Cindy McCain placed a floral wreath in honor of her husband. The cortege then proceeded to the National Cathedral for a memorial service.
On Sunday the 2nd of September the funeral cortege arrived at the U.S. Naval Academy Chapel. Midshipmen of the Brigade accompanied the McCain family and guests into the chapel. John was honored by the presence of 106 USNA 1958 Classmates and their wives and guests. Tributes were delivered by Senator Lindsey Graham, General David Petraeus USA (ret) and Lt. John S. McCain IV USN. The chapel altar area was decorated with two floral wreaths from the USNA Class of 1958 and the West Point Class of 1958.
After the memorial service, a Navy Honor Guard carried the coffin out of the chapel and placed it on an Army horse-drawn caisson. The Brigade of Midshipmen lined both sides of the streets from the chapel to the cemetery, saluting as the caisson passed.
John's wife Cindy, the rest of the McCain family and their friends were escorted on their three-quarter mile walk to the cemetery by a cortege of seventeen honorary pallbearers that included John and Cindy's sons and daughters, the Secretary of Defense, the CNO, two former Vietnam POWs, a Senate staff member and John's Naval Academy roommate Captain Frank Gamboa, USN (ret).
The interment ceremony began with a fighter aircraft missing-man formation flyover and included a 19 gun salute, three rifle volleys from the honor guard and a playing of Taps. The Secretary of Defense presented Cindy McCain with the American flag that had been draped over the coffin. The Secretary also presented an American flag to John's mother, 106 year old Roberta McCain who was in attendance.
Insert photo # 2
USNA CLASS OF 1958 SHIPMATE COLUMN

OCTOBER 2018

■ THE 60TH – This issue of Shipmate should be showing up in our mailboxes just days before our 60th reunion so allow me a little reflection. The bonds that are created between Classmates at the Naval Academy are unique in the sense that they are reflected in friendships that last a lifetime and memories that never fade. GO NAVY! GO '58!

■ WASHINGTON DC CHAPTER LUNCHEON – On 28 June our Classmates of the DC Chapter gathered for one of their regular luncheons. The guest speaker was Mr. Aaron Baltimore, a historical restoration architect who directed the restoration of Building 20 at Fort McNair to it's 1865 condition. This building is important from a historical perspective because five of the conspirators involved in the assassination of President Lincoln were tried there and hung in the courtyard. Present for the luncheon were Buff Walter, Tom Powell, Paul Polski, Charlie Pinkham, Jack Nicholas, Jess Hernandez, Gordon Gerson, Frank Gamboa, Dan Bellay and Jack Adams along with a number of wives.
JACK ADAMS, AARON BALTIMORE AND JACK NICHOLAS

■ THE REST OF THE STORY - Have you ever wondered how many of our Classmates are descended from ancestors who fought in the Revolutionary War? I know of two, but there must be others and if you are one of them you need to contact Bruce Wilcox, 12th Company. Bruce went Navy Air after graduation and flew in several Patrol Plane Squadrons. He also went to the NPS and earned an MS degree, had a tour teaching at the Academy and a subsequent tour in Korea. His Navy career ended at the Naval Air Systems Command which opened the door for career number two with jobs as an operations analyst and program support consultant with contractors in the Washington DC area. Along the way he and his wife Terry became interested in learning about their ancestors and discovered that three of Bruce's had fought in the Revolutionary War. In due course Bruce joined the Sons of the American Revolution (SAR) and rose through the ranks to become the President General of the organization which at the time had about 50,000 members worldwide. During his time as the leader of SAR he led the effort to build a new headquarters for SAR in Louisville complete with a library, museum, genealogical department, business offices, etc. As a former President General Bruce is still very active in the SAR. (The other Classmate I know of who is a member of SAR is John McCain)
JOHN MCCAIN AND BRUCE WILCOX

Another interesting story is that of Jim Clement, 19th Company, who went Navy Line and served on a variety of ships. These included the USS Soley DD-707, USS Rochester CA-124, USS Char SS-328,USS Silversides SS-236 and USS Owl SS-405. All that sea duty gave Jim a chance to see a lot of the world, but that was only the beginning. After leaving the Navy and getting an MBA Jim went to work for the CALTEX Oil Co. in Singapore and Saigon. Next was a job with Carrier Refrigeration Co. with assignments in Australia, Japan, Mexico and France. Then Mack Trucks posted Jim to Peru and Bosnia. Jim next joined the U.S. Foreign Service and served as a Commercial Attaché in U.S. Embassies in Ecuador, Guatemala and Mexico. After all this hard work Jim decided he would like to do some traveling so for the last 20 years he has been a lecturer on Cruise ships spending about 150 days a year traveling first class around the world. Jim may very well hold the Class records for both days at sea and foreign countries visited.

■ NOTHING ENDURES BUT CHANGE – I know all of us really enjoyed the formations and marching when we were Midshipmen, but sadly those days are no more. No more marching to classes and no more marching to Chapel on Sundays. But how about those meal formations? Well change has taken place there as well so let me explain. Monday through Saturday the Midshipmen attend Morning Quarters which is a Company activity. 1/c and 2/c only have to attend Monday to Friday while the 3/c and 4/c also have Quarters on Saturday mornings. There is no Quarters on Sunday. Breakfast after Quarters is mandatory, but is optional on Sundays. For noon meals Monday to Saturday they still have Brigade Formations that we would recognize. Mandatory for all Classes Monday through Friday and optional for 1/c and 2/c on Saturdays unless they have the duty. Noon meal mandatory for all hands attending noon meal formations except on Saturdays. The only formation on Sunday is at the end of liberty and other than that there are no evening meal formations during the week. (I found all this out by speaking with a Midshipman on duty at the Bancroft Hall main office. As always it is the Mids who know what is going on at the Academy and that is one thing that has not changed)

■ CLOSING RANKS

Bill Meisel of the 12th Company died on the 26th of June 2018.

Bob Rowe from 6th Company passed away on July 8th 2018.

Liticia Russ, the wife of Carl Russ 4th Company, passed on 5 July 2018.

Thomas McMahon died on 30 June 2018 and Fred Budd died on 13 April. Both were Classmates but did not graduate with the Class.

USNA CLASS OF 1958 SHIPMATE COLUMN

JULY-AUGUST 2018 ISSUE

■ LUNCHEON REPORT #1 – The Washington DC Chapter reported on their March 2018 luncheon. Classmates attending were Bruce Wilcox, Buff Walter, Charlie Pinkham, Paul Polski, Bill Misel, Rupe MacLean, Jean LeBer, Dan Haney, Mike Giglio, Gordon Gerson, Frank Gamboa, Dan Bellay, Bob Caldwell, Jack Adams, 8 wives and RADM Alan Baker the guest speaker. RADM Baker spoke of his work at the Stockdale Center for Ethical Leadership to show faculty, coaches and staff that they are instrumental in developing leadership skills of the Midshipmen. Sadly, our Classmate Bob Caldwell collapsed and died as he was leaving the luncheon.
FRANK GAMBOA, RADM BAKER AND JACK ADAMS

■ LUNCHEON REPORT #2 – The Washington DC Chapter also reported on their April luncheon. Present were Wilcox, Walter, Swope, Rohrbough, Powell, Polski, Pinkham, Nichols, Misel, Mansfield, LeBer, Hernandez, Giglio Gerson, Gamboa, Edwards, Bellay, and Adams. (note how cleverly the DC Chapter lists those attending in reverse alphabetically order, hmmm) Also attending were 9 wives, 2 guests and RADM John Nagley the guest speaker. RADM Nagley is the Program Executive Officer for small ship and unmanned vehicle development.
RADM NAGLEY AND JACK ADAMS
■ LUNCHEON REPORT #3 – Out west the San Francisco Bay Area '58 Chapter held their April luncheon in Mill Valley on the shores of San Francisco Bay at the Lighthouse restaurant. Those present were Keith and Dianne Featherston, Dave and Barbara Allard, Jack and Jeannie Brophy, Phil McNall and Claire Barney, Bill and Virginia Oliver, Bruce Bartels and John and Jude Potter.
SFBA '58 DINING IN MILL VALLEY

■ HILTON HEAD – Every year there is a group of '58ers who gather at Hilton Head for golf, story telling and good friendship. In the photo seated L-R are Pete Westphal 1st, and Bob Mason 9th, and standing are Lee Polhill 19th (non-grad), Tom Grimm 3rd, Bill Pendley 3rd and George Stubbs 17th.
HILTON HEAD GOLFERS AT REST
■ THE REST OF THE STORY – In the March 2018 issue of Shipmate I reported on what happened to Carlito Cunanan who was from the Philippines and I asked if anyone knew about the other 4 Classmates who were foreign nationals. Turns out Buff Walter, 11th Company wrote to tell me about a visit he and his wife had with Guillermo (Zeke) Zariquiey 4th Company who was from Peru. In 1999 Buff and his wife Joyce were embarked on a round the world trip by ship. As it turned out one of the stops on their trip was Lima Peru. Zeke and his wife Matti picked the Walters up at the pier and gave them a great tour of the city, a visit to their home and a night out with great food, music and dance. This was a time of the Shining Path terrorists in Peru and Zeke being a Vice Admiral in the Peruvian Navy was a target. They had to have guards take their kids to school and special guards around the home. Matti had even had her car blown up one time when she was shopping, but she was not hurt. Zeke is deceased now and at last report Matti is living in Maryland.
■ AND THE REST OF ANOTHER STORY – George Myers 16th Company wrote about what is happening in his life and his contacts with Classmates. Last summer George, who is a widower, moved from Camano Island, Washington (near NAS Whidbey) to Cambridge, MA to be near his 4 daughters and 13 grandchildren who live in MA and CT. It was a long ride, but after arriving in MA he was able to spend time with Classmates living in MA including Kent and Erna Lawrence 16th, Dirck Stryker 13th, and Brad Stumcke 15th and also see Lou Shane 16th who lives in Portland, ME. George was especially grateful for the help of Kent and Erna and the other Classmates who made the transition as smooth as it was. He is happy to be near his family, but not so happy with the winter weather in the Boston area. (note: When you hear the saying "every cloud has a silver liining" remember that sometimes the silver being referred to is ice and snow). One other note from George. When he read "The Rest of the Story" article about Carlito Cunanan he recalled his experiences boxing against Carlito 3 times in Battalion competition and being beaten soundly all 3 times.
■ COMPANY REUNIONS – In an earlier Shipmate I commented on Company reunions and noted how many the 13th Company has had. Turns out other Companies have also been busy with reunions and of special note is the 10th Company. They have been getting together pretty much every year since 2002 except when there is a Class reunion. 12 gatherings in all. Each time a different person or persons takes on the job of doing the organizing and each time it is at a different location. Williamsburg and Yorktown one year and Nags Head the next. The Oregon Coast, the Maine Coast, Colorado Springs, Key West, Monterey, Virginia Beach, San Antonio, Alexandria, Charlottesville and a Great Lakes Cruise. Is 58 Great or what?
■ NOTHING ENDURES BUT CHANGE – How will the Class of 2019 pick where they will go after graduation? Like many aspects of life at the Academy the system of making service choices has changed since when we were 1/c Midshipmen. In the fall of 2018, about the time we are gathering in Annapolis for our 60th, the Class of 2019 will be asked to list their choice of service. By that I mean Naval Air, Surface Line, Marine Corps, etc. They will list up to 5 choices in order of preference. Then there will be interviews, physical exams, etc and near the end of the year they will be told where they will be going. About 90% or more will get their first choice. Then in early 2019 the different groups will be assembled for the next step in the process. All of the Class going Surface Line will be gathered and they will get to pick which Ship they want. The order of choosing will be based on Class standing. Likewise those going Naval Air will be assembled to get to choose which date they want for reporting to flight training and again the order of choosing will be based on Class standing. And so it will go with the other groups picking dates for starting schools. One thing, however, has not changed. As always the "needs of the service" goes first!
■ CLOSING RANKS
Bob Caldwell 18th Company, passed away in March 2018
USNA CLASS OF 1958 SHIPMATE COLUMN
APRIL-MAY 2018 ISSUE
■ DGA – The Naval Academy Alumni Association each year names one or more Distinguished Graduates. The Class of 1958 has had five of the Class receive this award. They are ADM Chuck Larson, RADM Ben Montoya, LTGEN Terry Cooper, Captain Bruce McCandless and our most recent recipient, Senator John McCain. John became a Naval Aviator after graduation and in October of 1967 he was shot down while on a bombing mission over Hanoi. He remained a POW until March of 1973. He went on to Command a Training Squadron serve as a Naval liaison to the U.S. Senate. He retired from the Navy in 1981 as a Captain and in 1982 he was elected to the U.S. House of Representatives as a Congressman from Arizona. In 1986 he was elected as a U.S. Senator from Arizona.
■ ONWARD AND UPWARD IN PERU - Gordon Gerson, our Class President, and his family went to Peru for a visit. From the seashore to the peaks of the Andes they had a very enjoyable vacation including a visit to Machu Picchu at an elevation of about 8500 feet. For what is probably the first and last time the 58 IS GREAT flag flew over Machu Picchu. Turns out Gordo found out flying a flag is illegal there, but it is not clear if that is for all flags or just for the '58 Flag
"58 IS GREAT FLYING OVER MACHU PICHU"
■ 13TH COMPANY REUNION – Last November the 13th Company held their annual reunion in San Antonio, Texas. Attending were Dirck Stryker, Tom and Kay Powell, Dick and Nancy Tennent, Jim Patterson, Jim and Carol Hoch and Joe and Evie Mansfield. Their busy schedule included visits to the Alamo, the LBJ Ranch, a number of old Spanish Missions and the National Museum of the Pacific War in the hometown of Chester Nimitz as well as a barge trip on the San Antonio River. Clearly the 13th is the most reunioned of our Companies.
Caption - "THE 13TH REMEMBERING THE ALAMO"
■ LUNCHEON ON THE LEFT COAST - The Central California, San Francisco Bay Area Chapter, otherwise known as the CCSFBA, gathered for lunch at the Brass Door in San Ramon for their January luncheon. Present and accounted for were Jack MacKinnon, Jack Brophy, Dave Allard, Bruce Bartels, John Potter and Phil McNall (in the back row of the photo) and Mary Beth Hodge (guest of Jack MacKinnon), Jeannie Brophy, Nancy Bartels and Jude Potter (in the front row).
Caption - "THE CCSFBA LUNCHEON AT THE BRASS DOOR"
■ LUNCHEON ON THE OTHER COAST - At the January meeting of the Washington D.C. Chapter the guest speaker was Captain T.J. Grady, the Deputy Commandant of Midshipmen. Captain Grady outlined the reasons why the USNA is ranked as the #1 public university, #4 STEM university, and in the top 20 of all universities in the nation. He also discussed the Class of 2018 community selection process where 92.7% of the class received their 1st choice. Fifteen Classmates and ten ladies were in attendance.
Caption: "CAPT. GRADY AND JACK ADAMS"
THE REST OF THE STORY - Put your hand in a bucket of water and swirl it around then take your hand out and the water will look as it was before you stirred it up. So it is with our lives. Some of us pass through this life and do great things, but after we pass on, the world is as it was before. But some of us accomplish lasting efforts and so it was with Greg Streeter from the 1st Company. Greg had a distinguished career in the Navy. He commanded 2 Destroyers and 2 Destroyer Squadrons before he retired as a Captain. He moved on into the business world, but he also joined the Naval Order of the United States. In due course he rose to be the Commander General of the Naval Order from 2009 to 2011. In 2003 at a dinner of the Naval Order Greg heard a speaker comment that there were some 100 memorials to Army and allied units in Normandy the site of D-Day during WWII. Although 1/6 of all the U.S. casualties during the invasion there was no memorial dedicated to the U.S. Navy. From that day Greg worked to see that a proper Monument to the Navy was established in Normandy and so it came to pass. Five years later and at a cost of over $500,000 the Monument was dedicated. Greg's work to create this memorial shows all of us that one man's devotion can create a lasting result.
"THE U.S. NAVY D-DAY MEMORIAL IN NORMANDY FRANCE"
■ CLOSING RANKS
Sam Parker, 11th Company died on the 11th of November 2017
Bruce McCandless, 19th Company passed away on 19 December 2017
Ernie Pyle, 10th Company passed on 10 February 2018
Judy Myers, wife of George Myers, 16th Company passed away
JANUARY-FEBRUARY 2018 ISSUE
■ CLASS OF 1958 LEADERSHIP AWARD
The Third Annual presentation of The Class of 1958 Admiral Charles R. Larson Ethical leadership Excellence Award was presented to Pamela M. Schmitt, Director of Academic Advising at the Naval Academy. Pamela oversees all of those advising the Midshipmen and advises many of them herself. Pictured below are VADM Carter, Superintendent of the USNA, Sally Larson, widow of our Classmate Chuck Larson, Pamela Schmitt, recipient of the 2017 award, Gordon Gerson, our Class President, and Wendy Lawrence, NASA Astronaut, daughter of VADM William Lawrence and the Guest Speaker at the ceremony.
"Presentation of the Class of 1958 Leadership Award"
■ DEPLOYED ON THE DUORO
JJ and Pat Seeberger and Dave and Norine Ault joined forces for a visit to Portugal. In addition to a few days in Porto and Lisbon they spent a week aboard the MS Infante don Henrique on the beautiful Duoro River.
"On the bridge of the MS Infante don Henrique"
■ LUNCH EAST COAST STYLE
The Washington DC Chapter of the Class of '58 gathered for their October 2017 luncheon with VADM Robert Dunn, USN (ret) as the guest speaker. VADM Dunn is a member of the Class of '51 and Class President. During his active duty career he was a Naval Aviator mostly flying carrier based attack and fighter aircraft. He was a squadron CO, Air Wing Commander, CO of the USS Saratoga, and Commander of a carrier battle group. Ashore he served as Chief of BUPERS, Chief of the Naval Reserve and Commander of Naval Air Forces Atlantic Fleet. His final assignment was as Deputy Chief of Naval Operations for Air Warfare. Those present for a very interesting presentation were Jack Adams, Dan Bellay, Ralph Carestia, Frank Gamboa, Gordon Gerson, Mike Giglio, Dan Haney, Jean LeBer, Eric Mansfield, Bill Meisel, John Rohrbough, John Swope, Buff Walter and Bruce Wilcox.
"VADM Dunn, Frank Gamboa and Jack Adams"
■ LUNCH WEST COAST STYLE
Out west the San Francisco Bay Chapter had a lunch of their own in October at the Benicia Yacht Club. Those present and pictured below were (top row) John Potter, Phil McNall, Jack MacKinnon, Bruce Bartels, Jack Brophy and Dave Allard and (bottom row) Claire Barney (with Phil McNall), Mary Beth Hodge (with Jack MacKinnon), Nancy Bartels, Jeanne Brophy, and Barbara Allard.
(interesting observation: The east coast Class luncheons are mostly just the guys, but on the west coast the ladies are always included. Hmmmmm???)
"Lunch at the Benicia Yacht Club"
■ ENJOYING NAVY FOOTBALL
Turning out for a fall Navy football game and pictured below were: Bob Caldwell, Paul Polski, Rupe McLean, ADMIRAL Frank Caldwell, USN, (the Chief of the Navy's nuclear program and the son of our deceased Classmate Frank Caldwell 6th Company), Jack Adams and Gordon Gerson.
(For those in the Class planning on attending our 60th reunion next fall please make note of what the suitable attire is for a fall football game in Annapolis.)
■ THE REST OF THE STORY
In the June-July 2017 issue of Shipmate I reported on the death of our Classmate Dick Stannus 9th Company. Dick died in 1959 in an effort, as a rescue swimmer, to save two Marines who had been swept off the deck of his ship, the USS Bexar. Pat Hanavan, 24th Company now reports that a Stannus Memorial Scholarship has been established at the Alamo Heights High School in San Antonio, Texas. The scholarship will be awarded to the graduating senior who writes the best essay on the theme of Heroism. It appears that the rest of Dick's story will live on.
Ed Browne is another Classmate who died in an act of heroism and who has been honored for his valor. Ed was in the 5th Company at the Academy and graduated 8th in the Class. His father had been a Marine who was killed in WWII so Ed elected to follow his father into the Corps. Our Classmate Warren Walters, who also went into the Marines, filled me in on the rest of Ed's story. He went into the Artillery arm of the Marines and in due course found himself at the NPS in Monterey where he earned a Masters degree and met Elinor who would become his wife. In 1966 he was detailed to the 12th Marine Regiment (artillery), 3rd Marine Division which was then in Vietnam. In the winter of '67 the 2nd Battalion, 12th Marines moved up to the DMZ at a place called Gio Linh and Ed was the Commander of D Battery. On 27 July 1967 his Battery was exchanging fire with NVA units to the north. One of Ed's troopers was wounded and out in the open. Ed and his Battery 1st Sgt ran out to bring the Marine to safety when another incoming artillery round exploded and killed Ed, his Sgt and the wounded Marine. A family services center at Camp Pendleton was named in Ed's honor. Semper Fi.
For some it almost seems like "the rest of the story" is pre-ordained from an early age. This is one such story. Dick Pittenger, 17th Company, set his sights on the Navy from an early age. As a boy he was a Sea Scout and a Sea Cadet. After high school he joined the Naval Reserves because it looked like the draft was in his future. There was no money in the family for a college education, which was something probably true for a lot of us. But fate stepped in and Dick became aware that it was possible to obtain an appointment to the Academy through the Reserves which he proceeded to do. There was never a doubt whether Dick would go Navy Line after graduation and so he did. His sea duty was mostly in destroyers with a focus in ASW. He commanded a minesweeper during the Vietnam war, a fast frigate and a destroyer squadron and also found time to earn an MS in underwater acoustics at the NPS. His final active duty posts were as Oceanographer of the Navy and Director of ASW for the CNO. Dick had a distinguished career in the Navy and made many significant contributions towards improving the Navy's ASW capabilities. After 32 years in the Navy Dick joined the Woods Hole Oceanographic Institution as the head of the Marine Operations Division where he supervised the operation and acquisition of oceanographic research vessels.
■ CLOSING RANKS
Julian Guinn, 3rd Company died on November 14th 2017
John Ferriter, 16th Company passed away on September 22nd 2017
Larry Kaufman, 18th Company passed away on October 25th 2017
John Schmidt, 20th Company died on October 11th 2017
James Buchanan, 24th Company died on November 7th 2009, but we just recently found this out

NOVEMBER - DECEMBER 2017 ISSUE
USNA CLASS OF 1958 SHIPMATE COLUMN
■ THE 10TH COMPANY GOES TO SEA
Jake McMichael reported that he, his wife Dianne, Dave and Norine Ault, Bob and Bonnie Venable, Bill and Mickey Hillsman and JJ and Pat Seeberger sailed on the HMS Rotterdam for a Holland America Cruise. They embarked in Montreal, visited Quebec, the Canadian Maritimes,, Bar Harbor ME and ended up in Boston.
58 crew on the HMS Rotterdam
■ WASHINGTON DC CHAPTER LUNCHEON
There are at least two constants about the luncheons of the Washington DC Chapter. One is that they always have interesting speakers and two is that they always have large turnouts. The most recent luncheon report proves the point. The speaker was RADM Robert Shumaker. Bob graduated with the USNA Class of 1956 and became a Naval Aviator. He had the unhappy distinction of being the 2nd Naval Aviator shot down and captured by the North Vietnamese. The date was February 11th 1965. (Note: who was the 1st Naval Aviator taken prisoner? Look for the answer in the next issue.) As a prisoner Bob was known for devising all sorts of communications systems including the notable Tap Code and was admired by his fellow POWs as a resister, leader and patriot. He was released on February 12th 1973 after spending almost 8 years to the day as a POW. Bob's presentation about his experiences was uplifting, patriotic and interesting. 58'ers attending were Adams, Bellay, Gamboa, Giglio, Hernandez, Hurst, Mansfield, Ojalehto, Polski, Rohrbough, Smedberg, Wilcox, Walter, Caldwell and Lebere.
Jack Adams and RADM Robert Shumaker
■ ADVENTURES IN PARADISE
There is also a constant about the luncheons of the San Francisco area chapter and that is they are always held at interesting venues. The most recent luncheon was held in Paradise or Paradise Estates as it is called out west. To prove the point just look at all the angels sitting in the front row in the picture. Those attending and in the picture were Pete Erickson and Jack MacKinnon in the back, Phil McNall, Bruce Bartels, Bill Schramm, Keith Featherston, John Potter, John Gardner and Dave Allard in the middle and Claire Barney (Phil's lady), Nancy Bartels, Mimi Schramm, Dianne Featherston, Jude Potter and Barbara Allard in the front.
58 visits Paradise
■ WHEN DOES A VACATION BECOME A DEPLOYMENT?
Vern and Fran Hanna, 24th Company, made it home after a two month vacation. This was a land, sea and air adventure that started in Santa Barbara whence to Amsterdam via Seattle and Frankfort. From Amsterdam they sailed on a 20 day cruise aboard the MS Prinsendam venturing as far north as 82 degrees north latitude.
Checking out the Polar Ice Cap
After debarking from the Prinsendam Vern and Fran were joined by their son Matthew and continued their odyssey visiting Scotland and Ireland before returning to sunny and warm California. By all accounts it was an outstanding trip.
Checking out the Pubs in Scotland
■ HARVEY AND IRMA
We have a number of Classmates living in Texas and Florida and many of them were in the paths of Hurricanes Harvey and Irma. I received information about a few, but I'm sure there were many others and hopefully they managed okay. Keith Featherston from the 8th Company reported on two of his roommates who both live near Houston. Dave Cox lives south of Houston was okay, but worried about a levee failing. Carl and Donna Triebes live in Woodlands TX and he had 18 inches of rain in one day, but was still high and dry. From the 17th Company I received reports that Jim and VG Hamrick who also live near Houston were fine and George and Betsy Greer who live in Florida were also okay. Mike Giglio from the 10th Company sent in a picture of Jim and Peggy Fredericksen who live in Dickinson TX and it appears they are okay, but suffered some damage to their home.
In the aftermath of Harvey
■ THE REST OF THE STORY
In a previous issue of Shipmate I reported on the Academy YPs past and present. For those of us who went into the Air Force, the Marines, Naval Air or Restricted Line our time on the YPs was interesting and even fun, but did not impact our future. For those who went surface Line their experience on the YPs was more important in their career development. But one of our Classmates had an experience with the YPs that turned out to be a life changing event. I am referring to Jack Brophy from the 5th Company. On a September afternoon in 1957 Jack was serving as a "deck hand" on one of the YPs and passed a mooring line to the dock where it was secured to a bollard. As the line was unwinding Jack's foot slipped into a bight in the line and in a flash his leg was severed at the ankle. Jack was rushed to the Academy hospital and then transferred to Oak Knoll Naval Hospital in California where he was fitted with a prostheses. He made remarkable progress and by Thanksgiving was back at the Academy attending class and marching with his Classmates. He even had 3 prostheses, one each with a black shoe, a brown shoe and an athletic shoe. Jack graduated with our Class, but was not commissioned. What did happen was that he moved back to California and within a month was hired by Lockheed to work at their new facility in the SF Bay area where the Polaris missile was being developed. Jack had an almost 40 year career with Lockheed moving up the ranks to become an engineering design manager and Program Manager before retiring in 1997. Well done Jack.
Another Classmate with a very interesting story is Buff Walter from the 11th Company. Buff was one of 10 from the Class of '58 who went to the CEC. The Navy would send all 10 to the Rensselaer Polytechnic Institute for another year and a half of school to study Civil Engineering and Buff went on to get a Master's in engineering at the University of Michigan. After all that school Buff became the first environmental "tsar" for the pacific Fleet as the Navy began to respond to the newly established EPA and all the new environmental rules and laws. His next assignment was in Washington as the Director of the shore side environmental program. Following his retirement from the Navy Buff found himself in high demand with engineering companies dealing with Super Fund sites in the U.S. and abroad. Buff retired for good in 1997 and can be credited with helping to clean up a lot of messes and preventing others.
Still another interesting "rest of the story" concerns Mal Bartels from the 9th Company. Mal was a submariner and during his career he became part of the Trieste team. The Trieste II is a DSV or deep submergence vessel that was designed to dive to 20,000 feet with a crew of two. Now in the early 1970s the U.S. operated "spy" satellites that would orbit over the Soviet Union and other communist bloc countries taking very high resolution pictures. At a programmed point the satellite would launch a re-entry vehicle containing thousands of feet of film (each satellite had several REVs). After they were launched from the satellite each REV would enter the atmosphere over the Pacific and deploy a parachute. A specially configured AF C-130 would then snatch the REV in mid air or at least that was the plan and it did work, but not always. In 1971 one of the REVs had a parachute failure and it fell into the ocean and ended up at a depth of 16,400 feet. So who comes to the rescue? None other than Mal Bartels and his Trieste II. With Mal as the Officer in Charge the Trieste II dove to 16,400 feet and recovered the REV.
■ CLOSING RANKS
John Miller, 9th Company, passed away on 25 August 2017.
William Stamps Howard, 15th Company, passed away on 7 July 2017.
Phillip Criswell, 4th Company died on 15 July 2017.
Harold Reeger, 8th Company died on 23 August 2017.
Arlene Baughman, the widow of Jack Mason, 4th Company, died on 25 July 2017.

USNA CLASS OF 1958 SHIPMATE COLUMN
SEPTEMBER-OCTOBER 2017 ISSUE
■ SAN DIEGO GATHERINGS
On the 14 of June the resident San Diego 58ers, plus one young lady from the Class of '08, gathered for lunch at the Coronado Golf Course. Those present (from L to R) were Madelyn and Joe Fenick 7th, Bruce and Claudette Craig 19th, Pete and Fran Nystrom 24th, Dick Hanson 7th, Claudette Harshberger 21st, Lore and Jan Cook 15th, Mary Ann and Mike Chapple 5th, Christine Gargan '08, Tom Fleming 6th and Chuck Smith 20th.
"CLASS OF 58 SAN DIEGO LUNCHEON"
Also from San Diego comes this slightly aged picture of some slightly aged Classmates. The date was 11 March 2017. The place somewhere in San Diego. Those present were Tom Fleming 6th, Taylor Keith 19th, Jan Cook 15th, Chuck Smith 20th, Lance Massey 11th, and Mike Chapple 5th.
"SAN DIEGO HAPPY HOUR"
Jack Adams, 4th Company, reported on the June luncheon of the Class of '58 Washington DC chapter. 15 Classmates (Adams, Bellay, Caldwell, Edwards, Gamboa, Gerson, Hurst, McLean, Misel, Moran, Powell, Victor, Walter, Wilcox and Hernandez) were present along with 8 wives. Gordon Gerson reported on the planning for our 60th reunion in the fall of 2018. (Gordo will be distributing more information to the Class, but so far the plans are for the reunion to be in the middle of October on a weekend with a home football game). The speaker at the luncheon was Dr. David Leftkowitz the Class of '58 sponsored chair for 2016/2017. Also present was Dr. Ed Barrett, a USNA professor at the Department of Ethics.
"DR. BARRETT, JACK ADAMS AND DR. LEFTKOWITZ"
■ THE REST OF THE STORY
Gordon "Gordo" Gerson, 11th Company, is our Class President so I thought it would be interesting to take a look at the rest of his story. After graduation Gordo went Air Force ground and his first assignment was to go back to school. He studied Radar Maintenance and served in that capacity until it was time to go to the University of Michigan for a master's degree in Electrical Engineering. Later Gordo was sent to Vietnam where he headed up a team that traveled to all the Air Force Ground Radar sites in the area. Then it was on to the Air Force Academy for a teaching tour and then to the University of Texas for a PhD in computer science. Gordo's final AF posting was in the DC area. After retiring from the Air Force Gordo worked for several companies in the DC area and finally started his own Company called (what else?) Gerson Information Systems. During those years in the DC area Gordo taught at George Washington University and Virginia Tech. In his spare time Gordo served as a Scoutmaster for the Boy Scouts and participated in some serious athletic activities. He has 25 marathons to his credit including 3 ultra-marathons and is still very active in age group swimming. He is the only person I know who has swam across the Chesapeake Bay (4.4 miles) 13 times. In fact, he is the only person I know who has swam across the Chesapeake Bay even once.
(CS Note: Most of the time when I hear about the passing of a Classmate the information is sparse. Who, when and perhaps how, but little else. Once in a while, however, there is additional information so let me share the rest of the story about a couple of our Classmates who died recently).
Beth Cobb, the widow of John Cobb, 2nd Company, sent me some information about John's life after graduation. His first assignment was to the USS Eversole and that was followed by a tour as a ComDesDiv Staff Operations Officer. Quite unexpectedly he developed an interest in the Law and left the Navy to attend UCLA Law School. For 50 years he practiced law in California specializing as a trial attorney. He also was a Court appointed Arbitrator and Judge Pro Tem.
Phil Criswell, 4th Company, went into the Air Force where he flew B-47s for nine years. After obtaining a Master's degree in Industrial Engineering he was posted to Vietnam where he flew RF-4s and served on the Staff at HQ 7th Air Force. Phil had over 200 combat missions while in Vietnam. Then it was time for a staff tour in England. After returning to the States Phil had Command of a Field Maintenance Squadron and then a final assignment at the Pentagon. After retirement from the Air Force Phil worked for several defense contractors in the Washington Area and as a private consultant.
CLOSING RANKS
Richard Rogers, 20th Company, died on 19 June 2017
Joyce Smiley, the wife of Glen Smiley, 5th Company, passed away on 14 October 2016
Ron Wright, 11th Company, died on 24 June 2017
Jay Rower, 10th Company, died on 16 May 2017
William Cotterman, 6th Company, passed away on 25 May 2017
Richard Beam, 21st Company, died on 6 July 2017
William Stamps Howard, 15th Company, died on 7 July 2017
John Cobb, 2nd Company, passed away on 7 March 2017
Phil Criswell, 4th Company, died on 15 July 2017

USNA CLASS OF 1958 SHIPMATE COLUMN
AUGUST 2017 ISSUE
◙ 10 X 11 = CHARLOTTESVILLE
The 10th Company held their eleventh annual Company reunion in Charlottesville VA from 5 to 8 May. As is usual with these 10th Company reunions they combine dinners and other social events with touring the local area. Since Charlottesville was the home of Thomas Jefferson, James Madison and James Monroe they visited Jefferson's Monticello, Madison's Montpelier and Monroe's Ashland-Highland plantations. JJ and Pat Seeberger hosted a BBQ at their farm which is only 30 miles from Charlottesville. There were 10 Classmates present with their spouses along with Pat Doss the widow of Marion Doss. Shown in the picture left to right are: 1st Row – Jake McMichael, Dianne McMichael, Eileen Giglio and Pat Doss; 2nd Row – Bob Flynn, Norine Ault, Jean Manahan, Alice Garvey and Bonnie Venable; 3rd Row – Barbara Flynn, Wes May, Pat Seeberger, Jeanne May, Betty Sutherland and Dave Sutherland; and 4th Row – Bob Venable, JJ Seeberger, Dave Ault, Harlow Manahan, Mike Giglio and Bill Garvey.
10th Company Reunion
◙ HILTON HEAD GOLF OUTING
Each year for many years a gaggle of 58ers has gathered at Hilton Head for several days of golf and friendship. Each attendee is given a napkin on which he writes his laundry number and it becomes his napkin. The napkins are used for each of the meals and saved for the next year and so on. A recent survey of the napkins turned up 11 belonging to Classmates who at some past time had joined the HH group, but are no longer participating. So, if your laundry number is one of the following please notify Jack Adams, Jim McNulla or myself. The numbers are: 3960, 3821, 3817, 4145, 3778, 4368, 3785, 3660, 4431, 3516, and 4247. When Jack asked for my help in finding who goes with which laundry number I did some checking. Turns out our four digit laundry numbers are part of six digit Alpha numbers. For everyone in our Class the first 2 digits of their Alpha number starts with 58. The next 4 digits are unique for each of us in our Class, but they have been used many times over for Mids in other classes. So if your Alpha number (given to you when you entered the Academy) was 581234 then your laundry number was 1234, but, and I know this may be a shock, there are other former Midshipmen out there from other classes with the laundry number 1234. Something else that may shock you is that there is no place at the Academy, the Alumni Association or anywhere else where your Alpha/laundry number is stored and I always thought the Navy stored everything forever.
◙ USNAAASD – 58 REPORT
Chuck Smith sent in the picture of himself, John Washburn and Dick Hanson at a recent luncheon of the UNSAAASD Chapter. I'm not sure how one would pronounce USNAAASD, but it is the San Diego Chapter of the United States Naval Academy Alumni Association.
58ers at the May USNAAASD Luncheon
◙ USNACCCFEC – REPORT
John Potter reported on the most recent luncheon gathering of the USNA Central California Class of Fifty Eight Chapter. Eight Classmates, five of whom were accompanied by their ladies, enjoyed themselves at the Brass Door in San Ramon on 26 April. Those present and in the picture are, left to right; Top Row – Bruce Bartels, Bill Oliver, Jack MacKinnon, John Gardner, Phil McNall, Dave Allard, John Davis and John Potter; and Bottom Row – Claire Barney (guest of Phil McNall), Virginia Oliver, Barbara Allard, Mary Beth Hodge (guest of Jack McKinnon) and Jude Potter.
Central California Class Luncheon
◙ WASHINGTON DC CHAPTER LUNCHEON
On 25 May the Washington DC Chapter of the Class of '58 held their annual "Spring Fling" at the ArmyNavy Country Club. In all there were 52 Classmates, spouses and members of the lass of '08 present. The guest of honor was USNA football coach Ken Niumatalolo and he provided the gathering with great insight into his priorities and values used to mold his team. He requires not only athleti and academic skills, but also stresses moral values, team work, character and spirit. With his brand of leadership and his wife Barbara's support Navy can look forward to another great season.
Harry Hurst, Coach Niumatalolo and Jack Adams
◙ THE REST OF THE STORY
The rest of the story is not always about what has happened in a Classmate's life after we graduated. In the case of Frank Gamboa, 17th Company, to understand the rest of his story it is necessary to know what happened before he arrived in Annapolis. Frank grew up in the small town of Lone Pine California in 1933. Even in the last census the population of Lone Pine was only about 2000 and the town was classified by the Census folks as a "frontier" settlement. It is located in the Owens valley which is high desert territory east of Mt. Whitney. In 1933 this was a rugged place to live. Franks's parents were hard working immigrants from Mexico, but there was not much money. The kitchen had a wood burning stove and there was no indoor bathing except in a large galvanized tub on Saturdays. Despite the lack of money Frank had a happy childhood. He had 2 sisters and 2 brothers and his grandparents lived nearby. As Frank grew up the family moved to a larger home in Lone Pine and fate took a hand in the form of a caring High School teacher. In his senior year in High School one of Frank's teachers who had served in the Navy in WWII recognized Frank's intelligence, leadership ability and social skills and urged him to apply for an appointment to Annapolis. But Frank had not taken the kind of courses in High School to prepare for college so he was going to have to go to Junior College which meant moving to Los Angeles and living with extended family. There were more hurdles to get past, but Frank persisted and joined the Great Class of 58 in the summer of 1954. Frank went Navy Surface Warfare after graduation and served with distinction on active duty for 30 years before retiring as a Captain. He and his wife Linda created the Gamboa International Corporation, a management consulting company which they ran from 1994 to 2006. While on active duty Frank had the distinction of being the first Mexican-American Naval Surface Warfare Officer to command a major U.S. Navy Warship, the USS Fort Fisher (LSD-40) and later the USS Vancouver (LPD-2). His biography "El Capitan" was published in 2011 and is highly recommended. Frank is the Vice President of the USNA Class of 1958 and still using those leadership skills.
Frank had three roommates in the 17th Company who would also become Navy Captains and have distinguished careers. Keith Bunting, like Frank, became a Surface Warfare Officer after graduation and served on Destroyers, but later Keith would go to Submarine School and join the Undersea Warfare Community. His first submarine duty was on the USS Grampus. Then it was on to Nuclear School and duty on the USS Thomas Jefferson, the USS Casimir Pulaski and the USS George Washington. From 1973 to 1976 Keith was the Commanding Officer of the USS Abraham Lincoln, a nuclear powered ballistic missile submarine. Then it was onto Washington DC where Keith retired as a Captain in 1984 and went on to have a second career with the Computer Sciences Corporation until his death in 2002.
John Dittrick, another of Frank's roommates, elected to go Navy Air. After getting his Wings of Gold Jack flew E-1B and E-2 early warning carrier aircraft. There were deployments aboard the carriers USS Independence, USS Saratoga, USS Shangri La, USS Roosevelt and USS America, but also time to earn a MS from the Naval Postgraduate School. Jack served as Commanding Officer of both VAW-124 and RVAW-120. His most rewarding duty in the Navy was as the Commanding Officer of the U.S. Naval Support Activity Base in Naples Italy. Jack retired from the Navy in 1987 and launched a second career as a Professor. First as a member of the faculty at the College of William & Mary School of Business, then as the Associate Dean for Undergraduate Programs at the University of Southern California School of Business and finally back at William & Mary as the Assistant Dean of the School of Business. Jack died in 2009.
John Dittrick, another of Frank's roommates, elected to go Navy Air. After getting his Wings of Gold Jack flew E-1B and E-2 early warning carrier aircraft. There were deployments aboard the carriers USS Independence, USS Saratoga, USS Shangri La, USS Roosevelt and USS America, but also time to earn a MS from the Naval Postgraduate School. Jack served as Commanding Officer of both VAW-124 and RVAW-120. His most rewarding duty in the Navy was as the Commanding Officer of the U.S. Naval Support Activity Base in Naples Italy. Jack retired from the Navy in 1987 and launched a second career as a Professor. First as a member of the faculty at the College of William & Mary School of Business, then as the Associate Dean for Undergraduate Programs at the University of Southern California School of Business and finally back at William & Mary as the Assistant Dean of the School of Business. Jack died in 2009.
The other roommate, who also went on to retire as a Navy Captain was John McCain. I'm going to go out on a limb here and assume that we all pretty much know the rest of John's story and there is not much I could add. Frank, Keith, Jack and John all came from very different backgrounds and different parts of the Country, but at the Academy they bonded and became life long friends. All four served our nation with distinction and retired as U.S. Navy Captains. Well done!
◙ CLOSING RANKS
Bryon Schriver, 24th Company, passed away on May 5th 2017.
Carlos Hernandez, 24th Company, passed away on April 21st 2017.

JUNE-JULY 2017 ISSUE
■ CYPRESS POINT COUNTRY CLUB LUNCHEON
Our Classmates in the vicinity of Virginia Beach get together monthly on the 1st Thursday for lunch at the Cypress Point Country Club. (the one in Virginia Beach not the one in Pebble Beach). Classmates attending the March luncheon are in the attached photo from left to right. Jerry Larson 18th, Jim Sheehan 1st, Mel Runzo 10th, Newt Moore 1st, Bill Byman 2nd, Joe Mansfield 13th, Dick Dunbar 15th, Marty Kuhneman 5th, George Chafee 12th, and Linc Mueller 17th.
"Class of '58 at the Cypress Point Country Club"
■ WASHINGTON DC CHAPTER LUNCHEON
Gordon Gerson, our Class President and DC Chapter photographer sent me the attached photo taken at the Class of '58 March Chapter luncheon in DC. Dan Bellay 7th is shown presenting a thank you gift (one of Frank Gamboa's books) to Lt Brad Osmun, Class of '08 and the current 18th Company Officer at the Academy. Classmates attending the event in addition to Gordo and Dan were Bob Caldwell, Ralph Carestia, Phil Criswell, Bill Dougherty, Steve Edwards, Frank Gamboa, Mike Giglio, Harry Hurst, George Jenkins, Bill Misel, Tom Powell, John Rohrbrough, John Swope, Buff Walter and Bruce Wilcox.
"Dan Bellay and LT Osmun"
■ USNA YARD PATROL CRAFT
When we were Midshipmen, those many years ago, our education included learning skills expected of a Naval Officer and some of that training took place on YPs out on Chesapeake Bay. In our time these were wooden hulled YP-654 class vessels. They were 81 ft long with an 18 ft beam. Their full displacement was 66 tons and they were powered by twin diesels producing 165 HP each.
"YP-654 CLASS"
In the mid 1980s "our" YPs were replaced by the newer YP-676 class. These were also wooden hulled, but larger. 108 ft in length, 24 ft beam with more powerful twin diesel engines producing 437 HP each. The Academy still has 18 of the 676 class YPs although 6 of them are laid up as a reserve.
"YP-676 CLASS"
The Academy also has 6 of the newest YP-703 class. These are different in many ways from the earlier YPs. They are steel hulled, 116 ft in length, 28 ft beam, displace 228 tons, with twin diesels producing 660 HP each and they are outfitted with the newest kinds of navigation systems and computers. Steel hulls are not as forgiving as the old wooden hulls when it comes to Mids learning to bring a ship alongside a pier so the 703s have large rubber rails on the exterior of the hull to help during bumper drills. And the Navy being the Navy, you will be reassured to know that a new class of YP is on the drawing board.
"YP-703 CLASS"
(note #1: I would like to thank LCDr Ryan Rogers USN in the USNA Seamanship and Navigation Department for helping me with background on the YPs)
(note #2: How long before they have drone YPs?)
■ THE REST OF THE STORY
From Russell Henderson in the 9th Company comes the stories of two Classmates from the 9th who put their lives on the line to save others. One rescuer lived, one did not. The first story took place during plebe year which was a very stressful experience for many of us. For one Classmate the stress was too much and he ran from the 5th Wing to the seawall and jumped in heading towards the Chesapeake Bay. Running behind him and trying to stop him was his much smaller roommate Don Taylor. Without concern for his own safety Don jumped into the water, swam to and gathered up his roommate and returned him to shore. For his actions Midshipman Donald Taylor was awarded the Navy Commendation Medal. After graduation Don earned his Navy Wings of Gold and went on to serve in VP-46. Later while serving at NAS Memphis Don, sadly, was killed in an automobile accident. The second story took place after graduation and involved Robert D. Stannus. Dick went Navy Line and was assigned to the USS Bexar (APA-237). Before long the Bexar deployed to the western Pacific with a full load of Marines and an unplanned date with a typhoon. As the weather became worse all hands were instructed to stay off the weather decks, but a few Marines felt they had to get fresh air (APAs are not cruise ships). A series of huge waves swept across the Bexar and two of the Marines ended up in the ocean. The seas were too rough to launch a lifeboat so a rescue swimmer was the only option. Dick was the JOOD and at Annapolis he had been a competitive swimmer and water polo player so he volunteered. He reached one of the Marines and attached a line enabling that soul to be hauled aboard the ship. Unable to find the other Marine Dick was attempting to return to the ship when he was pulled under as the ship rolled entangling his safety line. Sadly Dick drowned. For his actions he was awarded the Navy and Marine Corps Medal.
A happier story comes from Michael Mclane 6th Company. After graduation Mike reported to the USS Newport News (CA-148) for what was then the required year at sea before going to sub school. After sub school he served on the USS Wahoo, (SS-565). Then it was time for the dreaded interview with Admiral Rickover who proceeded to declare "Get out. I never want to see you again!" Given the mysterious ways the Navy works Mike was really surprised to then receive orders to the Naval Postgraduate School to study Nuclear Physics. After just two months at NPS, however, Mike was surprised again when along with 60+ others he was involuntarily ordered into the nuclear power program in what some called "the 1963 graduate school massacre". The reason for all this was the Navy's plans for 41 new Polaris submarines requiring 82 wardrooms. Mike had subsequent duty on USS Sargo (SSN-583), XO of USS T. Roosevelt (SSBN-600), ashore to the Trident Program Office and then CO of USS Daniel Webster (SSBN-626). Mike retired from the Navy in 1982 and worked for several defense companies and the US Coast Guard R&D Center before retiring for good in 2000. Well done Mike.
Fran Burgard, the widow of Joe Burgard, 9th Company, wrote to tell me Joe's story following graduation. Joe was a wrestler at the Academy and sadly he wiped out his knee during competition and graduated with the Class, but was not commissioned. He and Fran were married right after graduation and they went on to have an interesting and productive life together. They moved to Sacramento where Joe went to work as a rocket engineer for Aerojet. Ten years later they moved to the SF Bay area and Joe held management positions for several companies. In 1974 Joe purchased Valmont Corporation, a small manufacturing business that made restaurant and bakery equipment. He would manage that business for the next 30 years. He and Fran retired in 2004 and enjoyed the good life in Sierra City CA with children, grandchildren and great-grandchildren. Joe passed away on 30 April 2016.
In the April 2017 issue of Shipmate I noted the death of George McAleer 20th Company, but let me fill in "the rest of his story". After graduation George went into the Air Force and flew B-47s in SAC and C-130s in Southeast Asia logging over 110 combat missions. He left the Air Force in 1969, but remained in the AF Reserves retiring as a Colonel in 1988. Starting in 1969 George worked for several companies while earning an MS from Rensselaer Polytechnic and a Doctorate from USC. Later he taught at several schools including the Defense Systems Management College and the Industrial College of the Armed Forces.
■ CLOSING RANKS
Hector Medina 23rd Company, died on 16 September 2016
Ruby Fisler the wife of Louis Fisler 21st Company, passed away on June 16th 2016
Linda Tillman the wife of Dick Tillman 1st Company passed away on the 28th of February 2017

USNA CLASS OF 1958 SHIPMATE COLUMN
APRIL 2017
■ 18TH COMPANY
Long ago, but not so far away Bob Caldwell, John Poindexter and Bill Hemingway were roommates for all four of our years at the Academy. Throughout the years they have remained close friends and get together frequently. The picture shows, from the left, Bob and Becky Caldwell, John and Linda Poindexter and Bill and Kathy Hemingway at one of those get togethers. The date was 2 January 2017 and the place the Caldwell's home in Annapolis (where else?).
"ONCE A ROOMMATE ALWAYS ..."
■ WASHINGTON DC CHAPTER JANUARY LUNCHEON
Jack Adams, 4th Company, reported on the January luncheon of the Washington DC Class Chapter. The Classmates present were Jack, Dan Bellay 7th, Bob Caldwell 18th, Whitey Edwards 17th, Gordo Gerson our Class President 11th, George Jenkins 10th, Charlie Pinkham 4th, Paul Polski 2nd, Tom Powell 13th, John Rohrbough 8th, John Swope 6th, Bruce Wilcox 12th and Fred Victor 11th. Also present were 8 wives and 3 guests, LTGEN Stroup, COL Davinport, both retired US Army and Mr Joe Dooley who was the speaker. Mr Dooley, who represented the Sons of the American Revolution, spoke about Russia's interactions with the European powers during our Revolutionary War. (Note: Russian interactions is a big topic back in the Washington environs these days so this was a timely subject.)
"JOE DOOLEY AND JACK ADAMS"
■ MEANWHILE ON THE WEST COAST
John Potter 19th Company, reported on what was happening on the West Coast in January. The Northern California 58ers gathered at the Basque Cultural Center for a luncheon on 25 January. Those Classmates present our shown in the picture, from the left, John Gardner 10th, Bruce Bartels 7th, Jack MacKinnon 9th, John Potter, Dave Allard 7th, Phil McNail 15th and Bill Oliver 17th. In the front row, from the left, are Nancy Bartels, Claire Barney (guest of Phil), Jude Potter, Barbara Allard, and Virginia Oliver. The next gathering for the group will be in April at the "Brass Door" in San Ramon. FYI San Ramon was chosen as "Tree City USA" in 2001.
"STUDYING BASQUE CULTURE"
■ COMMENT FROM YOUR CORRESPONDING SECRETARY (me)
Much of the input I receive from Classmates for our Shipmate column consists of reports on luncheon gatherings, trips taken or deaths. These are noteworthy and appreciated, but it would be nice to receive more input from more Classmates. Many if not most of us have lived interesting lives and I say this because I read about those lives in the Last Call section of Shipmate. Why not share some interesting aspect of your life that the rest of us can enjoy. I figure if all of us do that and I incorporate a paragraph about the life of one Classmate in each issue I will have enough input for about 45 years of future Shipmate columns. And on top of that you will have made a good start on preparing your own obit. So let me tell you what happened to me after I retired from the Navy in 1982.
Bill Schramm, 17th Company. "During my Navy career I had the good fortune to go through both a Masters program and a Doctoral program at the Naval Postgraduate School in the fields of Meteorology and Oceanography and become a restricted line officer in those fields. So when I decided to retire I applied for a position with the World Meteorological Organization which is located in Geneva Switzerland and is a part of the United Nations. In due course I was hired by the WMO and the family moved to Geneva. Working for the UN was wonderful. I enjoyed working with countries such as China, Turkey, Brazil, Argentina, Egypt, etc and the perks and benefits were great. Not only were the pay and allowances very high, they were all tax free. No tax on my UN income for Switzerland, the US or anyone. A generous retirement plan, health plan, 8 weeks a year vacation, a UN Passport for our travels and Diplomatic status were just some of the perks. After 7 years with the UN I retired and we moved back to Monterey Ca where I was recruited to be the Chief of an Office of the National Ocean Service which is part of NOAA. After 6 years with NOAA I retired and became a "plank owner" faculty member at the California State University of Monterey Bay where I taught environmental science courses for 7 years. I had some wonderful post retirement jobs following my Navy career, but all of them came to me because of the education and experience I received during the Navy career."
■ CLOSING RANKS
Paul Sudmeyer, 3rd Company, passed away on December 23rd 2016.
George Allender, 16th Company, died on 20 January 2017.
George McAleer, 20th Company died on 23 December 2016.
John Pratt passed away on 21 January 2017.
Barbra Minar, wife of Gary Minar 20th Company, passed away on 5 November 2016.
Susan Harper, wife of Hugh Harper 22nd Company, died on 6 January 2017.

USNA CLASS OF 1958 SHIPMATE COLUMN
MAY 2017
■ SKI REPORT
Angela Tranquill is the daughter of Ralph Carestia, 20th Company. She sent me the picture of Ralph with a gaggle of USNA Midshipmen who were competing in collegiate ski races in Pennsylvania and who Ralph had invited to his ski chalet. Ralph is the guy in the center with the "Old Man" sweater in case you were wondering. (I'm not sure how much snow they had in Pennsylvania this year, but in California they had about 24 feet of snow in January alone at Squaw Valley in the Sierras. As I write this I think they have had about 47 feet this season which is about the height of a five story building.)
"RALPH CARESTIA AND FELLOW MIDSHIPMEN"
■ DC LUNCHEON
Jack Adams reported on the details of the February DC Chapter luncheon. He did not say where it was held, but I am going to go out on a limb and guess the Army-Navy Club. There were 16 Class of 58ers present. 15 from the USNA and 1 from the USMA. The Navy guys were Jack Adams, Dan Bellay, Gordon Gerson, Mike Giglio, Jene LeBer, George Jenkins, Bill Meisel, Jack Nicolas, Charlie Pinkham, Paul Polski, Tom Powell, John Rohrbough, Ted Smedberg, John Swope, and Bruce Wilcox. Representing West Point was Jack Gordon.
The speaker was RADM Brian Antonio who is in charge of USN carrier construction, maintenance and overhaul which is a lot to be in charge of. He provided a very informative presentation regarding the upgrades and enhanced capabilities of the newest class of carriers (the Ford class).
"JACK ADAMS AND RADM BRIAN ANTONIO"
■ THE CORDOVA CLAN
Dick Cordova, 17th Company, made it to last fall's Army-Navy football game. Three facts make that happening newsworthy. First, it was the first time Dick has been to an A-N game since graduation. Second, he arranged for 5 of his family from the west coast to join him plus his brother and 5 of his family for a total of 12 which counts as a family reunion. And third, Dick came from sunny San Diego to the very cold conditions back east. Dick's brother did not attend the Academy, but did serve there in the 70's with the Supply Corps and is a Navy fan. In the picture Dick is the guy with the beard and the number 12 on his jersey. Watching Navy lose wasn't fun, but Dick took the family to the Academy the next day and that was fun.
"THE CORDOVA CLAN AT THE A-N GAME"
■ ANNAPOLIS TOUCHDOWN CLUB
Bob Caldwell, 18th Company, was honored at the 2017 Annapolis Touchdown Club Banquet. He was awarded the "Jim and RaeAnn Morgan Award" as a distinguished member of the Annapolis Touchdown Club. Bob's association with the Club began during our plebe year when he attended the inaugural banquet. Later he would return to the Academy as the Deputy Director of Athletics and renew his association with the Touchdown Club and that association has continued through the years since Bob and Becky retired in Annapolis. The family picture, taken at the banquet, shows (L-R) Grandson Luke, Daughter Susie, Wife Becky, Bob, son Bob jr. and son Matt.
"BOB CALDWELL AND FAMILY"
■ THE REST OF THE STORY
In the April issue of Shipmate I asked Classmates to write and share their stories about what happened in their lives in the years after graduation. Ken Granzin, 6th Company, responded, so in the immortal words of Paul Harvey let's hear "the rest of the story".
Ken left the Navy in 1962 and entered the MBA program at the University of Illinois. After earning his MBA he stayed to earn a PhD in Marketing and Quantitative Economics. He went on to teach at Illinois for 3 years and enjoyed that so much he made teaching his career. About 28 years of that career was at the University of Utah. He is now retired and he and his wife live in western North Carolina. When Ken sent me the information he mentioned that he did not think his career path would be of interest, but I disagree. Earning a PhD and having a career teaching at a major University seems like a distinguished career to me. Well done Ken.
Ken also passed on information about three other Classmates who were in the 6th Company. All three played on the USNA football team that went to the Cotton Bowl, they roomed together at the Academy and all three left the Navy to pursue other careers following their obligated service. Ned Oldham was the Captain of the team and a 3rd team All American halfback. He later would become a prominent intellectual property attorney. Ned died in 2011. Pat Flood, was a quarterback. He also became a lawyer and for many years acted as a highly respected official in college football games including bowl games. Otto Helweg earned an MS in engineering from UCLA, an MS in higher education from Memphis State, an MBA from the University of Memphis and a PhD in Engineering at Colorado State University. During his career he was on the faculty at the University of California Davis and Texas A&M and Chair of the Civil Engineering Department at the University of Memphis. Along the way he also found time to earn a Master in Divinity from the Fuller Theological Seminary. Otto spent most of 2007 in Rwanda helping to bring water and the Gospel to villages, schools and hospitals. He was Dean of the College of Engineering at North Dakota State University when he died in 2008.
■ CLOSING RANKS
Paul Miller, 2nd Company, passed away on January 16th 2017.
Dick Freeman, 3rd Company, died on 11 February 2017.
Paul Herner, 20th Company, died on 18 February 2017.
Jeanette Gatje, wife of Pete Gatje, 24th Company, passed away on January 30th 2017.
Mig Sturr, widow of Dixon Sturr, 20th Company, died on the 10th of January 2017.
Evelyn Nalesnik, widow of Richard Nalesnik, 23rd Company, died on January 21st 2017.
Shipmate 2016
NOTE: The contents of this page will consist of all the news items for the class that don't fit into SHIPMATE due to the imposed limitations of 2,000 words (including the words charged for photos) for each class news column. The column will add the material for the succeeding issues of the magazine as they are mailed. At certain points, old news will be deleted to insure the page doesn't become overly long. The photos on this page may be clicked upon to enlarge them, so that you may see who is actually in the photo, a better arrangement than the "tiny photo" policy being utilized in the magazine. So on to what was to have been in SHIPMATE!
Our Corresponding Secretary, Bill Schramm, has initiated a new practice with regard to the Shipmate Articles. In addition to being included in the Shipmate itself, he thought it would be useful to those Classmates who do not get Shipmate to be able to read the column on the website. These columns will be posted as they become available from Bill.

USNA CLASS OF 1958 SHIPMATE COLUMN
2016 SEPTEMBER – OCTOBER ISSUE
■ 58 YEARS AND COUNTING (PART II)
In the last issue of Shipmate I looked back at the Class of '58 when we arrived at the Academy and four years later at graduation. In this issue I would like to bring you up to date on where we stand 58 years after graduation.
Of the 899 of us who graduated in 1958 there are still 573 present and accounted for, which is almost 64% of the Class. 295 are known deceased and 29 of those died in combat or in operational accidents. Let's put those numbers into perspective. When we were born our life expectancy was 59.9 years. For a baby boy born today the life expectancy is 76.3 years yet here we are with an average age of 80 with at least two thirds of us still going strong. Well, at least we are still going.
In addition to those of us who are present and accounted for and those deceased there are 31 others who are lost sheep. By that I mean the Class has lost contact with them, but let's put that number into perspective as well. Only about .3% of the Class has not stayed in touch. Not 30%, not 3%, but just 3 tenths of 1 percent! It is an impressive demonstration of the bonds between us that were forged during our time at the Academy and are still strong 58 years after we graduated.
Let me share a few more numbers that you will find interesting. The Company with the most graduates was the 20th with 44. The Company with the fewest graduates was the 21st with 32. The Company with the most present and accounted for today is the 20th with 31 while the Companies with the fewest P&A are the 5th and 14th with 17 each. The Company with the unhappy distinction of having the most deceased is the 5th Company with 18 and the Company with the fewest deceased is the 1st Company with just 6. If you wonder what the numbers are for your Company go to our Class web site for a full breakdown Company by Company.
This is a good place for me to thank all the 24 Company Representatives and most of all Terry Cooper, 24th Company,who oversees our CR system, for their help in providing me with the numbers that define where we are as a USNA Class.
When I reflect on the closeness of the Class of '58 I think it is important that we recognize the role of the leadership of our Class over the years and continuing today. The All Hands bulletins coming from our President that keeps the Class informed, the well planned reunions that continue to draw large numbers of us together, the Class Chapters that meet on a regular basis and the Company get-togethers. Perhaps most of all we have the organization of volunteer Company Representatives who work to keep their Company Mates in touch. Well done '58.
■ '58 IS 58
Back in 2013 at our 55th Reunion it dawned on several of the Class that a very special anniversary was approaching. In June of 2016 the Class of 1958 would be celebrating its 58th anniversary. What should we do to commemorate this special event? In March of 2015 our Class Board of Trustees reached a consensus and approved a '58 IS 58 Reunion cruise. Different cruise possibilities were studied and the decision was made to set sail on the Liberty of the Seas, operated by the Royal Caribbean International Cruise Lines. The ship would sail from Galveston TX on a 7 day cruise with ports of call at Cozumel Mexico, George Town Grand Cayman, and Falmouth Jamaica. The ship would depart Galveston on 12 June 2016 and return on 19 June.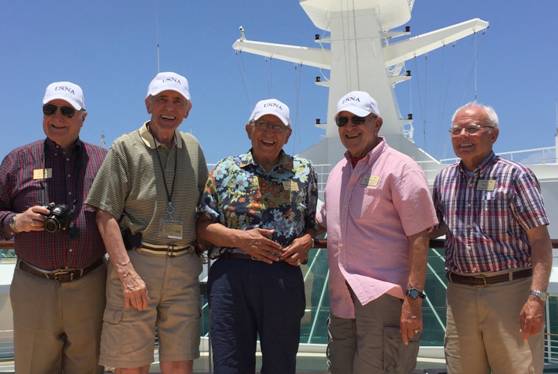 Enjoying the sea air
Our Class President Gordon Gerson would command the embarked 58ers, their spouses and their guests in the role of Cruise Director. Frank Gamboa and lovely Linda Gamboa would serve as Cruise coordinators assisted by a committee consisting of Jack Adams, Paul Polski, Fred Victor, Dianne Hughes, Harry Hurst, Rupe MacLean, Clivie Goodwin, Tom Powell and Eric Mansfield.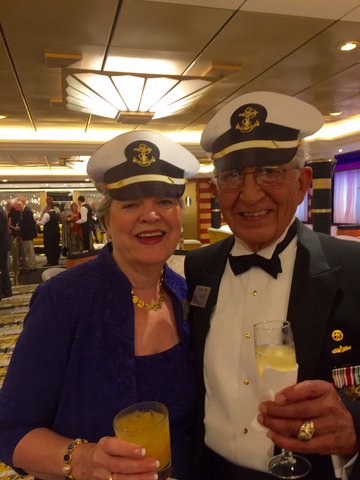 Frank and Linda Gamboa
On 12 June 124 Reunion attendees including 58 members of the Class of '58 set sail on the Liberty of the Seas for what would be a wonderful experience. The weather was perfect and there was lots of time for visiting, attending the entertainments on the ship and exploring the ports of call. The night of June 17th there was a special reception followed by a commemoration event in two acts. Gordo opened the event with a prologue followed by a reading of the Midshipman's prayer by General J.B. Davis USAF (ret), the senior officer present. Act 1 Scene 1 of "Our Illustrious Voyage" had Paul Polski describing the highlights of the many individual and class achievements and contributions to the military and in the private sector. Paul also described the Class of '58 support to the Naval Academy, the Brigade of Midshipmen and the Alumni Association. Act I Scene 2 had Frank Gamboa reviewing the achievements of our four Classmates who have been honored as USNA Distinguished Graduates. Chuck Larson, Ben Montoya, Terry Cooper and Bruce McCandless have been so honored and Frank highlighted their careers. Act II Scene 1 consisted of Jack Adams looking back at our four years at the Academy from Plebe Summer to June Week in 1958. In the final scene Gordo guided the attendees through a reenactment of our graduation. A recording of President Eisenhower's address was played along with a recording of Superintendent RADM Smedberg conferring on the graduates the Bachelor of Science degree. Gordo then led our classmates in singing Navy Blue and Gold. CDR Jennifer Brooks, USN (ret), the daughter of Classmate Paul Brooks led the audience in "three cheers for those about to leave us" and Gordo responded by leading the Classmates present in "three cheers for those we leave behind" and the '58ers tossed their replica Midshipman's caps in the air!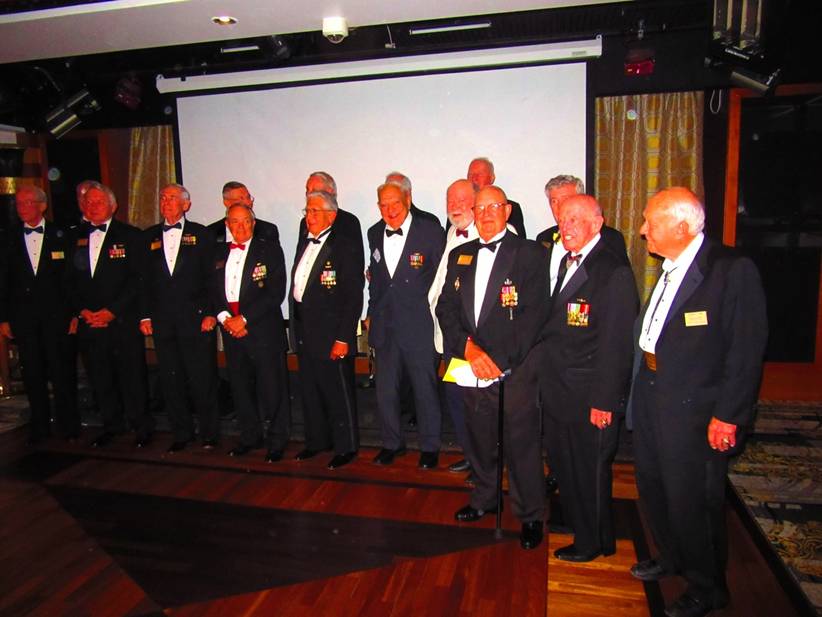 The Uniform of the Day was Formal Dress
On the last day at sea the Captain of the Liberty of the Seas hoisted the "58 is Great" flag as a fitting ending to a wonderful event.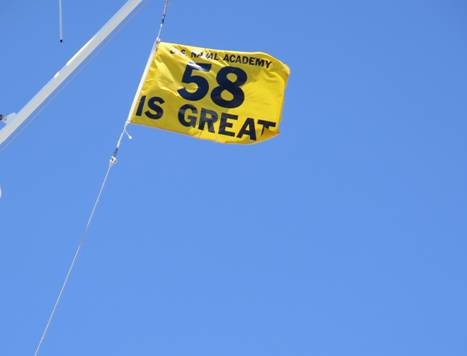 Hoist the Flag!
(For more pictures from the cruise please go to our Class of '58 web site)
■ MUSEUM QUALITY
I have learned of yet another of our Classmates whose name can be found in a Museum. Jim Pierce, 24th Company, has him name on the Aero Club of Washington Trophy of Aviation Excellence which is on display at the National Air and Space Museum.
■ CHAPTER NEWS
At the June luncheon of the Washington DC Chapter of the Class of '58 the guest speaker was LtGen John Raymond USAF. He gave an outstanding presentation on the status of the USAF today, the Air Force efforts in space including space security to the 20 '58 Classmates and guests who were present.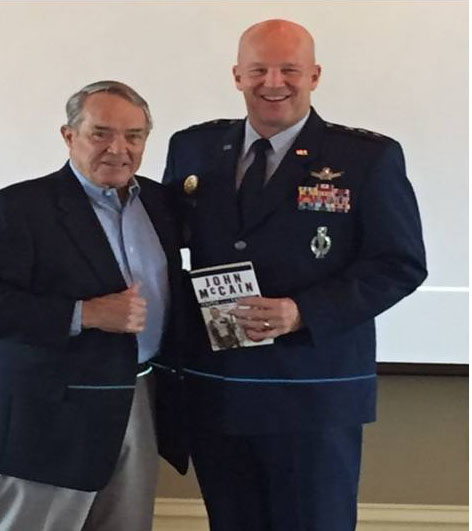 Jack Adams and LtGen Raymond USAF
■ CLOSING RANKS
Walt Peters, 9th Company, passed away on June 19th 2016 in Scottsdale AZ.