Shipmate 2017
USNA CLASS OF 1958 SHIPMATE COLUMN
AUGUST 2017 ISSUE
◙ 10 X 11 = CHARLOTTESVILLE
The 10th Company held their eleventh annual Company reunion in Charlottesville VA from 5 to 8 May. As is usual with these 10th Company reunions they combine dinners and other social events with touring the local area. Since Charlottesville was the home of Thomas Jefferson, James Madison and James Monroe they visited Jefferson's Monticello, Madison's Montpelier and Monroe's Ashland-Highland plantations. JJ and Pat Seeberger hosted a BBQ at their farm which is only 30 miles from Charlottesville. There were 10 Classmates present with their spouses along with Pat Doss the widow of Marion Doss. Shown in the picture left to right are: 1st Row – Jake McMichael, Dianne McMichael, Eileen Giglio and Pat Doss; 2nd Row – Bob Flynn, Norine Ault, Jean Manahan, Alice Garvey and Bonnie Venable; 3rd Row – Barbara Flynn, Wes May, Pat Seeberger, Jeanne May, Betty Sutherland and Dave Sutherland; and 4th Row – Bob Venable, JJ Seeberger, Dave Ault, Harlow Manahan, Mike Giglio and Bill Garvey.
10th Company Reunion
◙ HILTON HEAD GOLF OUTING
Each year for many years a gaggle of 58ers has gathered at Hilton Head for several days of golf and friendship. Each attendee is given a napkin on which he writes his laundry number and it becomes his napkin. The napkins are used for each of the meals and saved for the next year and so on. A recent survey of the napkins turned up 11 belonging to Classmates who at some past time had joined the HH group, but are no longer participating. So, if your laundry number is one of the following please notify Jack Adams, Jim McNulla or myself. The numbers are: 3960, 3821, 3817, 4145, 3778, 4368, 3785, 3660, 4431, 3516, and 4247. When Jack asked for my help in finding who goes with which laundry number I did some checking. Turns out our four digit laundry numbers are part of six digit Alpha numbers. For everyone in our Class the first 2 digits of their Alpha number starts with 58. The next 4 digits are unique for each of us in our Class, but they have been used many times over for Mids in other classes. So if your Alpha number (given to you when you entered the Academy) was 581234 then your laundry number was 1234, but, and I know this may be a shock, there are other former Midshipmen out there from other classes with the laundry number 1234. Something else that may shock you is that there is no place at the Academy, the Alumni Association or anywhere else where your Alpha/laundry number is stored and I always thought the Navy stored everything forever.
◙ USNAAASD – 58 REPORT
Chuck Smith sent in the picture of himself, John Washburn and Dick Hanson at a recent luncheon of the UNSAAASD Chapter. I'm not sure how one would pronounce USNAAASD, but it is the San Diego Chapter of the United States Naval Academy Alumni Association.
58ers at the May USNAAASD Luncheon
◙ USNACCCFEC – REPORT
John Potter reported on the most recent luncheon gathering of the USNA Central California Class of Fifty Eight Chapter. Eight Classmates, five of whom were accompanied by their ladies, enjoyed themselves at the Brass Door in San Ramon on 26 April. Those present and in the picture are, left to right; Top Row – Bruce Bartels, Bill Oliver, Jack MacKinnon, John Gardner, Phil McNall, Dave Allard, John Davis and John Potter; and Bottom Row – Claire Barney (guest of Phil McNall), Virginia Oliver, Barbara Allard, Mary Beth Hodge (guest of Jack McKinnon) and Jude Potter.
Central California Class Luncheon
◙ WASHINGTON DC CHAPTER LUNCHEON
On 25 May the Washington DC Chapter of the Class of '58 held their annual "Spring Fling" at the ArmyNavy Country Club. In all there were 52 Classmates, spouses and members of the lass of '08 present. The guest of honor was USNA football coach Ken Niumatalolo and he provided the gathering with great insight into his priorities and values used to mold his team. He requires not only athleti and academic skills, but also stresses moral values, team work, character and spirit. With his brand of leadership and his wife Barbara's support Navy can look forward to another great season.
Harry Hurst, Coach Niumatalolo and Jack Adams
◙ THE REST OF THE STORY
The rest of the story is not always about what has happened in a Classmate's life after we graduated. In the case of Frank Gamboa, 17th Company, to understand the rest of his story it is necessary to know what happened before he arrived in Annapolis. Frank grew up in the small town of Lone Pine California in 1933. Even in the last census the population of Lone Pine was only about 2000 and the town was classified by the Census folks as a "frontier" settlement. It is located in the Owens valley which is high desert territory east of Mt. Whitney. In 1933 this was a rugged place to live. Franks's parents were hard working immigrants from Mexico, but there was not much money. The kitchen had a wood burning stove and there was no indoor bathing except in a large galvanized tub on Saturdays. Despite the lack of money Frank had a happy childhood. He had 2 sisters and 2 brothers and his grandparents lived nearby. As Frank grew up the family moved to a larger home in Lone Pine and fate took a hand in the form of a caring High School teacher. In his senior year in High School one of Frank's teachers who had served in the Navy in WWII recognized Frank's intelligence, leadership ability and social skills and urged him to apply for an appointment to Annapolis. But Frank had not taken the kind of courses in High School to prepare for college so he was going to have to go to Junior College which meant moving to Los Angeles and living with extended family. There were more hurdles to get past, but Frank persisted and joined the Great Class of 58 in the summer of 1954. Frank went Navy Surface Warfare after graduation and served with distinction on active duty for 30 years before retiring as a Captain. He and his wife Linda created the Gamboa International Corporation, a management consulting company which they ran from 1994 to 2006. While on active duty Frank had the distinction of being the first Mexican-American Naval Surface Warfare Officer to command a major U.S. Navy Warship, the USS Fort Fisher (LSD-40) and later the USS Vancouver (LPD-2). His biography "El Capitan" was published in 2011 and is highly recommended. Frank is the Vice President of the USNA Class of 1958 and still using those leadership skills.
Frank had three roommates in the 17th Company who would also become Navy Captains and have distinguished careers. Keith Bunting, like Frank, became a Surface Warfare Officer after graduation and served on Destroyers, but later Keith would go to Submarine School and join the Undersea Warfare Community. His first submarine duty was on the USS Grampus. Then it was on to Nuclear School and duty on the USS Thomas Jefferson, the USS Casimir Pulaski and the USS George Washington. From 1973 to 1976 Keith was the Commanding Officer of the USS Abraham Lincoln, a nuclear powered ballistic missile submarine. Then it was onto Washington DC where Keith retired as a Captain in 1984 and went on to have a second career with the Computer Sciences Corporation until his death in 2002.
John Dittrick, another of Frank's roommates, elected to go Navy Air. After getting his Wings of Gold Jack flew E-1B and E-2 early warning carrier aircraft. There were deployments aboard the carriers USS Independence, USS Saratoga, USS Shangri La, USS Roosevelt and USS America, but also time to earn a MS from the Naval Postgraduate School. Jack served as Commanding Officer of both VAW-124 and RVAW-120. His most rewarding duty in the Navy was as the Commanding Officer of the U.S. Naval Support Activity Base in Naples Italy. Jack retired from the Navy in 1987 and launched a second career as a Professor. First as a member of the faculty at the College of William & Mary School of Business, then as the Associate Dean for Undergraduate Programs at the University of Southern California School of Business and finally back at William & Mary as the Assistant Dean of the School of Business. Jack died in 2009.
John Dittrick, another of Frank's roommates, elected to go Navy Air. After getting his Wings of Gold Jack flew E-1B and E-2 early warning carrier aircraft. There were deployments aboard the carriers USS Independence, USS Saratoga, USS Shangri La, USS Roosevelt and USS America, but also time to earn a MS from the Naval Postgraduate School. Jack served as Commanding Officer of both VAW-124 and RVAW-120. His most rewarding duty in the Navy was as the Commanding Officer of the U.S. Naval Support Activity Base in Naples Italy. Jack retired from the Navy in 1987 and launched a second career as a Professor. First as a member of the faculty at the College of William & Mary School of Business, then as the Associate Dean for Undergraduate Programs at the University of Southern California School of Business and finally back at William & Mary as the Assistant Dean of the School of Business. Jack died in 2009.
The other roommate, who also went on to retire as a Navy Captain was John McCain. I'm going to go out on a limb here and assume that we all pretty much know the rest of John's story and there is not much I could add. Frank, Keith, Jack and John all came from very different backgrounds and different parts of the Country, but at the Academy they bonded and became life long friends. All four served our nation with distinction and retired as U.S. Navy Captains. Well done!
◙ CLOSING RANKS
Bryon Schriver, 24th Company, passed away on May 5th 2017.
Carlos Hernandez, 24th Company, passed away on April 21st 2017.
JUNE-JULY 2017 ISSUE
■ CYPRESS POINT COUNTRY CLUB LUNCHEON
Our Classmates in the vicinity of Virginia Beach get together monthly on the 1st Thursday for lunch at the Cypress Point Country Club. (the one in Virginia Beach not the one in Pebble Beach). Classmates attending the March luncheon are in the attached photo from left to right. Jerry Larson 18th, Jim Sheehan 1st, Mel Runzo 10th, Newt Moore 1st, Bill Byman 2nd, Joe Mansfield 13th, Dick Dunbar 15th, Marty Kuhneman 5th, George Chafee 12th, and Linc Mueller 17th.
"Class of '58 at the Cypress Point Country Club"
■ WASHINGTON DC CHAPTER LUNCHEON
Gordon Gerson, our Class President and DC Chapter photographer sent me the attached photo taken at the Class of '58 March Chapter luncheon in DC. Dan Bellay 7th is shown presenting a thank you gift (one of Frank Gamboa's books) to Lt Brad Osmun, Class of '08 and the current 18th Company Officer at the Academy. Classmates attending the event in addition to Gordo and Dan were Bob Caldwell, Ralph Carestia, Phil Criswell, Bill Dougherty, Steve Edwards, Frank Gamboa, Mike Giglio, Harry Hurst, George Jenkins, Bill Misel, Tom Powell, John Rohrbrough, John Swope, Buff Walter and Bruce Wilcox.
"Dan Bellay and LT Osmun"
■ USNA YARD PATROL CRAFT
When we were Midshipmen, those many years ago, our education included learning skills expected of a Naval Officer and some of that training took place on YPs out on Chesapeake Bay. In our time these were wooden hulled YP-654 class vessels. They were 81 ft long with an 18 ft beam. Their full displacement was 66 tons and they were powered by twin diesels producing 165 HP each.
"YP-654 CLASS"
In the mid 1980s "our" YPs were replaced by the newer YP-676 class. These were also wooden hulled, but larger. 108 ft in length, 24 ft beam with more powerful twin diesel engines producing 437 HP each. The Academy still has 18 of the 676 class YPs although 6 of them are laid up as a reserve.
"YP-676 CLASS"
The Academy also has 6 of the newest YP-703 class. These are different in many ways from the earlier YPs. They are steel hulled, 116 ft in length, 28 ft beam, displace 228 tons, with twin diesels producing 660 HP each and they are outfitted with the newest kinds of navigation systems and computers. Steel hulls are not as forgiving as the old wooden hulls when it comes to Mids learning to bring a ship alongside a pier so the 703s have large rubber rails on the exterior of the hull to help during bumper drills. And the Navy being the Navy, you will be reassured to know that a new class of YP is on the drawing board.
"YP-703 CLASS"
(note #1: I would like to thank LCDr Ryan Rogers USN in the USNA Seamanship and Navigation Department for helping me with background on the YPs)
(note #2: How long before they have drone YPs?)
■ THE REST OF THE STORY
From Russell Henderson in the 9th Company comes the stories of two Classmates from the 9th who put their lives on the line to save others. One rescuer lived, one did not. The first story took place during plebe year which was a very stressful experience for many of us. For one Classmate the stress was too much and he ran from the 5th Wing to the seawall and jumped in heading towards the Chesapeake Bay. Running behind him and trying to stop him was his much smaller roommate Don Taylor. Without concern for his own safety Don jumped into the water, swam to and gathered up his roommate and returned him to shore. For his actions Midshipman Donald Taylor was awarded the Navy Commendation Medal. After graduation Don earned his Navy Wings of Gold and went on to serve in VP-46. Later while serving at NAS Memphis Don, sadly, was killed in an automobile accident. The second story took place after graduation and involved Robert D. Stannus. Dick went Navy Line and was assigned to the USS Bexar (APA-237). Before long the Bexar deployed to the western Pacific with a full load of Marines and an unplanned date with a typhoon. As the weather became worse all hands were instructed to stay off the weather decks, but a few Marines felt they had to get fresh air (APAs are not cruise ships). A series of huge waves swept across the Bexar and two of the Marines ended up in the ocean. The seas were too rough to launch a lifeboat so a rescue swimmer was the only option. Dick was the JOOD and at Annapolis he had been a competitive swimmer and water polo player so he volunteered. He reached one of the Marines and attached a line enabling that soul to be hauled aboard the ship. Unable to find the other Marine Dick was attempting to return to the ship when he was pulled under as the ship rolled entangling his safety line. Sadly Dick drowned. For his actions he was awarded the Navy and Marine Corps Medal.
A happier story comes from Michael Mclane 6th Company. After graduation Mike reported to the USS Newport News (CA-148) for what was then the required year at sea before going to sub school. After sub school he served on the USS Wahoo, (SS-565). Then it was time for the dreaded interview with Admiral Rickover who proceeded to declare "Get out. I never want to see you again!" Given the mysterious ways the Navy works Mike was really surprised to then receive orders to the Naval Postgraduate School to study Nuclear Physics. After just two months at NPS, however, Mike was surprised again when along with 60+ others he was involuntarily ordered into the nuclear power program in what some called "the 1963 graduate school massacre". The reason for all this was the Navy's plans for 41 new Polaris submarines requiring 82 wardrooms. Mike had subsequent duty on USS Sargo (SSN-583), XO of USS T. Roosevelt (SSBN-600), ashore to the Trident Program Office and then CO of USS Daniel Webster (SSBN-626). Mike retired from the Navy in 1982 and worked for several defense companies and the US Coast Guard R&D Center before retiring for good in 2000. Well done Mike.
Fran Burgard, the widow of Joe Burgard, 9th Company, wrote to tell me Joe's story following graduation. Joe was a wrestler at the Academy and sadly he wiped out his knee during competition and graduated with the Class, but was not commissioned. He and Fran were married right after graduation and they went on to have an interesting and productive life together. They moved to Sacramento where Joe went to work as a rocket engineer for Aerojet. Ten years later they moved to the SF Bay area and Joe held management positions for several companies. In 1974 Joe purchased Valmont Corporation, a small manufacturing business that made restaurant and bakery equipment. He would manage that business for the next 30 years. He and Fran retired in 2004 and enjoyed the good life in Sierra City CA with children, grandchildren and great-grandchildren. Joe passed away on 30 April 2016.
In the April 2017 issue of Shipmate I noted the death of George McAleer 20th Company, but let me fill in "the rest of his story". After graduation George went into the Air Force and flew B-47s in SAC and C-130s in Southeast Asia logging over 110 combat missions. He left the Air Force in 1969, but remained in the AF Reserves retiring as a Colonel in 1988. Starting in 1969 George worked for several companies while earning an MS from Rensselaer Polytechnic and a Doctorate from USC. Later he taught at several schools including the Defense Systems Management College and the Industrial College of the Armed Forces.
■ CLOSING RANKS
Hector Medina 23rd Company, died on 16 September 2016
Ruby Fisler the wife of Louis Fisler 21st Company, passed away on June 16th 2016
Linda Tillman the wife of Dick Tillman 1st Company passed away on the 28th of February 2017
USNA CLASS OF 1958 SHIPMATE COLUMN
APRIL 2017
■ 18TH COMPANY
Long ago, but not so far away Bob Caldwell, John Poindexter and Bill Hemingway were roommates for all four of our years at the Academy. Throughout the years they have remained close friends and get together frequently. The picture shows, from the left, Bob and Becky Caldwell, John and Linda Poindexter and Bill and Kathy Hemingway at one of those get togethers. The date was 2 January 2017 and the place the Caldwell's home in Annapolis (where else?).
"ONCE A ROOMMATE ALWAYS ..."
■ WASHINGTON DC CHAPTER JANUARY LUNCHEON
Jack Adams, 4th Company, reported on the January luncheon of the Washington DC Class Chapter. The Classmates present were Jack, Dan Bellay 7th, Bob Caldwell 18th, Whitey Edwards 17th, Gordo Gerson our Class President 11th, George Jenkins 10th, Charlie Pinkham 4th, Paul Polski 2nd, Tom Powell 13th, John Rohrbough 8th, John Swope 6th, Bruce Wilcox 12th and Fred Victor 11th. Also present were 8 wives and 3 guests, LTGEN Stroup, COL Davinport, both retired US Army and Mr Joe Dooley who was the speaker. Mr Dooley, who represented the Sons of the American Revolution, spoke about Russia's interactions with the European powers during our Revolutionary War. (Note: Russian interactions is a big topic back in the Washington environs these days so this was a timely subject.)
"JOE DOOLEY AND JACK ADAMS"
■ MEANWHILE ON THE WEST COAST
John Potter 19th Company, reported on what was happening on the West Coast in January. The Northern California 58ers gathered at the Basque Cultural Center for a luncheon on 25 January. Those Classmates present our shown in the picture, from the left, John Gardner 10th, Bruce Bartels 7th, Jack MacKinnon 9th, John Potter, Dave Allard 7th, Phil McNail 15th and Bill Oliver 17th. In the front row, from the left, are Nancy Bartels, Claire Barney (guest of Phil), Jude Potter, Barbara Allard, and Virginia Oliver. The next gathering for the group will be in April at the "Brass Door" in San Ramon. FYI San Ramon was chosen as "Tree City USA" in 2001.
"STUDYING BASQUE CULTURE"
■ COMMENT FROM YOUR CORRESPONDING SECRETARY (me)
Much of the input I receive from Classmates for our Shipmate column consists of reports on luncheon gatherings, trips taken or deaths. These are noteworthy and appreciated, but it would be nice to receive more input from more Classmates. Many if not most of us have lived interesting lives and I say this because I read about those lives in the Last Call section of Shipmate. Why not share some interesting aspect of your life that the rest of us can enjoy. I figure if all of us do that and I incorporate a paragraph about the life of one Classmate in each issue I will have enough input for about 45 years of future Shipmate columns. And on top of that you will have made a good start on preparing your own obit. So let me tell you what happened to me after I retired from the Navy in 1982.
Bill Schramm, 17th Company. "During my Navy career I had the good fortune to go through both a Masters program and a Doctoral program at the Naval Postgraduate School in the fields of Meteorology and Oceanography and become a restricted line officer in those fields. So when I decided to retire I applied for a position with the World Meteorological Organization which is located in Geneva Switzerland and is a part of the United Nations. In due course I was hired by the WMO and the family moved to Geneva. Working for the UN was wonderful. I enjoyed working with countries such as China, Turkey, Brazil, Argentina, Egypt, etc and the perks and benefits were great. Not only were the pay and allowances very high, they were all tax free. No tax on my UN income for Switzerland, the US or anyone. A generous retirement plan, health plan, 8 weeks a year vacation, a UN Passport for our travels and Diplomatic status were just some of the perks. After 7 years with the UN I retired and we moved back to Monterey Ca where I was recruited to be the Chief of an Office of the National Ocean Service which is part of NOAA. After 6 years with NOAA I retired and became a "plank owner" faculty member at the California State University of Monterey Bay where I taught environmental science courses for 7 years. I had some wonderful post retirement jobs following my Navy career, but all of them came to me because of the education and experience I received during the Navy career."
■ CLOSING RANKS
Paul Sudmeyer, 3rd Company, passed away on December 23rd 2016.
George Allender, 16th Company, died on 20 January 2017.
George McAleer, 20th Company died on 23 December 2016.
John Pratt passed away on 21 January 2017.
Barbra Minar, wife of Gary Minar 20th Company, passed away on 5 November 2016.
Susan Harper, wife of Hugh Harper 22nd Company, died on 6 January 2017.
USNA CLASS OF 1958 SHIPMATE COLUMN
MAY 2017
■ SKI REPORT
Angela Tranquill is the daughter of Ralph Carestia, 20th Company. She sent me the picture of Ralph with a gaggle of USNA Midshipmen who were competing in collegiate ski races in Pennsylvania and who Ralph had invited to his ski chalet. Ralph is the guy in the center with the "Old Man" sweater in case you were wondering. (I'm not sure how much snow they had in Pennsylvania this year, but in California they had about 24 feet of snow in January alone at Squaw Valley in the Sierras. As I write this I think they have had about 47 feet this season which is about the height of a five story building.)
"RALPH CARESTIA AND FELLOW MIDSHIPMEN"
■ DC LUNCHEON
Jack Adams reported on the details of the February DC Chapter luncheon. He did not say where it was held, but I am going to go out on a limb and guess the Army-Navy Club. There were 16 Class of 58ers present. 15 from the USNA and 1 from the USMA. The Navy guys were Jack Adams, Dan Bellay, Gordon Gerson, Mike Giglio, Jene LeBer, George Jenkins, Bill Meisel, Jack Nicolas, Charlie Pinkham, Paul Polski, Tom Powell, John Rohrbough, Ted Smedberg, John Swope, and Bruce Wilcox. Representing West Point was Jack Gordon.
The speaker was RADM Brian Antonio who is in charge of USN carrier construction, maintenance and overhaul which is a lot to be in charge of. He provided a very informative presentation regarding the upgrades and enhanced capabilities of the newest class of carriers (the Ford class).
"JACK ADAMS AND RADM BRIAN ANTONIO"
■ THE CORDOVA CLAN
Dick Cordova, 17th Company, made it to last fall's Army-Navy football game. Three facts make that happening newsworthy. First, it was the first time Dick has been to an A-N game since graduation. Second, he arranged for 5 of his family from the west coast to join him plus his brother and 5 of his family for a total of 12 which counts as a family reunion. And third, Dick came from sunny San Diego to the very cold conditions back east. Dick's brother did not attend the Academy, but did serve there in the 70's with the Supply Corps and is a Navy fan. In the picture Dick is the guy with the beard and the number 12 on his jersey. Watching Navy lose wasn't fun, but Dick took the family to the Academy the next day and that was fun.
"THE CORDOVA CLAN AT THE A-N GAME"
■ ANNAPOLIS TOUCHDOWN CLUB
Bob Caldwell, 18th Company, was honored at the 2017 Annapolis Touchdown Club Banquet. He was awarded the "Jim and RaeAnn Morgan Award" as a distinguished member of the Annapolis Touchdown Club. Bob's association with the Club began during our plebe year when he attended the inaugural banquet. Later he would return to the Academy as the Deputy Director of Athletics and renew his association with the Touchdown Club and that association has continued through the years since Bob and Becky retired in Annapolis. The family picture, taken at the banquet, shows (L-R) Grandson Luke, Daughter Susie, Wife Becky, Bob, son Bob jr. and son Matt.
"BOB CALDWELL AND FAMILY"
■ THE REST OF THE STORY
In the April issue of Shipmate I asked Classmates to write and share their stories about what happened in their lives in the years after graduation. Ken Granzin, 6th Company, responded, so in the immortal words of Paul Harvey let's hear "the rest of the story".
Ken left the Navy in 1962 and entered the MBA program at the University of Illinois. After earning his MBA he stayed to earn a PhD in Marketing and Quantitative Economics. He went on to teach at Illinois for 3 years and enjoyed that so much he made teaching his career. About 28 years of that career was at the University of Utah. He is now retired and he and his wife live in western North Carolina. When Ken sent me the information he mentioned that he did not think his career path would be of interest, but I disagree. Earning a PhD and having a career teaching at a major University seems like a distinguished career to me. Well done Ken.
Ken also passed on information about three other Classmates who were in the 6th Company. All three played on the USNA football team that went to the Cotton Bowl, they roomed together at the Academy and all three left the Navy to pursue other careers following their obligated service. Ned Oldham was the Captain of the team and a 3rd team All American halfback. He later would become a prominent intellectual property attorney. Ned died in 2011. Pat Flood, was a quarterback. He also became a lawyer and for many years acted as a highly respected official in college football games including bowl games. Otto Helweg earned an MS in engineering from UCLA, an MS in higher education from Memphis State, an MBA from the University of Memphis and a PhD in Engineering at Colorado State University. During his career he was on the faculty at the University of California Davis and Texas A&M and Chair of the Civil Engineering Department at the University of Memphis. Along the way he also found time to earn a Master in Divinity from the Fuller Theological Seminary. Otto spent most of 2007 in Rwanda helping to bring water and the Gospel to villages, schools and hospitals. He was Dean of the College of Engineering at North Dakota State University when he died in 2008.
■ CLOSING RANKS
Paul Miller, 2nd Company, passed away on January 16th 2017.
Dick Freeman, 3rd Company, died on 11 February 2017.
Paul Herner, 20th Company, died on 18 February 2017.
Jeanette Gatje, wife of Pete Gatje, 24th Company, passed away on January 30th 2017.
Mig Sturr, widow of Dixon Sturr, 20th Company, died on the 10th of January 2017.
Evelyn Nalesnik, widow of Richard Nalesnik, 23rd Company, died on January 21st 2017.
Shipmate 2016
NOTE: The contents of this page will consist of all the news items for the class that don't fit into SHIPMATE due to the imposed limitations of 2,000 words (including the words charged for photos) for each class news column. The column will add the material for the succeeding issues of the magazine as they are mailed. At certain points, old news will be deleted to insure the page doesn't become overly long. The photos on this page may be clicked upon to enlarge them, so that you may see who is actually in the photo, a better arrangement than the "tiny photo" policy being utilized in the magazine. So on to what was to have been in SHIPMATE!
Our Corresponding Secretary, Bill Schramm, has initiated a new practice with regard to the Shipmate Articles. In addition to being included in the Shipmate itself, he thought it would be useful to those Classmates who do not get Shipmate to be able to read the column on the website. These columns will be posted as they become available from Bill.

USNA CLASS OF 1958 SHIPMATE COLUMN
2016 SEPTEMBER – OCTOBER ISSUE
■ 58 YEARS AND COUNTING (PART II)
In the last issue of Shipmate I looked back at the Class of '58 when we arrived at the Academy and four years later at graduation. In this issue I would like to bring you up to date on where we stand 58 years after graduation.
Of the 899 of us who graduated in 1958 there are still 573 present and accounted for, which is almost 64% of the Class. 295 are known deceased and 29 of those died in combat or in operational accidents. Let's put those numbers into perspective. When we were born our life expectancy was 59.9 years. For a baby boy born today the life expectancy is 76.3 years yet here we are with an average age of 80 with at least two thirds of us still going strong. Well, at least we are still going.
In addition to those of us who are present and accounted for and those deceased there are 31 others who are lost sheep. By that I mean the Class has lost contact with them, but let's put that number into perspective as well. Only about .3% of the Class has not stayed in touch. Not 30%, not 3%, but just 3 tenths of 1 percent! It is an impressive demonstration of the bonds between us that were forged during our time at the Academy and are still strong 58 years after we graduated.
Let me share a few more numbers that you will find interesting. The Company with the most graduates was the 20th with 44. The Company with the fewest graduates was the 21st with 32. The Company with the most present and accounted for today is the 20th with 31 while the Companies with the fewest P&A are the 5th and 14th with 17 each. The Company with the unhappy distinction of having the most deceased is the 5th Company with 18 and the Company with the fewest deceased is the 1st Company with just 6. If you wonder what the numbers are for your Company go to our Class web site for a full breakdown Company by Company.
This is a good place for me to thank all the 24 Company Representatives and most of all Terry Cooper, 24th Company,who oversees our CR system, for their help in providing me with the numbers that define where we are as a USNA Class.
When I reflect on the closeness of the Class of '58 I think it is important that we recognize the role of the leadership of our Class over the years and continuing today. The All Hands bulletins coming from our President that keeps the Class informed, the well planned reunions that continue to draw large numbers of us together, the Class Chapters that meet on a regular basis and the Company get-togethers. Perhaps most of all we have the organization of volunteer Company Representatives who work to keep their Company Mates in touch. Well done '58.
■ '58 IS 58
Back in 2013 at our 55th Reunion it dawned on several of the Class that a very special anniversary was approaching. In June of 2016 the Class of 1958 would be celebrating its 58th anniversary. What should we do to commemorate this special event? In March of 2015 our Class Board of Trustees reached a consensus and approved a '58 IS 58 Reunion cruise. Different cruise possibilities were studied and the decision was made to set sail on the Liberty of the Seas, operated by the Royal Caribbean International Cruise Lines. The ship would sail from Galveston TX on a 7 day cruise with ports of call at Cozumel Mexico, George Town Grand Cayman, and Falmouth Jamaica. The ship would depart Galveston on 12 June 2016 and return on 19 June.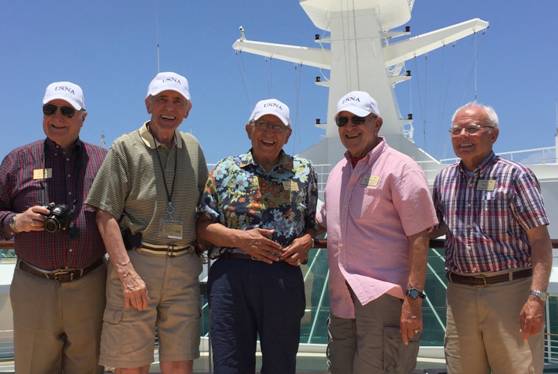 Enjoying the sea air
Our Class President Gordon Gerson would command the embarked 58ers, their spouses and their guests in the role of Cruise Director. Frank Gamboa and lovely Linda Gamboa would serve as Cruise coordinators assisted by a committee consisting of Jack Adams, Paul Polski, Fred Victor, Dianne Hughes, Harry Hurst, Rupe MacLean, Clivie Goodwin, Tom Powell and Eric Mansfield.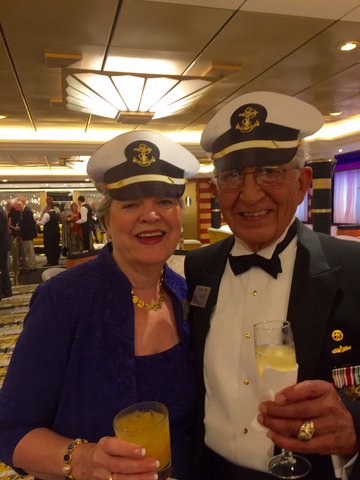 Frank and Linda Gamboa
On 12 June 124 Reunion attendees including 58 members of the Class of '58 set sail on the Liberty of the Seas for what would be a wonderful experience. The weather was perfect and there was lots of time for visiting, attending the entertainments on the ship and exploring the ports of call. The night of June 17th there was a special reception followed by a commemoration event in two acts. Gordo opened the event with a prologue followed by a reading of the Midshipman's prayer by General J.B. Davis USAF (ret), the senior officer present. Act 1 Scene 1 of "Our Illustrious Voyage" had Paul Polski describing the highlights of the many individual and class achievements and contributions to the military and in the private sector. Paul also described the Class of '58 support to the Naval Academy, the Brigade of Midshipmen and the Alumni Association. Act I Scene 2 had Frank Gamboa reviewing the achievements of our four Classmates who have been honored as USNA Distinguished Graduates. Chuck Larson, Ben Montoya, Terry Cooper and Bruce McCandless have been so honored and Frank highlighted their careers. Act II Scene 1 consisted of Jack Adams looking back at our four years at the Academy from Plebe Summer to June Week in 1958. In the final scene Gordo guided the attendees through a reenactment of our graduation. A recording of President Eisenhower's address was played along with a recording of Superintendent RADM Smedberg conferring on the graduates the Bachelor of Science degree. Gordo then led our classmates in singing Navy Blue and Gold. CDR Jennifer Brooks, USN (ret), the daughter of Classmate Paul Brooks led the audience in "three cheers for those about to leave us" and Gordo responded by leading the Classmates present in "three cheers for those we leave behind" and the '58ers tossed their replica Midshipman's caps in the air!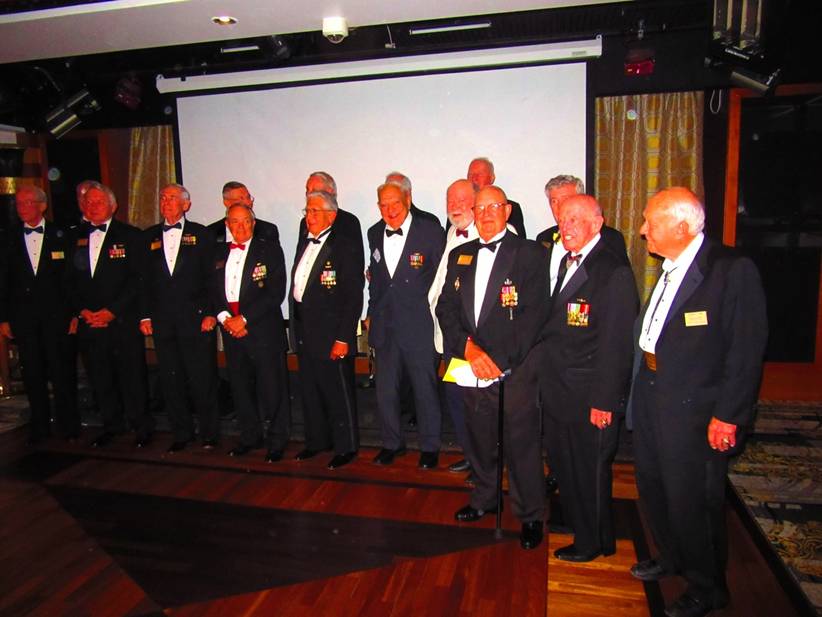 The Uniform of the Day was Formal Dress
On the last day at sea the Captain of the Liberty of the Seas hoisted the "58 is Great" flag as a fitting ending to a wonderful event.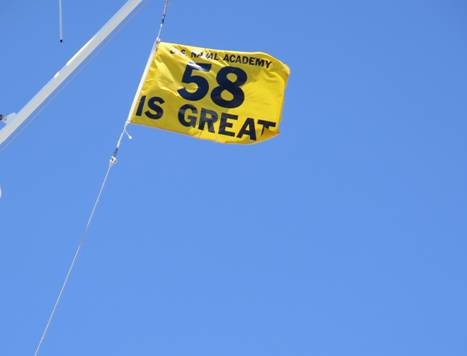 Hoist the Flag!
(For more pictures from the cruise please go to our Class of '58 web site)
■ MUSEUM QUALITY
I have learned of yet another of our Classmates whose name can be found in a Museum. Jim Pierce, 24th Company, has him name on the Aero Club of Washington Trophy of Aviation Excellence which is on display at the National Air and Space Museum.
■ CHAPTER NEWS
At the June luncheon of the Washington DC Chapter of the Class of '58 the guest speaker was LtGen John Raymond USAF. He gave an outstanding presentation on the status of the USAF today, the Air Force efforts in space including space security to the 20 '58 Classmates and guests who were present.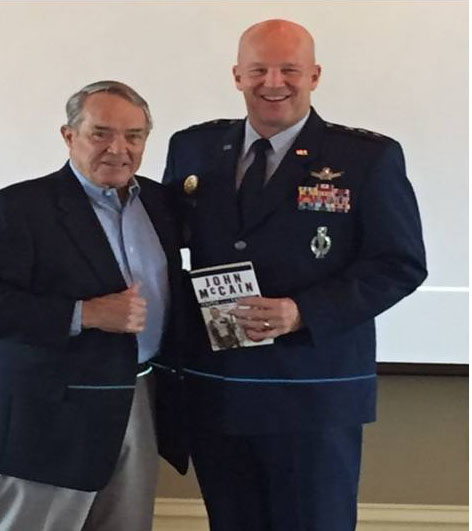 Jack Adams and LtGen Raymond USAF
■ CLOSING RANKS
Walt Peters, 9th Company, passed away on June 19th 2016 in Scottsdale AZ.

USNA CLASS OF 1958 SHIPMATE COLUMN
2016 MEMBERSHIP AND SERVICES ISSUE
ꜘ■ 58 YEARS AND COUNTING (PART I)
2016 is a significant year for the Naval Academy Class of 1958 because it marks 58 years since our graduation. I decided it would be appropriate to do a report on just where the Class stands today, but first I want to review the profile of the Class back in 1954-58 and many thanks to Taylor Keith, 19th Company for providing me with the Class statistics.
There were 1221 of us back in the summer of 1954 when plebe summer started. Before we would graduate we were joined by 18 others who were turned back or readmitted so at one time or another there were 1239 members of the Class of '58 although not all at one time because even as we gained members we also lost members. There were 215 separations from the Class during Plebe year, 62 more 3/c year, 53 during 2/c year and 10 in our last year. In total we lost 340 Classmates prior to graduation.
Finally June Week 1958 arrived and 899 of us graduated on the 4th of June. Of the 340 we had lost there were 17 who turned back to '59 and hopefully they went on to graduate as well.
Following graduation 383 of the Class went to sea as Navy Line, 204 (including your truly) went Navy Air, 70 joined the Marine Corps, 58 went Air Force Air and 129 Air Force Ground, 28 went to the Supply Corps and 10 to the Civil Engineering Corps, 5 were Foreign Nationals who went on to serve in their own Navies and the remaining were not physically qualified for Commissioning.
We had arrived in Annapolis in 1954 as youths and 4 years later in 1958 we would leave as men prepared and ready to serve in defense of our Country. In the next issue of Shipmate I will take a look at where we are today 58 years after graduation.
■ CLASSMATES IN CAMARILLO
On the 4th of June our Class President Gordon Gerson sent out an All Hands bulletin suggesting it was a good time to reach out and reconnect with a Classmate. The call was heard in Camarillo California and Nils Rueckert (6th), Gary Minar (20th) and Jim Higgins (17th) did reconnect and even sent in a picture as proof. Way to go Camarillo.
Nils Rueckert, Gary Minar and Jim Higgins
■ WASHINGTON DC CHAPTER
Given that our average age is about 80 I'm not sure how much "springing" and "flinging" we are doing these days, but nevertheless the DC Class of '58 Chapter held their annual Spring Fling in May. They had a fine turn out with 61 Classmates present plus wives and several members of the Class of '08. The guest speaker was Coach Ivan Jasper who is the Offensive Coordinator and QB Coach for Navy's football team. The Coach gave a rundown of Navy's football program and the prospects for the coming year which are excellent. Looking good!
Harry Hurst (7th) and Coach Ivan Jasper
■ MORE HAPPENINGS ON 4 JUNE
Class President Gordon Gerson passed on a picture of Dick Meaux '57 congratulating our Classmate Lance Massey (11th) on the 58th anniversary of his and our graduation.
Dick Meaux '57 and Lance Massey '58
■ AMERICAN PATRIOT OF THE YEAR AWARD
The Veterans Council of the Golden Isles awarded their "2016 Veteran's Council American Patriot of the Year Award" to Brent Taylor (23rd). Brent was recognized for his outstanding support for many of the projects of the Veterans Council and especially for his work during the past ten years. This included his leadership in the Honor Flight which transported 54 veterans from coastal Georgia to Washington DC to visit War Memorials and Arlington National Cemetery. Also highlighted was Brent's participation in presentations at schools by the local chapter of the Son's of the American Revolution (SAR) where American History is made alive and interesting. The Veterans Council of the Golden Isles consists of 14 different Veterans organizations in the coastal region of Georgia. Well done Brent!
Brent Taylor receiving award from Colonel Nick Hart
■ ALOHA
For many of us in the Class of '58 this year marks not only the 58th anniversary of our graduation, but also our 58th wedding anniversary and so it is for myself and my bride. Mimi and I decided the event called for something more then going out for dinner so we elected for a trip to Hawaii. We stayed at the Hale Koa in Honolulu which is a beautiful hotel on Waikiki beach available for active duty and retired service members. We also were able to visit with Frank Hasegawa (17th) and his wife Bobbie who live in Aiea. Hase and I were roommates during plebe year so it is always a treat to visit Honolulu and spend some time with them. The picture was taken at the Hasegawa's home where we had dinner. Also there was Becky Fitzgerald who is the widow of Jim Fitzgerald (3rd) and a neighbor of the Hasegawas.
INSERT PICTURE # 5
CAPTION: Frank and Bobbie Hasegawa, Betsy Fitzgerald, Mimi and Bill Schramm
■ MUSEUM QUALITY (continued)
Greg Streeter (1st) reminded me that he is immortalized on the Navy memorial at Normandy (Utah Beach) honoring the Navy and Coast Guard for their efforts during the D-Day invasion. You might remember that in an earlier issue of Shipmate I reported on how Greg was instrumental in getting that memorial built. No rule that a museum has to be indoors is there?
■ CLOSING RANKS
John Fox (7th) passed away on May 21st in Cherry Hill, NJ.
Richard Post (non-Grad) passed away on 31 March in Sandwich MA

USNA CLASS OF 1958 SHIPMATE COLUMN
JULY-AUGUST 2016 ISSUE
■ BEWARE OF FALLS AS YOU GET OLDER!
The cover photo for the STEWARDSHIP 2016 issue of Shipmate shows a Midshipman racing down the slopes on his skis. Turns out that young man is a member of the class of '18 and he is on the Naval Academy Alpine Ski Team. Looking at that picture made me wonder. How many of us back in 1956 could have raced down a mountain like that? And how many could do it now 60 years later? Well it turns out that one of our classmates is still risking life and limb on the slopes and that is Al Skiles, (12) class of '58. Al finished 2nd in his age group this year in the NASTAR Championships which were held in Steamboat Springs, CO. The NASTAR Championships are the National Championships for recreational skiers and a big deal.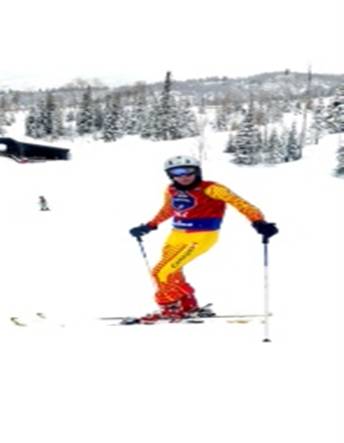 CAPTION: AL SKILES AT STEAMBOAT SPRINGS
■ ANNUAL '58 GOLF WEEK
Once again an intrepid group of '58ers descended on Hilton Head Island in April for a week of fun and games including some golf. Jim McNulla reported that there were 19 classmates present for the golf and 2 others there for the fun part of the week. Some of the attendees stayed at the homes of 58ers who live on the island and the others stayed at a rented house where everyone gathered to enjoy evening meals and talk about all their great shots. In the picture in the top row from the left are John Nagel (8), Lee Polhill (19), Tom Gibbons (19), Bill Pendley (3), Mike Salmon (7), and Taylor Keith (19). In the next row down are Mike Woodbury (7), Tom Powell (19), Pete Burg (18), and George Stubbs (17). In the next row are Marty McCullough (12), Jack Adams (4), Rich Slyder (22), Greg Streeter (1), and Pete Westphal (1). On the stairs are Bob Mason (9), Tom Grimm (3), Ted Smedburg (19), and Jim McNulla (1). Jim says plans have been made for a 2017 '58 Golf Week with the exact dates yet to be determined. If you would like to join the Hilton Head gang next year contact Jim at jmcnulla58yahoo.com.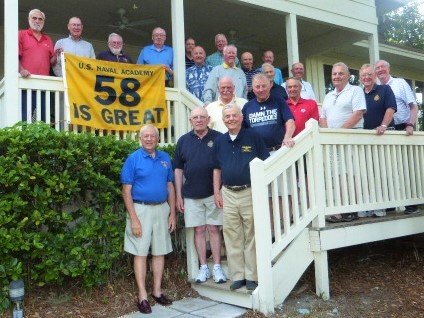 CAPTION: CLASS OF '58 GOLF WEEK
■ MORE MUSEUM NEWS
Dick Pagnillo, Class of '59, is a friend who lives in Monterey CA. He read in the Class of '58 Shipmate column about our Classmates who live on in museums and wrote me about Chuck Larzelere (20) who Pag flew with in two squadrons back in the day. It seems that Chuck flew one of the last operational
P-5M Marlins from Gitmo to the Naval Aviation museum in Pensacola. If Chuck's name is not on that plane it should be. (For those of you who actually pay attention to the column you will recall that I also used to fly P-5Ms and I am having a hard time picturing how they got a really big seaplane from the ocean to the museum??)
We also heard from Don McGarrigle on the subject of P-5Ms. Don is a member of the Class of '58, but did not graduate with the Class. He did go into Naval Aviation and served for 24 years. As it turns out Don was on the crew of the last P-5M which was flown from North Island in California to Pax River Naval Air Station in 1968 and placed in the museum there.
■ WASHINGTON DC CHAPTER LUNCHEON
Jack Adams reported that 20 classmates were present at the April luncheon along with 2 members of the Class of '08 and 14 ladies. Those present and accounted for were Jack Adams (4), Dan Bellay (7), Bob Caldwell (18), Si Daugherty (24), Whitey Edwards (17), Ron Fisher (17), Frank Gamboa (17), Gordon Gerson (11), Mike Giglio (10), Harry Hurst (7), George Jenkins (10), Jean LeBer (15), Bill Meisel (12), Mike Moran (24), Jack Nicholas (9), Paul Polski (2), John Rohrbough (8), John Swope (6), Buff Walter (11) and Bruce Wilcox (12).
This was a very special event in the sense that the guest speaker was Admiral James F. Caldwell Jr. USN the son of our classmate James F. (Pooch) Caldwell (6) and his widow Peggy. Admiral Caldwell, USNA 1981, is the Director of the Naval Nuclear Propulsion Program. He is the 7th Officer to hold that post with Admiral Rickover being the first. This is an important job in the Navy and normally an 8 year assignment although Admiral Rickover served in the post for 33 years. Jack reported that Admiral Caldwell was a splendid and articulate speaker.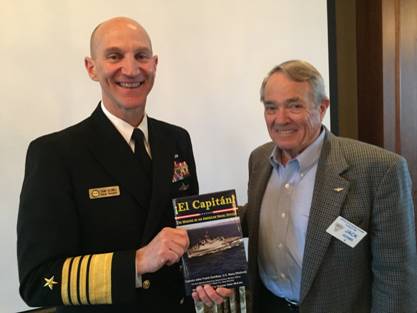 CAPTION: JACK ADAMS WITH ADMIRAL JAMES CALDWELL USN
■ SAN FRANCISCO CHAPTER LUNCHEON
John Potter (19) reported that the San Francisco area group gathered for their most recent event at the original Gordon Bierch Brewpub in Palo Alto which is now also called the Dan Gordon Bistro. Actually Bistro is a strange name for a Brewpub since "bistro" means, in French, a small wine bar. That in itself is strange since the word bistro comes from biste which means goat. Those attending and enjoying themselves were John Davis (7) and wife Pat, Bruce Bartels (7) and wife Nancy, Dick Hanson (7), Bill Oliver (17) and wife Virginia, Dave Allard (7) and wife Barbara, John Potter, and Jack MacKinnon (9).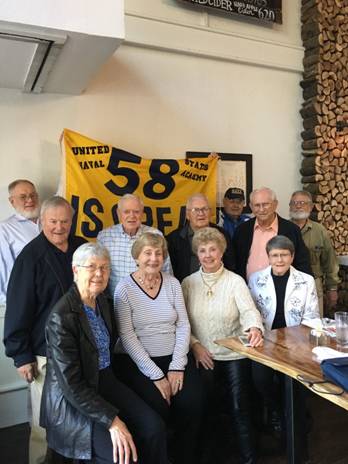 INSERT PICTURE # 4
CAPTION: A WEST COAST GATHERING■ PC
In today's vernacular PC usually refers to political correctness, but it also can refer to Prostate Cancer. Gary Minar (20) wrote and asked me to remind the Class of the importance of awareness of this disease. Gary has submitted material about PC to our Class web site including a short video by a urologist from Harvard Med School and I agree with Gary that every man should be aware of the information on that video. If not for you then think of your sons, sons in law and grandsons. Look at that video and get your PSA checked on a regular basis. And if you have questions feel free to contact Gary at gary.minar@1958.usna.com or call at 805-688-7957.
■ CLOSING RANKS
Frank Conery (13) passed away in his sleep on 19 April 2016. At the age of 7 he decided he wanted to be a pilot and at 10 he further decided he would go to the Naval Academy. He attained both goals becoming a carrier pilot with five deployments during the Vietnam war to his credit and retiring after 20 years service in the Navy.
Joe Burgard (9) passed away on 30 April. Because of a medical problem Joe did not graduate with the Class.
Jack Finegan (17) passed away on 16 May. Jack did not graduate with the Class, but he loved the Academy and always remained close to his friends in the 17th Company

USNA CLASS OF 1958 SHIPMATE COLUMN
MAY-JUNE 2016 ISSUE
■ MUSEUM QUALITY PART II
In the last issue of Shipmate I commented on 4 members of the great Class of '58 who have achieved immortal status, at least for the time being, by being "on display" in a museum. Bruce McCandless in the Naval Academy Museum (and probably other museums as well), Ben Montoya in the SeaBee Museum in Port Hueneme, CA, and Jesse Hernandez and myself whose names you will find in the National Museum of the United States Navy located in the Washington Navy Yard. I concluded by asking who else in the Class might be found in a Museum? Based on the initial response there may be more than one might think.
When I finish writing a column I send copies to those who have contributed material at the same time that I submit the column to the Alumni Association editor. For the last column there were 5 Classmates who contributed so they received advance copies. Two of the five responded to say that they also were be be found in a Museum and in both cases it was the National Museum of the United States Navy. The name of Jack Adams, 4th Company will be found on the model of the S3 Viking in the Cold War gallery. In the WWII exhibit there is a full scale mock up of a Fletcher Class Destroyer pilot house. The museum wanted to show how cramped the space would be with all the stations manned so a picture was taken and our Classmate Chuck Smith, 20th Company is in the Captain's chair.
As I write this the Stewardship issue has not yet been mailed so most of the Class has not seen my initial discussion of Classmates in Museums. I wonder how many more I will hear from? Very interesting.
■ WASHINGTON DC CHAPTER LUNCHEON
A significant number of our Classmates live in the Washington DC area and many of them participate in the monthly luncheons of the DC Chapter of the Class of '58. Jack Adams, the President of the Chapter, reported that 19 Classmates (Adams, Bellay, Brooks, Chriswell, Edwards, Gamboa, Gerson, Giglio, Hernandez, Hill, Jenkins, Leber, Lyons, Misel, Pinkham, Polski, Powell, Walter and Wilcox) attended along with 9 spouses and 2 members of the Class of '08. The attached photo shows Jack and Mike Elston, the guest speaker, who spoke on the assistance Bermuda provided for the American Revolution.
CAPTION: Jack Adams and Mike Elston
■ WHENEVER TWO OR MORE SHALL MEET.....
In mid-March Charlie Brooks and Linc Mueller, both 17th Company, and their wives got together to visit the Outer Banks in North Carolina. One day they took the Knott's Island ferry to Nags Head and visited the Wright Brothers Museum. On one wall were pictures of famous aviators and astronauts including Bruce McCandless. That evening John Kennard, 7th Company, and his wife joined the party for dinner. The attached photo shows Charlie and Linc on the bridge of the ferry where the Captain gave them the con.
CAPTION: Charlie Brooks and Linc Mueller at sea
■ FIT FOR DUTY
In San Diego golf is a year round activity unlike other parts of the country where golf clubs gather dust for parts of the year. So it came to pass that in March Chuck Smith, 20th Company and Dick Cordova, 17th Company got together for a friendly day on the links. What makes this story noteworthy is the fact that Dick had just undergone open heart surgery 4 months prior. No report on the scores posted, but the attached picture shows Chuck and Dick enjoying the 19th hole. Not to brag or anything, but I wonder how many Classmates living in the more frigid parts of the Country enjoyed watching the AT&T golf tournament taking place in beautiful Monterey, CA. (Guess where I, your CS happens to live?)
CAPTION: Chuck Smith and Dick Cordova in San Diego
■ 2016 ANNAPOLIS TOUCHDOWN CLUB BANQUET
The Annapolis TD Club invited the 1958 Navy Cotton Bowl Championship Football Team to attend their 62nd Annual Banquet. Three members of that team were able to attend including our Classmates Bob Caldwell, 18th Company and Harry Hurst, 7th Company along with Bob Reifsnyder Class of '59.
The attached picture shows the three teammates. Harry reported that the highlight of the program for him was when Bill Belichick presented the Steve Belickick Memorial Coaches Award to Buddy Green who retired as the Navy defensive coordinator after 15 years with USNA.
CAPTION: Bob Caldwell, Bob Reifsnyder and Harry Hurst
■ LINK IN THE CHAIN
I think pretty much everyone in the Class realizes that the Class of '58 and the Class of '08 are linked together in what is called the "Link in the Chain" program. When our Class Chapters have their luncheons, for example, invitations are given to members of '08, etc. In Denver this togetherness between the Classes has reached a new and wonderful level. To prove the point the attached picture shows Glen Smiley, 5th Company Class of '58 with William Eucker, '08 following a squash match they played at the Denver Athletic Club. I'm not sure, however, looking at the picture which player is Glen and which is William??
CAPTION: Bill Eucker '08 and Glen Smiley '58
■ CLOSING RANKS
As is all too common these days, it is my sad duty to report on the passing of two more of our Classmates.
Dick "Hoot" Gibson, 23rd Company, passed away on the 9th of March 2016.
Hugh Palmer, 14th Company, passed away on the 6th of April 2016.
For more information on their deaths please refer to the Last Call section of Shipmate or our Class of '58 Website.
In addition to the deaths of Hoot and Hugh we were notified of the passing of two individuals who were with us Plebe summer, but about whom we have no additional information. They were Richard Post and Maurice Robinson. If you have memories of either that you would like to share please send me that information.

CLASS OF 1958 SHIPMATE COLUMN
STEWARDSHIP 2016
■ 10TH COMPANY REUNION
The 10th Company held a reunion in Alexandria, Virginia last October. Attending were the Aults, Flynns, Graveys, Giglios, Giddens, Hillsmans, Jenkins, Lukenas, Manahans, Mays, McMichaels, Mitchells, Seebergers, and the Venables with assorted children. In total there were 45 present and accounted for and if not for an east coast hurricane and an illness there would have been 51. The gathering lasted almost a full week and included the Navy-Air Force football game and tailgate, a party at the Embassy Suites the next evening, a party at the Giglio's home, a National Park Service guided tour of Washington, a visit to the National Air and Space Museum, and a dinner at the Army Navy Country Club. And those are just the highlights. This was the 9th time the 10th Company has gotten together for a reunion.
Pictured at the Army Navy Country Club are: Front Row – Jean Manahan, Dianne McMichael, Gerry Lukenas, Norine Ault, Mickey Hillsman, Pat Seeberger, Bonnie Venable, Pat Jenkins, Eileen Giglio and Alice Garvey; Second Row – Leo Lukenas, Wes May, Bob Flynn, Barbara Flynn, Jeanne May, Ken Mitchell, Bill Hillsman, Mike Giglio, George Jenkins, and Bill Garvey; Third Row – JJ Seeberger, Dave Ault, Bob Venable, Harlow Manahan and Jake McMichael.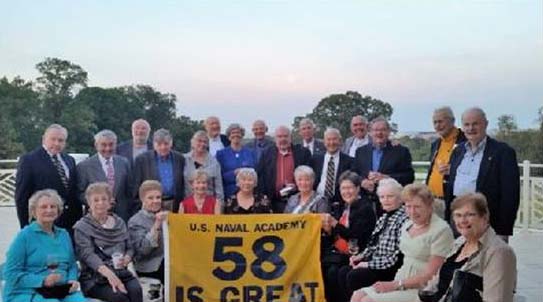 "10TH COMPANY AT THE ARMY NAVY COUNTRY CLUB"
■ WASHINGTON DC CHAPTER LUNCHEON
Also taking place at the Army Navy Country Club was the January luncheon of the Washington DC Class Chapter. Attending were Jack Adams, Dan Bellay, Bob Caldwell, Frank Gamboa, Gordon Gerson, Jesse Hernandez, George Jenkins, Jean LeBer, Mike Lyons, Bill Meisel, Mike Moran, Paul Polski, Tom Powell, John Walter, and Bruce Wilcox along with 8 wives, a grad from '61 and 2 grads from '08.
The speaker was the USNA Commandant, Colonel Steven Liszewski USMC, Class of '90 and it was reported that he gave a splendid presentation. (historical note: Col. Liszewski is the second Marine to serve as Commandant of the Naval Academy)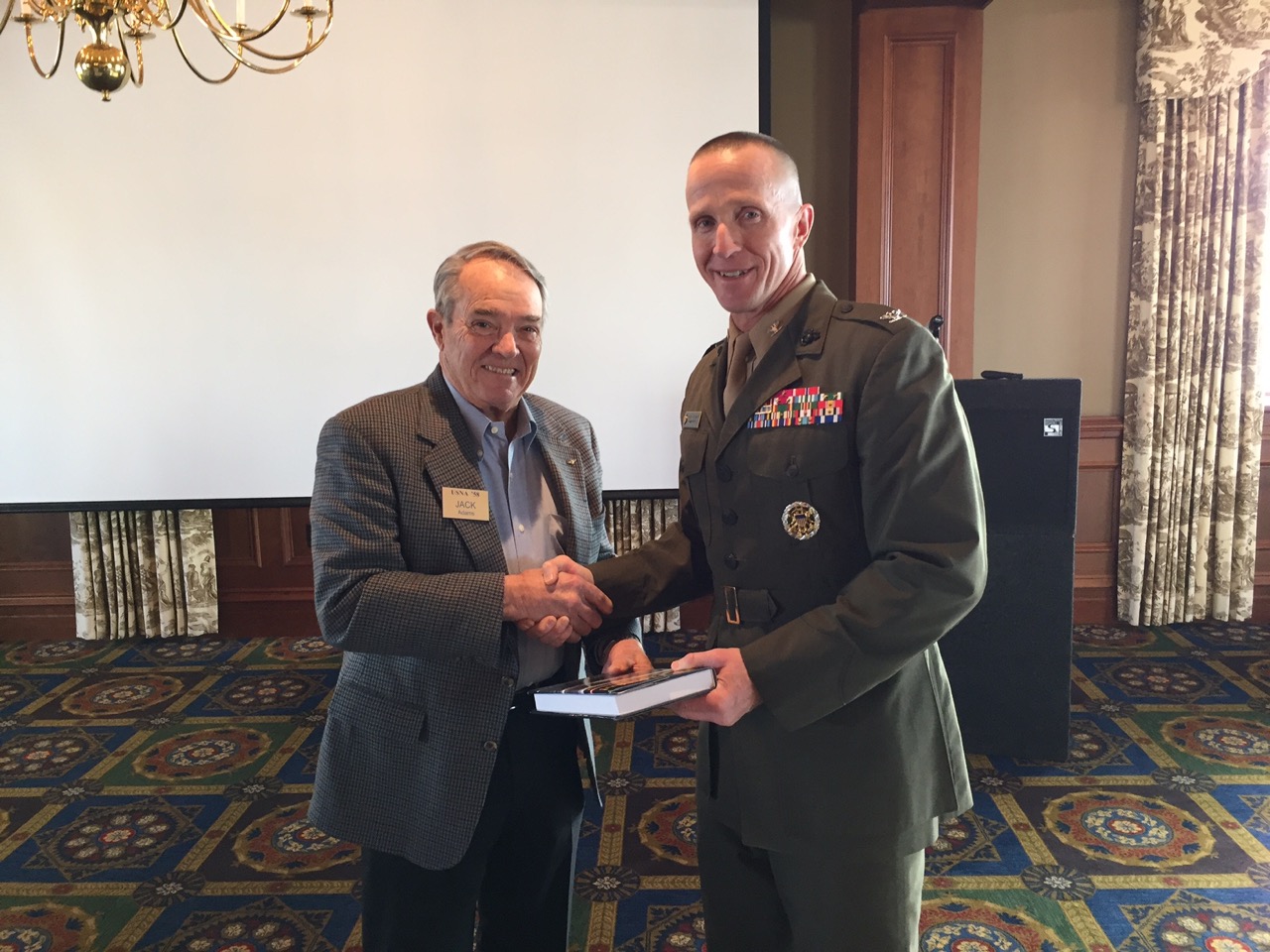 "JACK ADAMS '58 AND COL. LISZEWSKI USMC '90"
■ SAN FRANCISCO BAY AREA CHAPTER LUNCHEON
The San Francisco Bay Area Class Chapter decided to be different and not hold their luncheon at the Army Navy Country Club. Instead they choose the Marine Memorial Hotel in downtown San Francisco for their most recent gathering. I'm advised their next get together will be in Palo Alto. The location will be "Bistro in Palo Alto". Not sure if that is any Bistro in Palo Alto, a Bistro in Palo Alto or THE BISTRO?
Those present (and in the picture) were John Gardner, Keith Featherston, Phil McNall, Bruce and Nancy Bartels, Jack MacKennon, John Potter, Dave and Barbara Allard, John Davis and Bill and Virginia Oliver.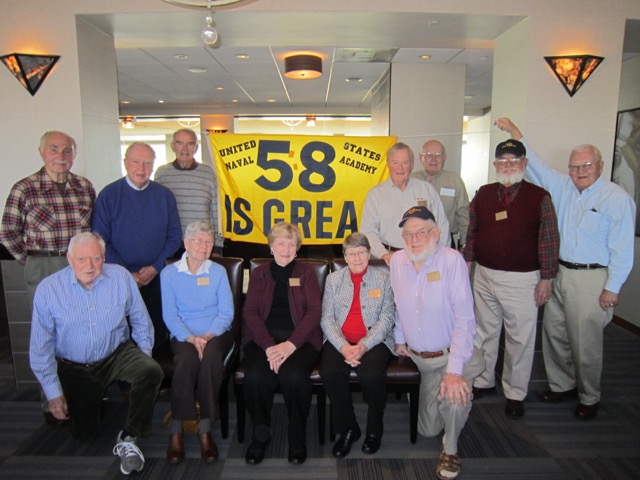 "CLASS OF '58 IN THE LEATHERNECK LOUNGE, SAN FRANCISCO"
■ TRAVELS TO ANTARCTICA
Newt Moore, 1st Company, and his wife Nona were on a cruise to the Antarctica in late January and early February. Newt reported that it was a fabulous cruise with magnificent scenery, icebergs as much as ½ mile long, and lots of penguins. The ship sailed from Ushuaia, Argentina and the destination in Antarctica was Base Brown which is an Argentine research station manned by 3 Argentines and some penguins. Enroute they also went ashore on uninhabited islands off the Antarctic Peninsula and in the South Shetlands. And did I mention they saw a lot of penguins. The picture shows Newt and Nona with some of those penguins. It sounds like it was a great trip and something not many get a chance to experience. Thanks for sharing Newt.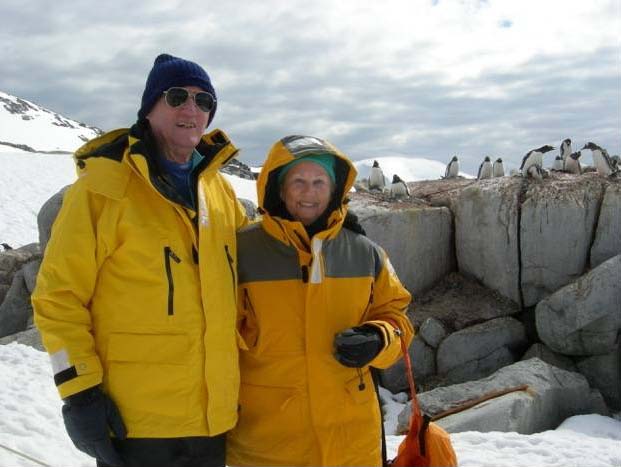 CAPTION: "NEWT AND NONA MOORE IN THE ANTARCTIC"
■ MUSEUM QUALITY
When our classmate BEN MONTOYA passed away recently I was reading about his career and noted that there is a display at the U.S. Navy Seabee Museum in Port Hueneme, CA that honors Ben. Then I recalled that on my last visit to the Academy I had seen BRUCE McCANDLESS also honored in an exhibit in the Naval Academy Museum about Academy graduates who were Astronauts. That started me thinking. How many other members of the great class of '58 are to be found in museums? Actually I know of two others, but you have to go the National Museum of the United States Navy which is located at the Washington Navy Yard to find them. There you will find a "Cold War Gallery" with displays describing the Navy's role in the Cold War years. Among the displays are models of the airplanes the Navy was flying during those years and among the models is one of the P5M Marlin. (The P5M was a large seaplane that was used for anti-submarine warfare.) Our classmate Jesse Hernandez flew P5Ms and he was asked to provide the model builder with the appropriate markings for a plane that Jesse had flown. So Jesse checked in his log book and picked the information for the plane he flew on his last P5M flight. If you look really close (it's a rather small model) you will see the name "LT JESSE HERNANDEZ" painted on the fuselage just below the cockpit window. And if you look below Jesse's name you will find the name of the other pilot, also from the Class of '58, who was on that flight. That name is LT BILL SCHRAMM, none other than your humble Corresponding Secretary.
So who else in the Class has reached Museum Quality status? If you or someone you know from the Class is to be found in a museum let me know.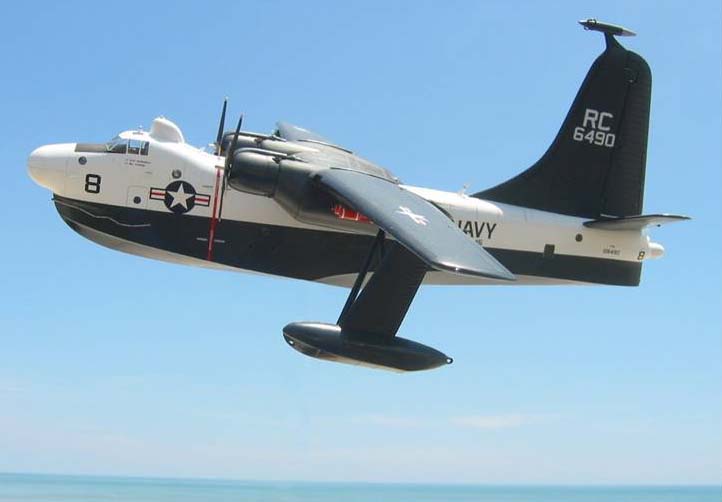 "P5M MODEL AT THE NATIONAL MUSEUM OF THE UNITED STATES NAVY"
■ CLOSING RANKS
Carl Eugene Ingle, 14th Company, died on 7 January 2016 in San Diego. A number of Classmates attended the service at the Miramar National Cemetery. Those in the picture are Al Skiles, Tom Fleming Chuck Smith and Pete Hekman along with Gene's widow Mary. Also at the ceremony were Dick Cordova and Mike Chapple.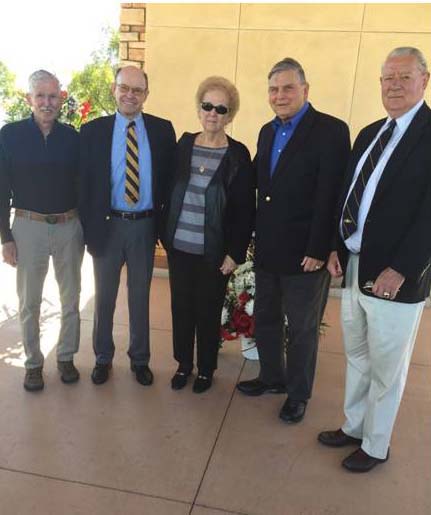 "AT THE MIRAMAR NATIONAL CEMETERY"
Thomas Lucke, 16th Company, died on 25 January 2016 in Winter Haven, FL.

CLASS OF 1958 SHIPMATE COLUMN MARCH-APRIL 2016
■ THE CALDWELL-KENNARD CONNECTION
Back in 1982-84 both Bob Caldwell, 18th and John Kennard, 7th were stationed at the Naval Academy and were living in adjacent quarters on Worden Field with their families. As it happened Kris Kennard, the daughter of John and Donna, met David Caldwell, the son of Bob and Becky. In due course Kris and David were married and Bob and John ended up with 3 granddaughters whose grandfathers are both USNA '58. There are probably not many young ladies who can claim that distinction. The families recently gathered to celebrate granddaughter Caroline's graduation from Bates College. In the picture, from the left, are Kris Kennard Caldwell, John Kennard '58, Donna Kennard, Aileen Caldwell, Caroline Caldwell, Kellyn Caldwell, Bob Caldwell '58, Becky Caldwell and David Caldwell.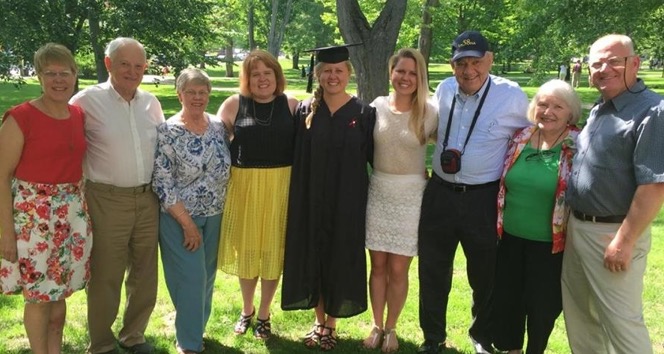 CAPTION: THE CALDWELL-KENNARD CLAN
■ VISIT TO DENALI NATIONAL PARK
George Greer (17th) and wife Betsy visited beautiful Denali National Park in Alaska and sent in the attached picture. George didn't say if they saw many bald eagles on the trip, but I did notice he was wearing a big hat?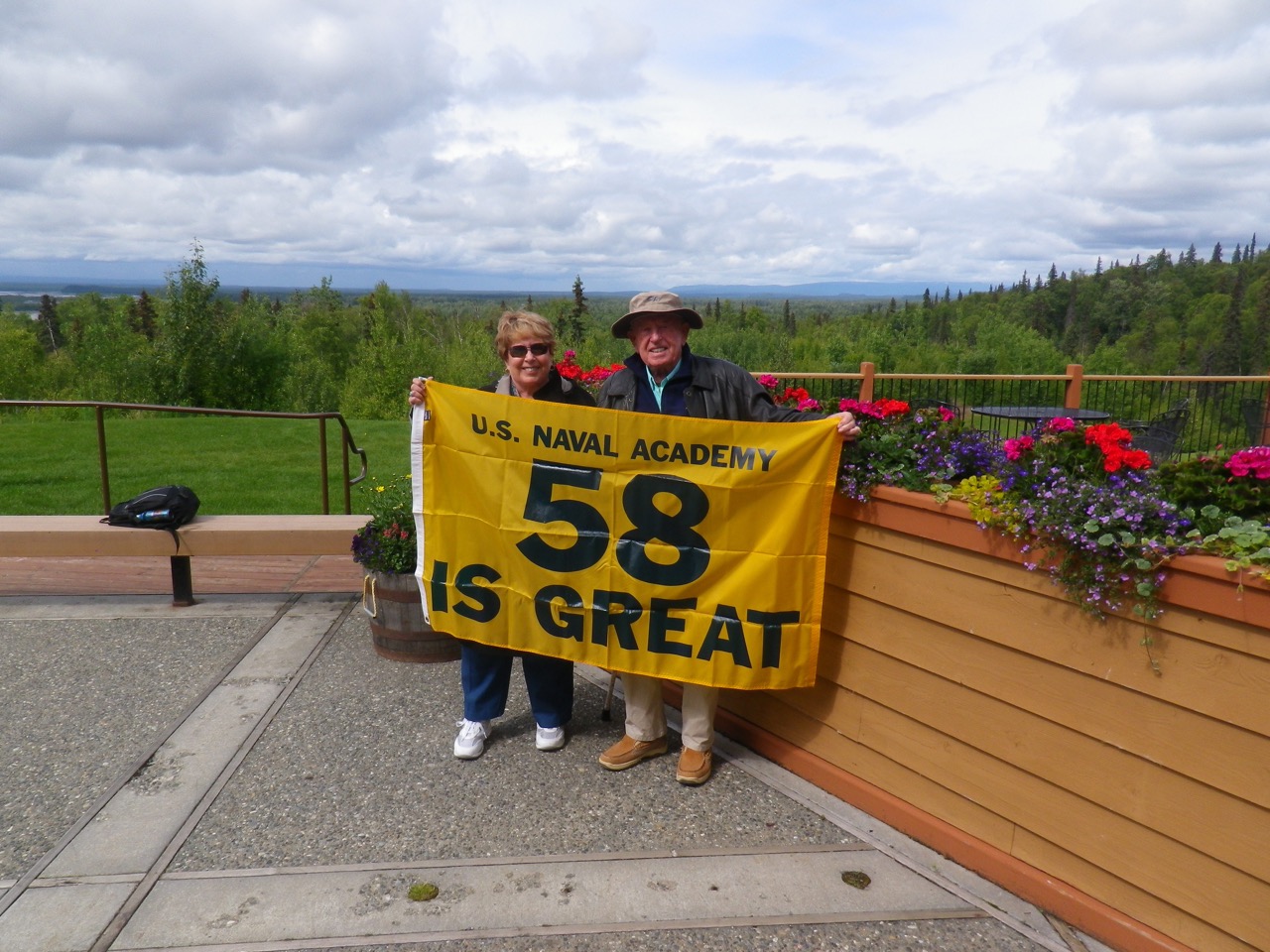 CAPTION: GEORGE AND BETSY GREER IN DENALI
■ MORE DENALI
Rupe MacLean (21st) and his bride Joan also visited Denali and other locations in Alaska and Canada including a number of saloons. The attached picture is evidence that '58 is still alive and kicking and I was so impressed that I wrote a poem to celebrate the event!
Some of us sailed on the seven seas
While others soared in the wild blue sky
But good old Rupe panned for gold
And look who is still smiling, my oh my!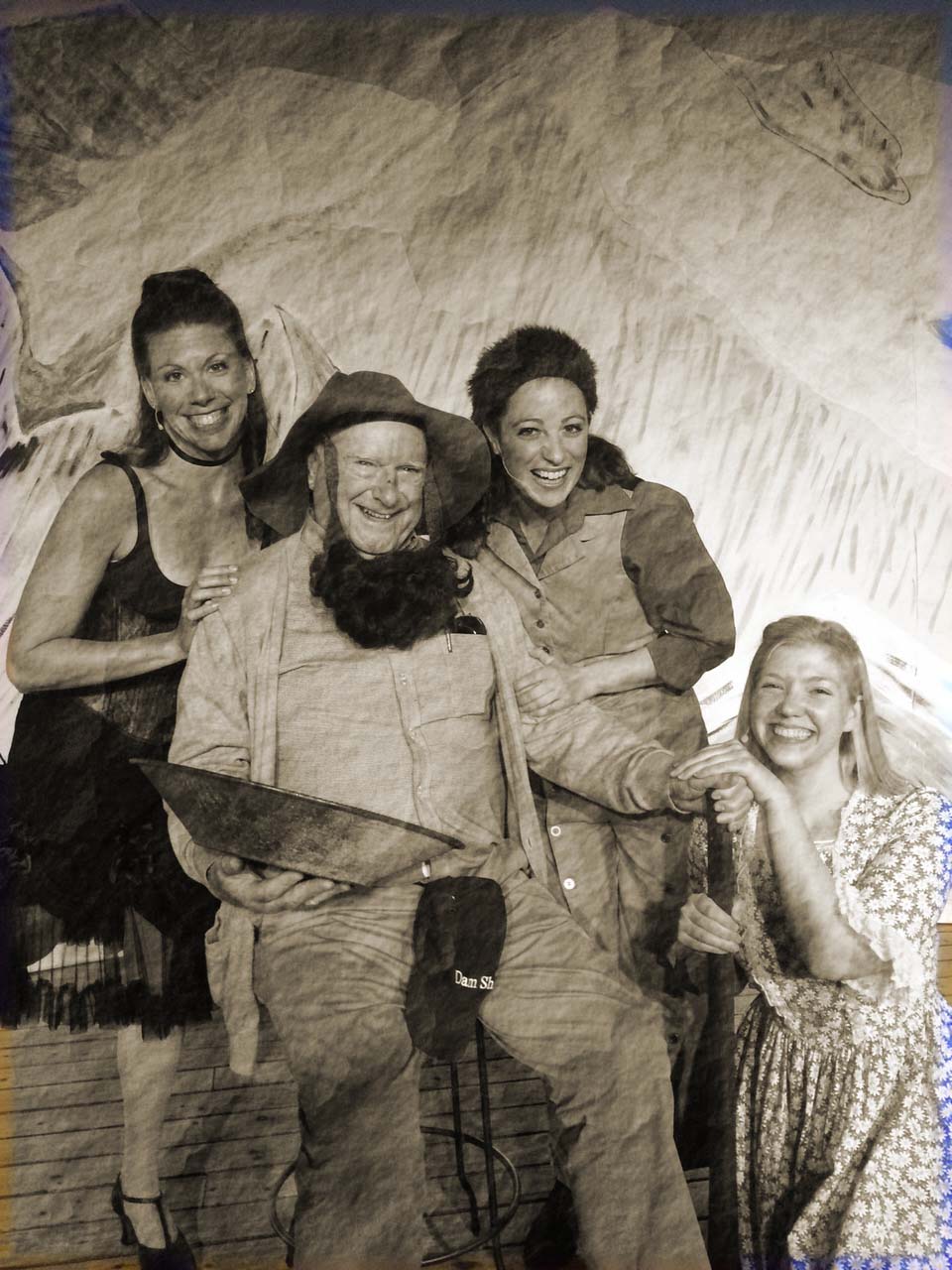 CAPTION: A SALOON IN THE FAR NORTH
■ HALF A WORLD AWAY
While some of the Class were visiting the wilds of the great Northwest, Taylor Keith (19th) and Lynn were on a trip to a very different part of the world which is a little wild in it's own way. He visited France, Italy, Malta, Greece, Turkey, Israel and Jordan, where the attached picture was taken at the historic Petra site in November. Following Jordan, Taylor and Lynn were scheduled to visit Oman, Qatar, and the UAE.
CAPTION: TAYLOR KEITH IN PETRA
■ MEANWHILE IN MEMPHIS (TENNESSEE NOT EGYPT)
Tom Powell sent in a report of a reunion of the 13th Company. The gathering was held in Memphis so those attending could attend the game between Navy and Memphis last November. Tom reported that the event was a great success. Eight members of the 13 th, most with their wives, attended. In addition to all the excitement of the football game the group visited Graceland (home of Elvis), Beale Street (home of Memphis Blues), the Civil Rights Museum, the Cotton Museum and the Rock and Roll Museum and they enjoyed great barbecue and southern cooking. In the picture, from the left, are: Dirck Stryker, Walt Booriakin, Tom Powell, Jim Patterson, Dick Tennent (who organized the event), Don Tarquin, Steve Guthman, and Frank Conery. (Editorial note: Having a Company reunion at the location of an away Navy football game seems like a good idea to me, Your humble CS)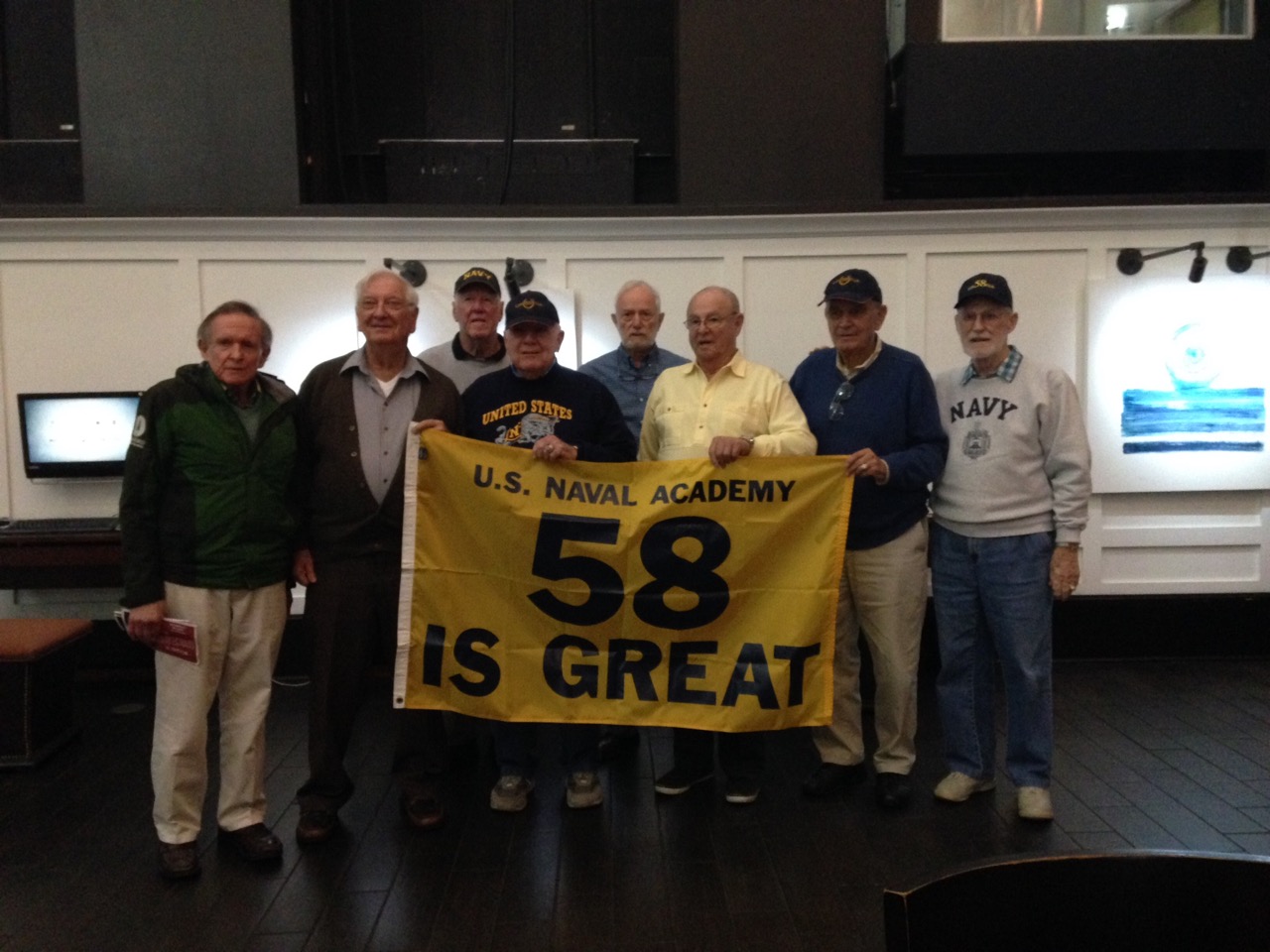 CAPTION: THE 13TH IN MEMPHIS

■ CLOSING RANKS

Pete Midgarden, 11th Company, passed away on 18 December 2015

Ben Montoya, 5th Company, passed away on 19 December 2015.

Moston Robert "Bob" Mulholland, 4th Company, passed away on 20 December 2015.

Jean Whittenberg, 23rd Company, passed away on 6 January 2016.

For more information on our deceased Classmates please check the Last Call section of Shipmate and the Class of 1958 web site.

(Remember, all of us are mortal. Do your family and friends a good deed and prepare your obituary in advance. Your Company Representative can help by providing you with guidance.)

CLASS OF 1958 SHIPMATE COLUMN
JANUARY-FEBRUARY 2016 ISSUE
■ MONTEREY BAY GATHERING
As reported in previous columns the 58ers of Northern California get together quarterly for luncheons. What makes these gatherings different is that the venues change depending on who is the designated host. In October I, your humble CS, was the host and the location was Fishermen's Wharf in Monterey. There were six 58ers, five spouses and two graduates from the Class of '08, who are students at the NPS, present and in the attached picture. Those in the top row are from the left; Elon Rocklein (08), Bill Oliver, Bruce Bartels, Dick Hanson (who came all the way from San Diego), and Dave Allard. In the middle row are; Bill Schramm, Virginia Oliver, Nancy Bartels, Barbara Allard, Jude and John Potter. And Mimi Schramm is in front of the flag.
'58 LUNCHEON ON MONTEREY'S FISHERMEN'S WHARF
■ HONORING ADMIRAL CHARLES LARSON, CLASS OF 58
There are two items of news relating to Chuck. The first concerns the naming of the Administration Building at the Academy in honor of Chuck. A number of Classmates attended the dedication of what is now Larson Hall. Among those attending were Gordon Gerson 11th Company, our Class President and Ron Eytchison 1st Company.
AT THE DEDICATION OF LARSON HALL
Also noteworthy was the award of the Admiral Charles Larson Ethical Leadership Award. This is a new annual prize given by the USNA Class of 1958 in honor of Chuck. The first annual award was given to Navy's inspirational football coach Ken Niumatalolo. The picture shows Frank Gamboa, Coach Niumatalolo, Gordon Gerson and Harry Hurst at the award ceremony.
COACH NIUMATALOLO RECEIVING THE LARSON ETHICAL LEADERSHIP AWARD
■ WASHINGTON D.C. CHAPTER NEWS
At the September luncheon of the D.C. Chapter the guest speaker was RADM Brian Antonio who is the Program XO for the Navy's Littoral Combat Ships Program. Twenty three members of '58 and '08 were present. The Admiral spoke about the two variants of this class of ships, the ability to change mission packages and the plans for deployments and manning. The attached picture shows Jack Adams the Chapter President thanking RADM Antonio.
JACK ADAMS AND RADM BRIAN ANTONIO
At the October luncheon of the D.C. Chapter the guest speaker was Larry McKinnley, a Docent at the National Air and Space Museums. Attending that luncheon were Jack Adams, Dan Bellay, Phil Criswell, Whitey Edwards, Frank Gamboa, Gordon Gerson, Mike Giglio, Jesse Hernandez, George Jenkins, Jean LeBer, Mike Lyons, Eric Mansfield, Bill Meisel, George Ojajehto, Paul Polski, John Rohrbach and Bruce Wilcox along with several members of the Class of '08.
CAPTION: JACK ADAMS AND LARRY MCKINNLEY

■ GO NAVY!

The Navy football team is having a great year. As I write this column they have just beaten Memphis who were ranked number 13 in the nation. The attached picture showing Bruce Wilcox cheering on the team is proof of '58 support for Navy football.
"LOUDER BRUCE, LOUDER"

■ GOLFING NEWS

In North Carolina the USNAAA Triangle Chapter sponsors an annual Tri-Service golf tournament between alumni of the three Academies. Wes May 10th Company, otherwise known as the "ancient mariner" of the tournament, reported that the USNA alumni finished 2nd this year. Wes also sent in the picture of the Navy team. Wes is the young looking guy in the center of the picture.
WES MAY AND THE REST OF THE TEAM

Meanwhile on the west coast in beautiful Monterey the local USNAAA chapter hosted the 14th annual golf match between Annapolis and West Point alumni. As is happens I (your humble CS) am the Captain of the Navy team and I am pleased to report that we beat Army.

■ ROSTER CHANGES

Fred Victor, our Class webmaster, will be introducing a new page at our Class of '58 web site that will list changes in addresses. Check it out. One recent change was sent in by Art Bass 2nd Company. Turns out that Art lives in Waikanae, Kapati Coast in New Zealand. I wonder? Does anyone live farther away from Annapolis than Art?

■ NORMANDY MONUMENT

Our Classmate Greg Streeter, 1st Company is a member of the Naval Order of the United States. At a Naval Order dinner in 2003 the speaker mentioned that although there were over 100 monuments and memorials at Normandy there were none commemorating the role of the U.S. Navy. Greg later proposed that the Naval Order build such a monument and he became the Chairman for a national campaign for the monument. It took 5 years and $500,000 but the monument was dedicated in 2008. It is located on Utah Beach on land donated by the French who are committed to maintain the monument in perpetuity. There is a video called "Navy Heroes of Normandy" that describes the monument and the Navy's role in the Normandy invasion and it is available from Amazon. Greg deserves a lot of credit for his efforts to make this monument a reality.
THE U.S. NAVY MONUMENT AT NORMANDY
■ A REAL WORK ETHIC
Most of us are retired. Playing golf, going to luncheons, gardening, watching TV, etc keeps us busy. But there are some Classmates still out there at work and more power to them. One of those is Ralph Buck, 23rd Company. Ralph works for Maximus Federal Services which is a company that advises federal government agencies on how to better manage. (Boy, is there a need for that!) I mention Ralph in this regard because he recently was awarded an individual excellence award and bonus for his outstanding performance. Turns out that Ralph has been simultaneously managing three major projects and exceeding all expectations on all three. Well done Ralph and keep up the good work!
■ MY JOE PORT STORY
Sadly, our Classmate Joe Port, 23rd Company, passed away on the 8th of October. I would like to share a story about Joe and I. Mimi and I got to know Joe and Vera pretty well during our days in the flight training command, but after we received our wings we did not see them much during our Navy careers. Now fast forward to 1987. I'm retired from the Navy and working at the World Meteorological Organization (a UN agency) in Geneva, Switzerland. One of my projects involves Brazil and I need to travel there so I decide to make the trip at Carnival time and take Mimi (lots of nice perks working for the UN!). I knew Vera Port was from Brazil so I figured Joe might have some tips, but how to reach Joe? I had heard that he was retired and working for Grumman Aircraft and I knew the headquarters for Grumman was in Bethpage, New York. So I checked with information and made a call from Geneva to Grumman and asked the operator if Mr. Port was there. He was she said and connected me. We had a fine chat, he gave me some tips about Carnival in Rio and asked me about our travel plans. Later Mimi and I traveled to Paris to catch our Varig flight to Rio, Varig being the national airline of Brazil. When we check in with our economy tickets I'm told we have been upgraded to first class. Now first class travel on a 747 for the long non stop trip from Paris to Rio is really a good deal. Pheasant under glass, caviar, the best champagne, etc. I suspected Joe had something to do with this. Then we arrive in Rio, but before the passengers start to disembark the steward asks Mimi and I to go to the door so we are the first folks off the plane. Waiting to greet us is the President of Varig airlines. He welcomes us to Rio and gives me his card telling me to call him if we need anything while in Brazil. Turns out that not only was Vera from Brazil, but Joe had been stationed there as the head of the Grumman office and he knew the right people and yes he had made the arrangements for Varig to take care of us. We had a great time during our stay for Carnival, but that is another story for another time. Oh, and we went back to Paris in first class of course. Thanks to Joe.
■ CLOSING RANKS
Dick Cordova, 17th Company, wrote with the sad news that his wife Shirley Cordova passed away on 2 October.
Joe Port, 23rd Company died on 8 October.
Frank Zemlicka, 18th Company died on 18 October.
Gary Minar, 20th Company wrote to pass the word that his wife Barbra had passed away on 5 November.

CLASS OF 1958 SHIPMATE COLUMN
NOVEMBER-DECEMBER 2015 ISSUE
■ WASHINGTON DC CHAPTER NEWS
Jack Adams 4th Co., President of the Class of '58 Washington DC Chapter reported that the guest speaker at the July luncheon was Claude Berube, the Director of the USNA Museum. There were 25 USNA grads (22 58ers and 3 from the class of '08) along with 12 wives present for the talk. Bruce McCandless was in town and is in the attached picture along with his 19th Company buddies Ted Smedberg and Taylor Keith. Interesting that Mr. Berube would be talking about the Academy museum since Bruce McCandless is "in" the museum or at least his picture and story are in the museum.
JACK ADAMS AND CLAUDE BERUBE
TED SMEDBERG, BRUCE MCCANDLESS, TAYLOR KEITH
■ MEANWHILE IN SAN DIEGO
Chuck Smith 20th Co., sent in the attached picture which was taken at an O'Club reception following a burial service of a mutual friend. Notice how happy everyone looks. Chuck didn't say, but maybe it was an old fashioned wake? Come to think of it I hope everyone has a good time when they come to say goodbye to me.
BRUCE CRAIG 19TH, CHUCK SMITH, JOHN KENNARD 7TH
■ AND IN SAN FRANCISCO
John Potter sent in the picture of the July gathering of bay area 58ers and their ladies. Actually the luncheon was held in Fairfield Ca, but who ever lost their heart in Fairfield? Those present in the top row left to right were: Ben Montoya 5th Co., Bruce Bartels 7th Co., John Gardner 10th Co., Jack MacKinnon 9th Co., Phil McNall 15th Co., Virginia and Bill Oliver 17th Co., John Potter 19th Co., and Dave Allard 7th Co. In the bottom row left to right are: Ginny Montoya, Barbara Allard, Claire Barney, Jude Potter and Nancy Bartels.
SAN FRANCISCO MUSTER
■ THE WANDERING FLAG
Of all the Class of '58 flags there are in circulation I would suggest that the one with the most earthbound mileage travels with Rupe MacLean 21st Co. (The Class flag that travelled with Bruce McCandless into space has the overall record). On their most recent adventure Rupe and Joan visited the Pacific Northwest on a six week trip. It all started in Vancouver where they boarded a Holland America Lines cruise ship for a voyage up the Inland Passage with stops at Ketchikan, Juneau, Skagway and Seward where they changed to a train for the trip to Anchorage. After an RON in Anchorage they boarded another train for the trip to Denali National park. They celebrated their 57th anniversary on Mt. Denali, as it is now called, drinking million year old martini's made with glacier ice. After a three day layover (probably recovering from the wedding anniversary celebration) it was back on a train for the trip to Fairbanks then a flight to Dawson City in the Yukon, then a motor coach to Whitehorse BC with a couple of days in each city/town. Then a flight back to Vancouver to reload. Next leg was the Rocky Mountaineer's luxury train heading east with stops in Kamloops and Banff where they shifted to motor coach again for a six day tour of Banff and Lake Louise ending in Calgary. And lastly they spent a week at the Calgary Stampede before heading back to Annapolis. Whew!
The attached picture shows Rupe and Joan, with the 58 flag of course, onboard the paddle wheeler Klondike Spirit, on the Yukon River. For additional pictures of their great trip check our Class of '58 web site .
RUPE AND JOAN ON THE YUKON
■ THE LARSON DINING ROOM
As I reported in an earlier Class of '58 column in Shipmate, the dining room at the Superintendents Quarters at the Academy was dedicated as the "Admiral and Mrs. Charles R. Larson Dining Room" on 29 July. A number of our Classmates who live in the Washington DC/Annapolis area were able to attend the ceremony and the attached picture is of Sally Larson speaking to them. The picture was submitted by Jean LeBer 15th Co.
SALLY LARSON

■ 13TH COMPANY MICRO REUNION

Company reunions are fun. Plenty of time to visit with our closest friends from the Academy. But not everyone can make these gatherings and so it was with a recent 13th Company mini reunion which was held in New Orleans. Alex Martella sent in a picture himself with three former roommates who gathered at Alex's home in Chicago for a drink or two, lots of talk about the old days and an outing to a Cubs game (they lost of course). In the picture, from the left, are Alex Martella, Vince Panaia, Gary Krause, Shirley Reuss (a friend) and Don Tarquin. Alex reported that they came up with solutions to all the world's problems except how to turn the Cubs into a winner.
13TH COMPANY, CHICAGO DETACHMENT
■ USS PETERSON
Recently our Class President Gordon Gerson sent out an email on the subject of the USS Peterson which was named for our classmate Carl Peterson, 11th Co. Carl died in 1968 in Vietnam and the USS Peterson was commissioned in 1977. Roger Nutting 16th Co. saw Gordon's All Hands and decided to send in an interesting bit of history regarding he and Carl. It turns out that Roger volunteered to go to Vietnam where he worked on research programs. One of his projects involved a system to protect bridges and also protect the river patrol boats. Since Carl was with the patrol boats he and Roger had opportunities to work together. One day Carl invited Roger to go on a patrol with him that night, but Roger had to decline to get back to Saigon. The following day he learned that while on patrol Carl had been hit by a RPG and killed.
■ U.S. NAVAL ACADEMY COLUMBARIUM
In 1987 the Alumni Association funded the building of a Columbarium at the Naval Academy adjacent to the Academy cemetery. Any Naval Academy graduate who was separated from military service (Navy, Marine Corps or Air Force) under honorable conditions is eligible to have his remains and those of his spouse reside in the columbarium. For more detailed information check our Class of '58 web site.
■ CLOSING RANKS
Rear Admiral Stanley Bump USN (retired), 23rd Company passed away on 11 August 2015. Stan had battled ALS for several years prior to his death.
Wayne Douglas Gardner, 2nd Company died on 5 September 2015.
\